Creative Halloween Costumes for Brothers
Being a boy mama is so fun, especially when you're a little crazy for Halloween. I'm already daydreaming about Halloween costumes for brothers! Read on for some of the most creative Halloween costumes for brothers and find the perfect ones for your little guys for this year.
I love Halloween. I love the costumes, the décor, the fun. I've dressed up every single year I can remember, even if I only donned a pair of cat ears. Now I have 2 little guys, and I'm so excited to dress them up this year!
Part of the magic of becoming a parent has been watching my boys experience holidays. It's so fun to see their faces light up when they get dressed up. While the first few Halloweens I picked out their costumes for them, this past year I let them get in on the fun!
If you're looking for fun and creative Halloween costumes for brothers, there are so many great options out there! I'm constantly blown away by the creativity and amazing ideas other parents have, and love lists like this for helping to spark inspiration.
I'm not gonna lie: I start searching for Halloween costume ideas in the summer! This list was inspired by my own hunt for some adorable Halloween costumes for brothers for our own little dudes. I tried to find the original source for every photo on this list, as they are so creative!
If you're on the hunt for even more Halloween–themed fun for your little ones, be sure to also check out Easy DIY Halloween Crafts for Toddlers and 20 Incredible Pumpkin Carving Templates too! Be sure to also check out The Best Amazon Halloween Decorations if you're searching for some fun, affordable new decorations to add this year.
Searching for inspiration when it comes to Halloween costumes for brothers too? Read on for more than 30 of the cutest and easiest to put together Halloween costumes for brothers! I can't wait to dress my boys up for Halloween. Can you guess which one I chose?
Note: Some links may be affiliate links. That means I may make a commission if you use my links to purchase, at no extra added cost to you! I only recommend products that I personally love and believe in. Full disclaimer here.
More Halloween Articles
Fun Matching Family Halloween Costumes
Boo Y'all Free Printable Halloween Banner
Halloween Trivia for Kids: 80+ Questions
Creative Halloween Costumes for Brothers
If you're looking for Halloween inspiration for your boys, you've found it! Read on for the cutest and easiest to put together Halloween costumes for brothers! From DIY Halloween costumes to perfect additions to family costumes (and everything in between), you're sure to find the perfect costume on this list!
Lloyd and Harry from Dumb and Dumber
Via Pinterest
Chef and Lobster
Via Pinterest.
Football Player and Football
Via The Macs
A Scuba Diver and a Fish
Via Sport Diver
Firefighter and Dalmatian
Via Still Living
Magician and Bunny
via Parenting
Curious George and The Man in the Yellow Hat
Related: 50+ Halloween Costumes for Pregnancy
Spanky and Alfalfa from The Little Rascals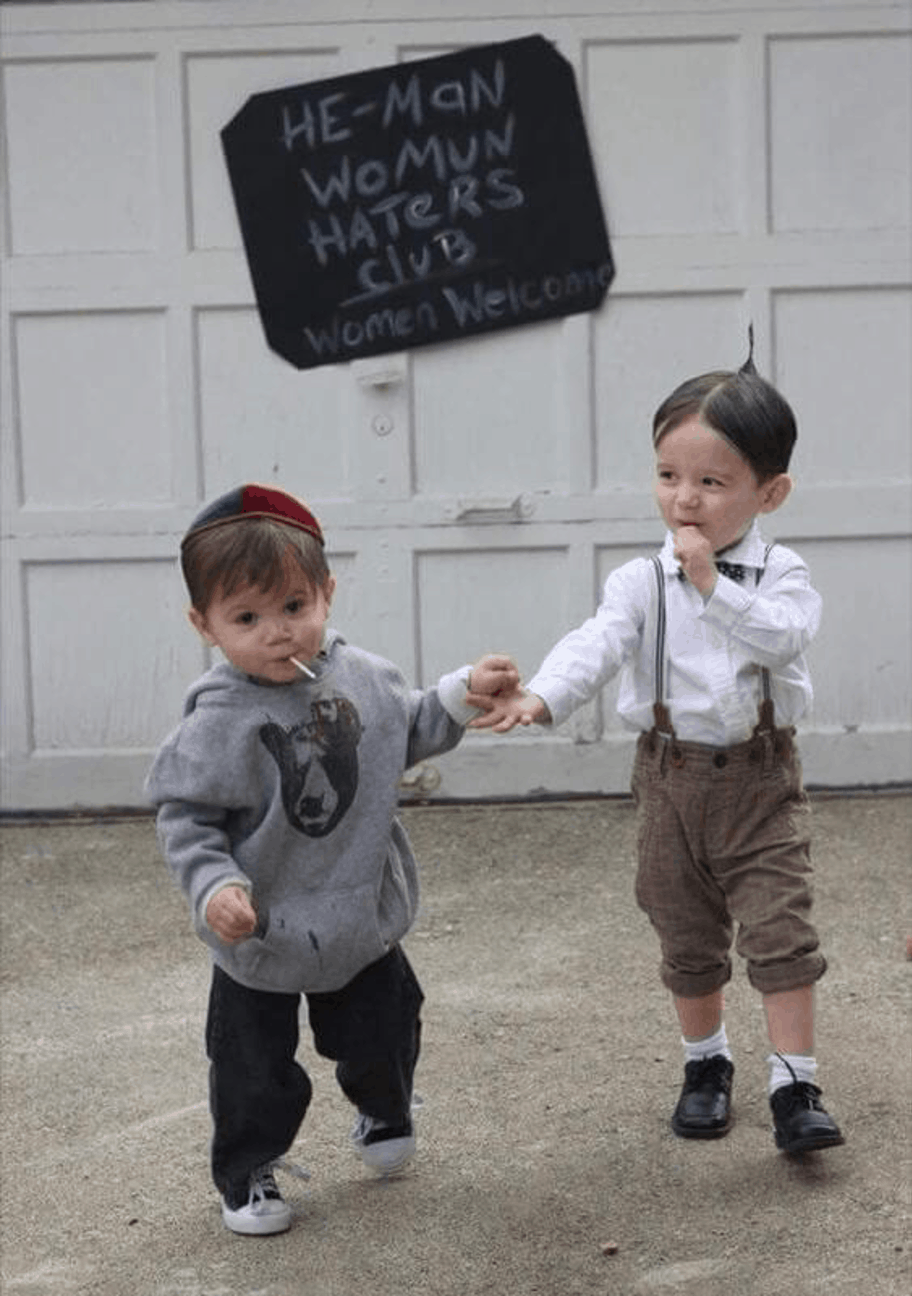 Via Pinterest
Harry Potter and Hedwig The Owl
Via Escape Adulthood
Batman and Robin
Via Germanpascual
Wayne and Garth from Wayne's World
Via Costume Works
Related: Create a Plastic Playhouse Makeover!
Salt and Pepper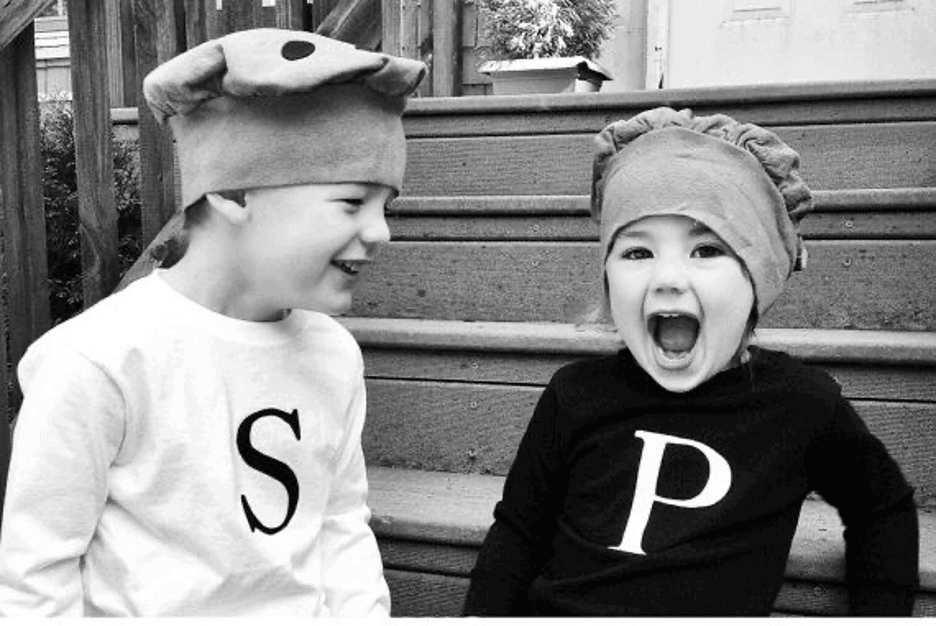 Willy Wonka and an Oompa Loompa
Via Costume Works
Mouse and Cheese
Woody and Buzz Lightyear from Toy Story
You're got a friend in me! The perfect best friend costume, especially if your little dudes are big Toy Story fans!
Via Ashley Mellott
Mario and Luigi
Max and a Wild Thing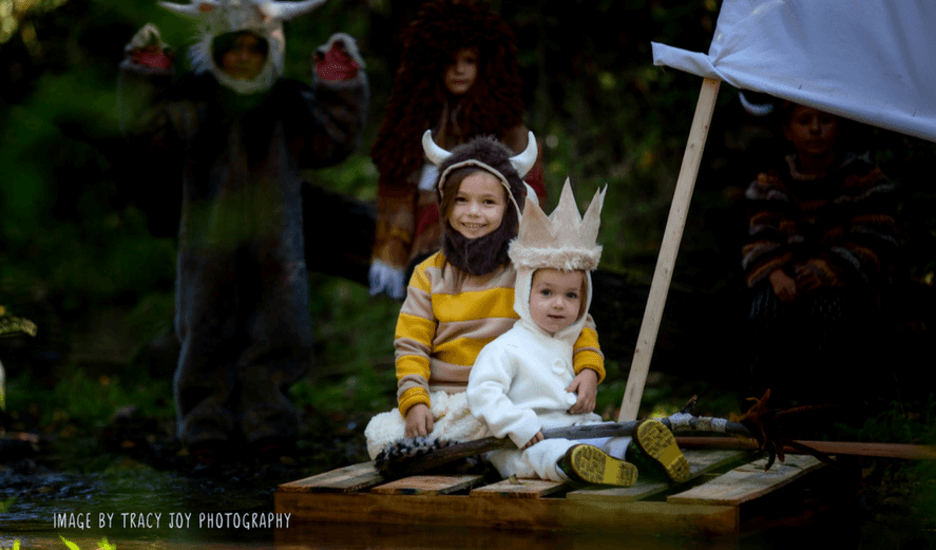 Via What Moms Love
Doc and Marty from Back to the Future
Via Simply Real Moms
A Monkey and Banana
Captain Hook and Smee
The Wet Bandits
Anyone else still obsessed with Home Alone, even as an adult? How cool is this costume?
Created by @dboyloya on Instagram
Cops & Robbers
The Incredibles
IT
If scary costumes are more your thing, don't miss this costume for brothers based on IT!
Via sarah.w.kress on Instagram
Firefighter and Dalmation
So cute I had to include it twice!
Dumb and Dumber
Loved this take on this fun 90's throwback costume too!
Pokemon
Dragons Love Tacos
Arlo & Spot from The Good Dinosaur
The Avengers
What list of brother costumes would be complete without a few of the Avengers??
Where to Buy Halloween Costumes for Brothers
Searching for the best place to easily snag Halloween costumes? I'm an online shopping addict, so I completely get it! Here are some great options for Halloween costumes from brothers that you can order on Amazon!
I hope these 20 Halloween Costumes for Brothers helps you find some great inspiration for this year! Be sure to let me know in the comments which one you chose!
You might also enjoy these Halloween posts:
20 Incredible Pumpkin Carving Templates
Easy DIY Halloween Crafts for Toddlers
15 Cute Halloween Photoshoot Ideas for Babies
Did you pick one of these? Tag me Today! I love seeing what y'all are up to.
Mention @simply.siobhan or tag #MimosasAndMotherhood!