15 Cute Halloween Photoshoot Ideas for Babies
Happy spooky season! Make this year extra special as new parents with these easy and cute Halloween photoshoot ideas for babies.
Let's hear it for the Halloween season! Our family LOVES this time of year. How can you not as a parent??
Between the great fall weather, autumn leaves, apple cider and all things pumpkin spice, this is also a great time of year to spark a little fun with a fall photoshoot.
If you have a new little one celebrating baby's first Halloween, make this one extra special with cute photos that will last a lifetime with one of these easy Halloween photoshoot ideas for babies!
Read on for a few simple ideas, with real photos from other parents (and featuring quite a few photos of my own family, too).
Note: Some links may be affiliate links. That means I may make a commission if you use my links to purchase, at no extra added cost to you! I only recommend products that I personally love and believe in. Full disclaimer here.
15 Cute and Easy Halloween Photoshoot Ideas for Babies
Halloween is the perfect time to take out the camera (or phone) and get creative with one of these Halloween photography ideas. You don't need a photo studio to capture your own special Halloween pictures and precious moments. Many of these great ideas can also be used for inspiration for fall photoshoot ideas for babies, too.
Pumpkin Photoshoot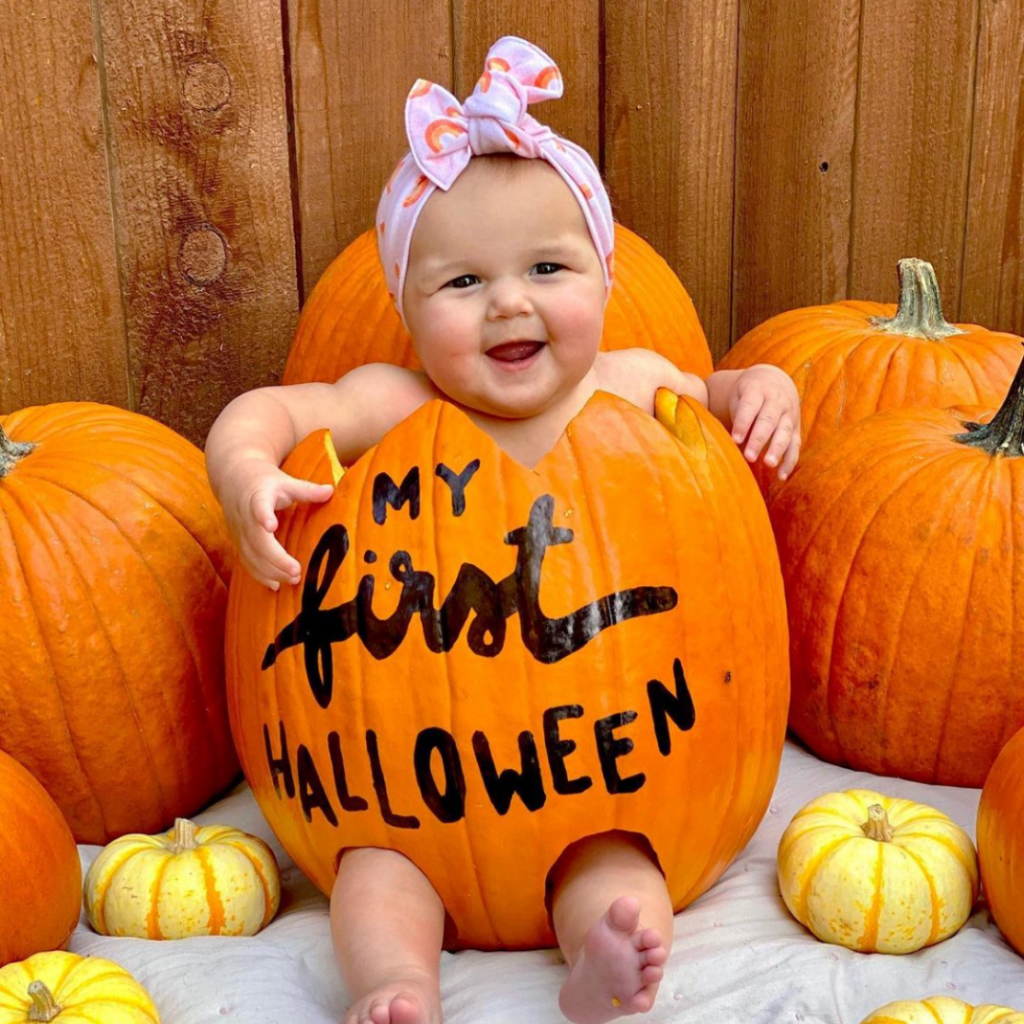 Pumpkins are a plenty this time of year, so take advantage of it! Place your baby inside a large pumpkin, surrounded by small pumpkins or even dressed up as one to get the perfect shot.
Pumpkin pictures are iconic. You can even snag a cute little pumpkin hat or one of these pumpkin baby costumes (like this tulle one for a baby girl, or this unisex one which is perfect for a baby boy) to create your own cutest pumpkin in the patch.
Heads up: the inside of a pumpkin is cold and wet. While baby might look cute in just his diaper, this experienced mama recommends a seasonal outfit instead, as it's a good idea to not let his skin touch the inside of the pumpkin unless you want tears.
Fall Leaves Photoshoot
Fall is the perfect backdrop for some beautiful seasonal photos (and an extra great time for a family photoshoot with a professional photographer! If you need some inspiration for that, be sure to also read Fall Photoshoot Family Outfit Ideas).
This is a really easy one to do in your own yard. Rake up a pretty pile of leaves and place your baby on a cute, soft blanket for some easy fall photos. This is a great one for an older sibling to get in on, too.
Live in a warmer climate and not enough pretty leaves? You can also purchase artificial fall leaves on Amazon or at your local Walmart or craft supply store to create this fall photoshoot idea for babies.
A fake leaf garland also makes a great number to mark how many months old baby is! Use it for creative monthly baby picture ideas like I did, or sprinkle a few on a milestone blanket.
Flannel Family Photoshoot
Flannel screams fall and winter! So many stores now sell matching mommy-and-me flannel shirts, make it easy to twin with your little ones in an easy at home photoshoot.
Though not technically newborns, this photo is from my youngest child's first fall. We got these at Old Navy!
Witch Photoshoot
When it comes to easy Halloween photoshoot ideas for babies, you can't forget about the queen of Halloween herself, the witch!
How cute is this little witch celebrating her first Halloween? This is one of the Halloween photoshoot ideas for babies that takes advantage of outfits you can easily snag at Target!
Black Cat Baby Photoshoot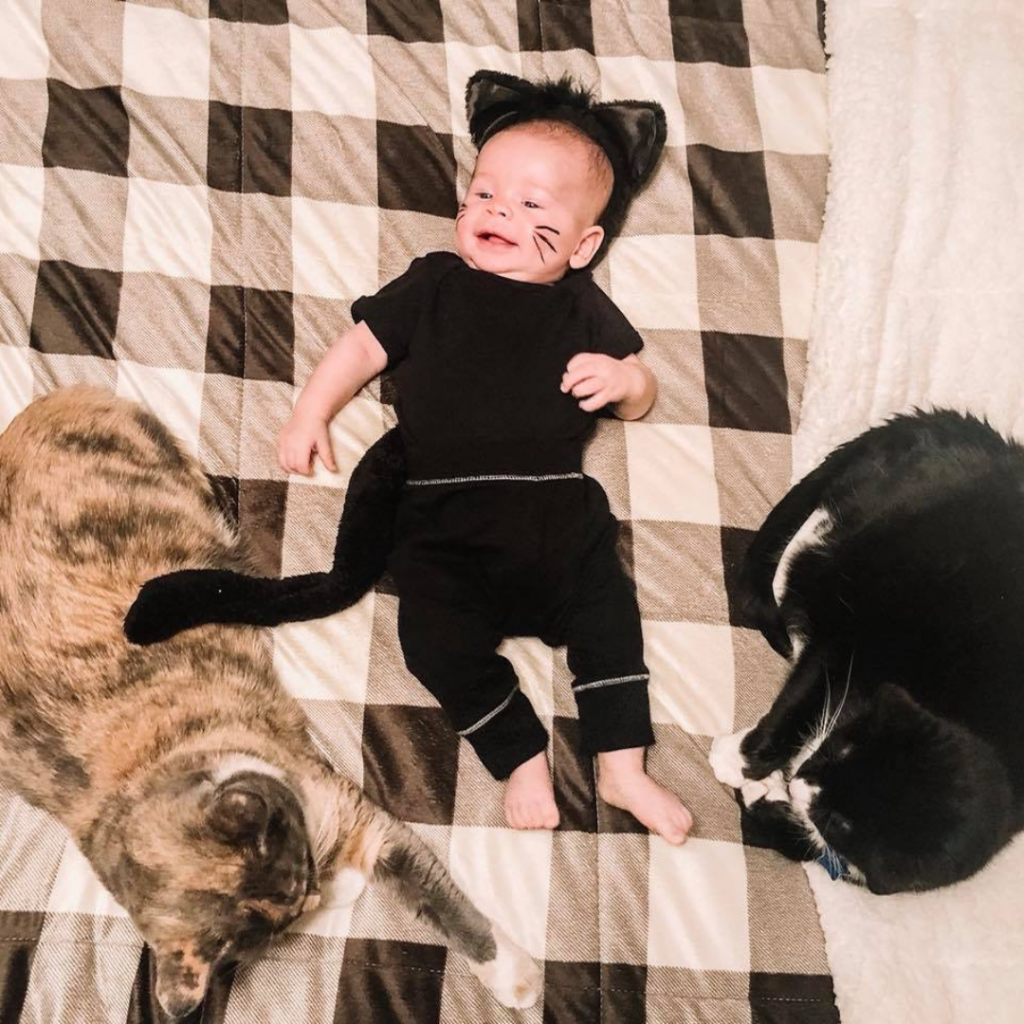 No Halloween is complete without a few spooky outfit changes. I took full advantage of that with my oldest for his first Halloween and created this black cat inspired photoshoot.
His outfit was black pants and a black onesie (which you can find at nearly any store), paired with a cat ears headband and tail.
We took it one step further when I dressed up as a witch too for actual Halloween.
Witches Cauldron Photoshoot
Like a big pumpkin, a big cauldron is great for a Halloween photo shoot for babies! Make it comfy with blankets or cushions.
You can find a plastic one at your local Halloween store or online. It doubles as a great decoration for actual Halloween, too!
Pumpkin Patch Photoshoot
If your little one is here in time to visit a pumpkin patch, don't miss this chance to snap a few keepsake photos among the pumpkins.
If they're big enough to sit up on their own, you can plop them next to a few pumpkins on a textured blanket. Otherwise, get mom and dad (or even grandparents) in the shot to hold baby! This is another one that also works great for fall photoshoot ideas for babies.
Corn Maze Photoshoot
In our area, corn mazes are big! With petting zoos, hay bales, corn stalks and so many snacks, they also lend themselves easily to a great Halloween photoshoot for babies.
It also gives you a great activity to keep older kids occupied too.
Fall Corn Stalks/Hay Bales Front Porch Photoshoot
No corn maze near you? Grab a few hay bales and corn stalks from your local Hobby Lobby or garden center and create your own for your newest addition.
Bonus: they double as beautiful front porch decorations too.
Banners and Balloons
Don't have capacity for a bunch of props (or are just too exhausted from juggling a newborn)? Just a cute Halloween banner or garland (you can print this cute one for free at home!) and a few simple Halloween decorations like orange and black balloons or a handful of fake bugs and you have everything you need.
Sit baby on the floor, or lay him on a blanket and arrange the banners and balloons for a simple and low-prep Halloween photoshoot idea for babies. This is an easy one for an October photo for baby's milestones too. Just use the banner or balloons to create baby's age.
Newborn Halloween Photoshoot
If your little one arrives in the month of October, what better way to mark the occasion than by incorporating the theme into their newborn photos?
With just a few simple props (or a little editing magic), a newborn photographer can transform your photos from everyday into a very unique newborn Halloween photoshoot.
Baby Halloween Costume Photoshoot with the Family
Plan out a great family costume this year with baby! Let's be honest: baby Halloween costumes are so cute. Snap a few photos playing with siblings or even just laying around.
Here are a few easy Halloween costumes for brothers, and check out this list of matching family Halloween costumes too.
Pro tips: don't try to get the perfect family photos on actual Halloween! Stage a dress rehearsal, and snap them then. This way you don't feel stressed, and your kids get multiple chances to wear their costumes!
Candy Corn Photoshoot (or any Halloween candy)
This ideas was borrowed from a friend who dressed as candy corn for Halloween one year! It's easy to recreate if you're searching for truly creative Halloween photoshoot ideas for babies.
All you need is orange pants, a yellow onesie or yellow shirt and white socks! Take it up a notch with this cute little candy corn colored baby hat.
You might also enjoy these Halloween posts:
10 Uses for Leftover Halloween Pumpkins
15 Thanksgiving Photoshoot Ideas for Babies
Celebrate Baby's 1st Halloween with a Photoshoot
Photos are a great way to mark your baby's first year, I hope this list of cute and easy Halloween photoshoot ideas for babies inspired you as you think about your own little one. Remember: the best way to get the most adorable photos during your own own DIY baby photoshoot is to just have fun.
Which Halloween photo idea was your favorite??
If you liked this article, please share it on social media or pin it on Pinterest to help inspire other parents this year too.