15 Thanksgiving Photoshoot Ideas for Babies
Those sweet babies grow so fast in their first year, and there are so many opportunities to capture their cuteness. Try one of these Thanksgiving photoshoot ideas for babies to celebrate their first Thanksgiving!
Searching for a creative way to celebrate baby's first Thanksgiving? Consider having a Thanksgiving photoshoot! You don't need to be a professional photographer to snap a few great shots. It's easy to DIY your own at home with just a few great props and cute outfits.
Read on for a few of our favorite Thanksgiving photoshoot ideas for babies, and find inspiration for your own as you celebrate your newest addition.
Note: Some links may be affiliate links. That means I may make a commission if you use my links to purchase, at no extra added cost to you! I only recommend products that I personally love and believe in. Full disclaimer here.
15 Thanksgiving Photoshoot Ideas for Babies
Pumpkin Photoshoot
Take advantage of the fact that pumpkins are EVERYWHERE this time of year! Place your baby inside a big pumpkin, surrounded by small pumpkins or plastic pumpkins of various shapes, or even dressed up as one. Check out this cute little pumpkin hat to make it super easy.
You can use a real pumpkin that's been hollowed out, or find a gigantic craft pumpkin instead at your local craft store or big box retailer. Be sure to put a few blankets inside to keep him cozy!
Pumpkin Pie Smash
Similar to a cake smash, mix it up with this seasonal take. Place baby safely in his high chair and serve him a pumpkin pie with plenty of whipped cream. Capture the cuteness as he dives right in.
Fall Corn Stalks/Hay Bales Front Porch Photoshoot
Grab a few hay bales and corn stalks from your local Hobby Lobby or garden center and create your own beautiful fall backdrop that screams Thanksgiving bounty! Lay a few blankets over them to make it cozy for your little one.
Bonus: they double as beautiful front porch decorations too.
Repurpose that Cornucopia
If you have a cornucopia as part of your Thanksgiving décor, it's a great opportunity to take a few perfect holiday photos of your baby. If it's large enough, gently place part of baby's body inside the opening.
Spread a few other seasonal items (like Thanksgiving food, mini pumpkins, electric candles and more) around the cornucopia before taking a few photos.
Flannel Family Photoshoot
Flannel is the perfect easy outfit for fall, especially if you're looking for some great mommy-and-me photos. Many stores now sell flannel outfits in sizes for the whole family, making it easy to twin with your little ones in an easy Thanksgiving photoshoot.
Fall Leaves Photoshoot
Fall is the perfect backdrop for some beautiful seasonal photos this Thanksgiving. Lay out a snuggly blanket on top of some leaves in your yard!
You can also purchase artificial fall leaves on Amazon or at your local Walmart or craft supply store.
This is a great one for babies that can't sit upright yet. They can lay on the blanket, and you can hold up a leaf to cover their body for a cute pose.
Falling Leaves Photoshoot
Want to take your Thanksgiving photoshoot further? Sit up baby in a high chair or baby seat (or in the lap of an older sibling). Ask a friend or family member to pick up a pile of leaves and toss them up in the air, over your little one.
Snap a few cute pics as the leaves rain down! You'll love the look of amazement when they notice the falling leaves.
Macy's Thanksgiving Day Parade Baby Float
I grew up watching the Macy's Thanksgiving Day Parade, and love watching it with my own children now too. It's such an iconic part of Thanksgiving!
Want a truly creative Thanksgiving photoshoot idea for babies? Make your little one into their very own "parade balloon!"
Blow up a few balloons, attaching string. Instead of tying to baby, instead attach it to a soft scrunchie! Then just slip them onto your baby's arms and legs. They'll be fascinated by the moving balloons above their heads.
Pumpkin Patch Photoshoot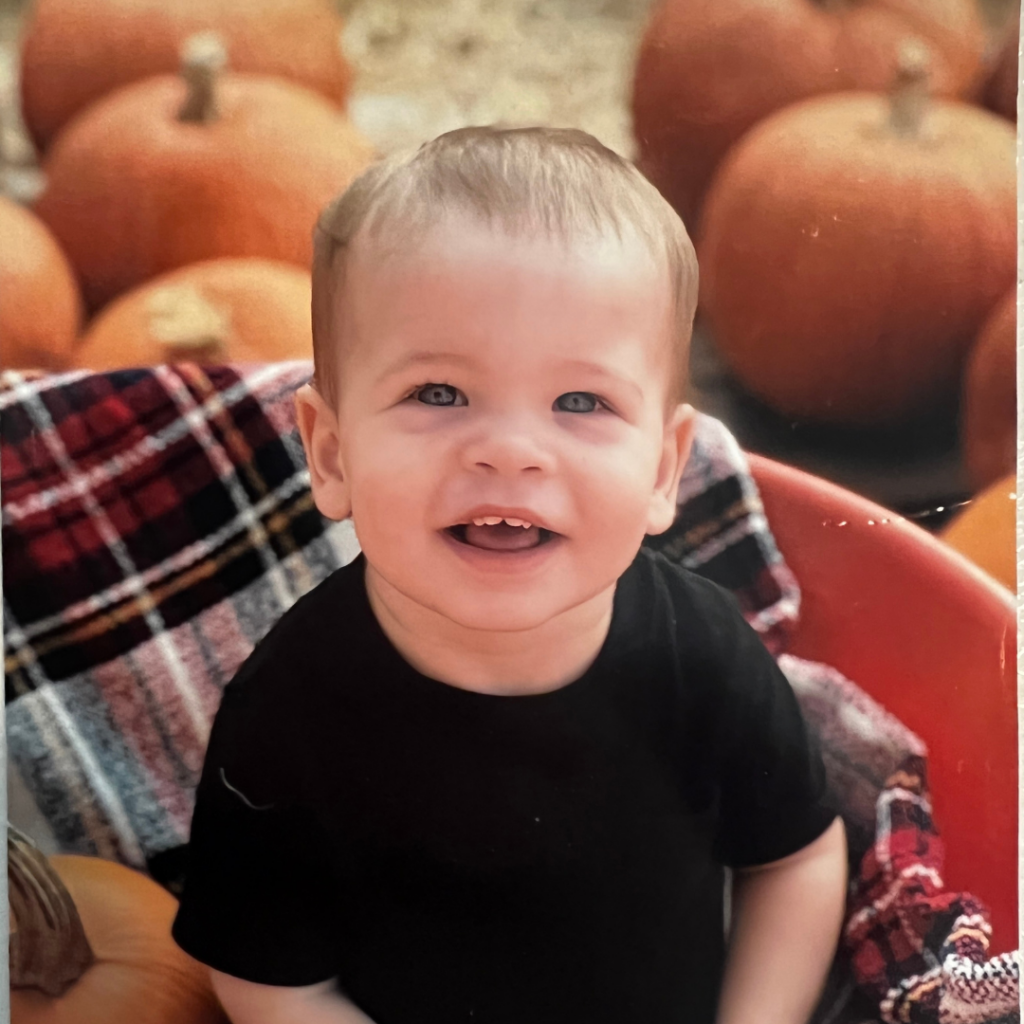 A pumpkin patch creates an easy and beautiful fall photo background, and is great if you're searching for zero-prep Thanksgiving photoshoot ideas for babies.
Plop them next to a few pumpkins on a textured blanket. Otherwise, get mom and dad (or even siblings and grandparents) in the shot to hold baby!
Baby Turkey on a Platter
How can we have a list of Thanksgiving photoshoot ideas for babies without a turkey?? You can make your own little turkey shoot by using either a ready to wear costume (check out the cute options here on Amazon that arrive quickly!) or dressing baby in a onesie of any kind with a few props.
This turkey on a platter idea works best (and is safest for) babies who can't quite wiggle around yet.
Use construction paper to cut out feathers, a turkey gobblers or other fun shapes. Lay baby on the table on top of a platter, and fan out the feathers around him. Lay the gobbler on his chest for the tasty turkey effect and snap a pic!
Turkey in a Pot
Have a little one who is able to safely sit upright? Create your baby turkey photo using a large pot or roasting pan!
Again, you can dress baby in a turkey costume (like these turkey costumes found on Amazon or these adorable ones on Etsy) or in really any cute outfit you have. You'll want to do this one BEFORE you do any cooking. Better yet, do it a few days before turkey day.
For baby's safety I recommend doing this on the floor, or a low coffee table with an extra set of hands. Gently place baby inside the pot or the roasting pan. Give him something safe to hold like a mixing spoon or a fall vegetable and snap your Thanksgiving turkey.
Seasonal Milk Bath
Fill a small tub or sink with warm water, no more than you would for a normal bath. Add a little bit of milk to create a creamy, opaque bath and a few seasonal items like mini pumpkins and apples.
Place baby safely in the bath for a beautiful seasonal milk bath photo. This is a wonderful way to document your breastfeeding journey too, as you can use breastmilk for this shoot. Be sure to always supervise baby and never leave him unattended in the bath.
Thanksgiving Garland
Don't have time for a Thanksgiving photoshoot that takes a lot of work? Dress baby in his Thanksgiving outfit, and place him on a blanket in the living room, or in a grassy area in your yard, surrounded by items that remind you of Thanksgiving tradition and snap a few photos.
A bunch of mini pumpkins, fake fall leaves, gourds, corn cobs and more are all easy ideas. The choice is yours! This is a great way to mark monthly milestones too. Use a milestone blanket instead!
Thanksgiving Football
For many families, watching (or playing!) football on Thanksgiving is a treasured tradition. Mark your baby's first game day by dressing him up as a football!
You can find cute outfits at most retailers, including Amazon and some adorable options here on Etsy too. Ask family members to wear your team's jerseys or tees for easy family photos.
Newborn Photo Shoot
Create your own Thanksgiving newborn session at home. All you need is your new baby, an adorable outfit and a few creative props to capture your own newborn photos. Try neutral colors on a white blanket, with Thanksgiving or fall items as pops of color!
Need inspiration? Take a look at some baby Thanksgiving stock photos as you create your own setting.
You might also enjoy these articles:
100 Unique Ways to Say Happy Thanksgiving
15 Cute Halloween Photoshoot Ideas for Babies
Mistletoes Easy Christmas Footprint Craft (Great Baby's First Christmas Craft)
Unique Monthly Baby Photoshoot Ideas at Home
Final Thoughts on Baby Thanksgiving Photos
I hope this list of cute and easy Thanksgiving photoshoot ideas for babies inspired you as you think about your own little one. Seasonal photoshoots are adorable way to not only grab a cute photo of your little guy or little girl, but also a fun way to mark their first year.
Plus, how can you say no to extra opportunities to document their first holiday season?? No matter which of these you try, remember that the most important part is having fun and creating photos that you are excited about. If you hate football, it won't bring you joy to look back on your little one dressed as one.
Many of these would make great a family photos too. I love looking back on that photo of me and my boys in flannel every year! Choose one of these ideas, or just a bunch. Either way, you'll love looking back at these great family memories year after year.
Which of these baby photoshoot ideas was your favorite for your own little turkeys?
If you liked this article, please share it on social media or pin it on Pinterest to help inspire other parents this year too. Wishing you and your family a very Happy Thanksgiving!