100 Unique Ways to Say Happy Thanksgiving
Thanksgiving is the time of year we all reflect on what we're grateful for. Use this list of Thanksgiving poems and things to say on Thanksgiving to express to friends, family members and co-workers your thanks and gratitude for them this year.
Happy Thanksgiving! While Thanksgiving has been a celebration in the United States since 1863 (encouraged by President Abraham Lincoln), it didn't become a national holiday until 1941, when we began officially celebrating it on the fourth Thursday of November.
Over the years has become a time to bring family and friends together to reflect on the important things in life. There are so many wonderful things to love about Thanksgiving Day. From the good food and feasting to the fellowship and time with family, it's a favorite day for many.
Many people also choose to use this holiday season to let others know how thankful they are for the impact they've had in their lives this year with a Thanksgiving card or note.
Thanksgiving poems or sayings can help make this easier as you try to pick things to say on Thanksgiving to convey your gratefulness. We've collected over 100 ways to say happy Thanksgiving to help! You can choose from:
What is a good Thanksgiving message?
If you're looking for inspiration for things to say on Thanksgiving, check out the collection of well wishes below. Mix and match these Thanksgiving poems or sayings to craft the perfect Thanksgiving blessing for a greeting card, while passing the pumpkin pie around the dinner table, or even sent in a text message.
Thanksgiving Messages for Anyone
Here are a few Thanksgiving messages of gratitude and appreciation that could be added to a note for anyone in your life, including family and friends, teachers and neighbors.
Thanksgiving greetings! We have so much to be thankful for. One day a year hardly seems adequate.
May the good things of life be yours in abundance not only at Thanksgiving but throughout the coming year.
Gratitude unlocks the fullness of life. Happy Thanksgiving to those closest to my heart.
Here's a heartwarming thanks to you for the hope, peace and joy that you bring to my life.
Hope that you're surrounded with the love of your dear ones during this festive season. Happy Thanksgiving to you and yours.
Wishing you a harvest of blessings, good health and good times. Sending you wishes for a joyous Thanksgiving.
Happy turkey day! I hope your holiday is full of good food and lots of fun.
We gather on this day to be thankful for what we have, for the family we love, the friends we cherish, and for the blessings that will come. Happy Thanksgiving!
May your blessings be multiplied this year and throughout all your life. Happy Thanksgiving wishes to you!
Here's to enjoying the company of good friends and family. Wishing you a very happy Thanksgiving!
Happy Thanksgiving Day. Our homes may be far apart, but our hearts are as close as always. May all the good things of life be yours, not only at Thanksgiving but throughout the coming year.
Warm wishes for a very happy and blessed Thanksgiving!
Thanksgiving wishes from across the miles from our house to yours. May your home be filled with laughter and happiness, today and every day!
Gratitude is the heart's memory. Wishing you a Happy Thanksgiving.
November is the time to be thankful, a time to remember and to embrace those who enrich our lives. I'm thankful for a lot of things, but I'm most thankful for you.
At this time of Thanksgiving celebration, our thoughts turn gratefully to you with warm appreciation. Our best wishes for a Happy Thanksgiving.
Happy Thanksgiving Messages for Co-Workers and Colleagues
The next section of things to say on Thanksgiving are perfect for wishing your colleagues a happy Thanksgiving. Be sure to still keep your card professional and appropriate for your work environment!
In this time of Thanksgiving, just a note to say how thankful I am to work with a wonderful colleague like you. Happy Thanksgiving!
Thank you for all that you do as our department lead. I am so appreciative of the time you invest in our team. Wishing you a wonderful Thanksgiving!
Working with you is inspiring and such a pleasure. Happy Thanksgiving to you and your family.
I am grateful that this job has given me not only such a wonderful coworker, but also a new friendship. Thankful for the fun you bring to our roles, and wishing you a happy Thanksgiving!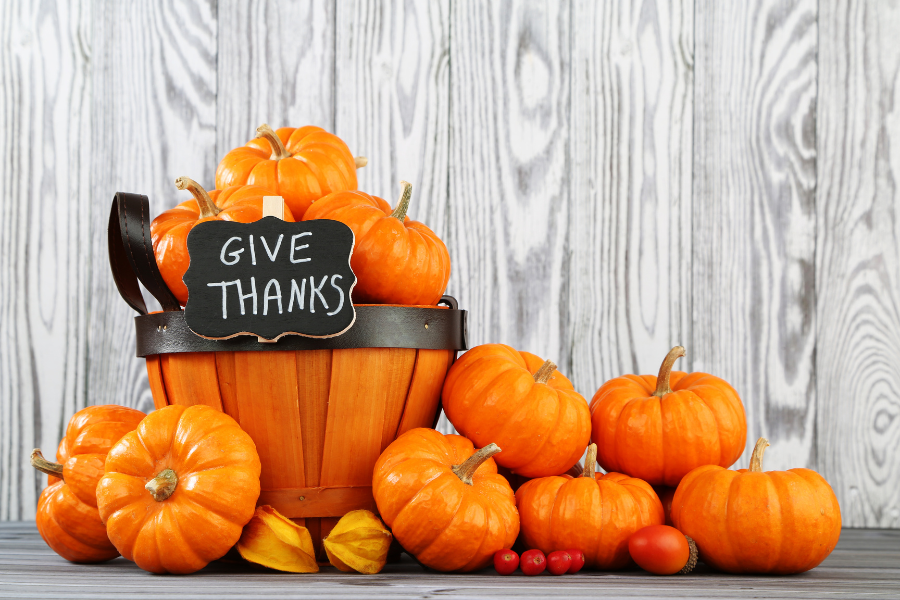 Thanksgiving Quotes
Still searching for things to say on Thanksgiving? Sometimes a good quote is all we need to convey a thankful heart. Let the experts lend their voices as you share your own Thanksgiving blessings this year by choosing one (or more!) of these gratitude quotes. Which of these famous quotes is your favorite?
General Thanksgiving Quotes
"The roots of all goodness lie in the soil of appreciation for goodness." -Dalai Lama
"Thanksgiving after all, is a word of action." -W.J. Cameron
"We may not have it all together, but together we have it all." -Anonymous
"Celebrate the happiness that friends are always giving, make everyday a holiday in which you celebrate just living." – Amanda Bradley
"Gratitude turns what we have into enough." -Anonymous
"Forever on Thanksgiving Day the heart will find the pathway home." -Wilbur D. Nesbit
"Thanksgiving Day is a jewel, to set in the hearts of honest men; but be careful that you do not take the day, and leave out the gratitude." -E.P. Powell
"I love Thanksgiving because it's a holiday that is centered around food and family, two things that are of utmost importance to me." -Marcus Samuelsson
"Thanksgiving is one of my favorite days of the year because it reminds us to give thanks and to count our blessings. Suddenly, so many things become so little when we realize how blessed and lucky we are." -Joyce Giraud
"Each day I am thankful for nights that turned into mornings, friends that turned into family, dreams that turned into reality and likes that turned into love. Most importantly though, I am thankful for you today and everyday." -Anonymous
Inspirational Thanksgiving Quotes
"I am grateful for what I am and have. My Thanksgiving is perpetual." -Henry David Thoreau
"Be thankful for what you have; you'll end up having more. If you concentrate on what you don't have, you will never, ever have enough." -Oprah Winfrey
"As we express our gratitude, we must never forget that the highest appreciation is not to utter words, but to live by them." -John F. Kennedy
"Gratitude makes sense of our past, brings peace for today and creates a vision for tomorrow." -Melody Beattie
"A thankful heart is not only the greatest virtue, but the parent of all the other virtues." -Cicero
"Give thanks for a little and you will find a lot." -Anonymous
"Let us remember that, as much has been given us, much will be expected from us, and that true homage comes from the heart as well as from the lips, and shows itself in deeds." -Theodore Roosevelt
"God gave you the gift of 86,400 seconds today. Have you used one to say 'thank you?" – William A. Ward
"Gratitude can transform common days into Thanksgivings, turn routine jobs into joy, and change ordinary opportunities into blessings." -William Arthur Ward
"Thanksgiving gives us a chance to reflect on our heavenly blessings and focus on a heart of gratitude." – Unknown
"If you are really thankful, what do you do? You share." -W. Clement Stone
Funny Thanksgiving Quotes
"Thanksgiving. Bringing out the best in family dysfunction since 1863." -Anonymous
"You can tell you ate too much for Thanksgiving when you have to let your bathrobe out." -Jay Leno
"Toasted, roasted, baked and done! Hope your Thanksgiving is loads of fun." -Anonymous
"I come from a family where gravy is considered a beverage." -Erma Bombeck
"The Thanksgiving tradition is, we overeat. 'Hey, how about at Thanksgiving we just eat a lot?' 'But we do that every day!' 'Oh. What if we eat a lot with people that annoy us then?'" -Jim Gaffigan
"This Thanksgiving, cherish the time spent with your family as a reminder of why you moved very far away from your family." -Anonymous
"An optimist is a person who starts a new diet on Thanksgiving Day."-Anonymous
"This Thanksgiving I hope you're able to avoid the tragedy of the different foods on your plate touching one another." – Anonymous
Thanksgiving Poems
Searching for things to say on Thanksgiving? Try a Thanksgiving poem!
Many families love to mark Thanksgiving by spending a little quality time reading a good poem to express gratitude. Get in the holiday spirit and get the whole family involved! Have them choose their own favorite Thanksgiving quotes or one of these special Thanksgiving day poems to read aloud while you clear the dining room after the main dish.
Happy Thanksgiving Poem (author unknown)
Thanksgiving for people is…The morning sun and the setting moon, The cheerful bird and the dancing mood, The silent waters and the playful dunes, But more than that I cherish you.
Funny Thanksgiving Poem (author unknown)
May your stuffing be tasty. May your turkey plump, may your potatoes and gravy have nary a lump. May your yams be delicious, and your pies take the prize, and may your Thanksgiving dinner stay off your thighs.
The Harvest Moon by Henry Wadsworth Longfellow
It is the Harvest Moon! On gilded vanes
And roofs of villages, on woodland crests
And their aerial neighborhoods of nests
Deserted, on the curtained window-panes
Of rooms where children sleep, on country lanes
And harvest-fields, its mystic splendor rests!
Gone are the birds that were our summer guests,
With the last sheaves return the laboring wains!
All things are symbols: the external shows
Of Nature have their image in the mind,
As flowers and fruits and falling of the leaves;
The song-birds leave us at the summer's close,
Only the empty nests are left behind,
And pipings of the quail among the sheaves.
Thanksgiving by Ella Wheeler Wilcox
We ought to make the moments notes
Of happy, glad Thanksgiving;
The hours and days a silent phrase
Of music we are living.
And so the theme should swell and grow
As weeks and months pass o'er us,
And rise sublime at this good time,
A grand Thanksgiving chorus.
The Pumpkin by John Greenleaf Whittier
Ah! on Thanksgiving day, when from East and from West,
From North and from South comes the pilgrim and guest;
When the gray-haired New Englander sees round his board
The old broken links of affection restored,
When the care-wearied man seeks his mother once more,
And the worn matron smiles where the girl smiled before,
What moistens the lip and what brightens the eye?
What calls back the past, like the rich Pumpkin pie?
Enjoying this list of things to say on Thanksgiving? You might also enjoy these Thanksgiving articles too:
Easy Thanksgiving Turkey Injection Recipes
How to Cook a Turkey in a Crockpot
Free Printable Thanksgiving Activity Book for Toddlers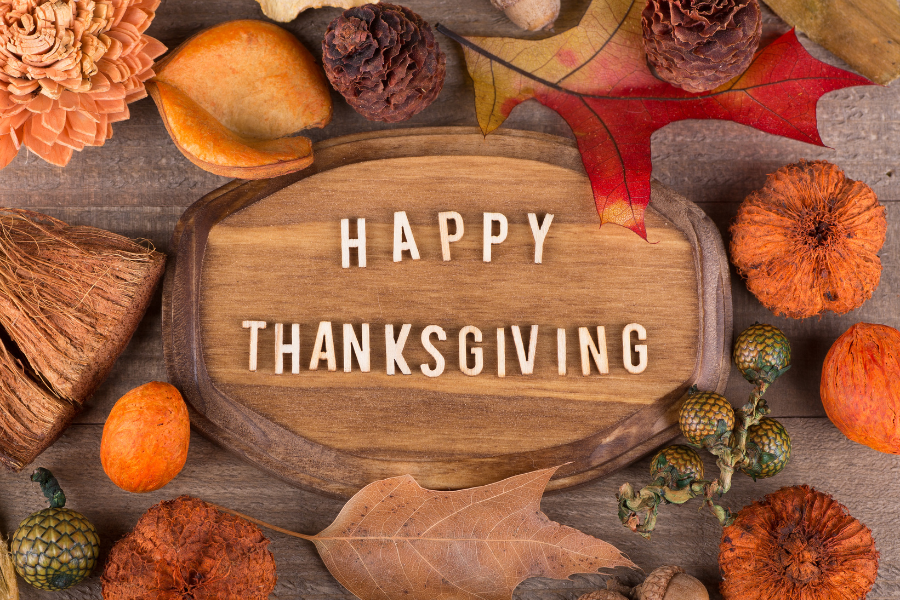 What can I say I'm thankful for on Thanksgiving?
Thanksgiving is an important season for all of us to take a moment and remember the little things in life. Many families (ours included!) choose to go around the table during Thanksgiving celebrations to say what each person is thankful for/reflect on blessings of the past year.
Sometimes it can be hard to think of what you're thankful for on the spot, especially during difficult times. If you're nervous about stage fright this year, here is a list of 10 things to be thankful for this Thanksgiving:
Whether your family is your mom and dad, spouse, children or your siblings, many people are thankful for their family on Thanksgiving.
For some of us, our friends are our true family. They get us through good times and bad. Having a supportive, impactful friendship is for sure something to be thankful for.
Being able to be together
Gathered around the Thanksgiving table with friends and family you aren't able to see as often? Give thanks for the ability to be together today!
Having a new job is something to be celebrated, as is having a strong career that continues to grow and help you provide for your family.
Many people around the world do not have a permanent place to call home. For those of us who do, it is truly something to be grateful for.
Animal lover searching for things to say on Thanksgiving? Give thanks for the pets in your life this year!
Maybe you had a health scare earlier this year, or have a child who has recovered from an illness. Or perhaps you are just feeling lucky to be in healthy in general. Either way, good health is a wonderful thing to be thankful for on Thanksgiving.
Get married or engaged this year? Found out you're pregnant, have been approved for an adoption or had a new baby join your crew? Give thanks for your growing family!
Love is truly the greatest of all things, and is something to be thankful for on Thanksgiving and every day.
How can you NOT be thankful for a fantastic feast on Thanksgiving?
Use this list as a starting place, and see how many things you can add!
Final Thoughts on Things to Say on Thanksgiving
While it can feel difficult to think up unique things to say on Thanksgiving, remember this: whatever you choose to say will be appreciated, because you took the time to recognize that person.
Don't forget what Thanksgiving is all about! Count your blessings and share your thankfulness this year by using the Thanksgiving quotes and sayings above to create the perfect message of thanks. Help your kids learn how to start to practice an attitude for gratitude. Who knows, it might become one of your family's favorite new Thanksgiving traditions.
Which of these happy Thanksgiving quotes, inspirational Thanksgiving poems or Thanksgiving sayings was your favorite?
If you enjoyed this collection of things to say on Thanksgiving, please share this post on social media or pin on Pinterest to help inspire more families. Happy Thanksgiving to you and your family!