When it comes to preparing for a natural childbirth, one of the smartest things you can do is take a birth preparation course. If you have your heart set on an unmedicated birth, you won't want to miss this Mama Natural Birth Course Review (updated for 2023).
Congratulations on your upcoming birth! In today's world where childbirth is viewed by so many as a medical event in a hospital, it can be hard to find the support you need for a natural birth.
As someone who had two natural childbirths in a local birth center (you can read about my first here, and my second here), one of the biggest challenges I ran into was around how to prepare for labor when I knew I truly wanted an unmedicated childbirth.
Natural childbirth classes are a GAME CHANGER. Not only can they help you prepare for labor and delivery, but they also give you (and your partner) confidence when it comes to navigating this kind of birth.
In this Mama Natural Birth Course Review, I'm going to share with you my honest review from taking this course before the birth of my second child. My goal is to help you figure out if it is the right childbirth class for you and your needs!
I took an in-person natural childbirth course before my first birth and loved it. It was in partnership with where we were birthing, and it really helped both of us feel confident and ready for birth. When we found out we were expecting again, I knew I wanted to broaden my knowledge of everything around natural childbirth. The Mama Natural Birth Course was recommended to me by multiple friends.
One of the things that really resonated with me and my husband when preparing for a natural, unmedicated childbirth was from our doula. She told us that the majority of giving birth without medication is mental! Having the proper education and support going into birth is what makes a big difference for many, many women.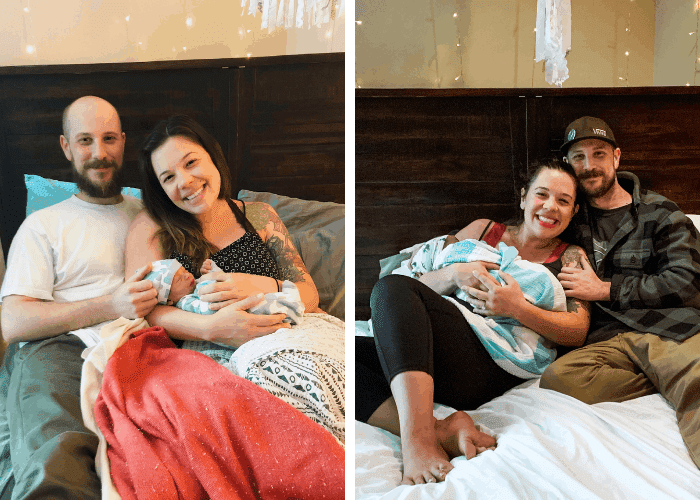 I was blown away by the breadth of knowledge presented in this course, and today I'll be breaking down for you why this might be the right choice for your natural childbirth class too. Let's get you ready for that natural birth you want!
Note: Some links may be affiliate links. That means I may make a commission if you use my links to purchase, at no extra added cost to you! I only recommend products that I personally love and believe in. Additionally, I am not a medical professional and this post is not meant to be medical advice. I'm just a mom who is sharing information. Full disclaimer here.
What is the Mama Natural Birth Course?
The Mama Natural Birth Course is the #1 bestselling online childbirth class, but is about so much more than just childbirth. It actually is a tremendous resource on how to have a healthy, natural pregnancy from your first trimester to the postpartum period.
This course is taught by Genevieve Howland and Maura Winkler. Genevieve is the face behind Mamanatural.com, as well as the author of the bestselling book, The Mama Natural Week-by-Week Guide to Pregnancy and Childbirth.
Maura Winkler a certified doula, certified nurse midwife and is also an IBCLC (lactation consultant). She has personally assisted hundreds of women with breastfeeding and childbirth during her career.
Here is what Genevieve and Maura share that they want moms to be to know about childbirth and their course:
"You've been told birth is scary, excruciating, something completely out of your control. You've been told it's a medical condition instead of a natural biological process. You may have even been told you won't be able to give birth without interventions like labor induction and pain medication.
But we're here to tell you the truth about your childbirth: You can do this.
It will be one of the most challenging and powerful things you will ever do. You will grow in ways that you never knew possible. You will emerge a stronger and more confident woman — no matter how your birth unfolds. Seriously, you can do this. And we can help.
Learn how to have an awesome birth without leaving your couch.
The Mama Natural Birth Course will equip your mind, body, and spirit to help you achieve the birth of your dreams — whether that's a water birth in your living room, or a gentler and more natural hospital delivery. The course is 100% online and on-demand, so you can take it as quickly or slowly as you like. You can repeat modules if need be, and if time is an issue, you could do the whole course in a weekend."
How is the Mama Natural Course Structured?
The Mama Natural Birth Course is an online birthing course that includes 8 lessons, plus an additional full class on breastfeeding AND a bonus section on VBACs. The majority of the class is taught through video lessons with the hosts in a conversational format. I love how it makes you feel like you are actually learning WITH them, as opposed to just watching a bunch of one-dimensional videos.
Speaking of the videos: the course includes over 10 hours of instructional information plus a several birthing videos and stories! One of the best things you can do to prepare for a natural childbirth is to watch real videos, and the ones that Genevieve and Maura have chosen are fantastic.
Unlike some of the natural birth videos out there, these show moms using real coping mechanisms to get through the pain of childbirth. These videos are also a fantastic resource for your partner to watch too. My husband said that they really helped him feel prepared about just how intense a natural childbirth could become.
The Mama Natural Birth Course is truly a comprehensive course, also includes a few other awesome bonuses to help you prepare for your healthy pregnancy and natural childbirth:
Long & Lean Prenatal Workout video
Secular and Religious Birth Affirmation Audio Files
The Natural Labor Playbook- A step-by-step guide to laboring naturally
Mama Natural Affirmations App
Pregnancy Meal Plan
20+ Pages of Cheat Sheets and Worksheets (like a visual birth plan and natural pregnancy symptom remedies, among others)
Mama Natural Birth Course Review – Online Natural Childbirth Class
Let's break down everything that's included in the Mama Natural Birth Course so you can decide if it's the right online natural childbirth class for you.
Mama Natural Birth Course Content
One thing I loved about this online natural childbirth course is that you get right to the good stuff: the births!
Within the first 30 minutes of the first lesson, you'll watch Genevieve and Maura working with a few mamas who are delivering their babies naturally. Being able to see those births is SO powerful. For me personally, watching a wide variety of natural childbirths helped a lot with the fear and anxiety.
As I mentioned above, this course is about so much more than navigating a successful natural childbirth. Here's a sneak peak of the main topics covered:
The benefits of natural childbirth (there are so many more than just "not having medication in your system"
Preparing mentally for childbirth

Your support team- why it's important and how to choose them

How to recognize and manage early and active labor
How to recognize the transition stage of labor
Best positions for pushing and pain management techniques other than pain medication
What to do when complications arise (including information on possible interventions and cesareans)
Postpartum and newborn care
A FULL breastfeeding course (SO valuable for new moms)
Additional information and considerations for VBAC births
Access to a private Facebook group for even more help
Related Childbirth Posts:
How to Reduce Labor Pain During Natural Childbirth
FREE Positive Printable Birth Affirmation Cards To Get You Through Labor
What is a Doula? The Benefits To Hiring a Doula for Childbirth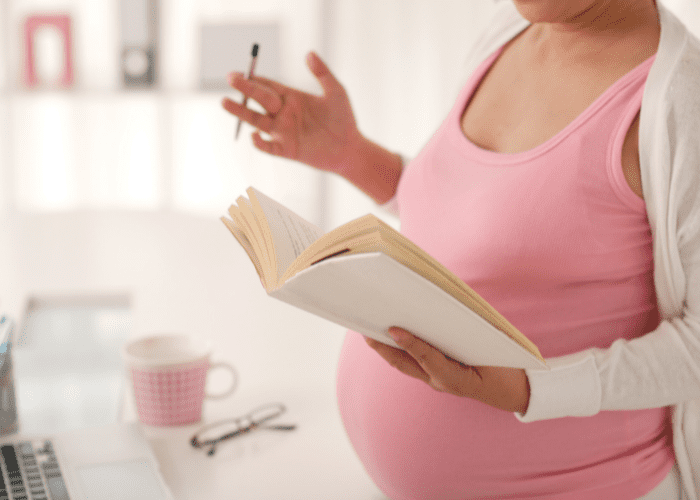 Mama Natural Birth Course Highlights
As we've mentioned a few times, the Mama Natural Birth Course is an online prenatal class that is structured to be more of a conversational format, full of helpful visuals and real-life natural birth experiences. I found this approach to be incredible engaging. It really helped the material come to life for me!
I also loved that the course includes partners. Let's be honest: if your partner is a man, there's a good chance he has no clue what to do or how to prepare. It's so incredibly valuable to help your partner also feel prepared to support you!
Information Specifically for Partners
Every Mama Natural lesson features a short segment with "The Dudes," aka Papa Natural and two of his friends. They discuss the information from a partner's perspective. My husband really loved this. He told me that this course helped him feel even more confident in being able to be a great support system for my next natural childbirth.
If your husband, boyfriend or partner is going to be an active part of your labor, these segments are incredibly valuable. Not only can they help educate him about birth in general, but they also are designed to help ease some of his concerns and help him learn more about how to support YOU.
The Importance of Your Support Team
Having the right support team can truly make or break your birth plan. The course spends time talking about how to assemble the right childbirth support team for you and your birth vision.
This includes helping to prepare your partner, finding the right provider (or changing providers) and also how to select a natural birth-friendly birthing location. This can be so paramount! If you want to have a natural childbirth, you need a provider who supports and encourages you in this (as long as you have no underlying medical conditions that can cause concern).
I speak from experience: When I announced that I wanted to have an unmedicated, natural childbirth, my OBGYN at the time told me that was impossible. I have a back injury, and she stated during my 8 week ultrasound that it would be impossible for me to give birth naturally. She was already talking about dates for a scheduled c-section!
I knew that I could have a natural childbirth and that it was what I wanted, so I changed to a natural birth center and spent time handpicking the best birth support team possible. I know without a doubt that if I hadn't changed providers, I would not have had a successful natural childbirth.
Lots of Opportunities to Practice
While this course is online, Genevieve encourages you to practice the labor positions and pain coping techniques as much as possible. The more you can practice, the more successful your outcome for a natural childbirth experience.
You'll complete labor exercises in an ongoing way throughout the course. The more you practice, the more confident you'll feel about doing these things when the big day comes.
The course will also teach you techniques to help position your baby in an optimal childbirth position, which is extremely important for a successful natural labor for all pregnant women.
What to Do If Things Go Wrong: Interventions and C-Sections
No matter how much you might prepare, sometimes births can change. In these kinds of situations, it's incredibly important to feel prepared and educated about medical interventions, epidurals and cesareans.
I remember feeling very confused when I took my first in-person birth course with our oldest, because they basically glossed over all of this information. It made me feel so scared and anxious, because I knew if we ended up in that situation, I wouldn't feel prepared at all.
The Mama Natural Birth Course wants to make sure YOU feel as prepared as possible in case your baby needs extra help to get earthside. They go over the most common interventions, how to decide the best options for you, and what alternatives you can apply if appropriate.
This information is so incredibly valuable, and not enough natural birth courses talk about this!
Postpartum and Newborn Care
Woohoo! You did all of this research and education on delivering that wonderful new baby! But… what about when it's time to bring him home??
The Mama Natural Birth Course also is full of information on postpartum and newborn care, including:
Delivering your placenta
Placenta encapsulation
Cord banking
And surviving the first few days and weeks of motherhood
Genevieve takes time to cover the basics of newborn care (including diapering, swaddling, safe sleep and more) to help you feel even more prepared to bring that baby home, which is especially valuable for first time moms.
I actually chose to take a "moms to be" class with my first child because nearly none of this was covered during my in-person childbirth preparation classes (meaning an extra expense). The Mama Natural Birth Course includes this information, which is so valuable.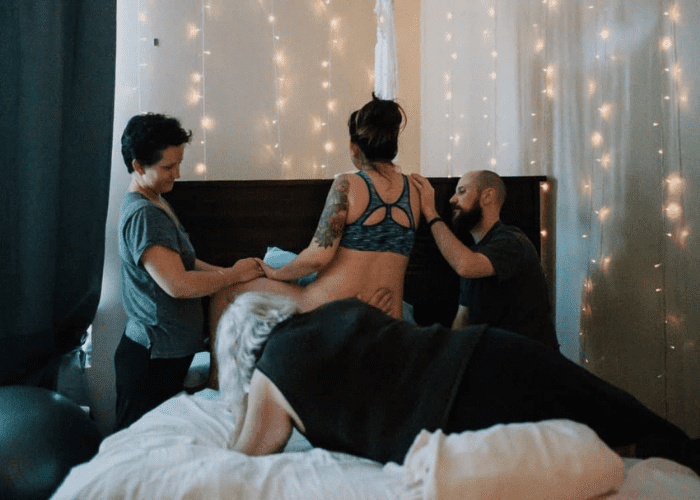 Find more information directly from the Mama Natural Birth Course Here
Mama Natural Birth Course Review- The Bonuses
This online natural childbirth class is full of SO much valuable information, and also gives you access to extra bonuses too, like:
Natural Birth Affirmation Cards
An Inspirational Bracelet
A FULL breastfeeding class FOR FREE.
Let's talk about breastfeeding for a second. If no one has told you, breastfeeding is hard for nearly every single new mom. I felt incredible unprepared to breastfeed and truly struggled with my first child.
The Mama Natural Birth Course includes a full breastfeeding class for free as one of the bonuses. This class teaches you everything you need to know to get started, including:
Different breastfeeding positions
How to help your baby latch
Maintaining and increasing your milk supply
The basics of pumping
How to recognize and treat common breastfeeding/pumping problems
And so much more!
Mama Natural Birth Course Review Pros & Cons
To quickly recap, here are the pros and cons of the Mama Natural Birth Course:
PROS
Conversational format
Natural support for your entire pregnancy
10+ Hours of Instructional Videos
Online classes you can take at your own pace
Detailed Written Guides and Worksheets
Tons of Birthing Videos
High-Quality Medical Visuals
A plethora of exercises and techniques for all stages of labor
Covers Possible Interventions and C-Sections
Additional information about breastfeeding and postpartum/newborn care
A full year of unlimited access
Satisfaction Guarantee
CONS
Available only online- no in-person instruction
Not a lifetime access
No course guide or accompanying materials
Who This Online Course is For
If you truly want to set yourself up for achieving the natural childbirth of your dreams, you NEED to take a natural childbirth class.
Childbirth isn't something you can just wing, especially in the United States. While the World Health Organization (WHO) recommends a C-section rate of 10-15%, the United States' cesarean birth rate is actually over 31%. That's more than 2 times the recommended amount!
Additionally, the majority of American women use epidurals, regardless of whether they have a belly birth or a vaginal birth.
Why do you need to take a natural childbirth course? Because giving birth naturally without medication is NOT the norm in our country for most women.
If you want to have a natural birth, preparing as much as possible in advance is incredibly important. Whether you choose to take the Mama Natural Birth Course or other online childbirth classes, investing in natural childbirth education is something I highly encourage every mama to be to prioritize. This course is also a great option if you are trying to prepare for a natural birth in a home birth setting.
When I announced that I wanted to have an unmedicated, natural childbirth, my OBGYN at the time told me that was impossible. I have a back injury, and she stated during my 8 week ultrasound that it would be impossible for me to give birth naturally. She was already talking about dates for a scheduled c-section!
I knew that I could have a natural childbirth, and fully believe that immersing myself in as much education, resources and the best birth team possible would improve my outcome. And I did it, laboring for nearly 2 full days with my first child before he joined us earthside. I know in my heart I couldn't have done it without the mental preparation that I went through with a natural childbirth course like Mama Natural.
Who This Online Birth Course Isn't For
I would be remiss with this Mama Natural Birth Course review if I didn't address that as awesome as this class is, it's not for everyone.
If you are someone who learns best in person, taking an online childbirth course might not be for you. Keep in mind that the entire class is online, so no in-person instruction is included.
The Mama Natural Childbirth Course is presented in a conversational format. If you learn best with lectures and traditional presentations, it might not be the best choice for you.
With that being said, the power of this course also lies in the fact that it holds your hand throughout your entire pregnancy. Have questions in your second trimester? Navigating pregnancy symptoms that are kicking your butt? The Mama Natural Birth Course has help for all of those things, too.
How Much is the Mama Natural Childbirth Course?
Childbirth classes are an investment for your birth. Currently, the Mama Natural Birth Course is listed at $264. For contrast, the in-person childbirth class that I took with my first child was $400, and I can honestly say that the Mama Natural course actually covered more material.
The cost of birth courses in your area might vary, but keep in mind that if you truly want a natural childbirth, one of the most valuable things you can invest in is childbirth education in self-paced online childbirth class like this one. If you decide to choose a less expensive course, be sure that you aren't sacrificing quality and important information at the same time. Remember: the Mama Natural Birth Course offers a 100% satisfaction guarantee, too.
At this time there is not a Mama Natural Birth Course discount or any kind of promo code offered by their team.
Conclusion: Is the Mama Natural Birth Course Worth It?
If you truly want a natural, unmedicated childbirth, investing in a natural childbirth course is one of the most important things you can do. Keep this in mind: you don't get a second chance to start your birth over! Once that baby is on his or her way, there's no pressing pauses and scrambling to quickly educate yourself.
Is the Mama Natural Birth Course worth it? I absolutely think so. I loved this course and I recommend it to all of the moms to be I know!

Even if you've taken another online birth course (or an in person one), this virtual online childbirth class is hands down full of SO much incredible information. Even after having already taken one class, I still learned a ton!
Are you ready to invest in your natural childbirth experience? Just click the button below to get started!
If you have any remaining questions, just let me know in the comments! I'm cheering you on, mama. You've got this!