The birth story of our third child, Finn, and my third natural childbirth.
I can't believe it's already been a year with our sweet Finnegan! While I shared his birth story in many places over the past year, I realized I never shared it with all of you.
I am still in awe of how incredible Finn's birth was. While this was my third natural birth, it was my first where I felt firmly calm, capable and empowered. My oldest child's birth at 41+3 was incredibly long, clocking in at nearly 46 hours of active labor (with back labor to boot), and by the end I felt completely exhausted both mentally and physically.
My second son's birth at 41+6 was triggered by an induction, making me feel like I got hit by a train and my body was totally out of control as I went from zero contractions to his birth in less than 5 hours.
I'm thrilled to share that my pregnancy and birth were truly a dream. It was exactly what I had wanted. However, it's important to know that my childbirth did experience a complication afterwards, so please be prepared. We are all fine, but I hate being surprised during other people's birth stories 😉
Note: Some links may be affiliate links. That means I may make a commission if you use my links to purchase, at no extra added cost to you! I only recommend products that I personally love and believe in. Full disclaimer here.
Finn's Birth Story
We were blessed to have an incredibly easy pregnancy, and really were able to soak the milestones in this time. Finn was due on October 27th, but my past two children had arrived significantly late at 41+3 and 41+6, so we knew he could arrive as late as November 10th!
I knew that Finn would most likely be our last pregnancy, and I really wanted to have more control over what that birth would look like, namely my own mindset. I decided this time to take a hypnobirthing course, and focused as much as possible in the last few months of pregnancy on my own mind.
My husband and I actively practiced up breathing, down breathing and relaxation techniques that he could do in between labor. I visualized the type of birth I wanted, and spoke it into existence as much as possible. I actively worked to prepare my body for him to begin his journey in the most optimal position, prioritizing weekly prenatal chiropractic, daily stretches & exercise and Spinning Babies circuits.
Trying to Jumpstart Labor
As much as I had loved this pregnancy, I also knew from past experience that after 40 weeks my body starts to feel really achy and exhausted. We made plans to try to start safely evicting him after October 6th when I hit 37 weeks of pregnancy.
Our plans went a little bit sideways when my doula suffered the loss of her husband around that same time and needed to go out of the country to handle some things. So instead of jumping full speed into trying to encourage labor, we instead eased into things.
We started by ordering super spicy Indian food from one of our favorite places, then added in curb walking, clary sage essential oil, pumping for nipple stimulation, bouncing on the yoga ball, evening primrose oil and of course some "mommy daddy time". We increased the amount of time we were doing the Spinning Babies Three Sisters circuit as well.
We also used this time to try to make some extra special memories with our older boys. We did a special Halloween night with Boo Bags full of goodies, Halloween jammies and kids Halloween movies. We also took some Halloween pictures early, just in case!
We put together a day of giving, where we brought donations to a local women's shelter and our local Goodwill. And we also took some long walks every day around our neighborhood and hit some local fall festivals as well.
The week of his due date came, but there were no indicators that he had plans to join us any time soon. I was able to sneak in a prenatal massage the day before his due date (October 26th) with my favorite massage therapist. She was awesome enough to include a pressure point massage that could help stimulate my body to go into labor, and talked me through the points so that Matthew could find them at home too. That night we decided to also make the famous labor inducing eggplant parmigiana at home.
Labor didn't magically begin, so the morning of the 27th (my due date) I had my weekly prenatal adjustment and headed to the birth center. I was pretty surprised to find out at my birth center appointment that I was 1 cm dilated and 50% effaced.
Our midwife also let me know that she could feel his head during her exam, meaning he was nice and low. That might not sound like a big deal but my body had never started those things before 41 weeks with my previous pregnancies!
Going into Labor
The next day on October 28th I began to have lots of stomach issues, and our family decided to head to our local soccer field for a super long family walk that included a bunch of curb walking. The morning of the 29th I felt a small gush of water around 10am and had some mild early labor symptoms throughout the day.
However, I wasn't convinced that meant labor would start soon. We were barely past 40 weeks, and I was in early labor with my oldest child for a full day before things started moving!
Early afternoon I started to get a feeling that it might be a good idea to take the boys to my parent's house for the night, just in case. We dropped them off around 3pm and headed to the store to get some snacks for us. We figured even if he didn't arrive that weekend, we could at least use the time together as a home date night and a chance to get one last really great night of sleep.
When we got home I did an extended Miles Circuit while Matthew took care of a few things, and then Spinning Babies Three Sisters when he came back. I felt some increased discomfort, but nothing major. We made pizza, watched a movie and headed to bed early.
However, Finn had other ideas as he woke me up out of a sound sleep around 10:45pm with real contractions! I quietly timed them in the dark as Matthew slept. Once I realized that it might be the real deal, I got up and braided my hair in our bathroom to prepare for the water birth I hoped to have this time.
I woke up Matthew after this, and he helped me continue to time the contractions while bouncing on the yoga ball. The contractions became stronger and closer together, so I decided to take a hot shower while Matthew called our doula to let her know what was happening.
We also contacted the birth center so that they were in the loop in case we decided to head in. Turns out that was the smartest move, as since there were no active births or women recovering at the time that there were no staff there at that moment. Calling in advance gave the midwives and nurses a little bit of extra time to prepare to be there at any moment.
I felt strongly that we weren't quite at the point of needing to head there, as I wasn't feeling the consistent pressure and waves that I knew were a more reliable indicator for my body that we were transitioning to active labor. Instead, we attached a tens unit, as I was experiencing a little bit of back labor. It gave me enough relief to feel like it might be a good idea to try to sleep a little, so we headed back to sleep around 12:45am.
Around 3am I was woken up by very intense contractions. I quietly got up and bounced on the yoga ball in the dark, measuring my contractions and focusing on how my body felt. Matthew woke up soon after, and he rubbed my back as I bounced.
While things felt intense, I also knew I hadn't hit active labor yet, so I crawled back into bed. Turns out active labor was right around the corner. I felt this overwhelming urge to quickly get out of bed, and within 2 steps my water completely broke all over the bedroom floor around 3:40am!
Active Labor and Finn's Water Birth
We called the doula and the birth center, got the last few things we needed together and jumped in the car. When we arrived around 4:20am our doula had beaten us there, but the birth center staff hadn't arrived yet! I briefly labored in the front seat of our car until their team arrived, praying this baby didn't speed up and come in the front seat of our brand new car!
Once their team arrived we headed inside. I had my pick of any room, and of course couldn't resist choosing the Fire Room again. Our other children had been born in that room, and I loved the idea of all three of them arriving in the same space. I headed straight to their triage room while Shari assisted their staff with setting up the birthing pool.
Once we got into the room I bounced for a little bit on the ball, knowing that I didn't want to get into the birth tub until I was sure it was time. I had attempted a water birth with both of my older boys, only for them to need some extra assistance and the bed being the best place for those births. I really wanted to feel ready before stepping into that tub.
Once I got into that water around 4:30am, it felt amazing. Matthew had been prepared to get in there too, but this time the birth tub in the room was significantly smaller than last time. So instead, he sat behind me with Shari, rubbing my back and shoulders and giving me a hand to squeeze as hard as I needed to.
Things kicked into high gear quickly. At some point our birth photographer Abby arrived, and I labored in the tub surrounded by a ring of individuals who breathed belief and support into me the entire time.
I labored actively for about an hour, changing positions frequently to help encourage him to be in the most optimal position as he made his way out. I focused on my breathing, counting through the surges and trying to stay as present as possible. It became increasingly hard, as the surges were coming about every 30 seconds and I was barely having time to recover.
Before I knew it, he was close enough for me to feel his head! I pushed for just 15 minutes before he was crowning. At this point the midwife cautioned me to slow down a little bit and focus on how I was pushing, to help reduce my risk of tearing. I was shocked that I was able to focus in that way, but I shifted to try to push in a very measured way.
First his head came, then his shoulders and they told me to reach down and grab him. As I pulled him up to my chest, I was in shock. I couldn't believe I had gotten the water birth I had dreamed of!
Finn was born at 6am on the dot on October 30th, after only about an hour and a half of labor at the birth center. He was absolutely perfect, weighing in at 7 pounds 8 ounces and measuring 20 inches long with a head of dark brown hair. I felt exhausted but amazing and so empowered.
After The Birth
We settled onto the bed to soak up that precious golden hour, but the birth center staff identified a slight postpartum hemorrhage. They asked to give me a dose of Pitocin, which I was fine with as I had needed one dose after Archer's birth too.
However, about an hour later I started to realize something was off. I knew from Grey's delivery how awesome I felt after his birth, and I was still feeling pretty gross, as well as feeling like blood was still coming out of me.
I let our midwife Vanessa know when she came back to the room (she was present during Grey's birth too, and I'm so glad she was part of this birth story too). She ended up pushing a huge amount of blood clots out, and the blood kept coming. They gave me a second dose of Pitocin, but the bleeding didn't stop. I was hooked up to an IV with additional medication that was given over the next few hours, as well as given an oral medication to dissolve under my tongue.
Luckily the team was able to stop the bleeding, and our family stayed at the birth center for much longer for observation, though still being able to go home and be in our own bed that night.
However, even with that happening, Finn's birth was the most incredible, beautiful birth experience. I'm still shocked that so many things I had focused on came true:
• I wanted him to be born in October, and on a weekend.
• I wanted my body to go into labor naturally before 41 weeks, and to have a successful water birth.
• I wanted to feel empowered and in control of my birth experience, and not tear.
We are so in love with our sweet guy, and his brothers adore him. We feel incredibly blessed and I'm so grateful that I finally got the kind of birth experience I had dreamed of!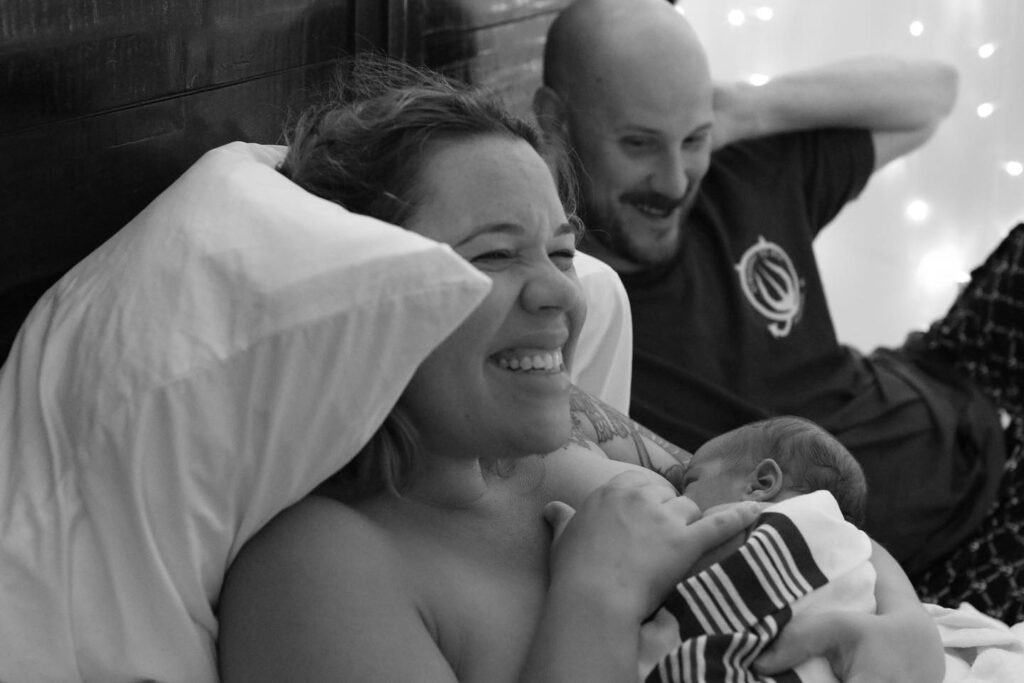 Final Thoughts on Our Third Natural Childbirth
I hope our natural birth story inspired you today, and I'm so grateful I was able to experience three very different births. I also want to thank our care team:
The Atlanta Birth Center and their entire team of nurses and support staff, especially Vanessa Treaster
Shari Aizenman, our doula
Abby Johnson Photography for capturing our birth
My parents, for jumping in to watch the big boys and taking them trick or treating so we could recover
My wonderful husband Matthew, who is truly my person. I am so lucky to be loved by him.