The Best Maternity Clothes on Amazon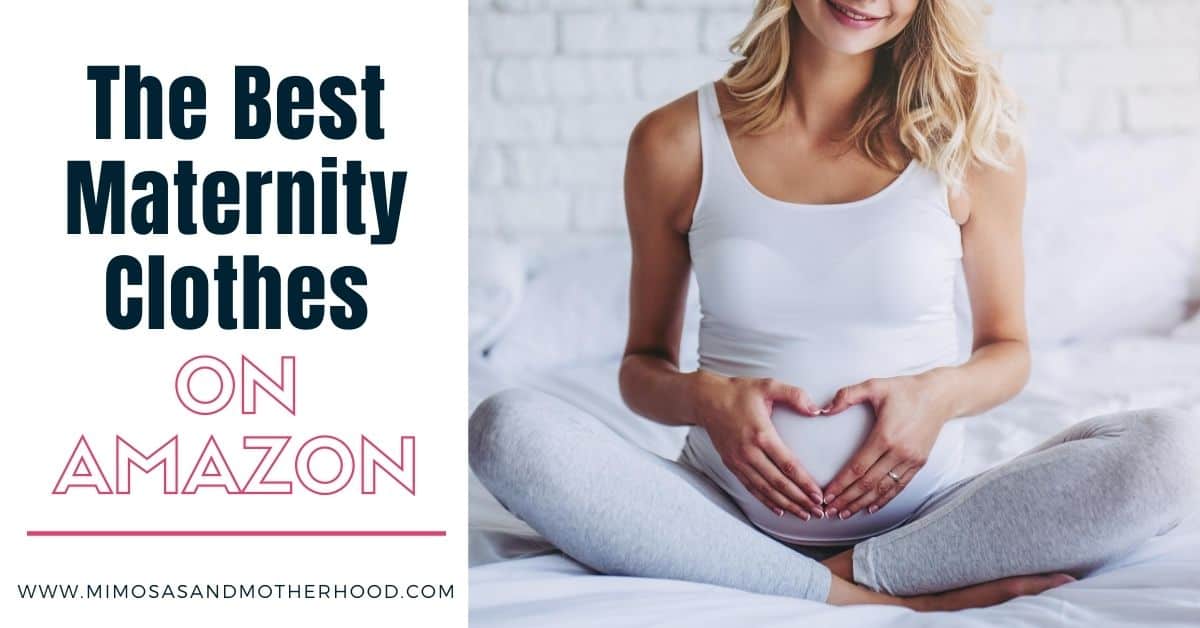 Congratulations on your pregnancy! Are you searching for great clothing items that won't break the bank? Read on for the best maternity clothes on Amazon.
Whether this is your first child or your tenth, finding affordable but awesome maternity essentials can be a challenge. I remember feeling so frustrated that it took me until the end of my pregnancy to stumble upon some really great deals: items that fit well, made me feel good, and most importantly didn't break our budget!
One of the best things about being a mom-to-be are all of the options out there these days! Shockingly, I found many of my favorite maternity clothes on Amazon.
What I really liked about ordering Amazon maternity clothes was their return policy and customer service. I was nervous about ordering from sites where we would be out the shipping cost if I needed to return something, and since we were having a baby on a very tight budget order from a website with such an easy return policy really set me (and my partner!) at ease.
Note: Some links may be affiliate links. That means I may make a commission if you use my links to purchase, at no extra added cost to you! I only recommend products that I personally love and believe in. Full disclaimer here.
Related: The 5 Things You Must Have for a Fast Postpartum Recovery
Side note: if you don't already have an Amazon Prime account, I *highly* recommend that you get one. Not only will it make purchasing items for yourself such a breeze with the free two day shipping, but I speak from experience when I tell you that once you bring that sweet baby home you'll realize a dozen things you need that you never expected… and with a newborn you won't be feeling like leaving the house to grab them, no matter how close the store is.
Plus a Prime membership now also includes THOUSANDS of movies and TV shows you'll want to binge watching while up in the middle of the night feeding your little love, grocery delivery and local restaurants! You can get a FREE 30 day trial membership HERE.
I will tell you from experience that purchasing maternity items make a HUGE difference in how you mentally and emotionally feel. They add support, are more comfortable than trying to fit into your pre-pregnancy wear, and that goes a long way with everything else you're handling. So let's dive in: here are the absolute BEST maternity clothes on Amazon.
Related: Top 5 Maternity Clothing Items Your Closet Needs
The Best Maternity Clothes on Amazon
Must Have Maternity Clothes on Amazon
These are the items that I personally couldn't live without while pregnant. They're affordable, make you feel good, and are a great starting place to build a "maternity wardrobe" without going overboard! These are some of the best Amazon maternity clothes.
Best Maternity Undergarments on Amazon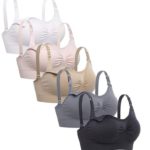 Nursing Bras // Even if you're not sure if you're going to
breastfeed, your boobs are going have a mind of their own. I snagged this pack of bras as I grew, and honestly it helped SO MUCH with comfort.  It  might be TMI, but by the end of my first trimester I was busting out of my
pre-pregnancy bras, and these were lifesaving. They're also easy to transition postpartum for nursing. Plus, 5 bras for $35?? Such a steal!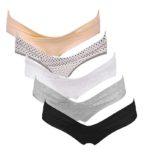 Below the Bump Undies // I will admit it: I 100% thought that these were a waste of money. I insisted on wearing my fave VS undies all the way through that last trimester because I didn't want to spend money  on "maternity underwear," and you know what happened? My bumped stretched out all of those regular panties, and I had to go buy new underwear haha
My friends swear by these: they're comfy, fit perfectly under your bump, and are super soft to sleep in. They're already at the top of my list for our next pregnancy!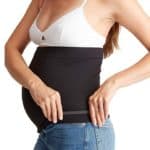 Belly Bands // These little genius inventions allow you to wear your PRE-pregnancy jeans unbuttoned and or unzipped while still holding them up and maintaining fit. They are a must have when you aren't ready to spring for a pair of maternity pants, and even come in handy when you just need some extra support in your last trimester.
Plus, the extra support actually really helped me with body pain. I have the black, white and nude colors.
Maternity Leggings // These are not only incredibly comfortable, but are super cozy. They're also the most affordable maternity leggings I found that I actually loved, which trust me, you'll appreciate too.
I've been known to not only lounge around the house in these, but layer them under a long shirt and cardigan to run errands. They're perfect for everyday wear.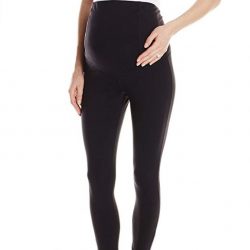 Extra Support Maternity Leggings //  Any mama who has made it through her second trimester will tell you: that bump starts to REALLY get heavy. These leggings might be pricier, but when I tell you that the relief is real, I'm not
kidding.
For me it was much easier (and more comfortable) to wear this than a traditional support belt, which made this totally worth it for my pregnancy.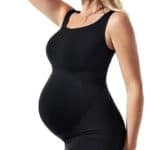 Body Shaping Tunic Tank // This is much pricier than I would normally ever spend on a tank top, but y'all: it's worth every penny. It provided SO MUCH SUPPORT and was a lifesaver toward the end of my pregnancy.
It's an awesome long length so that you can wear it with leggings, too, and is lightweight enough where you aren't burning up during summer months.
Free Printable Ultimate Hospital Bag Checklist
Are you already thinking about what you'll pack to bring with you to the hospital or birthing center? I created this free printable ultimate hospital bag checklist to help!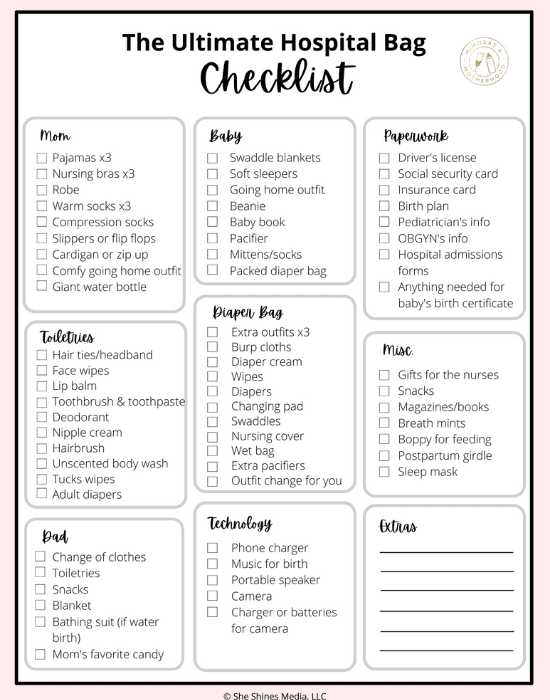 I made this list based on my own experiences at a birth center, plus the experiences and recommendations of dozens of friends and readers who birthed in a hospital setting. This Ultimate Hospital Bag Checklist is the perfect addition to your birth preparations, and you can print it for free at home! Just enter your details below to snag yours!
The Best Maternity Capsule Wardrobe Items on Amazon
It might feel like you need to buy a lot of items to have a full maternity wardrobe, but trust me: you don't!
I made my wardrobe stretch further during both of my pregnancies with multiple pairs of leggings, a few tees and tanks, and a few great dresses making up the bulk of it.
These are a few of the best items to add to your maternity wardrobe from Amazon.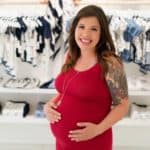 Tank Dress // Let me start by saying that this dress is NOT a maternity dress, but is hands down the most amazing item I found while pregnant. Unfortunately, I didn't find this until I was (and I'm not kidding) 37 weeks pregnant.
This tank dress is super stretchy, incredibly comfortable, and ONLY $13!! It comes in 30 colors, is insanely comfortable, and with that price you're going to want to snag it in at least 5 colors.  
This is a real picture of me at 40 weeks pregnant in this exact dress!
Maxi Dress // This cotton maxi dress is such an awesome purchase if you are pregnant during the spring  and summer.
I practically lived in maxi dresses during my last pregnancy. They're easy to dress up or down, and I even at my largest I felt still felt super pretty.
Tunic T-Shirts // I can't recommend grabbing a tunic to layer with (and this is coming from a woman who was 9 months pregnant in July in Georgia). This t-shirt is an absolute maternity essential. It comes in a ton of colors and is long enough to cover the bump AND layer with leggings.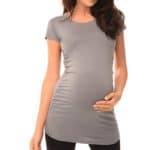 This three- quarter length sleeve one is incredibly comfortable, and this is the option I loved with short sleeves for summer babies. Trust me when I say that you should get every color.
Oversized Cardigan // Layers of any kind are a must for when you're pregnant: one minute you're freezing, and the next you're so hot that you want to strip in the middle of your office.
I LOVED big oversized cardigans, and they're not even maternity ones! They take you easily from those first few weeks of pregnancy  through the very end, and are perfect to layer over a t-shirt or tunic without feeling too warm. Plus with half a dozen beautiful colors you'll want to live in these paired with leggings.
Extras
Extra Large Water Bottle // I know, this sounds like it doesn't fit with the list, but bear with me on this: I really struggle with hydration. When you're pregnant, staying not only hydrated, but bringing in extra water, is incredibly important to your health and the health of your developing baby.
I really liked having an extra large water bottle with me during the day. My goal was to fill it up three times before I left work, which ensured I was drinking more than enough water.  Plus this is easy to clean in the dishwasher!
Related: 50+ Halloween Costumes for Pregnancy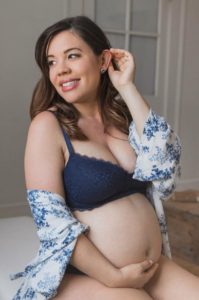 Maternity Robe // Do you need a maternity robe? Nope, you totally don't. But my pre-pregnancy robe stopped being comfortable pretty quickly, and I honestly felt like a goddess the first time I put this  gorgeous one on.
Yep, that's me in my favorite maternity robe!
Again, these are real items that I swore by during my pregnancy. I hope this list gives you a great starting place for maternity wear that makes you feel amazing, comfortable and excited about your expanding bump.
Remember to pin this list on Pinterest so you don't lose it! Here's to your journey to meet your baby!