DIY Handmade Paper 1st Anniversary Gift
Are you looking for a creative paper first anniversary gift? If you want something truly unique and different, handmade is the way to go. This DIY handmade paper first anniversary gift is something your spouse will treasure for years to come! (Includes step by step tutorial!)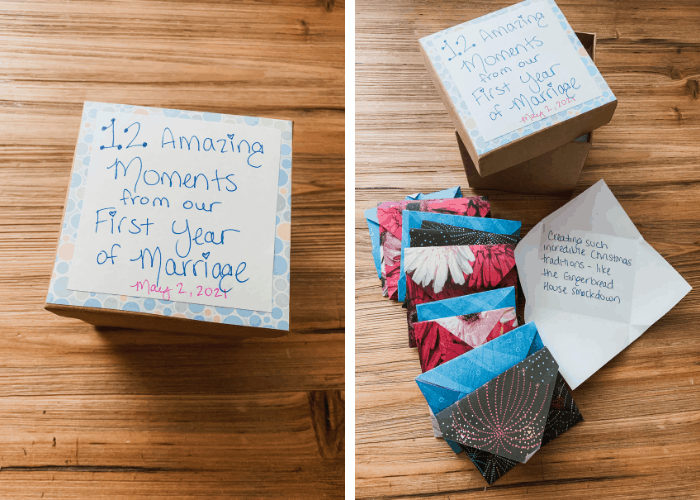 Congratulations on your first wedding anniversary! My husband and I just celebrated ours, so if you've been struggling to think of a creative first anniversary gift, I have very recently been in your shoes.
Did you know that almost every year of marriage has a traditional gift associated with it? While you absolutely don't have to adhere to these traditional gifts when you're searching for your own unique first anniversary gift, I do think it's fun to check out this list! The traditional first anniversary gift is paper.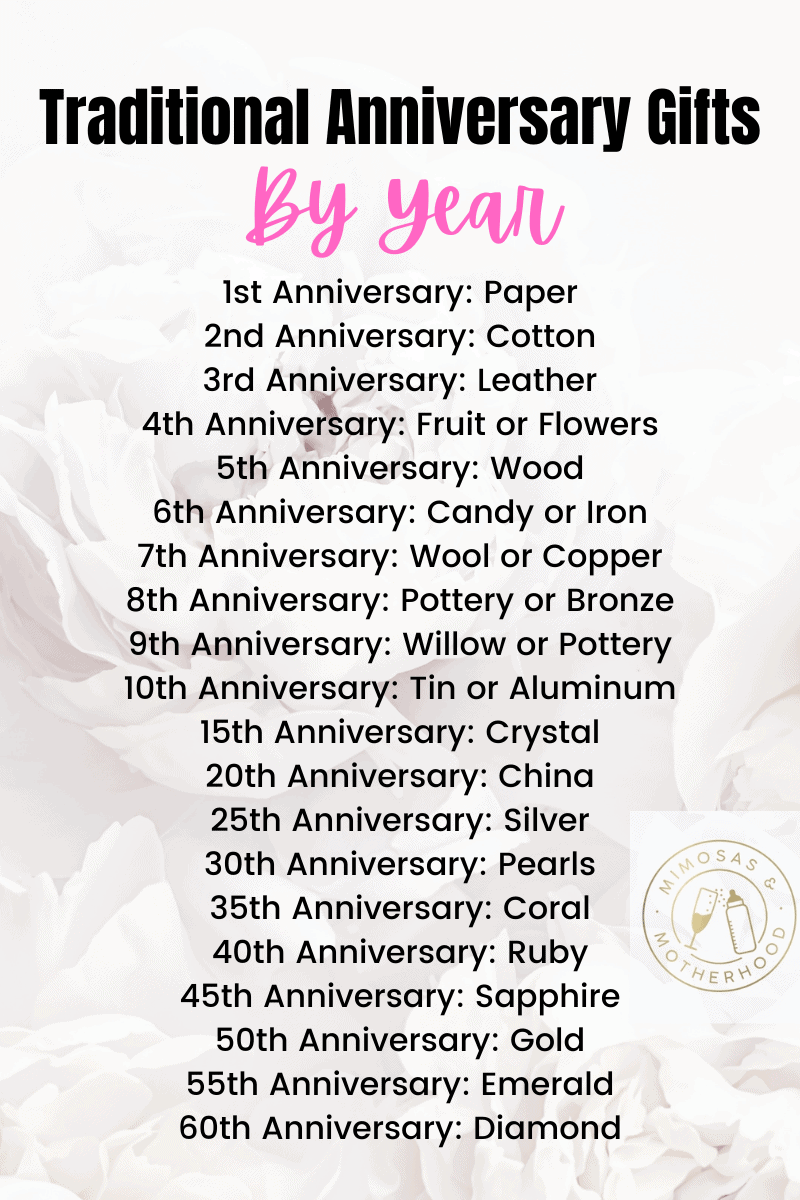 For many of us, the first year of marriage is a series of firsts and adjustments as a newlywed couple. My husband and I have been together for nearly six years and have two children together, but there's still something so special about marking our very FIRST wedding anniversary!
Your first wedding anniversary (which is also known as the paper anniversary) truly marks a milestone in your life as a married couple, and deserves a very special first anniversary gift for this special occasion.
Note: Some links may be affiliate links. That means I may make a commission if you use my links to purchase, at no extra added cost to you! I only recommend products that I personally love and believe in. Full disclaimer here.
Why is Paper a First Anniversary Gift?
Paper has been a traditional 1st anniversary gift for over 100 years! Just like a piece of paper, you can think of your first year of marriage as a blank canvas or clean sheet on which to paint your future. And like paper, the early years of marriage can be fragile yet withstanding.
Think of an old letter or card that you've held onto for years. If you handle that piece of paper with care and love, that sheet will be able to maintain the words written upon it for a lifetime. If you are too rough or neglect it, the paper may fade, tear or break apart completely.
The metaphor of paper "symbolizing a bond and union of a new marriage can be seen in the strength that comes from the interlaced connection of the paper's individual threads,"…
And who doesn't love a great metaphor?!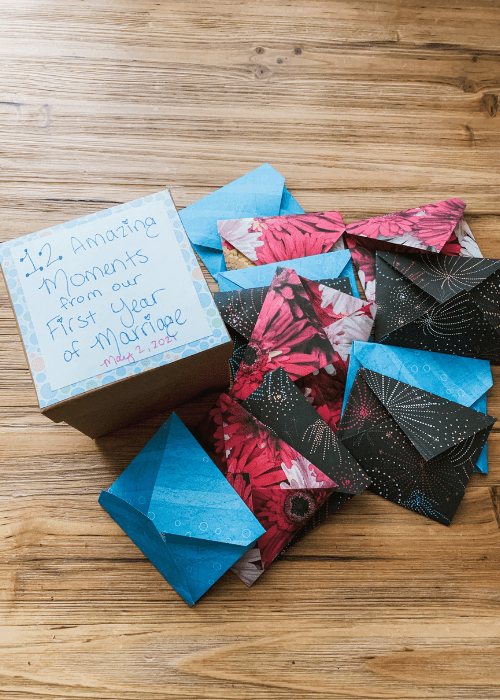 DIY Handmade Paper First Anniversary Gift– 12 Amazing Moments from Our First Year of Marriage Box
For our first anniversary I wanted to do something special and unique for my husband. I spent hours pouring over beautiful items I could order online, but I kept coming back to the idea of creating a handmade first anniversary gift instead.
The biggest problem? We have two toddlers, so I knew I didn't have the bandwidth to take on a huge project!
That's why I loved this idea! From start to finish the entire project took less than 2 hours. I love how this DIY "12 Amazing Moments from our First Year of Marriage" paper first anniversary gift turned out!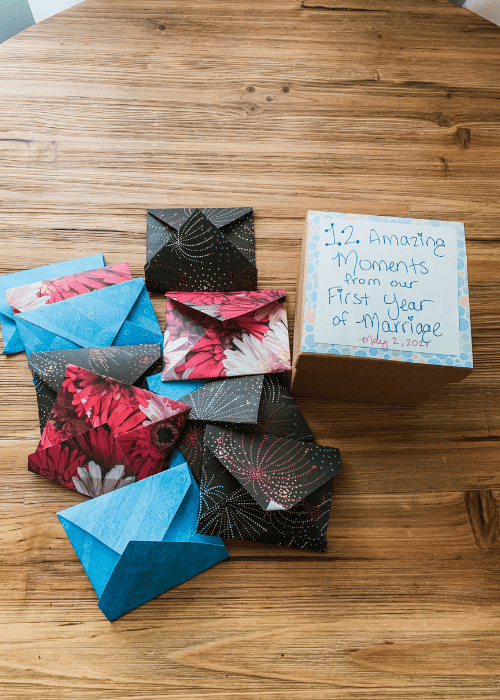 Supplies Needed to Make this DIY Paper First Anniversary Gift
One of my favorite parts of this paper gift project is how easy it is to assemble, and you only need a few items! You can find everything at your local craft store, Amazon or big box store.
A medium paper mache box
Scrapbook paper
Scissors
Markers
Glue Stick
Here is everything you need linked on Amazon to make it easy for you. Just a note: the paper mache box listing I chose actually has multiple boxes, which means you would have a few extra on hand for future crafting, too!
How to Make a 12 Amazing Moments from our First Year of Marriage Anniversary Gift
Assembling this sweet gift is really easy and fun. You'll love the memories that come flooding back as you put this gift together.
Think back through your first year of marriage, and pick 12 highlights from the past year. They can be absolutely anything you want to use! I tried to pick a mix of funny things and sentimental ones.
Take a sheet of your scrapbook paper and fold the corners in to make a diamond in either direction. Unfold the corners. This will give you a square in the center to write your memory in! Use a separate full sheet of paper for each of your 12 memories.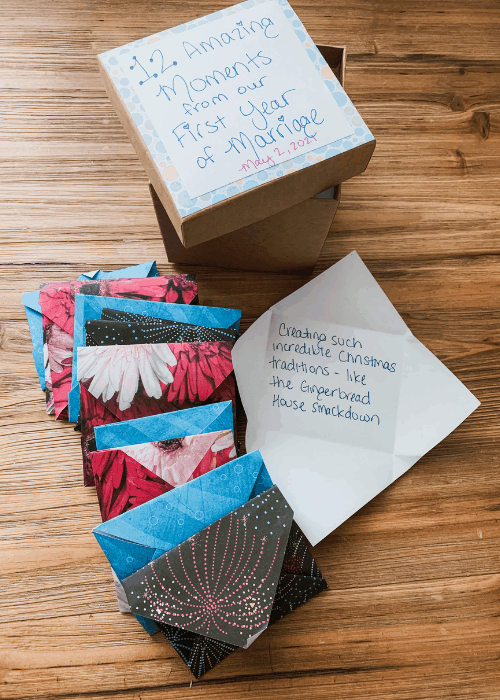 When you're done writing down your memories, fold your paper into a little envelope. To do this, fold two of the corners on opposite ends in to make a diamond. Turn the paper so that the open corners (the top and bottom of the diamond) are vertical. Then, bring the bottom open corner up and fold over, and then the top corner down.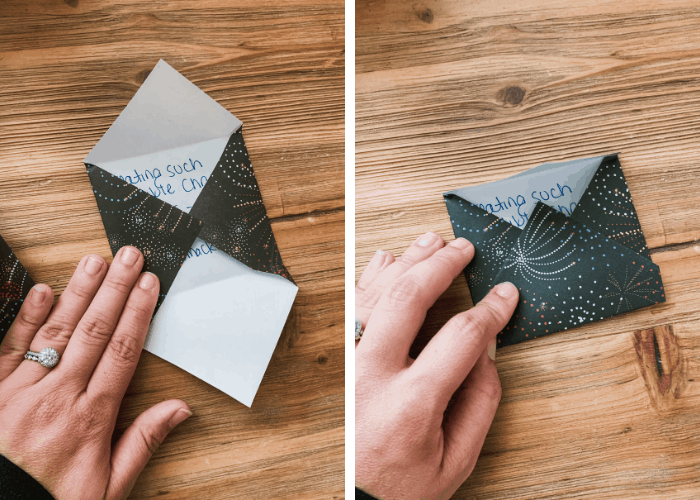 Place each folded memory in the box however you would like!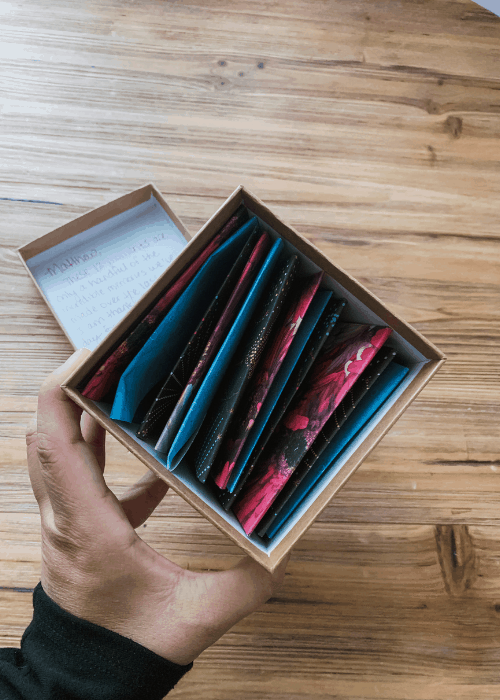 To decorate the cover, simply cut out some of your remaining scrapbook paper to make an accent sheet. Using your glue stick, glue the scrapbook paper to the top of the paper mache box top. I also chose to handwrite a little note in the inside of the cover for my husband, too. I cut out a small piece of paper that same size as the inside of the box lid and used my glue stick to secure the surprise note inside.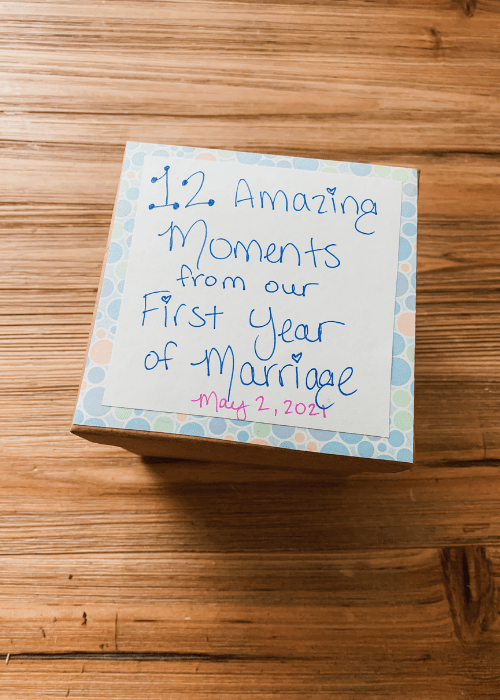 What is a good paper anniversary gift?
Remember: paper symbolizes a clean canvas to write out your own story. Have your very first wedding anniversary gift speak to that!
I personally wanted to create something handmade to mark the anniversary of our wedding date in my own marriage, but there are so many wonderful and unique paper anniversary gift ideas. Looking for a great idea for a 1st wedding anniversary gift? Here are a few to mark your own special day:
Custom illustration of you two (or a family portrait)
Tickets to a special event
Photo book or handmade photo album
Letter in a bottle (my husband gave me one on our first dating anniversary, and it's my favorite gift he's ever given me)
A couples journal
Paper jewelry (check out some unique options here)
Your wedding vows printed and framed
The lyrics to your first dance song framed
A scrapbook of adventures together
Paper flowers or paper rose made from paper with the lyrics to your wedding song printed on them
Funny adult coloring books or activity book (this modern gift is a great way to make your partner smile)
Love coupons
A creative art print (my husband got me our first dance lyrics printed, like these)
Plane tickets or train tickets to a fun location (printed out on paper, of course)
You don't have to spend a fortune on a gift to make it meaningful. Many of the gift ideas I referenced above are both budget friendly and allow for customization. When in doubt, get creative: grab some paper, write a beautiful love letter and hide it somewhere your spouse will find it by surprise on your anniversary. Trust me, it will be as meaningful as any gift you buy!
Anniversaries mean something different for everyone. A good paper anniversary gift is one that truly speaks to your love for your spouse.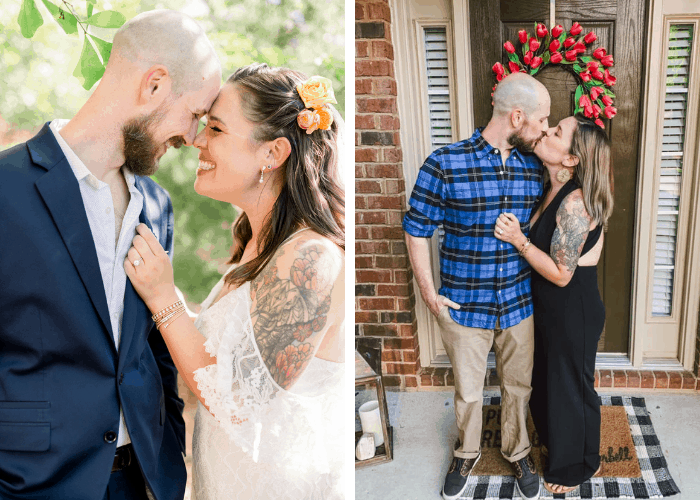 Ideas to Celebrate Your 1st Anniversary
Love this DIY Handmade Paper First Anniversary Gift, but stumped on how to celebrate on the actual day? Here are a few of the best ideas I came across while brainstorming for our own first anniversary celebration.
Relive the day by viewing your wedding video or looking through your wedding album
Chow down on the top tier of your wedding cake!
Plan a dinner at the same venue that you held your wedding reception or where you had your first date
Go for a picnic with paper plates and cups
Create paper love notes to lead your spouse around the house on a special treasure hunt
Find a photographer and plan an anniversary photo shoot!
Unique paper anniversary gifts
Thanks for checking out my DIY tutorial and list of paper anniversary gift ideas! I hope this post helped inspire you as you create your own DIY Handmade Paper First Anniversary Gift! Remember: the best paper anniversary gifts come from the heart and speak to your own unique love story. Which of these first anniversary gift ideas were your favorite?
Happy anniversary and congratulations on your first year of marriage. Three hundred and sixty-five days down, and a lifetime of happiness to go!