How to Make a Broken Pot Fairy Garden
With warmer weather comes more time to play outside. What better way to enhance fun playful hours (and spark your children's creative energy) than to create an easy DIY fantasy broken pot garden! This adorable broken pot fairy garden will let creativity and imagination thrive all summer long.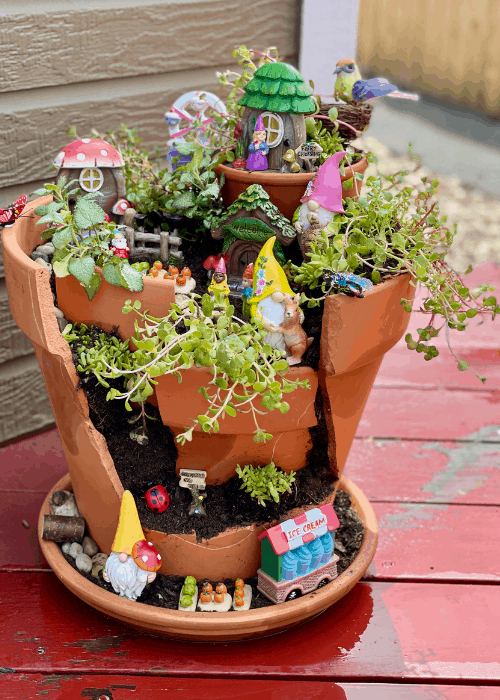 Broken pot gardens are such a wonderful way to spark imaginative play for adults and children alike. If you've been searching for a fun addition to your outdoor space, creating a DIY broken pot fairy garden created by guest blogger Rozanne of Bright Little Brains is a great option.
Rozanne is a teacher by profession and currently a stay-at-home mom to a four-year-old son and two-year-old daughter. She is also the creator behind the amazing Instagram account "Bright Little Brains," an educational account full of wonderful kids DIY projects, activities and tutorials to help other parents find ideas and inspiration!
This creative mini garden is a fun landscape of small plants and trinkets designed to "attract" fairies to your garden. Your kids will love helping to customize this space, and you'll love watching their faces light up as they narrate their excitement.
This is a great project for the whole family and there aren't any rules when it comes to creating these beautiful nature small world fantasy gardens. Building a broken pot fairy garden is also a great way to spend some creative time with your kids, helping them develop fundamental skills like language development, enriching their creativity and imagination. It also promotes independent play and give them a sense of responsibility to care and nurture the miniature garden. 
Note: Some links may be affiliate links. That means I may make a commission if you use my links to purchase, at no extra added cost to you! I only recommend products that I personally love and believe in. Full disclaimer here.
Supplies Needed for a Broken Pot Fairy Garden
You only need a few basic supplies, most of which you might already have.
Here's a list of materials needed to create an outside fantasy garden pot play:
Terra cotta clay pot (different sizes)
Terra cotta saucer
Box cutter and hammer
Potting soil
A variety of greenery and succulents or even herbs
Small pebbles
Micro-accessories as décor pieces
You can easily find many of these materials at your local home improvement store, online or even at the local dollar store!
If you're like me and prefer to shop online (because delivery to my front door means I don't have to get out of my comfy clothes!), here is everything you need easily available on Amazon:
How to Make a Broken Pot Fairy Garden
This DIY fantasy garden is so easy to create and assemble! Just follow a few simple steps:
Crack the pot
I used a pencil to draw the outline of where I want to pot to break then we made use of a box cutter to score the pot on the pencil line. After that, you can use a hammer to break the scored area. All the broken pieces can be used as part of the fantasy pot play design, so don't throw them away!
You can also reuse a broken pot for this step! Depending on how young your children are, it might be best to do this step while they are napping.
2. Assemble the Cracked Pot Play Garden
Create different levels of your fairy garden by using some of the broken smaller pieces. 
Start to fill the pot with potting soil as a base. Let the kids help to scoop and fill the pot to get them involved.  Once your soil is in place, the structure will also start to take shape.  
3. Add Greenery
When choosing plants for the garden pot play make sure to keep in mind where the pot will stand as some greenery doesn't require a lot of sunlight.
Small leaved and slow growing plants will be the best option.  Plants trailing over the edge of the pot will give it an overall soft and more fantasy kind of look. 
4. Decorate Your Broken Pot Garden
Finally, it's time to put it all together by decorating the miniature garden with lots fun of micro-accessories!
Keep in mind that the accessories you want to use also depends on the theme you are going for. Just because you are creating a "fairy garden" doesn't mean that's the only theme you can use for your fun DIY pot play garden!
Here's some ideas of fun themes for your broken pot play garden:
a miniature butterfly world
a gnome garden
a mini bugs world
Farm
Bird house
Alice in Wonderland.
DIY Fairy Garden Accessories
You can find all of the accessories needed for your pot play garden locally at places like your local dollar store, craft store or hobby store. You can also easily order nearly anything you're looking for from Amazon!
Here are a few cute micro-accessories available for order on Amazon for a variety of themes:
After that, it's time to play! The possibilities are endless with this DIY Broken Pot Fairy Garden.
About Rozanne:
Rozanne is a teacher by profession and currently a stay-at-home mom to a four-year-old son and two-year-old daughter. Rozanne says "Educating is my passion, it's my calling – I know I was born to do this."
Rozanne is also the creator behind the Instagram "Bright Little Brains," an educational account full of wonderful DIY projects, activities and tutorials to help other parents find ideas and inspiration! She has also recently opened her own Etsy shop with sensory play kits and materials, where she sells educational materials she personally uses in her activities.
Besides being a mom, teacher and small business owner, she also loves warm sunny days, hiking or taking the long road to explore the wonderful world around her. She's a firm believer that you should make the most of the time you have, and you should live every day to the fullest!
Follow Rozanne on Instagram here, Facebook here and be sure to check out her Etsy shop here!
How to Make a Broken Pot Fairy Garden: Easy Fantasy Pot Play Tutorial