How to Make Coffee Filter Butterflies
Coffee filter butterflies are such an easy craft to make with your little ones! All your need are a few supplies you probably already have at home, and you can create these beautiful butterflies quickly and easily.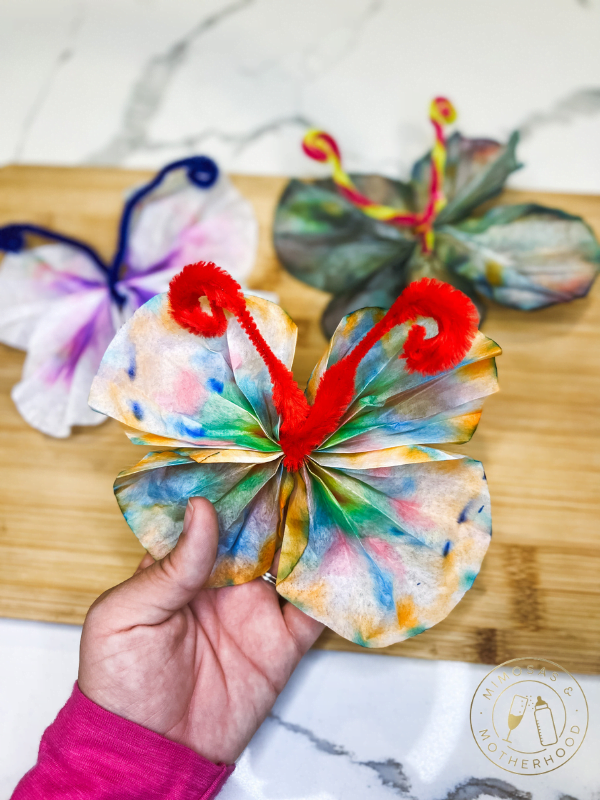 Our family loves easy crafts, especially if they involve supplies we already have at home. My oldest came home from school the other day super excited that they were learning about butterflies, and I thought it was a great opportunity to continue the fun at home.
This easy coffee filter butterfly craft is such a classic craft and they turn out beautiful. I remember making these as a little girl with my own mom! The best part? You most likely have all of the household supplies you need at home to create these!
Coffee filter butterflies make a great spring craft or summer craft, and are also an easy craft for a rainy day. It's also a cool experience for your kids, because they get to watch the water transform their art when the colors begin to blend.
Note: Some links may be affiliate links. That means I may make a commission if you use my links to purchase, at no extra added cost to you! I only recommend products that I personally love and believe in. Full disclaimer here.
How to Make Coffee Filter Butterflies
This simple craft is so crazy easy that you'll love making these again and again with your children. It's also a great craft that even the youngest toddlers can do pretty independently with only a little assistance!
Supplies Needed for Coffee Filter Butterflies
Washable markers (we love these!)
2 round coffee filters per butterfly
Water
An eye dropper
1 pipe cleaner per butterfly
You can use any brand of washable markers for this coffee filter butterfly craft. Just double check they're WASHABLE, or the colors won't bleed when you add water.
Check out our video on how to make coffee filter butterflies:
Coffee Filter Butterfly Craft Steps
First, you'll need two coffee filters for this craft for each butterfly. Layer them on top of each other so that they are pretty stuck together. Completely flatten out the coffee filters as much as you can.
Grab your markers and color the filters! Create any design you like. Remember to keep the coffee filters TOGETHER while you color. Do not separate them!
Let your little ones get creative. My 2 year old only colored in a small section of his, while my 3 year old basically covered his entire coffee filter with color.
For this next step I recommend transferring the coffee filters onto a cookie sheet or baking sheet to contain the mess. Remember to keep the coffee filters together during this step.
Using an eye dropper, small spoons, spray bottle or a kids medicine dropper (which is what we used!), drip water onto the coffee filter art until it is saturated but not soaking wet.
Encourage your kids to go slowly so they can watch the colors blend together! The color will soak through the top coffee filter to the bottom.
Try to avoid completely soaking the coffee filters, as this can make the colors wash out of the filters. Plus, the drying process takes forever to dry when the filters get too wet!
Allow your filters to dry completely. If it's a nice day outside, you can take your baking sheets outside to dry in the sunshine! Depending on how wet the coffee filters are, this could take a few hours or possibly overnight.
Once they are totally dry, pull the two coffee filters apart. You'll see that the colors bled through and you now have two pretty similar layers! These will make up the butterfly wings.
Take each coffee filter and fold accordion style (also known as a fan fold), going back and forth in small folds. Fold each coffee filter this way.
Place the two folded strips on top of each other, and twist a pipe cleaner around the middle. You'll want the ends of the pipe cleaner to each be pointing up, making a "V" shape.
Take each end of the pipe cleaner and curl it into a small spiral to make the antennae!
Finally, gently open up and pull apart the folded coffee filters to make the wings of the butterfly.
That's it! You can even make it a whole butterfly activity day with these cute butterfly coloring pages, or pair it Spring STEM Activities.
Make other animals too! Try coffee filter turkeys in the fall. Pipe cleaner crafts are so fun, like this pipe cleaner flower craft.
More Easy Crafts and Art Projects for Toddlers and Preschoolers:
Mess Free Smush Paintings for Kids
Simple & Easy Spring Crafts for Toddlers
Classic Coffee Filter Butterflies Are Fun and Easy!
We had so much fun making these easy coffee filter butterflies! You can see that each of our colorful butterflies turned out a little bit different, but all of them were beautiful.
Want to jazz these up a little? Try adding googly eyes, a little glue and some lightweight glitter!
While this craft does involve water, it's still relatively low-mess as it's all contained on the baking sheets. This craft also makes a great science experiment too! Early learners will love watching the different colors change and blend.
Keep in mind that if you want brighter colors, try not to completely soak the coffee filters, as some of the color runs out in the excess water if you do. A brighter marker color will result in a more vibrant butterfly.
Experiment with a variety of colors! This fun craft idea is also a great way to help young children visualize the color wheel and the way different colors combined create new colors.
Butterfly crafts are great for spring and summer activities, but honestly are so fun and easy to do year-round too. If you love butterflies, don't miss these free printable butterfly coloring pages!
This coffee filter butterfly craft is so easy, even for the youngest toddlers and preschoolers. If you try these colorful coffee filter butterflies, I would love to see! Tag me on Instagram @simply.siobhan or using the hashtag #mimosasandmotherhood.
I hope you and your family love creating these too!