Simple & Easy Spring Crafts for Toddlers
With the temperatures slowly warming up, it's time to get creative with some fun and colorful easy spring crafts for toddlers! While spring is a wonderful time for outdoor play, there are also plenty of rainy days stuck inside. Here are some of my favorite simple and easy spring crafts for toddlers when you need some extra ideas!
Any parent will tell you: we LOVE spring! After all of the days stuck inside during the winter months, spring is such a fun and special time when you have little ones at home. It's such a great time of year to get outside and learn about the world!
It's also a wonderful time to create some beautiful crafts that help to reinforce everything they're learning about the world around them – like bugs, weather, flowers and more! In this collection of simple and easy spring crafts for toddlers, you'll find a variety of super simple projects your toddler and preschooler can manage with just a little bit of extra help.
These 12 easy spring crafts for toddlers and preschoolers are sure to add some joy to your sunny days, too! From rainbows and butterflies, to flowers and nature, these simple crafts are the perfect way to celebrate the warmer weather. These spring crafts for toddlers are also a great way to help develop fine motor skills!
Be sure to pin or bookmark this list of simple and easy spring crafts for toddlers and preschoolers so you have it handy when those rainy days pop up!
Note: Some links may be affiliate links. That means I may make a commission if you use my links to purchase, at no extra added cost to you! I only recommend products that I personally love and believe in. Full disclaimer here.
Simple and Easy Spring Crafts for Toddlers and Preschoolers
F is for Flower Activity
When it comes to spring crafts, of course we need spring flowers! Learn about the letter F with this simple and easy flower craft. These super cute flower activities are so much fun for toddlers.
DIY Egg Carton Flower Crown
This DIY egg carton flower crown is so easy to make! Using supplies you probably already have at home, learn how to make a unique and beautiful egg carton headband, and recycle some fun into playtime.
Cardboard Tube Binoculars
These cardboard tube binoculars are a great rainy day craft for kids. They can use them to go bird watching, as a camp craft, or as a nature craft!
Related: The 10 Best Montessori Toys on Amazon
Toilet Paper Roll Bird Feeder
Our cute toilet paper roll bird feeder craft is easy to make and so much fun to watch the birds flock and come grab a bite!
Free Nature Color Wheel Printable
This nature color wheel free printable is such a simple and easy activity that is perfect for spring days! It's such a fun and easy way to learn colors and incorporate nature into learning. Your children will love finding items to match the colors on their color wheel as they explore outside.
Grow Your Own Rainbow
Grow your own rainbow and learn about weather. Rainbow crafts are so much fun! All you need is a little tissue paper.
Drip Paint Pots
Using beautiful colors of your choice, you can create stunning drip painted clay pots that are fun for everyone.
Easy Coffee Filter Butterflies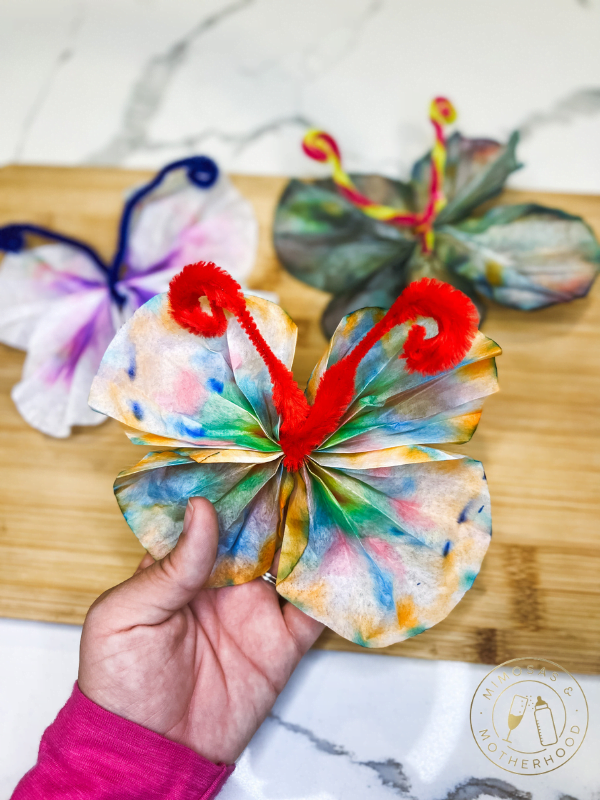 Coffee filter butterflies are such an easy craft to make with your little ones! All your need are a few supplies you probably already have at home, and you can create these beautiful butterflies quickly and easily.
Handprint Chicken Craft
Easy spring chick project for toddlers. This handprint craft project is perfect for toddlers and so much fun.
DIY Upcycled Toilet Paper Seeding Pots
Fun, easy, and enjoyed by both kiddos and adults, these Upcycled Toilet Paper Seedling Pots reuse old paper towel rolls and teach kids about plant growth and gardening. An easy indoor activity for cold, wet weather.
Egg Carton Nature Project for Kids
An egg carton nature project is the best (and most fun) way to teach kids about the great outdoors. It's a great learning activity to get the kids out of the classroom and outside to explore. Plus, it allows you to recycle those old egg cartons!
Popsicle Stick Smiley Sun Crafts
Grab some popsicle sticks and construction paper and you can make this fun popsicle stick sun craft! This would make a cute and fun classroom or homeschool room decoration for the spring and summer.
Coffee Filter Butterfly
This coffee filter butterflies craft is such a cute and fun craft to make with your kids this spring! Coffee filters are such a simple craft item, and this craft is so simple with the addition of a few pipe cleaners.
Rainbow Mickey Mouse Craft
Spark JOY with these colorful rainbow creations! With a paper plate, cotton balls and a little paint you can make your very own Rainbow Mickey Mouse craft!
From Grace Giggles and Naptime
Toilet Paper Roll Butterfly
Help your kids create cute and creative creations with this toilet paper roll butterfly craft for kids. Toilet paper rolls are so versatile when it comes to crafting with your kids.
Looking for even more fun crafts for your toddlers? Check out Easy Valentine's Day Crafts for Toddlers or 30 Easy Toddler Easter Egg Decorating Ideas!
Easy Spring Crafts for Preschoolers
I LOVE spring because it means more outdoor time for the entire family, and with littles it's so fun to focus on the wonder of the world around us. After a long, cold winter these easy spring crafts for toddlers are sure to put a smile on all of your faces! Which of these spring craft ideas is your favorite?
Crafts are a great opportunity to spend time together for the whole family. Pick a few from this list for a crafty morning! Older kids will love helping the little ones as they create.
I hope this list of easy crafts that are perfect for your little crafter gives you some inspiration! Let me know in the comments which one is your favorite, and if you try any be sure to tag me on Instagram @simply.siobhan and using the hashtag #mimosasandmotherhood. I love to see what y'all are creating!