20 Easy Valentine's Day Crafts for Toddlers
If you're looking for a special way to share the love with your little ones this Valentine's Day, I've got you! This list of Easy Valentine's Day Crafts for Toddlers is packed with simple and easy ideas.
Who doesn't love Valentine's Day?? I love doing crafts with my toddlers, but so often the ones I find are too advanced for their age. I'm sharing a few of my favorite easy Valentine's Day crafts for toddlers and preschoolers on this list! Most of these craft ideas utilize everyday materials and thinks you have around the house.
Many of these easy Valentine's Day crafts for toddlers can also easily double as DIY gifts for friends and family! All of the Valentine's Day crafts on this list can also be completed in 30 minutes or less, which is perfect for that short toddler attention span.
These easy toddler crafts are perfect for little hands, and a wonderful way to spend time with your little one crafting new memories. This list is full of great ideas and simple activities. Read on for some of my favorite crafts for Valentine's Day!
Note: Some links may be affiliate links. That means I may make a commission if you use my links to purchase, at no extra added cost to you! I only recommend products that I personally love and believe in. Full disclaimer here.
Short on time? PIN this list of Easy Valentine's Day Crafts to your Pinterest board to easily find later by clicking here!
20 Easy Valentine's Day Crafts for Toddlers
The simple Valentine's Day crafts on this designed to be completed in just a few minutes (because we all know short and sweet is the love language for toddler attention spans). Homemade Valentines and art projects make such a great keepsake for moms, dads and grandparents and are also so much fun to make!
You'll find fantastic fun ideas on this list that are perfect for little hands to help create, including fingerprint and handprint crafts, garlands, cards and collages. My favorite part is nearly all of these crafts use items you probably already have at home, too!
Mess Free Heart Smush Paintings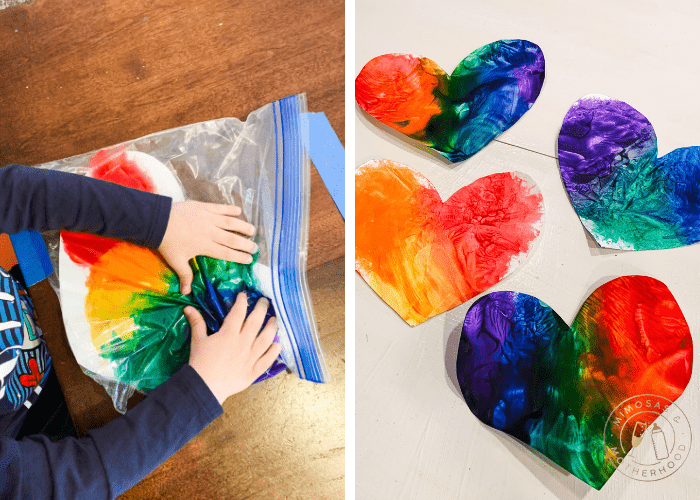 If the idea of painting with your toddlers sounds like a nightmare, you'll love no mess smush paintings! Mess free smush paintings (or smoosh paintings) are a versatile activity that allows your little one to create without covering the rest of the house in paint.
Plus these hearts make such cute Valentines gifts or cards!
From Mimosas & Motherhood
Love Bug Toilet Paper Roll Craft for Kids Valentine's Day Project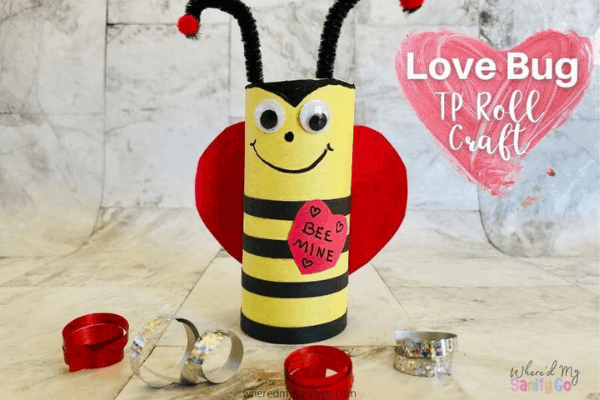 Only a few supplies needed for this fun Love Bug toilet paper roll craft for kids. Perfect for preschoolers and toddlers, this Valentine's Day craft will be a hit.
Get it from Where'd My Sanity Go
Toilet Paper Roll Heart Stamp Valentine's Day Craft
Learn how to make these easy heart shape stamps from toilet paper roll tubes. This fun Valentine's Day craft is great for kids of all ages.
Get it from Crafting With Kids
Free Valentine's Day Printable Crafts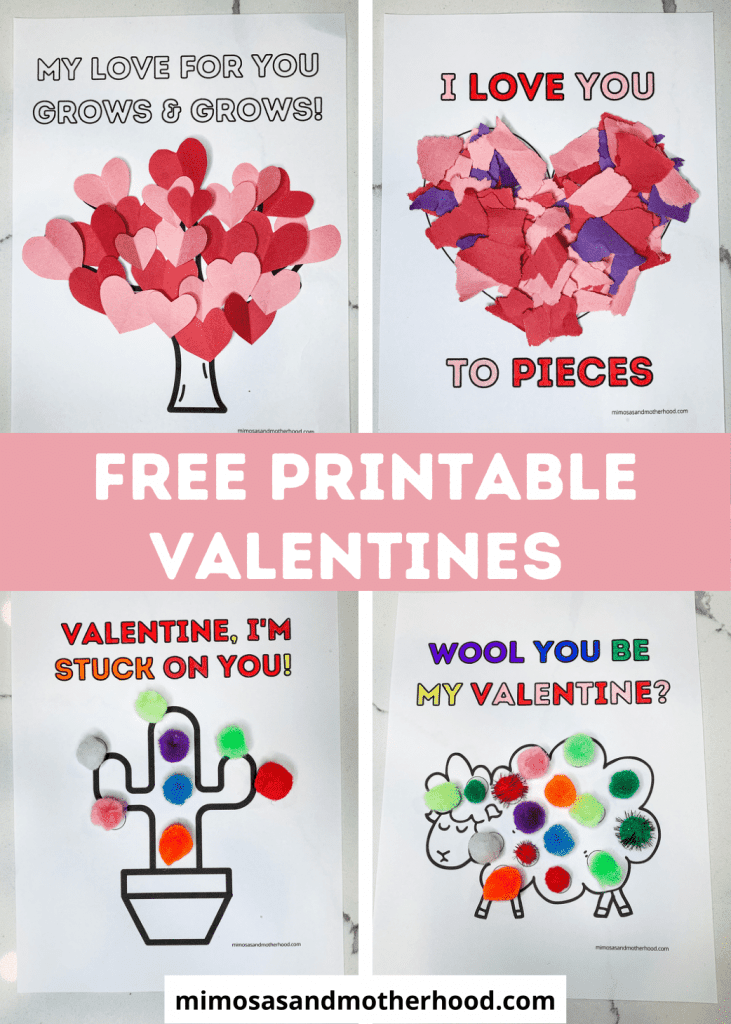 Valentine's Day is almost here, and love is in the air! Let your child create their own Valentine cards this year with this set of 4 free Valentine printables: I Love you to Pieces, Wool You Be My Valentine and more!This activity is perfect for developing fine motor skills while having lots of fun with a glue stick.
From Mimosas & Motherhood
Valentine's Day Sensory Bottle for Kids
Create this fun and festive Valentine's Day Sensory Bottle! This bottle will keep the kids entertained all month long, and seasonal sensory items like this are always such a fun craft.
From Mom Wife Busy Life
Free Printable Valentine's Day Cards for Kids to Color
Valentine's Day is so much fun for little ones. Snag this set of free printable Valentine's Day cards for kids to color, with easy to print at home black and white and full-color options.
Valentine's Day Advent Calendar
Countdown to the big day with this fun and easy advent calendar. Your kids will love making this and opening up new treats each day, and it's a great way to work on those counting skills too!
From Our Kind of Crazy
9 Valentine's Day Sensory Activities and Crafts for Toddlers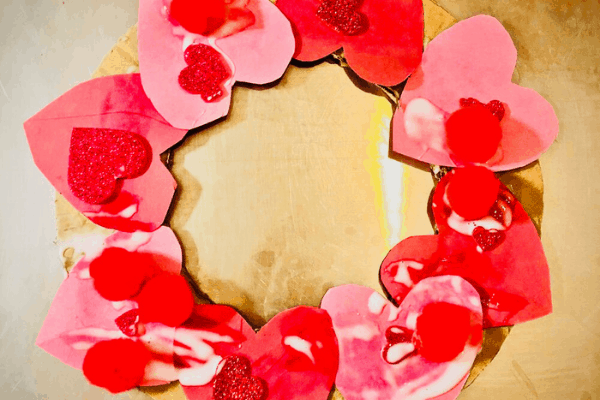 In this post, you will find 9 fun Valentine's Day sensory art activities and crafts for toddlers and preschoolers that you can do right from home! Who can say no to cute paper hearts?
Full list at Bilingual Beginnings
Heart Suncatcher Craft for Kids
Children will love these adorable Valentine's Day heart suncatchers hanging in your window. The pieces of tissue paper and different materials create really beautiful pieces that that result in some very cool and unique finished products. Plus, this fun project makes a wonderful decoration, too.
Read more at Crafts by Amanda
Hand on Heart Tree Valentine's Day Handprint and Fingerprint Crafts
You will love this great fingerprint keepsake for capturing moments when your kids are little! It makes a perfect craft for Valentine's Day! Perfect for little fingers, this would also make a sweet gift.
See it at Mom Brite
Valentine's Day Sponge Art
This Valentine's Day Sponge Art project is so easy to do with just a few supplies, and is perfect for a crafty morning. This cute craft can also be used to make a pretty Valentine's day card!
Get the craft at The Flying Couponer
Paper Plate Valentines Bird
With Valentine's Day literally right around the corner, this Paper Plate Valentines Craft Cute Bird craft is certain to be a blast! What a fun way to use paper plates for a themed craft.
From The Inspiration Edit
Twirling Lovebugs Valentine's Day Craft
These cute Twirling Love bugs are perfect for Valentine's Day, but what a fun project for Mother's Day as well. They are a fun, simple, and colorful decoration that will bring joy and smiles to all who see them (plus googly eyes are always a hit).
Get the full scoop at Crafts by Amanda
Easy Preschool Candle Craft
Decorate a candle jar for Valentine's Day! This is an simple craft combined with a Valentine's Day-themed sensory activity all in one. Your toddler will be so proud to see their craft displayed in your house!
Huggable Valentine's Day Craft
The Huggable Valentine's Day Craft is really easy to make and involves simply tracing and cutting out your child's handprint on red or pink construction paper, and attaching it to a ribbon (or yarn) of your choice, then cutting out several hearts and also gluing them to the ribbon, followed by printing or writing out and then attaching a verse to explain what the craft is.
From Ottawa Mommy Club
Valentine's Day Alphabet Activity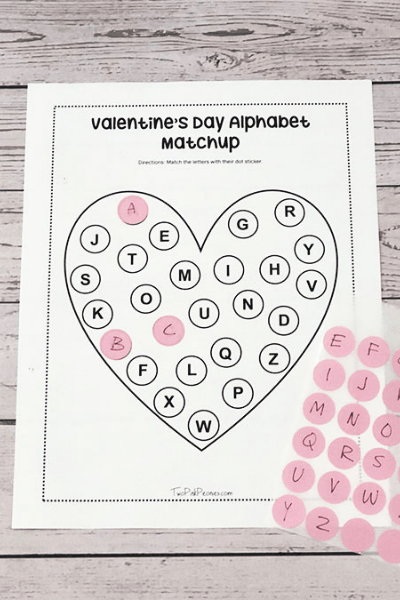 I love simple heart crafts, and this Valentine's Day alphabet activity is toddler approved and perfect if you're looking for a low mess and low prep activity. Perfect for preschool teachers!
Get it from Two Pink Peonies
DIY Valentine's Day Toilet Paper Roll Gift Box
These cute DIY Valentine's Day gift boxes are made out of toilet paper rolls and can hold small candies and treats. You will love making this craft with your kids, and is a fun one for older kids to help choose the goodies for.
Full tutorial is on Honey and Lime
Valentine Gnome Paper Puppets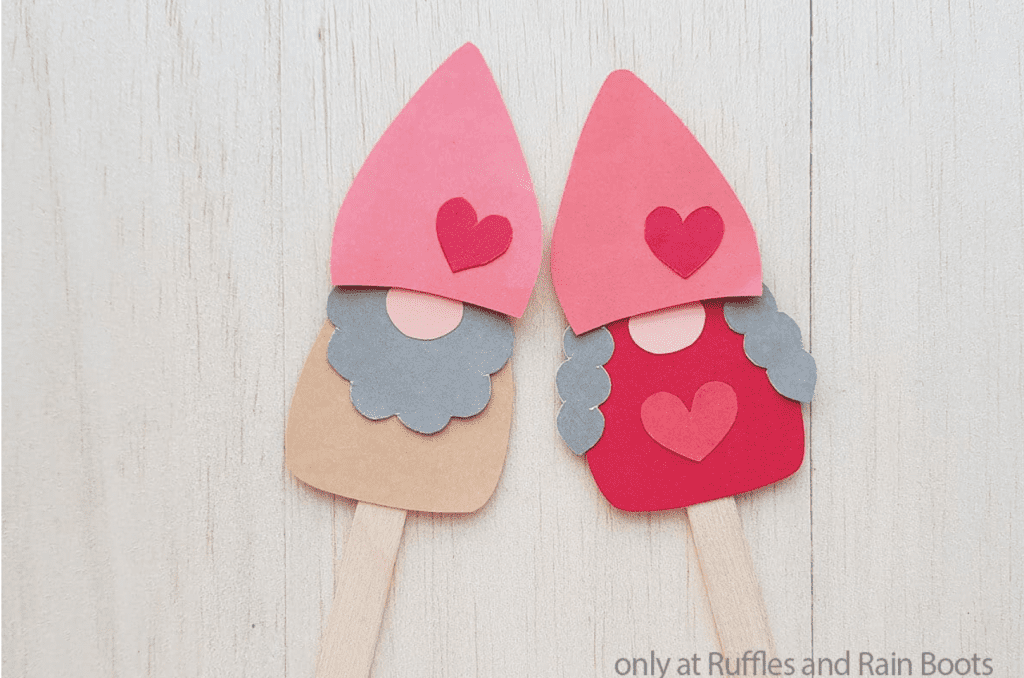 Simple and cute, you can spend 10 or 15 minutes together making the gnomes, then spend all afternoon letting them go on adventures through living-room-land, rescuing fairies with gnome magic.
Simple Toddler Valentine's Card with Bubble Wrap Printed Hearts
Your toddler will love this simple printed Valentine's Card using Bubble Wrap to create a pattern and then you cut out some hearts for them to make the card that they can then share with their friends and ones that they love.
Valentine Slime
The kids are going to love this sparkly bubblegum pink Valentine slime!
Easy DIY Tie-Dye Heart Art Seed Paper (Plantable!)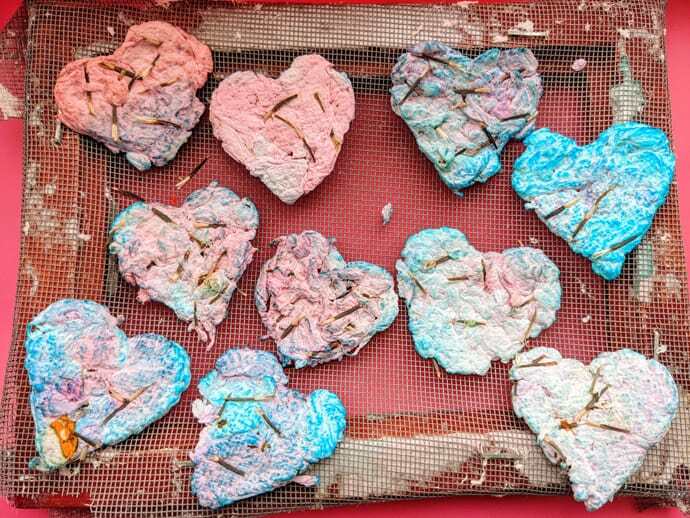 This fun heart art seed paper is perfect for a kids' craft
Valentine Owl Craft for Preschoolers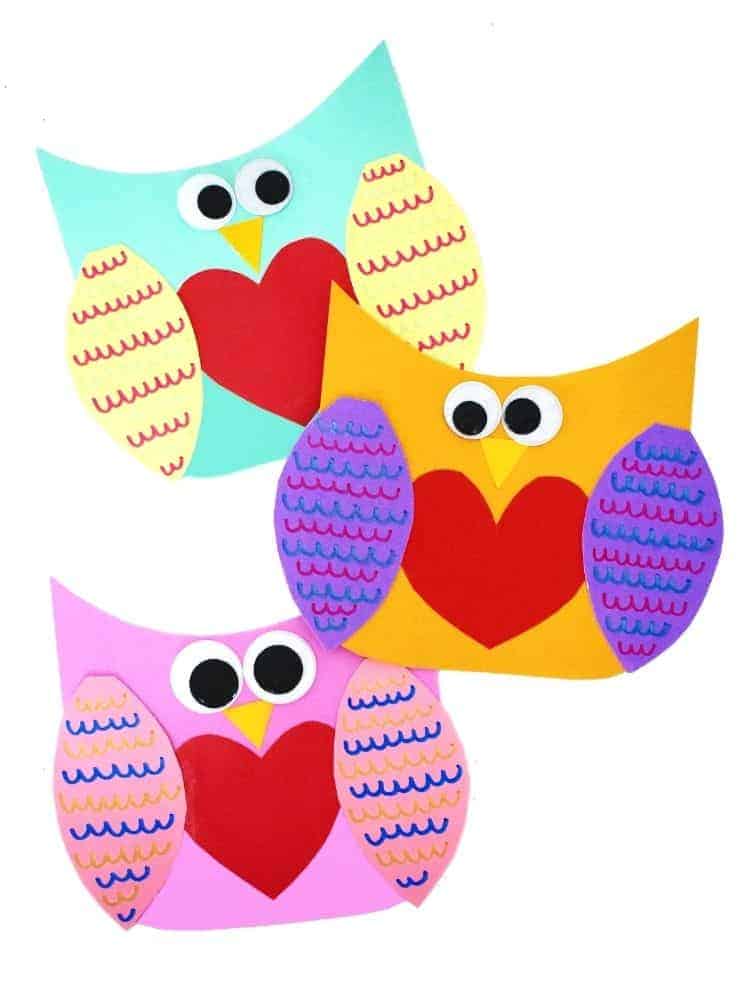 These Valentines Day Owl Crafts are so easy to make with toddlers. They are super cute too! This craft also comes with a free Owl Valentine printable craft template so you can prep it ahead of time for young kids or have older kids help cut them out.
Kid Made Scribble Art Monster Bookmarks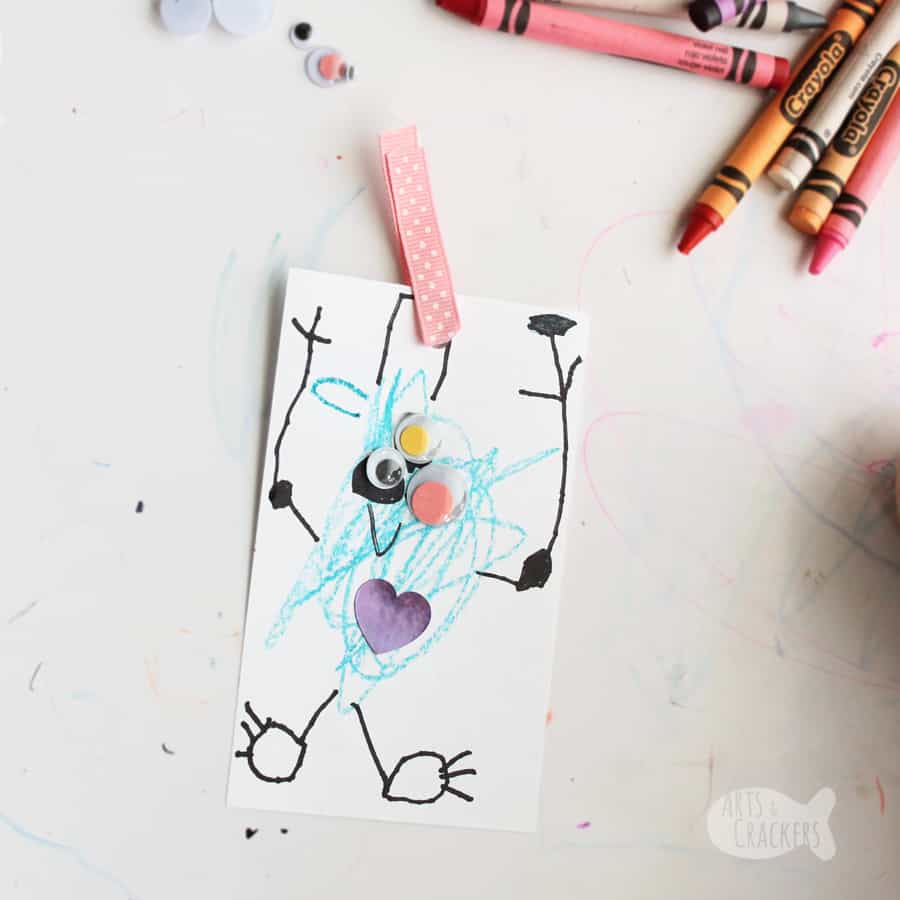 Allow your toddlers to express themselves artistically with these adorable Scribble Monster Valentines! The Valentines can be used as bookmarks, and make great gifts for friends and grown-ups.
Paper Heart Garland Wreath
Making a Paper Heart Wreath is a fun, simple craft perfect for the littlest crafters. Let the kids help decorate for Valentine's Day this year!
Sloth Valentine Paper Craft for Kids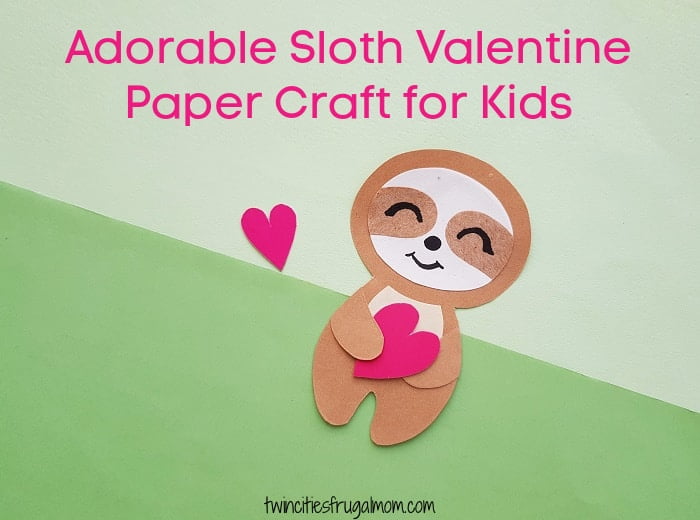 If your kids love sloths, here's a super easy, fun sloth paper craft for them to do for Valentine's Day, or anytime they want to show some sloth love!
Teddy Bear Candy Bar Wrappers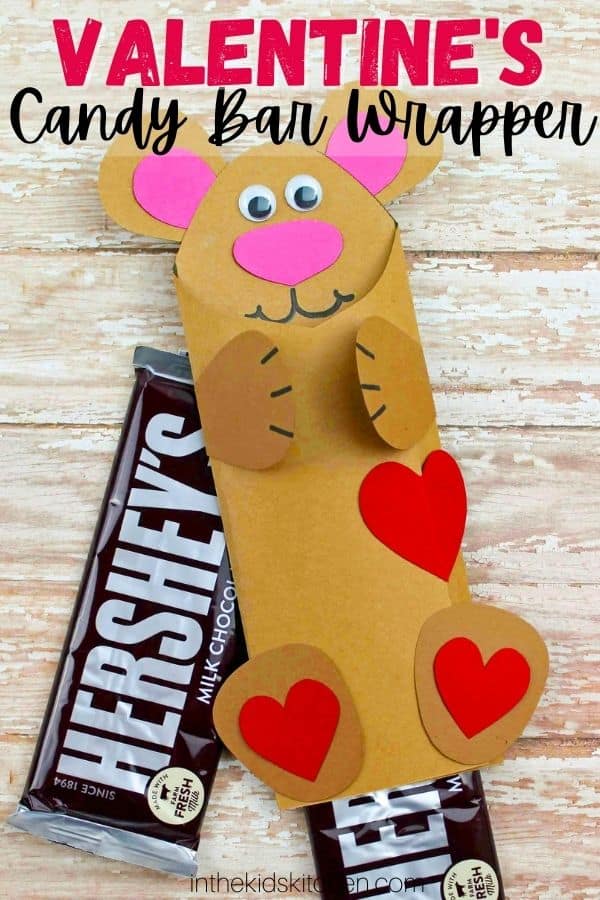 Hug your Valentine's Day treats with these adorable teddy bear chocolate bar wrappers! We create a free candy bar wrapper template to make this craft easy for kids of all ages!
I love you to Pieces Valentine Wreath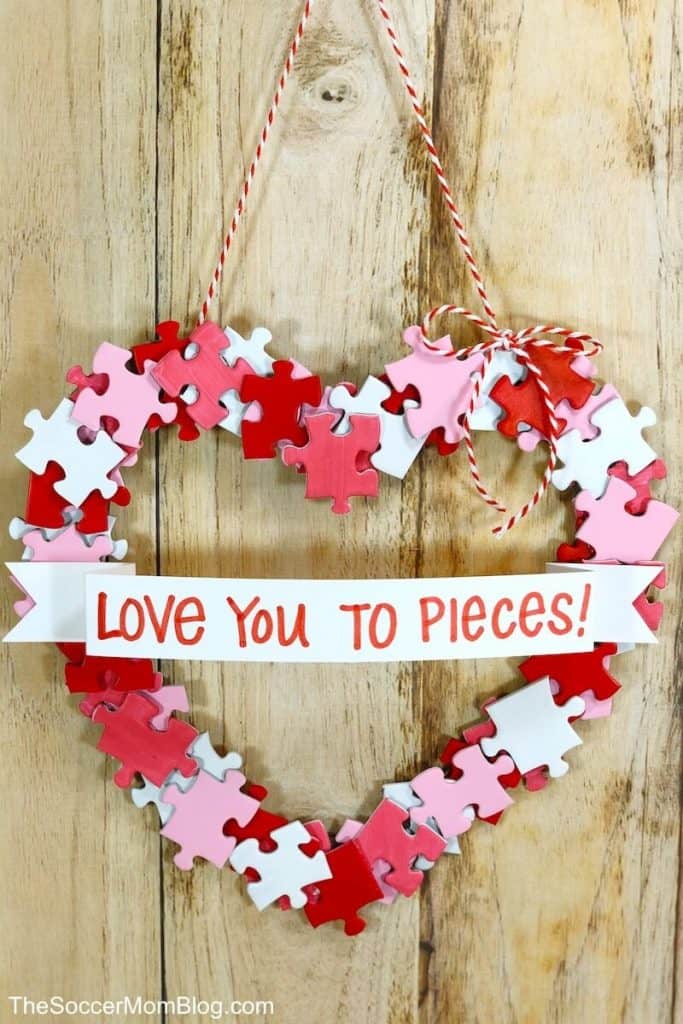 This adorable DIY Valentine Wreath is an easy and thrifty Valentine's Day craft to make with kids. All you need is a dollar store puzzle, a recycled cardboard box, and simple art supplies!
Valentine's Day Color By Number Printables
Grab them from Mimosas & Motherhood
DIY Valentine's Day Crafts for Preschoolers are So Fun!
I hope you found something you love on this list of easy activities and valentines day crafts for toddlers. Crafting together is a wonderful way to spend time with your little ones. Remember that your crafts don't have to turn out perfect! Your kids will just love being able to spend this special time with you.
Searching for more grown up cards for you to gift to friends? Check out these free watercolor valentine heart cards.
Love any of these ideas? Pin this list of Valentine's Day Crafts for toddlers to save for later, and be sure to tell me in the comments what your favorite easy craft on this list is! If you create one of the toddler Valentine's Day crafts, be sure to tag me on social media so I can see, @simply.siobhan and use the hashtag #MimosasAndMotherhood.
I hope you have fun trying out these cute crafts. Wishing you a holiday filled with love!