Free Valentines Day Color By Number Printables
Create some extra fun this Valentine's Day with this set of cute, free printable color by number Valentines Day worksheets!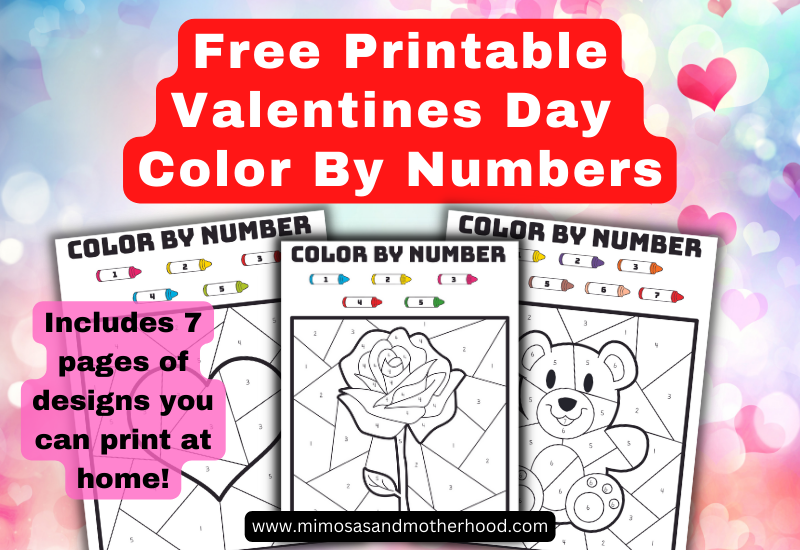 Are you ready for some easy Valentines fun? Our family loves this fun holiday. Color by number Valentines are a fun activity for toddlers, preschoolers and kindergarten students! Not only are these worksheets super cute, but they're also a great way to make practicing number recognition of numbers 1-15 fun!
Your little learners will also strengthen fine motor skills while working on these fun sheets and celebrating the holiday of love.
Color by number activities are a favorite in our house. My kids get so excited to figure out the "mystery," as they say, watching as the pictures come together. The cute mystery pictures are filled with hearts, flowers, valentines, valentine candy, valentine treats, love bugs, and more.
My 3 year old feels so proud of himself for recognizing the numbers that previously were so tough for him, and my 4 year old loves helping him. It's so fun to watch them finish the beautiful pictures while working on number recognition skills and feeling so proud.
This simple Valentine's Day math activity requires no prep. Just print the PDF file and your kids are ready to play and learn! Just scroll to the bottom of the post to grab them.
Note: Some links may be affiliate links. That means I may make a commission if you use my links to purchase, at no extra added cost to you! I only recommend products that I personally love and believe in. Full disclaimer here.
How to Use These Valentines Color by Number Worksheets
Download and print the valentine color by number free printables you want using your home printer or print center. Direct your students or children to color the pictures using the numbered code at the top of the page.
Color-by-number sheets are so much fun for young kids, and are perfect for homework, math centers, an easy activity during classroom parties or just on a rainy day at home. They make fantastic practice for younger kids who are still working on number recognition.
If you have children who aren't reading yet, these free printable coloring pages also double as wonderful color recognition practice too. Usually a parent or teacher needs to add the corresponding colors to the worksheets before handing them out. For example, underlining the word "blue" with a blue marker, "green" with a green marker etc so that all they have to do is search for the correct color.
With my sheets I've gone ahead and added the color to the number! Just be sure to print these in color.
These pages are designed to be easy for a wide range of skill levels. Kids can use markers, colored pencils or crayons to color in the different spaces according to the code!
Download the Free Color by Number Valentines Day Printable
This file includes 7 pages of valentine worksheets. You will receive READY-TO-PRINT DIGITAL files in this printable pack that you can print at home or in any local or online print shop!
These color by number valentines day printable is free for you to use, but ONLY for personal use. Enter your information below to get yours, and the free Valentine's day printables will be emailed to you immediately.
For best results, download the digital download PDF file to your computer before printing, and print these worksheets using card stock, white paper or regular copy paper. You can print every page, single pages, and multiples of any one you would like once you open the document! Each of the included designs are unique coloring pages.
Please note that this design is NOT editable.
More Valentine's Day Fun
Love these adorable Valentine coloring pages? Be sure to check out these Valentine's day activities, too:
Free Printable Valentine's Day Bingo Cards (24 Card Set)
Free Printable Valentine's Day Cards for Kids to Color
Mess Free Smush Paintings for Kids
15 Sweet Family Valentines Poems
Enjoy These Free Printable Valentine's Day Color Pages
Whether you are a parent, teacher, or room mom, I hope these color by number Valentines Day free printable worksheets get your little ones excited! They're perfect for kids of all ages, and make an easy Valentines activity, extra practice for math, or to add to a homeschool math curriculum.
If you use these free valentine's day color pages, I would love to see! Tag me on Instagram @simply.siobhan or using the hashtag #mimosasandmotherhood. I hope they have a great time and so much fun coloring!