Easy Thanksgiving Crafts for Toddlers
The fall is one of my favorite seasons. Since I've become a mom, I've realized it's also a wonderful season for crafts with my children! Looking for the perfect Thanksgiving craft for your little turkey? Look no further than this great list of simple and easy Thanksgiving crafts and activities for toddlers and preschoolers!
I love the fall. It's such a beautiful season, and the weather is beyond perfect for family fun.
Fall also can surprise us with insane rainy days, or super chilly days out of nowhere. I love having a list of crafts that I can create with my kids on days when outside just isn't an option. With Thanksgiving coming up, November is the perfect time to create multiple Thanksgiving crafts with your toddlers!
These crafts are also perfect for Thanksgiving Day, to help keep your kids busy AND out of the kitchen while you work on meal prep (always a plus)! The Thanksgiving crafts on this list are perfect for little hands, and also include a few that would look great as part of your holiday decorations or even as a centerpiece.
Your little ones will love this list of creative and unique Thanksgiving crafts that they can do with you.
Pin this list of Easy Thanksgiving Crafts for Toddlers to read later!
Love crafts? Be sure to check out these posts too!
Easy Pumpkin Crafts for Toddlers
Toddler-Friendly DIY Fall Wreath with Easy Air Dry Clay Recipe
Note: Some links may be affiliate links. That means I may make a commission if you use my links to purchase, at no extra added cost to you! I only recommend products that I personally love and believe in. Full disclaimer here.
Easy Thanksgiving Crafts for Toddlers
Read on for a collection of simple and easy Thanksgiving crafts for preschoolers. While some of these might end up on your fridge, others could be great additions to your decorations this year.
You can also use the crafting opportunity as a chance to start talking to your young kids about blessings and gratitude, and why we celebrate Thanksgiving in the first place.
Make Your Own Turkey Headband
These sweet turkey headbands print in black and white AND color, and are ready for your little ones to color and wear!
Free Printable Thanksgiving Activity Book for Toddlers
Grab this free booklet of printable Thanksgiving activities for toddlers! With coloring pages, play dough pages, I Spy and more, keep your little entertained while you manage the big day.
From me, Mimosas & Motherhood =)
DIY Thanksgiving Wreath for Toddlers
Your toddlers will love gluing all the pieces onto this DIY Thanksgiving wreath. Its the perfect way for your toddler to contribute to the Thankgiving house preparations.
From Party With Unicorns
Easy Paper Bag Craft for Toddlers
This Thanksgiving Turkey Craft is easy to prep and easy to put together with toddlers! All you need is some construction paper, glue and a paper bag, plus of course, googly eyes.
Get the Paper Bag Turkey Craft from Mimosas & Motherhood
Pinecone Turkey Craft for Kids
With Thanksgiving approaching, this Pine Cone Turkey craft is easy and simple to make with the kids.
From Mom Wife Busy Life
Turkey Handprint Craft
If you've never made any handprint art and crafts with your kids, you're really in for a treat.
It's such a great way to get your kids' creativity flowing and work on things like fine motor skills without them having a clue they're doing it!
From Simple Everyday Mom
Turkey Feathers Matching Game
Are you teaching colors to toddlers? This is a fun Turkey Feathers Color Matching Game for kids to create this fall! Create these adorable turkeys and match their feathers to the correct turkey according to their color. Printable turkeys are included!
From Mom Wife Busy Life
Easy Corn Craft for Preschoolers
Besides providing some fun, hands-on entertainment, this craft is great for working on fine motor skills, providing a background to learn new fall vocabulary and for learning to work with glue.
From Simple Everyday Mom
Thanksgiving Turkey with Accordion Legs
This Thanksgiving turkey craft idea is great for fast growing toddlers, and even for you, considering how easy it is to make.
From Craft Play Learn
Free Printable Thanksgiving Scavenger Hunt
Are you looking for fun entertainment on Thanksgiving day? Then try this fun Thanksgiving scavenger hunt. All you need is your free printable, camera and pen to dive in and have some fun!
From Lil Tigers
Free Printable Thanksgiving Matching Game
Are you looking for games or activities to entertain your little children at home this Thanksgiving? Kids love playing matching games, especially when they have fun colorful illustrations.
From The Quiet Grove
Turkey Toilet Paper Roll Craft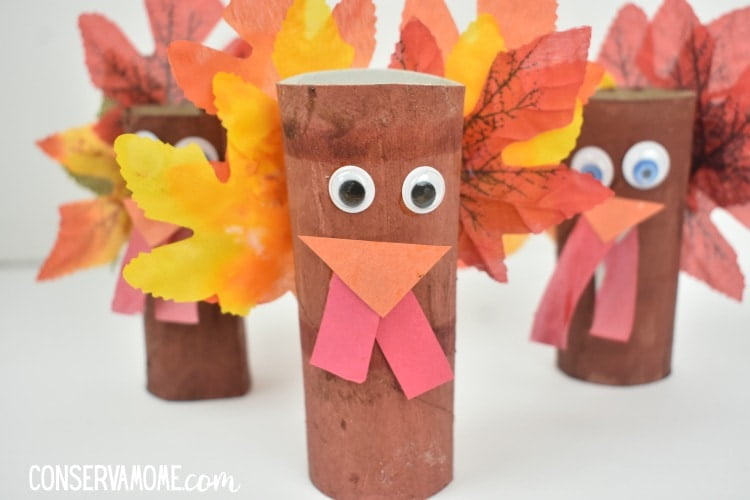 This Turkey Toilet Paper Roll Craft is the perfect Kids Thanksgiving Craft Idea. You can make them as a fun fall activity or a way to decorate your Thanksgiving Dinner table.
From Conservamom
Rainbow Thanksgiving Turkey Craft For Kids
Crafting with kids is a fantastic way to practice and develop fine motor skills and with the addition of fun coloured paper, and this fun turkey craft idea is a great way to learn and have fun!
From The Inspiration Edit
Thanksgiving Thankful Turkey Craft for Kids
This thankful turkey craft is such a great way for kids to be creative and express their thankfulness. It's perfect for adults and kids of all ages!
Easy Corn Craft for Kids
Grab a handful of corn kernels and some glue for this super easy corn craft idea for kids. It is such a simple craft project that kids will love to make and display on the wall and is perfect for this holiday season.
From Little Ladoo
Fall Scented Homemade Playdough
These super soft fall playdough recipes smell like your favorite things about the season! Learn how to make apple, pumpkin pie, and cinnamon scented play dough in 2 minutes in the microwave!
From The Soccer Mom Blog
Thanksgiving Handprint Craft
Handprint crafts make great keepsakes. When kids grow up, it's fun for them to look back on these projects and see how small their handprints were! This Thanksgiving handprint tree is a great way to teach kids about being thankful. It helps them to realize how blessed they really are and is the perfect activity for the whole family to get involved with.
From Crafts by Amanda
Paper Plate Turkey Craft
How cute is this turkey face? This paper plate turkey craft is perfect for young children to celebrate Thanksgiving or Fall.
The best part is that only a few materials are required, such as cheap paper plates, paint, and this free printable turkey template!
From The Printables Fairy
Easy Thanksgiving Activities for Toddlers Add Extra Fun to Your Thanksgiving!
I hope you found these Easy Thanksgiving Crafts for Toddlers as much fun as I did! Which are your favorite Thanksgiving activities? Our family also loves to play games inside, like darts! Learn how to set up a dartboard here.
These toddler approved crafts are a fun way to add a little fantastic fun to your celebration.
Don't forget to Pin this list of Easy Thanksgiving Crafts for Toddlers to read later!