Easy Pumpkin Crafts for Toddlers
Fall is the perfect time for preschool pumpkin crafts. Make them smile this fall with these easy pumpkin crafts for toddlers! These pumpkin crafts for preschoolers are the perfect addition to your fall fun.
Our family loves fall! Between the activities, the food and the change of weather, we try to soak up fall as much as we can each year. One of my favorite ways to do that is with crafts, and it doesn't get much cuter than easy pumpkin crafts for toddlers.
Pumpkin crafts for preschoolers are great not only for Halloween, but can be used all fall long! Pumpkins are everywhere you look once September hits, making this collection of easy pumpkin crafts for toddlers perfect.
There are so many ways to customize the crafts on this list and make them unique. Add in the alphabet or numbers for older toddlers. Preschoolers will have fun learning about mixing colors or counting and learning their letters while making these cute seasonal crafts.
I love this time of year, and I hope this list inspires you to get craft this fall with your little ones!
Looking for just Halloween crafts? Check out Easy DIY Halloween Crafts for Toddlers and Quick and Easy Halloween Games for the Classroom! If you're looking for just Thanksgiving crafts, be sure to also read Easy Thanksgiving Crafts for Toddlers, too.
Note: Some links may be affiliate links. That means I may make a commission if you use my links to purchase, at no extra added cost to you! I only recommend products that I personally love and believe in. Full disclaimer here.
Materials You'll Need for Pumpkin Crafts
While many of the pumpkin crafts for toddlers on this list will use items you already have at home, it doesn't hurt to order a few extra goodies, like washable dot markers, orange tissue paper and mini craft pumpkins.
These materials are all on Amazon and are perfect to incorporate with your pumpkin crafts for preschoolers!
You should also be able to grab any supplies you might need for these easy pumpkin crafts for toddlers are your local big box store or craft store.
20 Easy Pumpkin Themed Crafts for Toddlers
Here are some fun and engaging pumpkin themed craft activities to try with your preschoolers. I've gathered a good variety of pumpkin crafts that are good for any time during fall, and a few that are more geared towards Halloween. These easy pumpkin crafts for toddlers are the perfect addition to the pumpkin crafts your preschoolers will be making.
Fall Dot Markers Printable Craft
Dot markers are the perfect low prep and low mess activity for toddlers and preschoolers. Your child will have a blast dotting away at these fall themed do-a-dot sheets.
Homemade Pumpkin Pie Glitter Playdough
Make this Pumpkin Pie Play Dough Recipe for a fun craft for the kids. Scented with pumpkin spice mix and has added orange glitter.
Yarn-Wrapped Paper Plate Jack-o-Lantern Craft for Halloween
This yarn-wrapped pumpkin craft is such a simple way for your toddler to work on their fine motor skills as they wrap the yarn.
Playdough Jack-o-lantern with Pop-In Features
Recycle a cereal box and celebrate Halloween with this super cute build-your-own playdough Jack-O-Lantern activity for kids! Mix and match spooky features with your own round little playdough pumpkins for an afternoon of wickedly creative form and design play.
Related Posts: Boo Y'all! Free Printable Halloween Banner, 20 Halloween Costumes for Brothers
Simple Paper Plate Pumpkin Craft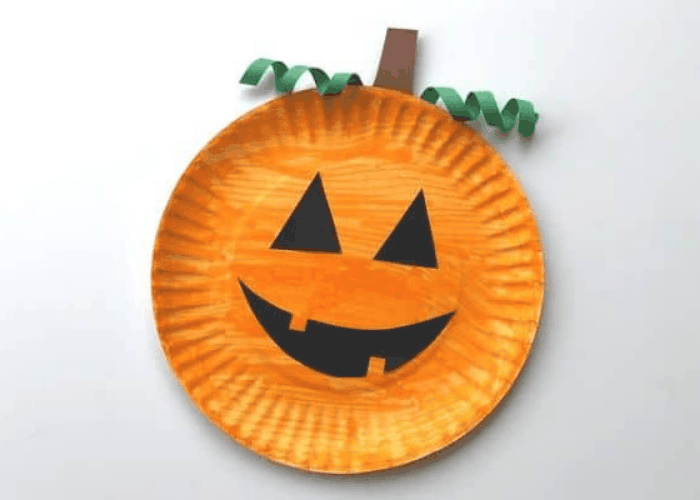 Want to do a Halloween craft with your kids but can never find the time? Here is a quick and easy paper plate pumpkin craft that you can do in time for Halloween!
Printable Paper Pumpkin Craft
This craft is great for preschoolers because it's not only fun but it's also helpful for little ones who need to work on valuable skills like fine motor skills, hand-eye coordination, following directions and more.
Pop-Up Pumpkin Photo Card
A cute kid-made pop-up photo pumpkin card that's perfect for Fall holidays!
Related Posts: Easy Thanksgiving Crafts for Toddlers, Easy DIY Halloween Crafts for Toddlers, How to Clean Pine Cones for Crafting, Fall Photoshoot Family Outfit Ideas
Jack-o-Lantern Cardboard Pumpkins
Five Little Pumpkins! With a little October magic (and a few well-placed velcro dots) you can turn simple cardboard pumpkins into an entertaining set of mini no carve jack-o-lanterns that your little ones can design, take apart, then rebuild over and over again.
Paper Pumpkin Craft for Preschoolers
This paper pumpkin craft is perfect for Halloween or Thanksgiving, and doubles as a great decoration for fall.
Paper Plate Pumpkin Craft
This paper plate pumpkin craft combines a traditional jack o' lantern and a mummy to make a new twist on a simple craft. It's an easy, low prep and cheap craft you can do with toddlers, preschoolers or elementary aged children.
Q-Tip Painted Pumpkins
These q-tip painted pumpkins are just the cutest! They make such an easy fall craft idea for kids of all ages and would look beautiful as a fall table centerpiece. Use q-tips and acrylic paint to decorate mini pumpkins. A fun and easy craft kids will love!
Pumpkin Apple Stamping Activity
Pumpkin apple stamping is an adorable and easy fall craft for kids with simple supplies you likely already have at home!
Popsicle Stick Halloween Pumpkins
This cute popsicle stick pumpkins craft is really fun to make with your littles this fall!
Paper Plate Pumpkin Craft
Explore mixing secondary colors while creating this three dimensional pumpkin craft! This easy preschool pumpkin craft starts with a simple paper plate.
Pumpkin Door Hanger Craft
Fall is the perfect time to get some fun crafts in. Creativity abounds with this fun Halloween Craft Idea. Find out how easy it is to make this adorable Pumpkin Door Hanger with Free Printable Template.
Edible Pumpkin Pie Slime
Learn how to cook up edible pumpkin pie slime just in time for Fall!
Recycled Plastic Cup Pumpkin Craft
This recycled plastic cup pumpkin craft is super cute and so easy to make. All you need is a plastic cup, paint, paper and you're all set!
Coffee Filter Leaf & Pumpkin Craft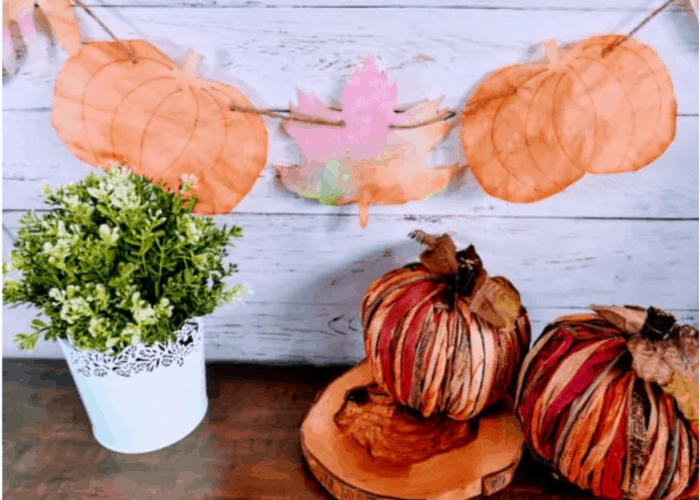 This fall garland of leaves and pumpkins made from coffee filters. It's a fun craft that can double as a science experiment with a bit of creativity.
From Three Kids, Three Cats and a Husband
Painted Pumpkin Craft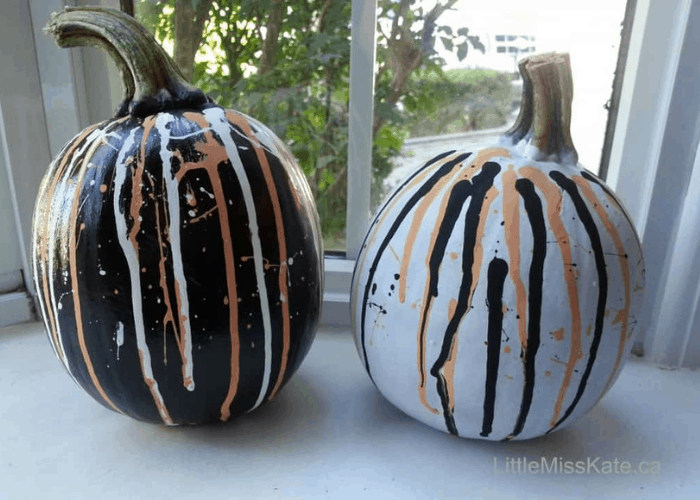 While this painted pumpkin craft might require a little more supervision, your toddlers and preschoolers are sure to love the opportunity to play with paint!
Easy Pumpkin Crafts for Toddlers are Perfect for Fall
I hope you loved this collection of easy pumpkin crafts for toddlers! All of these pumpkin crafts are so cute and fun that it's hard to pick a favorite.
What's your favorite pumpkin craft to make? Share your ideas in the comments!