Cardboard Christmas Tree Pasta Craft
Pasta is such a fun and versatile craft ingredient, and there's something magical about using it to create Christmas memories, too. This cute cardboard Christmas tree pasta craft is so simple and easy for kids to make, and a great way to upcycle the shipping boxes piled in your garage from all of those Christmas gifts, too!
How can you say no to holiday crafting? Christmas trees are such an iconic part of the season, and after discovering earlier this year how easy it is to dye pasta, I knew I wanted to incorporate noodles into a new creation.
Enter: the Cardboard Christmas Tree Pasta Craft! This great activity not only helps your little ones work on fine motor skills, but it's also a great recycled item craft.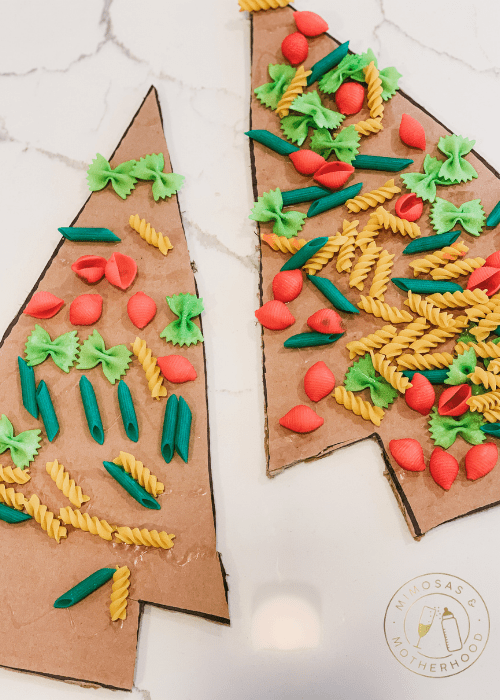 This is the perfect craft for toddlers and preschoolers to make, but is also fun for kids of all ages, too. My boys (ages 2 and 3) loved the freedom of being able to decorate their trees however they wanted, and I loved how simple pasta crafts truly are.
A handful of colorful pasta, a little glue, some cardboard and a pair of scissors or X-acto knife are all you need to create this Christmas craft!
Note: Some links may be affiliate links. That means I may make a commission if you use my links to purchase, at no extra added cost to you! I only recommend products that I personally love and believe in. Full disclaimer here.
How to Make a Cardboard Pasta Christmas Trees
Supplies Needed:
Dry pasta noodles like macaroni, penne, bowties etc
Cardboard
Marker
Box cutter/craft knife (you can also use scissors if you don't have either)
How to Dye Pasta for Crafting
This craft tutorial uses the magic of colored pasta noodles. Dying pasta noodles for crafting is actually so much easier than it looks, and results in a much easier project as you don't have to worry about paint drying!
Click here for the full tutorial on how to dye pasta for crafting. In a nutshell, you'll use a little rubbing alcohol and food coloring mixed in a Ziploc bag. The pasta dries in just a few hours and is ready for crafting!
While we chose to make these pasta Christmas tree as just a fun piece of art, there are so many things you can do with this! Cut out your cardboard Christmas trees a little bit smaller and pop a hole in the top, and they would make great ornaments. Or decorate your tree and paste it to the front of a folded piece of cardstock to make a festive Christmas card!
More Christmas Crafts for Kids:
Giant Gingerbread Man Christmas Craft
Free Printable Christmas Activity Sheets
How to Make a Paper Chain Advent Calendar
Mistletoes Easy Christmas Footprint Craft (Great Baby's First Christmas Craft)
How to Make Pipe Cleaner Candy Canes
Assembling the Pasta Noodle Christmas Trees
This Christmas tree craft is so simple to make. First, dye your pasta noodles if you haven't already! (Not feeling like dying them? You can absolutely use paint too. Just paint the trees AFTER your children have glued the noodles on and they are dry.)
Next, break down a cardboard box of any size. Using your marker, freehand draw the outline of a Christmas tree. It doesn't have to be perfect! Your kids won't even notice. You just need the shape as a guide.
Use your box cutter or X-acto knife to cut out the cardboard tree. If you don't have either, you can use a pair of scissors too.
Once you have your cardboard Christmas tree, apply a little glue to the tree. Let your kids help! The glue can go on any way you would like, but be generous with it as this cardboard tree craft needs ample glue to keep the macaroni stuck.
Try wavy lines, dots of glue or even cover the entire surface of the tree. Let your kids decorate it with their pasta however they would like! Again, be generous with the glue as they glue each piece. You might need to add more throughout this craft time.
Your kids can create different designs with the macaroni, or even add them in layers. I love how each of these cardboard Christmas trees is unique.
More Upcycled Crafts:
Cozy Coupe USPS Mail Truck Makeover
Create a Plastic Playhouse Makeover!
Preschool Christmas Craft Pasta Art is Fun and Easy
That's it! If you love Christmas crafts for toddlers and preschoolers, don't miss this big collection of DIY Christmas Crafts for Toddlers. If you make this craft, I would love to see! Be sure to tag me on Instagram @simply.siobhan or using the hashtag #mimosasandmotherhood
Happy holiday crafting!