Giant Gingerbread Man Christmas Craft
Even the youngest artists can help with this Giant Gingerbread Man Christmas Craft. It provides hours of fun for your little ones and is a great way to recycle all of those cardboard shipping boxes piling up from holiday shopping too 😉
One of my favorite parts about the holiday season is crafting with my kids. I love upcycle projects (like the Create a Plastic Playhouse Makeover!), and with my oldest finally getting to stage where he can create more hands-on projects I've been looking for a way to upcycle our recycling items. This Giant Gingerbread Man Christmas Craft provides hours of fun for your little ones, while also giving you a use for those 8 million Amazon boxes taking up space in your garage.
I was inspired after seeing how The Growing Creatives created painted giant gingerbread men with her kids to come up with something a little bit more toddler friendly.
This Giant Gingerbread Man Christmas Craft is SO easy to make yourself. The best part? Your kids can go wild with decorating their own giant gingerbread man however they want.
Note: Some links may be affiliate links. That means I may make a commission if you use my links to purchase, at no extra added cost to you! I only recommend products that I personally love and believe in. Full disclaimer here.
I also love how perfectly imperfect this Christmas craft is. Sometimes we get so caught up on creating these perfect Pinterest-worthy crafts that we forget the whole point of these projects in the first place: creating new memories with your kids.
Let their creative juices flow, and see what they come up with! My kids are still a little young for glitter and glue, so we opted for markers and stickers to make our giant gingerbread man come to life.
Archer loved getting to draw however he wanted on his giant gingerbread man, but also surprised me by wanting to take it all over the house to dance with after we were finished!
Looking for more holiday craft ideas? Be sure to also read DIY Christmas Crafts for Toddlers, Free Printable Christmas Activity Sheets and How to Make a Paper Chain Advent Calendar!
How to make your own Giant Gingerbread Man Christmas Craft:
1. Break down a large shipping box (or two!). I originally had two boxes ready to go, but then my baby slept through craft time!
2. Draw the gingerbread man outline on the blank inside of the box. If your kids are old enough to lay still, you can trace them. Archer is a wiggle worm, so I freehand drew mine with black sharpie. Remember: this craft isn't about being perfect!
3 .Cut it out with a SHARP set of scissors or an x-acto knife. I am emphasizing the sharp part, because cardboard can be a nightmare to cut and take forever. Be sure you are cutting on a safe, durable surface that you can't damage by accident.
4. Decorate! Paint, glitter, glue, markers, crayons, feathers: the list goes on and on! I can see these giant gingerbread men becoming more and more intricately decorated as my kids get older. I recommend using painter's tape to help hold them in place as you decorate.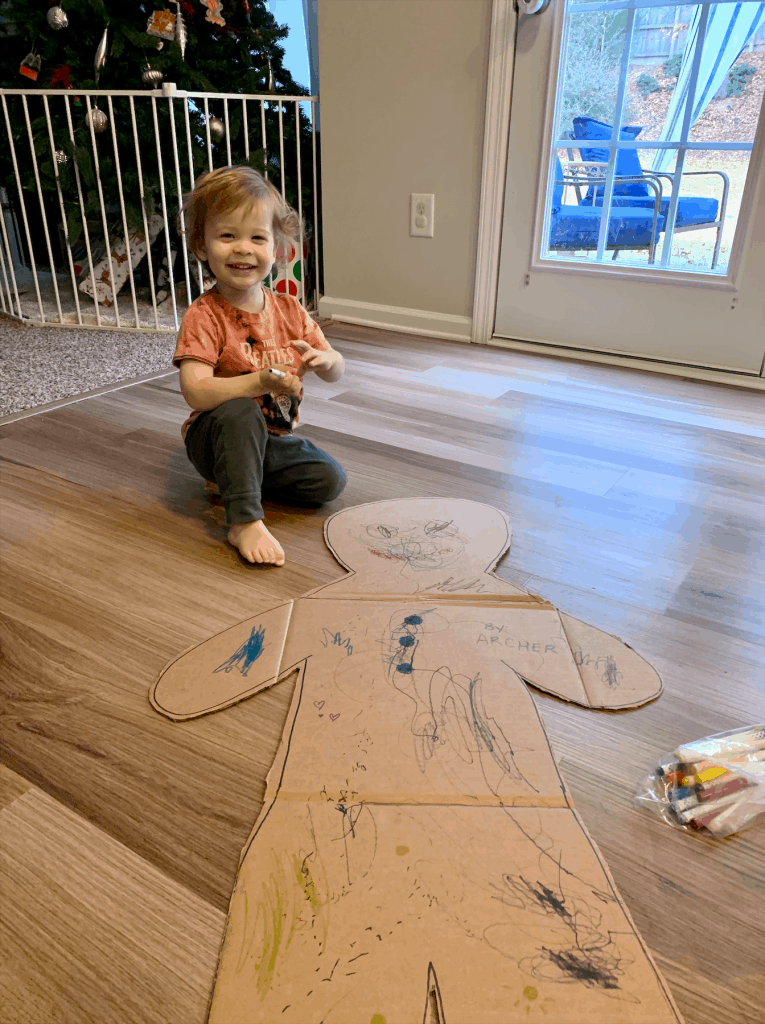 Hang them up, have a dance party, use them to spruce up your front porch. Archer was cracking me up with taking his around the house to dance with! We started blasting some of his favorite Christmas tunes, and this giant gingerbread man craft turned into a giant gingerbread man dance party.
If you create your own, be sure to tag me on Instagram with #mimosasandmotherhood and @simply.siobhan. I would love to see your creations!
This Giant Gingerbread Man Christmas Craft is a great way to reuse shipping boxes, and provides hours of fun for little kids (and parents)!