Simple & Easy DIY Christmas Crafts for Toddlers and Preschoolers
I love Christmas. The sights, the smells, the crafts! As a mom it's become even more special as I've worked to make the holidays special for our boys. One easy and simple way is creating DIY Christmas crafts for toddlers.
One of the best parts of Christmas is spending time with family and friends making memories. While this year might be different, one thing that always rings true with children is how even the tiniest holiday moments can create magical memories.
While there are so many ways to do this, one way that won't be impacted this year is crafting DIY Christmas crafts for toddlers while snuggled up safe inside.

It hit me a few weeks ago that all of that "Christmas magic" I remember as a child really came down to one thing: a mom who worked really hard to make every holiday special. From crafting to baking, decorating and movie watching, to everything in between, DIY Christmas crafts for toddlers are a wonderful way to start making your holiday feel special for your little ones, too.
I've created a list of a wide variety of types of Christmas crafts for preschoolers and little kids that are simple, easy, and use items you probably already have in your house.
Whatever you and your little ones create this Christmas season, you'll have a blast as you also create amazing memories for years to come.
Looking for even more Christmas fun for your little ones? Don't miss The Best Christmas Books for Babies and Toddlers, 24 Days of Christmas Books for Advent and 50 Advent Calendar Activities for Toddlers.
Easy DIY Christmas Crafts for Toddlers and Preschoolers
PIN DIY Christmas Crafts for Toddlers to try later!
Toilet Paper Roll Nativity Craft
Commemorate the birth of Jesus Christ by crafting a Nativity Scene with toilet paper rolls. It's a great way to get the kids involved in creating something for the holidays and the perfect excuse to re-tell the Christmas story.
From The Printables Fairy
Easy Keepsake Thumbprint Christmas Lights Ornament
This DIY Christmas ornament is made from dollar store items and captures tiny little fingerprints for years to come!
From The Moody Blonde
Collection of Cupcake Liner Christmas Crafts
Try these 3 easy cupcake liner Christmas crafts with your toddler. Using just a handful of different colored cupcake liners and some glitter you can make a Christmas tree, an angel, and a sparkly snowflake!
From Lil Tigers DIY Blog
Cotton Ball Snowman
The cotton ball snowman is super easy to make for toddlers. Gluing the cotton balls is a great way to exercise their little hands and practice their fine motor skills. The free printable gives your child options to decorate the snowman with various hats, noses, and arms!
From MomBrite
Natural Leaf Christmas Tree Craft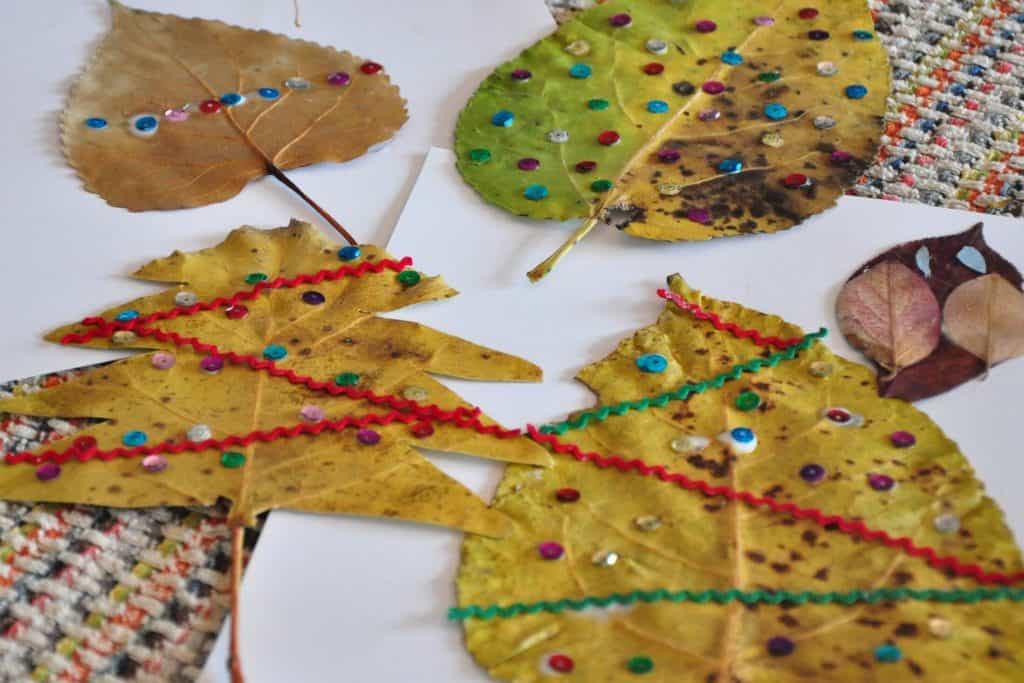 Give your littles an opportunity to hunt for leaves outside before starting this holiday craft… then, turn them into beautiful Christmas cards or decorations!
From Take Them Outside
Cinnamon Salt Dough Ornaments
Your toddler will have a blast making these cinnamon salt dough ornaments. They are such a fun gift to make and smell amazing.
From Two Pink Peonies
Fingerprint Reindeer Ornaments
This fingerprint Christmas ornament is perfect to make with those little ones. Use two thumbprints to make a reindeer that you will be able to remember fondly year after year.
DIY Snowman Playdough Craft
Easy and so much fun, this snowman play dough craft will be a hit with little ones. Moms will love that the play dough stays contained in these baggies, for easy use and storage!
From She Saved
Life-Sized Gingerbread Kids
Gingerbread is a staple for the winter months. Make this awesome life-sized gingerbread craft to add to the magic of the season for your little ones!
Easy Fingerprint Christmas Ornaments
These DIY fingerprint ornaments are the sweetest way to preserve those sweet tiny fingerprints.
From Mommy Snippets
Printable Christmas Tree Activity
The printable has a line for the child's name to go on the top of the page and a line at the bottom that reads "All I want for Christmas is," which they can fill in with the one special thing they want the most this year.
From Fun For Little Ones
Simple Handprint Christmas Tree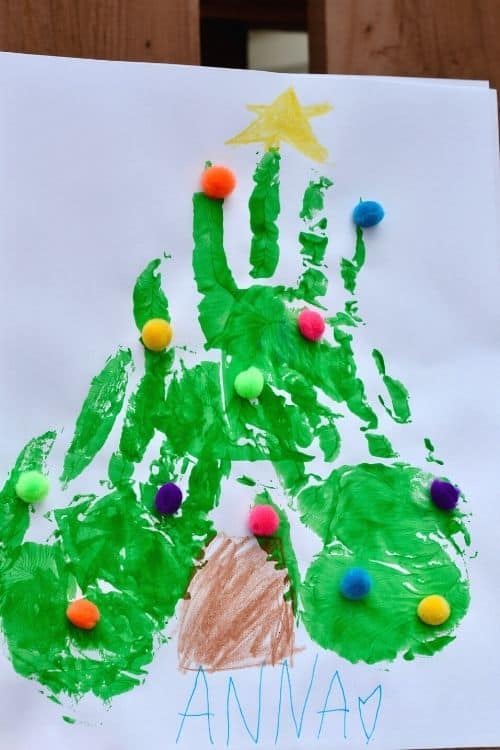 This easy DIY project is a perfect quick and easy holiday craft idea for a toddler, preschooler, or little ones!
From Foster to Adopt
I hope you found some fun ideas for your own Christmas crafts for this season. Be sure to PIN DIY Christmas Crafts for Toddlers to try later!
Easy DIY Christmas Crafts for Toddlers and Preschoolers: Create new memories this holiday season!