45 Positive Affirmations For Kids (Plus Free Printables!)
Positive affirmations can be so powerful! Even at a young age, positive affirmations for kids can make a huge difference in the way they view themselves. Read on for some of my favorite positive affirmations for children, plus two free printable positive affirmations for kids you can download for your own family!
When I think about my boys and our world today, sometimes I get nervous about the impact society has on our children. As a parent, it's my job to teach them to have love for themselves and for others. A big believe that our family has in in the power of positive affirmations for little kids.
As parents, we work so hard to help our children learn and develop into good people. As an adult, I now know that a big part of the way I personally feel about myself comes down to self-talk. Positive thoughts about yourself empower you; negative thoughts about yourself work to bring you down.
Positive affirmations for kids are a fantastic way to help your little ones start to speak and think positively about themselves. Affirmations are a powerful tool that we as parents can use to help our children boost their self-confidence and self-esteem.
Be sure to keep reading to find out how you can snag these two beautiful, printable positive affirmation for kids for your own children for free!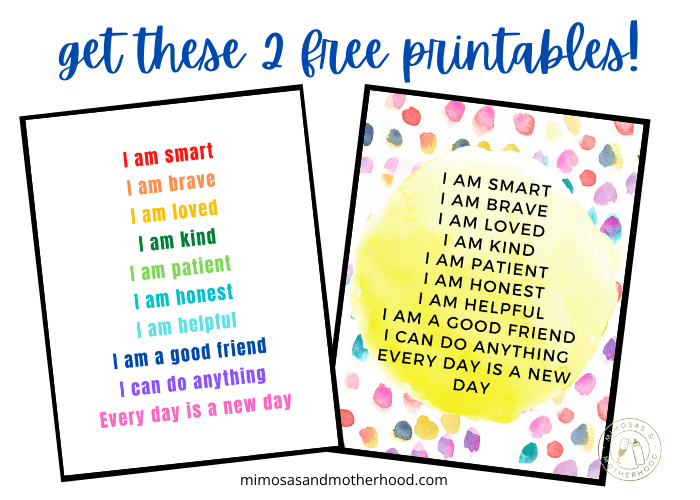 Note: Some links may be affiliate links. That means I may make a commission if you use my links to purchase, at no extra added cost to you! I only recommend products that I personally love and believe in. Full disclaimer here.
What Are Positive Affirmations for Kids?
Positive affirmations for young children are similar to affirmations for adults. They are short statements that you say regularly (and sometimes over and over) to help retrain and refocus your brain. Affirmations can be used to disrupt negative thought patterns, to help gain confidence, and to address difficult emotions. For young kids, positive affirmations are a fantastic way to help them start believing in themselves and talking to themselves in a positive way from a very young age.
Little kids are sponges. They absorb such an incredible amount about the world around them, but they especially absorb the things we as adults say and do. Positive affirmations are just as important for little kids as they are for adults, because they help our brains reinforce the things we think about ourselves and the ways in which we view ourselves.
It's heartbreaking to hear your child say something mean about themselves. Even though my oldest is just a toddler, it kills me every time he gets incredibly frustrated while learning a new skill and says that he can't do something. I want my children to believe that they can do anything! Affirmations for kids help them to build self-confidence and self-esteem in a big way.
What Do Positive Affirmations for Kids Do?
Positive affirmations are incredible way that we as adults can shift the way we talk to ourselves and the way we think about ourselves. They also help to motivate, influence, focus, remain positive or become more positive.
When it comes to little kids, positive affirmations serve the same purpose!
Related Posts:
How to Make a Broken Pot Fairy Garden
How to Teach Positive Affirmations with Little Kids
You can start using positive affirmations for young kids in all sorts of different ways. We personally love to do our positive affirmations in bed as part of his special bedtime routine. I know other friends love to recite them in the bathroom each morning after brushing teeth with their children!
Say your affirmations out loud while looking in the mirror! While this can feel a little weird for adults if you're not used to it, for kids it feels really fun since they don't spend much time looking into the mirror.
Read aloud each affirmation one at a time, and have your child repeat it while looking in the mirror. It is so powerful, and for little kids it also becomes a fun and special activity they look forward to each day.
Free Printable Positive Affirmations For Kids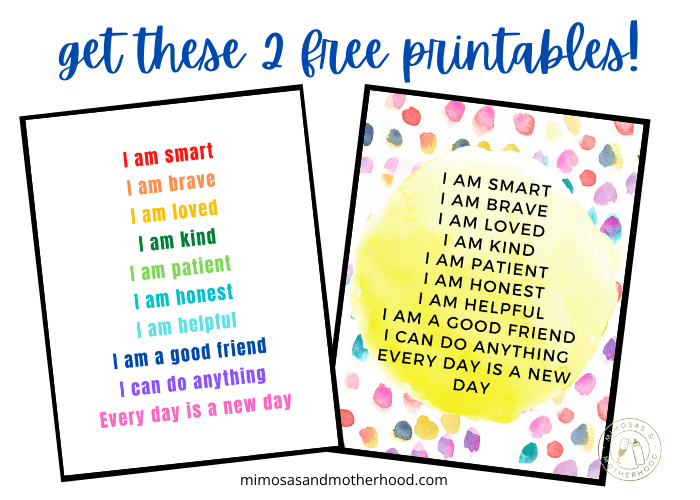 Want to start doing positive affirmations at home with your children? I created these two beautiful printable positive affirmations for kids for my own children, and you can have them for free! Just enter your details into the form below, and it will be emailed to you immediately.
This freebie is meant to be easily printed at home. While you can absolutely print it just on regular paper, I recommend that if you want best results you print it on card stock!
I recommend this cardstock on Amazon, as it will help it keep its shape and be a little bit more resilient. It's also cheaper than what I've found in stores and is the perfect thickness for this project!
45 Positive Affirmations for Kids
Here are some of my favorite positive affirmations for little kids to help you get started with your own children's lists:
I am smart
I am confident
I am strong
I am brave
I am generous
I am kind
I am patient
I am loved
I am awesome
I am honest
I am enough
I am helpful
I am allowed to feel what I do
I have a positive attitude
I am beautiful inside and out
I love life
I am allowed personal space
I can do hard things
I have people around me who love and respect me
I can do anything that I put my mind to
Every day is a fresh start
I matter
I am a good friend
I am safe
I love my body
My parents are proud of me
My opinions matter
I speak up for what is right
All of my problems have solutions
Today I am a leader
I get better every day
I am a great problem solver
I am perfect just the way I am
I am special
I like myself
I do my best in school
My family and friends love me for who I am
I can do it
I believe in myself
I love myself
I listen to my parents
I am a good brother/ sister
Other Fun Way to Use Affirmations for Young Kids
My love language is Words of Affirmation, so I am ALL ABOUT finding ways to affirm our children! In addition to having your child repeat their affirmations in the morning each day, you can also help to affirm your kids with surprise affirmations.
Use dry erase markers to write on their bathroom mirror.
Surprise them with handwritten affirmation notes.
Use a deck of affirmation cards. Draw one card each day and encourage your child to repeat the positive affirmation throughout the day.
Make an affirmation poster together. They pick the affirmation they want, you write it on poster board, and they get to decorate and color it however they like! Let your child also choose where to hang it when you're all done.
If they're old enough to attend school, hand write or print out positive affirmations and words of encouragement to place in their lunch boxes or backpacks. My mom used to leave me notes on a napkin in my lunchbox, and to this day that remains a really special memory.
Our family also has positive affirmations at bedtime. We do our mirror affirmations when we brush our teeth first, and then the last thing I do before I walk out of their bedroom after tucking them in is affirm them again. I tell them every night "You are smart, you are special, you are kind and you are so very loved."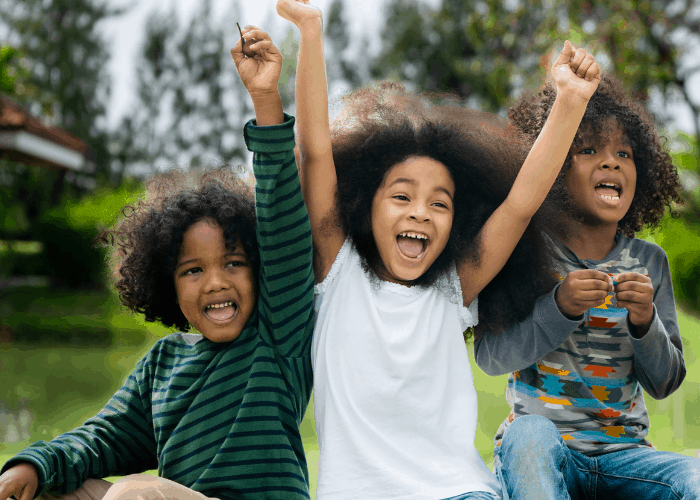 Positive Affirmations for Kids
Remember, your child listens to every single thing you say (even when it doesn't feel like it). Whatever you want them to see in themselves, and however you want them to talk to themselves internally, make sure you as their parent affirm that in them too!
Be sure also that if you catch them putting themselves down that you use that as an opportunity for positive affirmation too. When you hear your child say "I can't do this," affirm that they can do anything they put their mind to. If you hear them say "I'm so stupid," remind them that they are smart and capable.
Positive affirmations for young children can be a powerful way of starting a lifetime of self-love.
What are some of your favorite positive affirmations for kids? How do you practice affirmations in your own home?