This DIY Cardboard Treehouse is such an easy cardboard craft for kids! Put those old boxes to new use with this simple tutorial that even the youngest crafters can help with.
Raise your hand if you have a bunch of boxes piling up from all of that online shopping in your house, too! Before you throw them away, stop and check out this easy DIY Cardboard Treehouse, created by guest blogger Rozanne of Bright Little Brains!
Rozanne is a teacher by profession and currently a stay-at-home mom to a four-year-old son and two-year-old daughter. She is also the creator behind the amazing Instagram account "Bright Little Brains," an educational account full of wonderful kids DIY projects, activities and tutorials to help other parents find ideas and inspiration!
Projects like these are great for quality family time during a rainy day. It's easy to make and provides endless enjoyable playtime! You can involve your kids in the process from the beginning to the end. Let them draw their cardboard treehouse creation by visualizing how it should look.
Guide them through the process by giving them cutting tasks or decorating it at the end. If they are involved in the making of it, they will probably play with it much more often. 
Note: Some links may be affiliate links. That means I may make a commission if you use my links to purchase, at no extra added cost to you! I only recommend products that I personally love and believe in. Full disclaimer here.
Easy Cardboard Crafts for Kids: DIY Cardboard Treehouse
Our family LOVES upcycling and recycling craft projects with our kids, like this Create a Plastic Playhouse Makeover or these Simple & Easy Spring Crafts for Toddlers!
Here are few reasons why I love DIY recycle material projects like easy cardboard crafts for kids, especially when it comes to learning through play activities for my little ones:
It's cost effective
Provides a positive waste aspect
Create endless opportunities to be creative
DIY projects can become a fun family hobby
Not feeling sorry if a cardboard creation might break
Materials Needed to Create a Cardboard Treehouse
1 large piece of cardboard (we recommend a sturdy piece!)
4 paper towel rolls
Cardboard cutter or X-Acto Knife
Rope and sticks to make a ladder and swing
Pencil
Scissors
Glue gun
Skewer sticks (Only if you want to make the rolls sturdier by gluing them inside)
Fun accessories that can be theme related, like moss, moss rocks, pebbles, wooden disks, succulents, beans, bugs, animal figurines, peg dolls to name a few! Here are a few fun ones you can find on Amazon:
Easy cardboard crafts this like DIY Cardboard Treehouse provide hours of fun for littles without you having to spend a ton of extra money!
How to Make a Cardboard Treehouse
To make the tree house bases, draw your shapes with a pencil on the cardboard.
Cut the 3 bases for the different levels using a cardboard cutter. 
3. Cut the paper towel rolls to the height you want using a cardboard cutter or scissors. Use the rest of the cardboard to cut 6 small pieces to create a little house, and cut smaller openings to make little window.
4. Glue all the sides together and after it dried, add the roof to the house.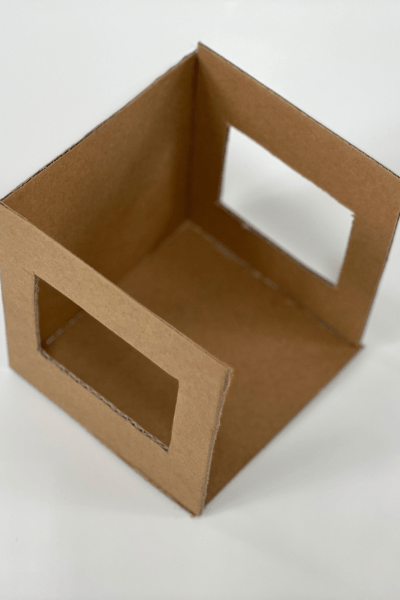 5. Create fun elements to the tree house for example a swing and a ladder. If you don't have any sticks available, you can also make use of the skewer sticks. Decide how wide and long you want your ladder and swing.  Measure each stick and cut according to the size. Glue all the sticks together using a glue gun.
6. Make holes in the cardboard using a hole puncher to pull the string of the swing through. Tie a knot at the top to secure the swing. You can glue the ladder to the cardboard or have it as a loose piece.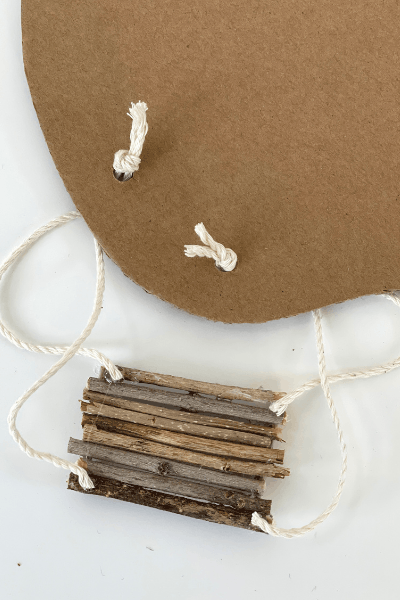 7. Now you can start building your tree house by putting all the pieces together. Use a pencil to mark the areas where a piece must be glued. 
8. Once the treehouse is secure and the glue dries, the fun starts where you can start decorating the treehouse. Let everyone be part of the process. You can decorate the treehouse according to a theme if you want to. Add fun accessories to extend playtime and to boost imaginary and creative play!
This cardboard treehouse can provide endless fun for children of all ages, and is such a fun cardboard craft for kids! We love that almost everything you need for this project can be found in your home already, or are really affordable to grab if you need to pick anything extra up.
Building this DIY Cardboard Treehouse with your kids will not help expand their creativity by creating a beautiful cardboard craft, but it will also allow you to reuse cardboard that would usually be thrown out and most likely thrown in a landfill.
This is a great project to work on with even young kids as there is so much room for creativity, and creates hours of fun even after the building project is finished!
Thank you so much to guest blogger Rozanne of Bright Little Brains for this wonderful guest post!
About Rozanne:
Rozanne is a teacher by profession and currently a stay-at-home mom to a four-year-old son and two-year-old daughter. Rozanne says "Educating is my passion, it's my calling – I know I was born to do this."
Rozanne is also the creator behind the Instagram "Bright Little Brains," an educational account full of wonderful DIY projects, activities and tutorials to help other parents find ideas and inspiration! She has also recently opened her own Etsy shop with sensory play kits and materials, where she sells educational materials she personally uses in her activities.
Besides being a mom, teacher and small business owner, she also loves warm sunny days, hiking or taking the long road to explore the wonderful world around her. She's a firm believer that you should make the most of the time you have, and you should live every day to the fullest!
Follow Rozanne on Instagram here, Facebook here and be sure to check out her Etsy shop here!
DIY Cardboard Treehouse Project is such a great cardboard craft for kids! Upcycle your shipping boxes with this simple and easy kids craft.