Art Activities for 1 Year Olds
When your sweet baby graduates to a toddler, the world opens up with all kinds of activities you can do together, including when it comes to crafts. Read on for some simple and easy art activities for 1 year olds to do together!
It's amazing how quickly our little ones change after their first birthday. All of a sudden, there are so many skills they're learning! It's a truly wonderful time to start introducing more hands-on art activities.
This list of art activities for 1 year olds was created by guest blogger Sally of Life Loving, a lifestyle blog that is also full of parenting posts. Sally is a mum of Austin and Autumn and lives in the UK with her family.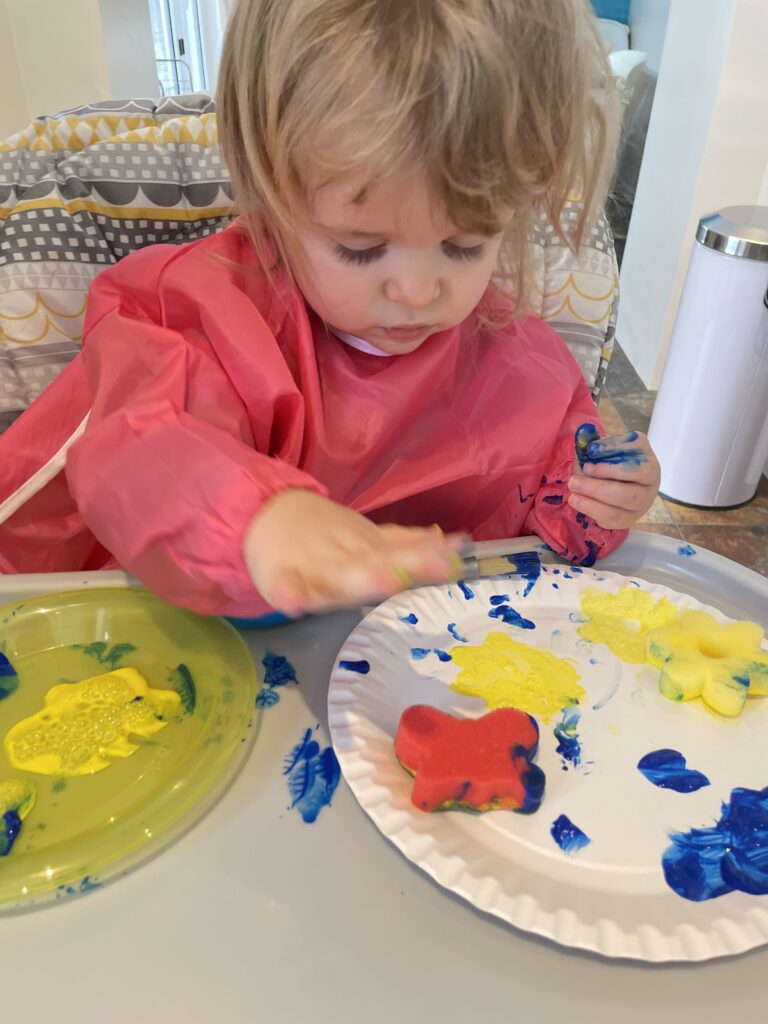 Not all art activities are safe for the littlest learners, so it's important to always keep in mind safety with any craft. Art activities for one year olds should be closely supervised as they are still of an age where they may put things in their mouths.
Note: Some links may be affiliate links. That means I may make a commission if you use my links to purchase, at no extra added cost to you! I only recommend products that I personally love and believe in. Full disclaimer here.
Art Activities for 1 Year Olds
I'm lucky enough to have two very loveable and slightly cheeky children aged four and one, so I thought it would be good to share some of my ideas about art activities for 1 year olds.
If you've got a 1 year old, you know how amazing watching them grow and develop can be. Art activities with a 1 year old can be an excellent way of bonding, encouraging creativity, giving them new experiences, and developing their fine motor skills, whilst also having so much fun.
I've put together some ideas around the sort of art activities that are suitable for you to do with your 1 year old. Some activities are for the braver parent, as yes, one year olds can be pretty messy when it comes to art, but many of these can be set up and cleaned up with minimal mess and fuss. Good luck!
Salt Dough
Salt dough is a great activity to do with one year olds. You can make the salt dough and then they can have fun moulding it and mark making with it. Why not get some rollers so they can put different indentations in it? Different-shaped cutters can be a really lovely idea as well.
They'll enjoy playing around with the unusual texture and they'll gain a sense of pride when you dry out their creations and hang them on the wall. It's a great way to make personalized Christmas ornaments which you can give to friends and family. If you are wondering how to make salt dough this post can help.
Tissue Paper
Tissue paper is a highly versatile craft material that's a fantastic sensory art activity. Your one year old will enjoy scrunching the tissue paper. The texture, sound and smell of tissue paper is really interesting to a toddler.
There are several different ways you use can tissue paper. One of these is by letting them scrunch and rip pieces up, then providing a piece of folded card and getting them to stick them on in a collage fashion. These make lovely greeting cards which you can send to family and friends.
If you've got lots of different colours of tissue paper, you can cut some small circles and then let your little one arrange them on a tray. Give your one year old a spray bottle and let them practice using the sprayer.
Once the tissue paper gets damp enough it will start to form a piece of artwork. The colours will start to blend together and the tissue pieces will stick together. It looks amazing when it dries.
At this age, exploration and learning are really important. Aside from arts and crafts, there are lots of ways to entertain a one year old. Take a look at this post about games to play with 14 month old children.
Finger Painting
Finger painting is one of the classic toddler crafts. It's a great way for little ones to explore different textures and colours, while also improving their hand-eye coordination.
I suggest buying washable paints like these (this set even includes an art smock!). They are much easier to get off skin, clothes, furniture and anything else that might get a bit messy. I'd also suggest investing in a craft apron for your little one. A small reusable plastic coverall can help to keep their clothes that much cleaner.
Squeeze a few colours into small pots and then encourage our little ones to explore the paint. Once they've got some on their little fingers we either tape down some paper for them to create their artwork.
Top tip: masking tape is great to use on tables and highchairs. We also love to use paper plates as these look great when you display them on a wall or shelf.
Brush and Stamper Painting
Keeping on the same theme of painting, brush and stamper painting is a favourite in our household. Put some amounts of paint in little pots and let our children loose with it. Grab paint brushes like these with big, chubby handles which are ideal for one year olds as they are easier to grasp and control.
Don't forget stampers – some with handles and some without, which they can use to make different shapes and textures on their creations.
Pipe Cleaners
Pipe cleaners are fantastic fun and a wonderful way for one-year-olds to experiment with different shapes and forms. It works best if you have lots of different pipe cleaners – different shapes, sizes and colours are best.
This is one of those wonderful, simple and mess-free easy crafts. You can simply play with your child as they explore the pipe cleaners. They will twist and bend them into different shapes. You can show them how to make a circle and other shapes.
They'll enjoy the odd sensation of a pipe cleaner whilst they home their fine motor skills and explore their creativity. Pipe cleaners are safe and easy for young children to handle and can be used in a variety of crafts, like making a butterfly or candy cane.
Cotton Wool Balls
Cotton wool balls offer a unique sensory experience for young toddlers. This activity helps them explore different textures and learn about cause and effect.
You'll need cotton balls, some coloured card and some washable paint. This activity is quite simple, but one of the more messy ones. You start by squeezing a few drops of the paint onto the coloured cardboard. Encourage your baby to use the cotton wool balls to spread the paint around the card.
As they press the cotton balls, they'll find they are creating interesting patterns and textures on the paper. It's an activity that they'll love doing again and again.
Colour Mixing
Using an ice cube tray and some paint is a fantastic way to introduce your one-year-olds to colour mixing. Set yourself up with an ice cube tray, a few different colours of washable paint (primary colours are best) and a couple of paintbrushes.
Place a small amount of the paint in each compartment of the ice cube tray. Help your little one to mix up the colours using the paintbrush. Show them what red and yellow make, what blue and yellow make etc and encourage them to make their own blends.
This activity not only teaches them about colour blending but also enhances their fine motor skills.
Paint Sticks
If you like the idea of painting but really aren't prepared to put up with the mess, try washable paint sticks like these! They are easy to hold for little hands and make a lot less mess than pots of paint.
Arm your little one with some paper or a piece of a cardboard box and they will love exploring the different colours of the paint sticks. Paint sticks can also give different finishes depending on how hard they are pressed. This is something that will be intriguing to your little one (and probably you as well).
Toilet Roll Fireworks
Whilst you have the paints out, why not make some toilet roll fireworks? You'll need a cardboard tube from a toilet roll, which you'll snip long strips into and bend so it looks like a ready-made stamper.
Once you have your firework stamper, you can get your little one to dip it into some paint and then stamp on onto a piece of cardboard or paper. Once dry, it will look like an exploding firework. It's the perfect bonfire night craft.
Food Colouring
Water coloured using food colouring is a great activity for one year olds. You can do this at the table, but if you have a water table in the garden, even better.
Start by mixing several small containers of water with different colour food colouring. This will give you different coloured waters to play with. Provide your little one with droppers/pipettes, a plastic jug, more containers and anything else you can get your hands on.
They will enjoy the water play immensely, but they also get a kick out of mixing the different colour waters to create new colours. It's another lesson in blending. If you are using a water table, it's the perfect activity for playdates as there's plenty of room for multiple toddlers around a water table.
More Articles Focused on Young Toddlers:
Food And Meal Ideas For 1 Year Olds And Toddlers
The 10 Best Montessori Toys on Amazon
Homemade Play Dough
Homemade playdough is a safe and creative activity for young children. You'll need ingredients to make the play dough, which can be done by using flour, salt, water, and food colouring.
Once you've mixed up a batch of your homemade playdough, you can encourage your little one to shape and play with the mixture. If you've got cutters or stampers, they can use these on the dough as well. It's one of our all-time favourite activities which everyone loves getting involved in.
Ink Pad
I'll start by saying make sure you get the child-friendly, washable ink pads. Otherwise, you'll end up with a lot of mess and a strangely coloured one year old for weeks to come.
Once you are armed with the correct type of ink pad, let your child play around with stampers to create their own amazing artwork. Some stampers have inbuilt ink and others don't – it's completely your choice.
You can also get them to make pictures using their fingerprints. Print out large templates of butterflies and flowers and get them to decorate using different colour inks on their finger. They look lovely displayed on the walls and you'll both enjoy the process of creating them. It's a great example of cause and effect.
Water Table
A water table like this is a great investment. A water table is a versatile tool that can be used for many activities. It's great for younger children and older kids as well.
For this activity, you'll need your water table, some washable paint, and a variety of objects that can be placed in the water. Fill the water table with a shallow layer of water and add a few drops of washable paint to create different colours.
Let your child explore the water table with the different objects and see how they interact with the water and paint. You can use plastic objects which can be dipped in and out or objects like a kitchen roll tube which will only be good for one dip.
It's a lovely, messy play idea that your child will really relish. However, this one is best done in your garden or on a floor that can be easily mopped.
Sponge Painting
Sponge painting is a delightful art activity that one-year-olds can enjoy. You'll need some shaped sponges, washable paint, and a piece of paper or card.
You can create your own shaped sponges from old bath sponges and if you save the cardboard from any parcels, you've got ready-made art supplies at any time. Sponge painting is simple but effective. Get your child to dip the sponges into the paint and press them onto the paper.
On hot days, sponge painting can be done on a patio. You can simply give your child the sponges, and a small tray of water and let them stamp out the shapes on the patio. The water will create a temporary artwork on your patio and as the ground dries, it will disappear. This will seem like magic to your one year old.
Rubber Bands
Rubber bands offer a unique sensory experience for one-year-olds. You can do this craft in several ways. You can either encourage your little one to stretch out the rubber bands across a piece of cardboard or you can use a shape.
If you can find different rubber bands in different shapes and sizes, your little one will enjoy exploring the different elasticity and feel of each band. It's a great one for developing fine motor skills.
Bubble Wrap
Bubble wrap is a fascinating concept for children (and adults) of all ages. Who doesn't enjoy popping bubble wrap?
This craft is quite mess-free so it's a good one for those who don't want to spend ages clearing up. Take your piece of bubble wrap and Sellotape it to a piece of cardboard. If you have different sizes of bubble wrapping, you could tape down multiple pieces. Your little one can create their art by pressing on the different areas within the bubble wrap canvas.
Card Collages
Textured card is a versatile art supply for young ones. You can buy lots of different finishes and textures which will be fascinating and enticing to your toddler.
Depending on the ability of your one year old, you will probably want to cut the pieces of card out yourself. If you feel they are ready and able, you could encourage them to start practicing with child-safe scissors.
Once they've cut out a few different pieces of card, you can encourage them to glue the pieces on a flat, plain piece of card, toilet roll or other surface to make their artwork. I personally think that card mosaics look awesome on a toilet roll or kitchen roll tube.
Shaving Foam
Shaving foam is a fantastic medium for sensory art activities. You'll need a can of shaving cream and a piece of plastic or a tray.
Squirt a small amount of shaving cream onto the plastic or tray and encourage your child to explore the texture with their fingers. They can draw, make patterns, or simply have fun creating with the shaving cream.
This is one that my daughter Autumn does at nursery, which I'm glad about as it's quite messy! But she seems to enjoy it and it's a good one for exploring textures and promoting fine motor skills.
Final Thoughts on Easy Craft Activities for 1 Year Olds
The good news for parents is that most of these art activities for one year olds are simple and require only a few basic materials. You can easily set up these projects at home.
Not only will your child have a blast making their creation, but you'll also have the opportunity to spend quality time together, nurturing their creativity and fine motor skills.
It's never too early to nurture the artist within your little one. Even the simplest of craft activities can foster your child's artistic abilities. Don't be afraid to let them make some mess while they are exploring the fun world of art and play.
Remember that art activities for one year olds should be closely supervised as they are still of an age where they may put things in their mouths, so be mindful if your child is likely to do this and choose activities that are best suited to them.
Once they have completed a piece of art and it's possible to display it, please do so. This will create a sense of pride in your little one as they will know that you are proud of their handiwork. This will encourage them to be more creative and enjoy a lifelong attachment to their artistic nature.
Thank you again to Sally of Life Loving for sharing these great ideas today!
If you enjoyed this craft, be sure to pin it on Pinterest using the image below to make it easier to find next time!