30+ Easter Basket Ideas for Adults
Who says Easter baskets are just for kids? Make the holiday more fun for everyone with one of these easy and creative Easter Basket Ideas for Adults.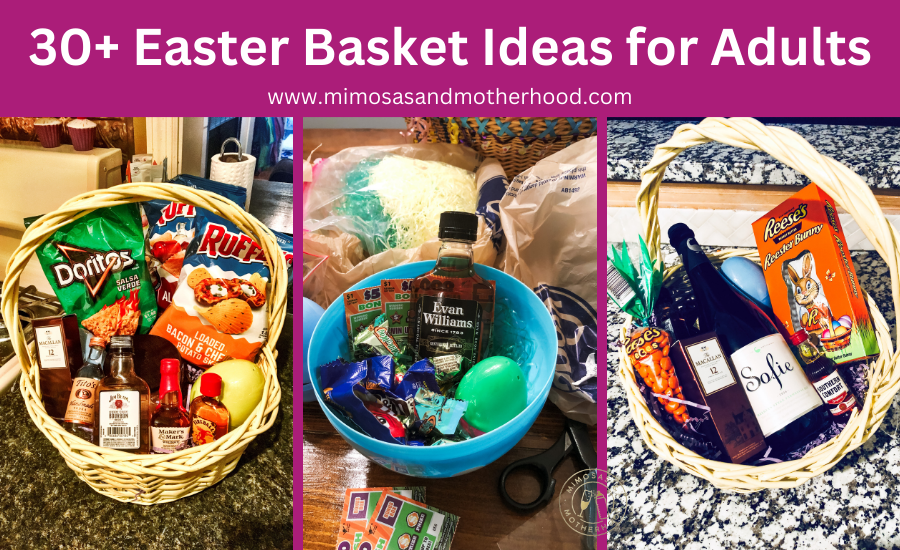 Easter is such a special day for little ones. Between the Easter egg hunt, yummy treats and family time, the Easter basket truly is the icing on the cake.
Most of us grew up with our own special Easter baskets as children, but let me tell you: they're even more fun as adults. Adult Easter Baskets (and an adult Easter egg hunt) have become some of my very favorite parts of this holiday! My husband and I love making special baskets for each other full of our own favorite things.
My favorite Easter baskets for adults are a combination of traditional Easter goodies (like candy) and unique Easter gifts tailored for adults.
Note: Some links may be affiliate links. That means I may make a commission if you use my links to purchase, at no extra added cost to you! I only recommend products that I personally love and believe in. Full disclaimer here.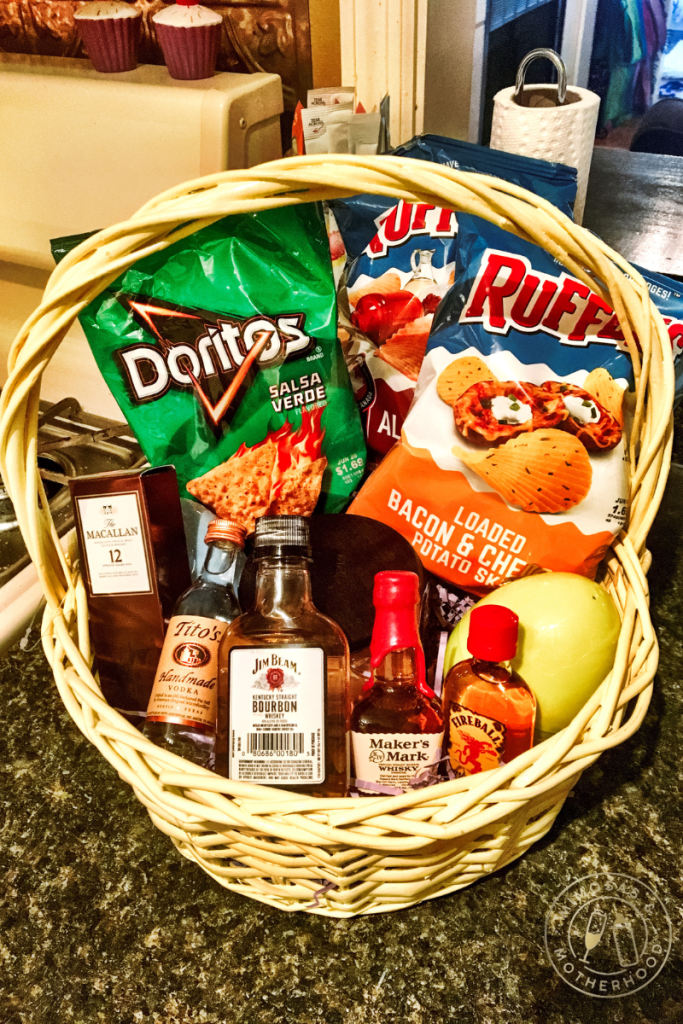 Easter Basket Ideas for Adults
Forget the Peeps and chocolate bunny, and instead think outside the box with these fun Easter basket ideas for adults. There's sure to be a perfect idea on this list for family, friends, Easter Sunday hostesses or colleagues!
Here are some of my personal favorite Easter basket ideas. Mix and match items on this list to come up with the perfect basket for you. Many of these work great for adult egg hunts too.
Reeses Pieces
Chocolate Bunnies
Luxurious chocolates
Candles
Chapstick
Lipstick
Makeup sponges
Popcorn
Tattoo designs (check out this idea for Procreate tattoo stamps)
Gift cards
Mini liquor bottles
Lottery tickets/ scratch off tickets
Books
Bookmarks
Fun socks
Tea or coffee samplers
Sea salts
Unique BBQ sauces or hot sauce
Artisan meat
Chips
Notepad
Reusable water bottle
Cell phone case
Coasters
Hair clips
Tie
Deck of cards
Craft supplies
Fresh flowers
Premade Easter Basket Ideas
Prefer to grab pre-made Easter baskets instead? There are tons of options for the perfect Easter basket. Click here to see a bunch of different adult Easter basket options, including candy and non-candy Easter basket items too.
What do I put in my husband's Easter basket?
I fill a basket for my husband every year with mini bottles of his favorite liquor, Easter eggs filled with his favorite sweet treats, lottery scratch off tickets, fun socks and a few random finds from the store. He loves the surprise and it's become one of our favorite Easter traditions.
Think about your own spouse and the things that he enjoys, or you know will make him smile as potential Easter basket stuffers. An adult Easter basket doesn't have to be expensive to make a big splash. Includes his favorite Easter treats and Easter candy too! These Easter Peeps Rice Krispie Treats are a yummy homemade addition if he has a sweet tooth.
Don't Miss These Easter Ideas
Super Simple Slow Cooker Shrimp & Grits (perfect for Easter brunch!)
20 Free Printable Easter Bunny Templates
Bunny Butt Bacon Ranch Easter Cheese Ball
Easy Easter Basket Ideas for Adults
I hope this list of Easter Basket Ideas for Adults helps to inspire you as you create your own fun baskets this year. Be your own Easter bunny this Easter morning by filling a basket with thoughtful gifts. Remember that an Easter basket can be made of any kind of container! Instead of using a wicker basket or traditional basket, try a bag, popcorn tin or fabric bucket as your gift basket.
Which adult Easter basket ideas on this list are your favorite?? If you found this helpful, please share it on social media to help inspire others this holiday!