20 Free Printable Easter Bunny Templates
Free printable Easter bunny templates can be used for so many things! Whether you're looking for some crafting inspiration, coloring pages or activity sheets for kids to help keep them occupied, this set of 20 free sheets is sure to spark some joy this spring.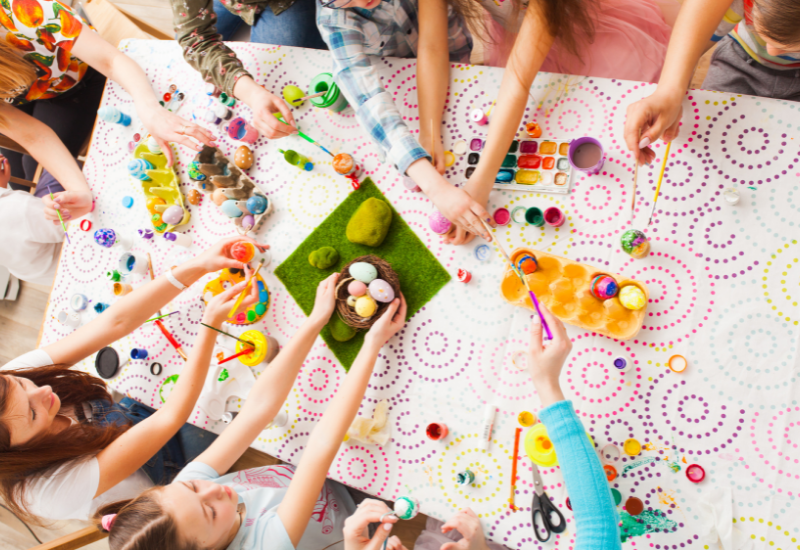 Easter is here: the season of Easter baskets, Easter eggs and of course, the everyone's furry friend. Let's hear it for the Easter bunny, one of the cutest animals around!
No matter where you look this time of year, you're sure to see lots of different kinds of Easter bunnies on the shelves, in crafts and connected to nearly every Easter celebration.
Perfect for a school Easter party or an afternoon of crafting with the whole family, this set of 20 rabbit shape templates are perfect for some extra fun and creativity. This printable bunny templates file includes the traditional Easter Bunny template, plus bunny masks, bunny stencil templates, cute bunnies, Easter coloring pages, bunny ears and more.
Our family loves to do extra crafting during the spring, and love a good easy Easter craft. I discovered last year that a free printable easter bunny template can be used for so many things. They make the perfect craft templates! Free Easter bunny templates are perfect for kids of all ages.
Young kids will love using different colors of crayons and markers to make their own bunnies. Older kids can also cut out the free printable bunny templates and create all kinds of textured art by pasting the cut out pieces onto construction paper and using items like glue, glitter, cotton balls, pipe cleaners and other craft supplies. It's a great way to keep your kids occupied and having fun!
Print them out and let your kids color them, paint them, or use glue and extra materials for more realistic bunnies. The options are endless! They can also make easy Easter party decorations and gifts, or folded into Easter cards.
You can also pair these with Easter egg hunt clues for a fun game, or before writing an Easter bunny letter before the big day, or a pretty handprint lilies craft (the perfect seasonal flower!) or learn how to make Easter bunny footprints, too.
These Easter bunny outlines were designed for you to easily print at home. The black and white templates are simple to print out using your home printer. Choose one page or print them all! You can also save this file to take to your local print shop too. Just scroll to the bottom of this post to grab your printable templates.
Note: Some links may be affiliate links. That means I may make a commission if you use my links to purchase, at no extra added cost to you! I only recommend products that I personally love and believe in. Full disclaimer here.
Download the Free Printable Easter Bunny Templates
20 different Easter bunny designs are ready to print with this file, making this perfect to use as a an Easter coloring book or set for a preschool classroom to use (and then turn them into classroom decorations)! You will receive READY-TO-PRINT DIGITAL files in a PDF format that you can print at home or in any local or online print shop!
I recommend printing these on plain white paper, but you can also use construction paper, cardstock or another type of thick paper.
These Easter bunny templates are free for you to use, but ONLY for personal use. Enter your information below to get yours, and the printable PDF will be emailed to you immediately.
I recommend saving the printable file to your computer before using. Use the blank easter bunny letter templates any way you would like for personal use, like fun Easter crafts to work on fine motor skills, an Easter morning activity or as free printable Easter bunny coloring pages.
More Easter Fun:
Free Printable Handprint and Footprint Easter Crafts for Toddlers
Bunny Butt Bacon Ranch Easter Cheese Ball
Easter Bunny Templates are Perfect for Easter Fun!
These versatile templates are perfect for craft projects, or when you just need an Easter activity to help keep the little ones to be occupied before the egg hunts. You could even print the file and tuck them inside their Easter basket for an extra surprise item.
I hope you love these cute bunny templates. What are your favorite ideas for these rabbit templates?