The Best Time to Take Newborn Photos
Congratulations on your new baby! Wondering when the best time to take newborn photos is? Read on to learn about the best time to schedule a newborn photoshoot as well as tips to have the best session.
As a mom of 3, including a very fresh newborn, I can tell you that those early days truly fly by (though it doesn't feel like it when you're in the thick of recovery). One of the things I'm so grateful that I did was have professional newborn photos taken of each of them.
Baby's first year goes so fast, especially those first weeks! Before you know it, those sweet newborn features disappear and make way for a beautiful baby with so much personality. It's wonderful to be able to look back at those photos and be flooded with memories for those early days.
Those tiny toes and little eyelashes make me swoon every single time. We had these photos printed and framed, and they all hang together in our home. And of course, newborn photos are exactly what you need for birth announcements or to add to your yearly Christmas card!
Whether you've already picked a newborn photographer or are still trying to figure out the best one to work with, read on for some of my favorite tips and tricks for the best newborn photoshoot experience.
Note: Some links may be affiliate links. That means I may make a commission if you use my links to purchase, at no extra added cost to you! I only recommend products that I personally love and believe in. Full disclaimer here.
When is the Best Time for a Newborn Photoshoot?
Most photographers agree that the best time to take newborn photos is between 7 and 10 days after your baby is born. This is the ideal time because it's far enough after birth that you feel more rested and like yourself, but early enough in your baby's life that they're still in that very sleepy newborn stage.
The reason why this window of time works so well for newborn photos is that your baby can easily be nursed to sleep and stay asleep after eating. This allows the photographer to move your little one into some adorable poses and really take their time with getting the best shot.
You can absolutely have your photos taken earlier or later. Some photographers book as early as 4-5 days after birth! If you happen to miss this time period, don't worry. Babies stay pretty sleepy for the first 6 weeks of life, so you should still be able to get some wonderful photos when they are a little older too. Keep in mind that premature babies are on a different timeline, so be sure to ask your photographer for their opinion on the best time to shoot.
What's the Best Time of Day to Take Newborn Photos?
The best time of day for your newborn photography sessions will vary depending on a few different factors, as well as your photographer.
For our 2 older children, we went to the photographer's studio, which meant that we had to factor in travel time, traffic and what the photographer had available. Working in a photography studio meant that the photographer had more control over the environment, including lighting.
For our third baby, a photographer came to our home, which gave us a bit less flexibility. We needed to work around when we got good sunlight in our home so that we could get the best photos.
Many photographers recommend getting your photos done in mid-morning to early afternoon for exactly this reason. This is also the time of day that baby is still really sleepy in those early weeks.
How to Prepare for a Newborn Photo Session
The first step is deciding which newborn photographer you want to work with. There are most likely dozens in your area, and their styles can vary greatly. I recommend first spending a little time on Instagram and Pinterest looking at different newborn photography sessions for inspiration.
Once you have an idea of the kind of photos you like, determine what your budget is. This is incredibly important to decide before you start reaching out to photographers, as newborn photography can be incredibly expensive depending on who you work with. Some experienced newborn photographer charge a few hundred dollars, while others are well over $1,000 for the session.
Next, ask friends and family who they used. Make a post in your local moms groups too asking for recommendations!
Finally, reach out to those photographers while you're still pregnant or exploring maternity photography, as many of the most popular ones book up months in advance. It's a good idea to start talking to newborn photographers in your second trimester or third trimester.
Be sure to also talk to the photographer about anything that's important to you during your newborn baby photo shoot, like specific poses, length of the session, including other family members, etc.
Once you get close to your due date, don't forget to reach out to your photographer to touch base about your upcoming baby's arrival. After baby's birth you'll want to contact them again to schedule your session.
What to Wear to a Newborn Session
One of my favorite parts about newborn photography is that other than getting myself dressed (and choosing outfits for my husband and older children), the photographer was really able to work her magic.
While many newborn photographers have their own props and wraps, you'll want to choose a few very basic outfits for baby just in case. Think about swaddles, hats, headbands, booties etc.
Be sure to purchase any additional "costumes" you want baby in if those kind of themed photos are important to you. Don't forget the sentimental items you want to include as well as if you have a lot of props you plan on bringing.
If your newborn session will include family photos, I recommend choosing coordinating but not overly matching outfits for the family. Don't forget about baby's siblings!
Below are examples from my family's first two newborn sessions. The first was during the summer, and the second during late fall. We chose easy basics both times that were comfortable outfits!
What To Do with Your Newborn Photos
Now that you've had the session, what do you do with those adorable photos? Many families choose to have custom birth announcements created. Our family has always chosen to include newborn photos in our Christmas card too!
Another option is to create magnets, like these. Newborn photos are also usually high resolution, making them a great file to get enlarged and professional printed.
Don't forget to share those beautiful images and favorite photos on social media if you're comfortable. Your friends and family will be delighted to see some more images of your sweet baby.
You might also enjoy these newborn articles:
Unique Monthly Baby Photoshoot Ideas at Home
11 Teething Ideas for Babies That Really Work
Mistletoes Easy Christmas Footprint Craft (Great Baby's First Christmas Craft)
How to Get a Baby to Sleep in a Bassinet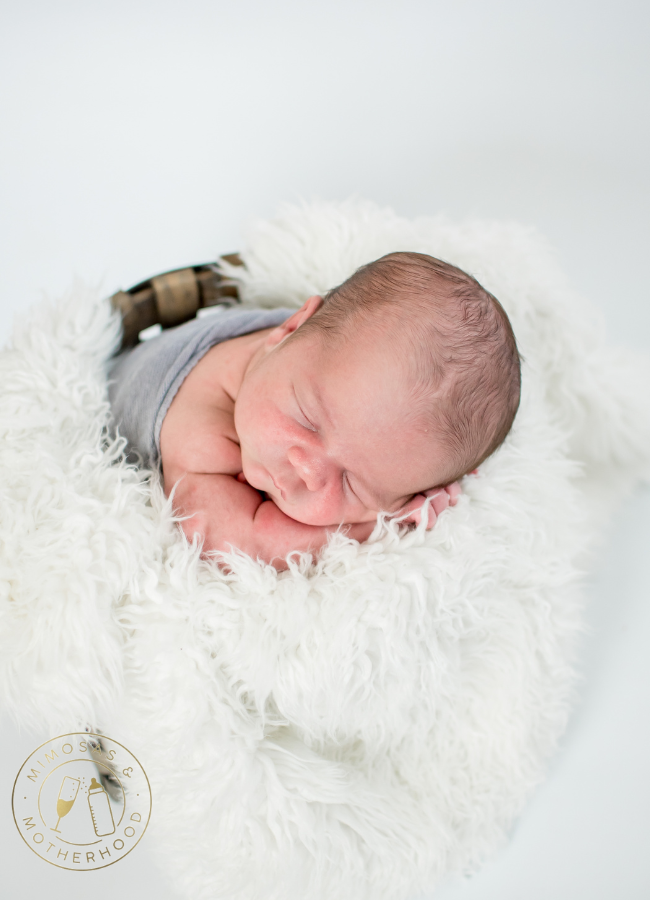 Enjoy Your Newborn Photography Session
We hope these tips help you and your family have a wonderful newborn photo session. The first couple of weeks as new parents is so special, and these photos will be something you can look back on and treasure for a lifetime to come.
Professional newborn photographers can be expensive to work with, but choosing the right one will give you some incredible photo memories. Whether it's your first baby or your fifth, newborn pictures are truly so special.
Keep in mind that the best time for a newborn photoshoot is when newborn babies are still sleepy. A general rule is to have your session within the first 7-10 days of baby's life (or first two weeks of birth), as a full belly will put your little one to sleep so that the professional photographer is able to optimize the time of your session.
Sleepy newborns are easier to work with for this reason, but a good photographer can still capture some beautiful newborn photos even with older newborns, too. Photos of older babies over 8 weeks old are great to take during a family newborn photo shoot too (which is a wonderful way to include older siblings).
A newborn shoot is so much fun. One last thing: If you found this article helpful, please share with a new mom who is searching for information about newborn family photos or family photography.