100 Unique Gender Neutral Baby Names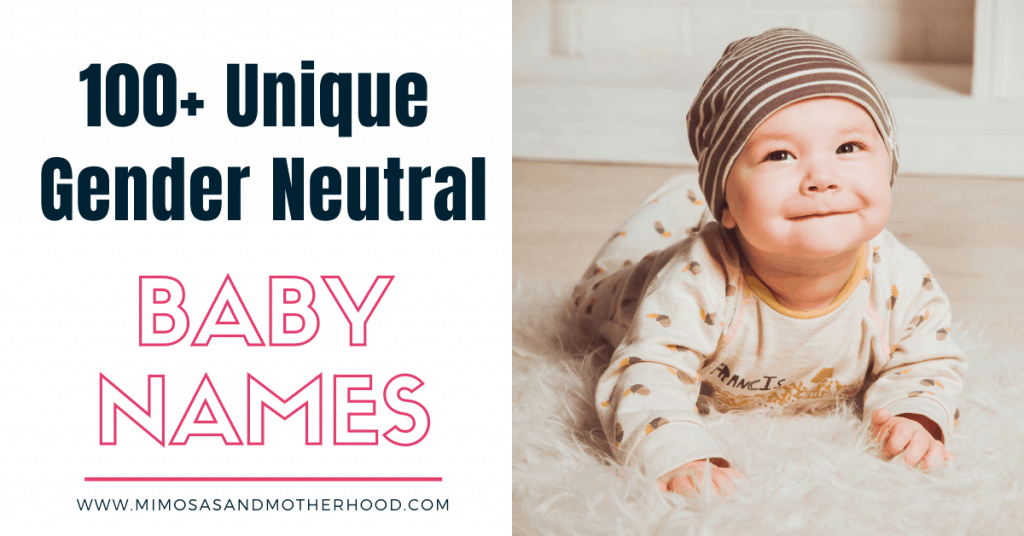 Are you waiting to find out the gender of your baby? Maybe you just love the idea of a creative name that could work for anyone! Either way, unique gender neutral baby names (also known as unisex baby names) are a fantastic option while you're brainstorming ideas for your soon-to-be little one.
Researching unique baby names was one of my favorite pastimes when I was pregnant. I loved creating the different lists, and wondering which one would be the perfect one for my little one.
I love how many trendy baby names today are gender neutral, and they're becoming more and more popular. More and more people are also choosing to wait until their baby is born to find out their gender, which means unique gender neutral baby names are a great choice.
I've created this list of more than 100 unique gender neutral baby names to help in your search. I've also included the baby name meanings here too to make it extra fun as you go through the list!
Baby name lists have come a long way in the past few years, and modern gender neutral names are becoming more popular. Whatever your reason, there are so many stunning and unique gender neutral baby names to choose from.
Click here to PIN this list of Unique Gender Neutral Baby Names to your baby name board to save for later!
Note: Some links may be affiliate links. That means I may make a commission if you use my links to purchase, at no extra added cost to you! I only recommend products that I personally love and believe in. Full disclaimer here.
100+ Unique Gender Neutral Baby Names
A
Adrian
"Man of Adria"
Alex
"Defending men"
Angel
"Messenger of God"
Ari
"Lion of God"
Aspen
"Quaking Tree"
Aubrey (or Aubry, Aubrie, Aubree, Aubri)
"Noble Ruler"
August
"To increase"
Avery
"Ruler of the elves"
B
Berkeley
"From the birch meadow"
Billie (or Billy)
"Resolute protection"
Blair
"Dweller on the plain"
Blake
"Fair-haired, dark"
Bobby/Bobbie
"Bright fame"
Brayden
"Salmon"
C
Cameron (or Camron, Cameryn, Camaron, Kamryn)
"Crooked nose"
Casey
"Brave in battle"
Charlie/Charleigh
"Free man"
Chris (or Kris)
"A Christian"
Chandler
"Candle maker"
Channing
"Young Wolf"
Charlie (or Charley, Charleigh)
"Free man"
Cory (or Corey: Cori, Koree, Korey, Corrie, Corie)
"Hollow"
D
Dakota
"Friendly one"
Dallas
"Skilled"
Dana
"From Denmark"
Denver
"Green Valley"
Devon (or Devin)
"Defender"
Drew
"Strong and manly"
Dylan
"Son of the sea"
E
Easton
"East facing place"
Elliott
"Jehovah is God"
Ellis
"Benevolent"
Emery
"Industrious"
Emerson
"Son of Emery"

Everett
"Wild Board Herd"
Free Printable Baby Name Workbook
Need some help picking the perfect baby name for your future little one? As a mom of two, I know how much time and energy goes into choosing the perfect name, so I've put together this free printable baby name workbook to help!
This 14 page workbook is designed to be printed at home, and used as a resource to help you pick the perfect name. Plus, I've included a bonus printable page, "Why We Chose Your Name," where you can write down the story behind your little one's name to put in their keepsake box or baby book.
Just enter your details in the box below, and it will be emailed over to you automatically!
F
Finley
"Fair-haired hero"
Flynn
"Son of the red-haired one"
Frances
"Free man"
Frankie
"Free one"
G
Grayson (or Gracen, Graysen)
"Son of the Gray-Hair One"
H
Harley (or Harleigh)
"Hare clearing"
Hayden (or Haden, Haiden, Haydan, Haidyn)
"Heather-grown hill"
Hunter
"One who hunts"
I
Indigo
"Indian Dye"
Indiana
"Land of the Indians"
Indy
"Independent"
J
Jamie (or Jaime)
"Supplanter"
Jessie (or Jesse, Jesy)
"Wealth"
Jayden (or Jaiden)
"Thankful"
Jordan (or Jordyn, Jordin, Jorden, Jordon)
"To flow down"
Justice
"Just, upright, righteous"
K
Kaden (or Caden, Kadyn)
"Fighter"
Kai
"Ocean"
Kelly
"Warrior"
Kennedy
"Chieftain"
Kendall (or Kendal)
"Valley of the river Kent"
Kit
"Carrier of Christ"
Karter (or Carter)
"Transporter of goods by cart"
L
Lane
"Path or roadway"
Lee
"Dweller by the wood"
Lennon
"Lover"
Lennox
"Elm grove"
Leighton
"Herb garden"
Logan
"Small hollow"
M
Madison
"Man's son"
Mackenzie
"Comely"
Marley
"Pleasant seaside meadow"
Marlow
"Driftwood"
Micah
"Who is like God?"
Montana
"Mountainous"
Morgan
"Sea-born or Great Circle"
N
Nevada
"Covered in snow"
Nico
"People of victory"
Noel
"Christmas"
O
Oakley
"From the oak tree meadow"
P
Parker
"Park keeper"
Peyton
"Noble"
Phoenix
"Dark red"
Q
Quinn
"Counsel"
R
Reagan
"Little king"
Reese
"Fiery, Passionate"
Remy (or Remi)
"Oarsmen"
Riley (or Ryleigh)
"Courageous"
Robin
"Famed, bright, shinning"
Rory
"Red-haired king"
Rowan (or Rowynn, Rowen)
"Little red-head" or "The Rowan Tree"
Royal
"Of the king"
Ryan
"Little king"
S
Sage (or Saige)
"Herb"
Sammy (or Sammie)
"God has heard"
Sawyer
"Woodcutter"
Shiloh
"Peace" or "His gift"
Skye (or Sky)
"Adventurous"
Skyler (or Skylar)
"Noble scholar"
Stevie
"Crown, victorious"
Sydney
"Gift of God"
T
Tanner
"Worker in leather"
Tate
"Cheerful"
Taylor (or Tayler, Teighlor)
"Cutter of the cloth"
Teagan (or Teigen)
"Pretty, fair"
Tracy (or Tracie)
"Fighter"
Tony
"Priceless one"
Tory (or Torie)
"Victory"
W
Winter (or Wynter)
"Coldest season of the year"
Wilder (or Wylder)
"Untamed" or "Wild Animal"
West
"West town"
I hope you enjoyed this list of Unique Gender Neutral Baby Names! These fun names are perfect for boys or girls. I found many of the baby name meanings from BabyNames.com! Modern gender neutral names are such a fun option.
Looking for even more baby name inspiration? Check out this awesome list of 200+ rare boy names with meanings!
Do you have a baby registry yet? Sign up for Amazon's Baby Registry and get a free box of baby goodies, plus an extra discount off all of the items you purchase yourself from your registry!
Amazon's Baby Registry makes it super easy for your friends and family to get you all of the baby items you need. Plus, they have the best return policy out there! Sign up here for your own Amazon Baby Registry.
I love the diversity of the unique gender neutral baby names on this list. There are so many wonderful options out there!
Looking for more baby name inspiration? Be sure to also check out 200 Unique and Creative Baby Girl Names and 150 One Syllable Baby Boy Names.
Whatever your reason, there are so many stunning and unique gender neutral baby names to choose from.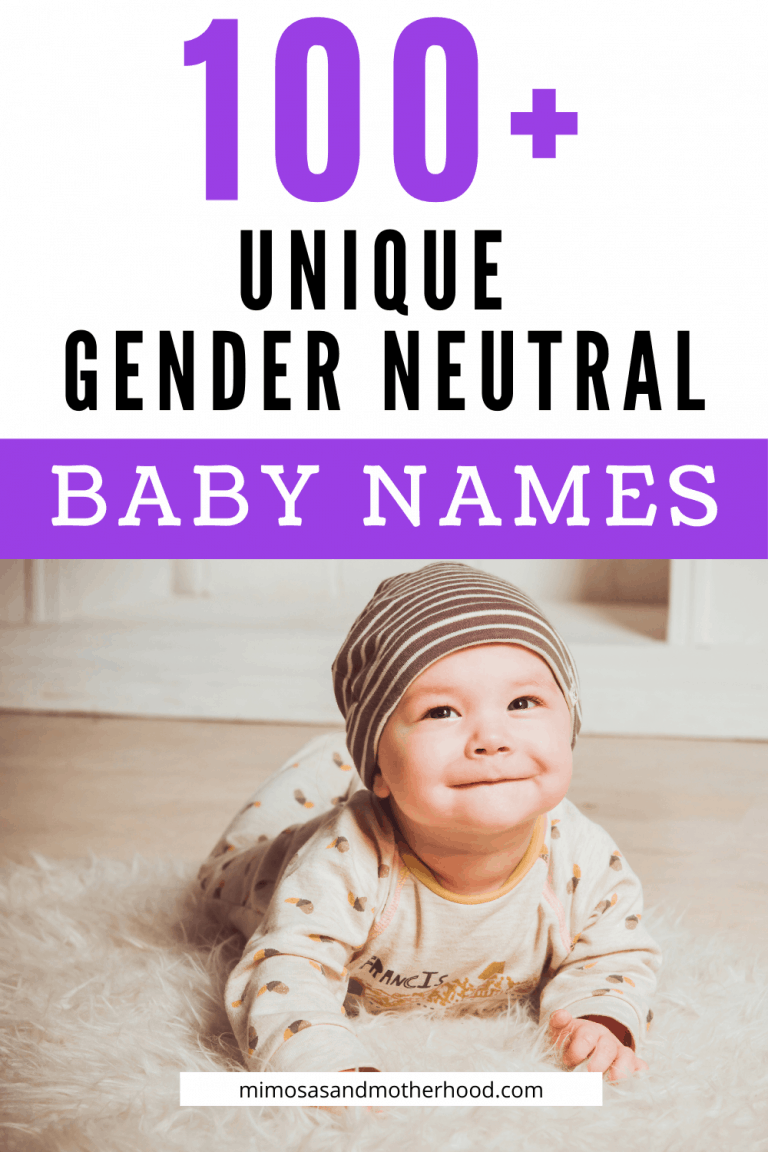 Unique gender neutral baby names are a great options! Check out this list of modern gender neutral names for unisex baby names 2020, gender neutral names for nonbinary.