Artichoke and Spinach Breakfast Casserole
This Artichoke and Spinach Breakfast Casserole is perfect for weekday mornings on the go with your busy family! It's an easy breakfast that is Whole 30 & Paleo compliant, in addition to being gluten-free and dairy-free.
Raise your hand if weekday mornings seem to get away from you. Am I the only one who feels like no matter how much time we have, all of a sudden it's time to walk out the door and I'm starving?
Make ahead meals are a big thing in our house for one reason: when you're pressed for time you're either going to go without breakfast, or grab something easy and bad for you in a drive thru. We LOVE making a big breakfast casserole on Sundays that we can munch on throughout the week!
With our family committing to eat as healthy as possible for the month of January, we try to stick as close as possible to a Whole 30 diet. This super yummy spinach and artichoke breakfast casserole is not only filling, but is loaded with flavor.
Artichoke and Spinach Breakfast Casserole is dairy-free, grain-free, gluten-free, Paleo AND Whole 30 compliant (quite a mouthful, I know), and is SO easy to make ahead to enjoy throughout the week.
I was also pleasantly surprised that my picky toddler was up for giving it a try, too! He isn't a fan of artichokes, but loved the sweet potatoes.
Trust me, I know it's a lot of work to prep something like this from scratch, but you'll be thanking me when you and your family are eating something healthy and delicious instead of one of those questionable mystery meat breakfast sandwiches 😉
Note: Some links may be affiliate links. That means I may make a commission if you use my links to purchase, at no extra added cost to you! I only recommend products that I personally love and believe in. Full disclaimer here.
Quick run down on how you put it all together: the sweet potatoes form the crust of the dish, and will roast in the oven while you're prepping the filling. The veggie & meat mixture is really simple, and only takes a few minutes on the stove.
You finish it up by whisking together eggs, full fat coconut milk (which you don't taste), seasoning and nutritional yeast (which gives it an extra cheesy-like flavor).
I make this in a 9×13 casserole dish, and it yields 9 solid servings. It's easy to double, and a perfect addition for brunch too!
If you don't like artichokes, just leave them out! The sweet potatoes are a great base for a breakfast casserole with different veggies subbed in.
Related: Super Simple Slow Cooker Shrimp & Grits
Artichoke and Spinach Breakfast Casserole
Total Time:
1 hour
5 minutes
This artichoke and spinach breakfast casserole has a yummy sweet potato crust and is loaded with veggies, meat and flavor!  Dairy-free, gluten free, Whole30 and paleo friendly, it's the perfect breakfast to make ahead!
Ingredients
8-10 slices bacon (or one pack of breakfast sausage)
2 medium sweet potatoes, peeled and sliced into thin rounds (approximately
1/4″)
1 medium onion chopped
3-4 cloves garlic finely chopped
10 oz fresh baby spinach chopped
14 oz can artichoke hearts drained and chopped
12 large eggs
1/2 cup full fat coconut milk full fat (this comes in a can)
3 Tbsp nutritional yeast, for flavor (optional)
1/2 tsp sea salt
1/4 tsp black pepper
1/4 tsp onion powder (optional)
Instructions
Preheat your oven to 400 F and grease a 9×13″ casserole dish with coconut oil
Toss the sweet potato rounds with your cooking fat of choice and sprinkle with sea salt to taste. Arrange on the bottom of your casserole dish (I recommend overlapping them as they will shrink while roasting).
Place the casserole dish with the sweet potatoes in the preheated oven and roast until softened and beginning to turn light brown (about 25 minutes). Once finished, remove the dish from the oven and set aside.
Meanwhile, while the potatoes are in the oven roasting, cook the bacon or breakfast sausage in a large skillet. Drain on paper towels.
Discard all but 1 tbsp of the rendered bacon fat from the meat. Turn the heat to medium and add the onions to the same skillet, cooking until translucent. Add in the garlic and cook both together for about 1 minute.
Add all the spinach to the skillet and sprinkle with sea salt. Cover and allow to wilt. Add the chopped artichoke hearts and cook all together for about 2 minutes. Add in the chopped bacon/sausage and heat thoroughly while stirring.
While the veggies are cooking on the stove top, whisk together the eggs, coconut milk, salt, pepper, onion powder and nutritional yeast in a large mixing bowl.
To assemble the casserole, layer the veggie and meat mixture over the cooked sweet potato crust, then pour the egg mixture over the top evenly.
Bake in the preheated oven for 22-25 minutes or until egg mixture is set in the center and begins to puff up. Don't allow it to overcook or begin to brown or the eggs will be too chewy!
Allow casserole to sit for 5 minutes before enjoying. Store any leftovers in the refrigerator for easy heat up!
Nutrition Information:
Yield:

9
Amount Per Serving:
Calories:

235
Total Fat:

18g
Cholesterol:

234mg
Sodium:

475mg
Carbohydrates:

4g
Fiber:

1g
Sugar:

0g
Protein:

11g
This Artichoke and Spinach Breakfast Casserole is super simple to tweak as well. Vegetarian? Just leave out the meat and add some more veggies.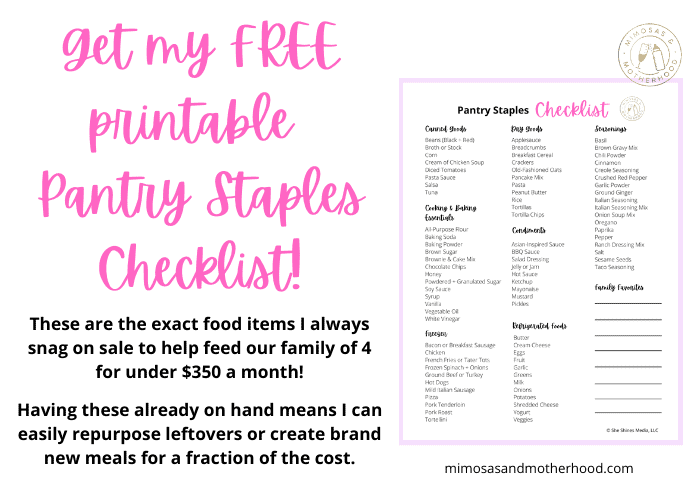 Not a big fan of veggies? Add more meat! The best part of breakfast casseroles is experimenting until you find an easy to grab dish you love.
I hope you and your family enjoy this great grab and go option during the week!
Tried this recipe? Tag me today! I love seeing what y'all are cooking up.
Mention @simply.siobhan or tag #MimosasAndMotherhood!