Peanut Butter Chocolate Chip Oatmeal Balls
No Bake Peanut Butter Chocolate Chip Oatmeal Balls are so easy to make with kids. I love cooking with our toddler. He loves to "help!" These 5 ingredient peanut butter oatmeal balls are an easy and healthy recipe for kids to make all on their own (or help with if they're young). Made with peanut butter, oats and honey!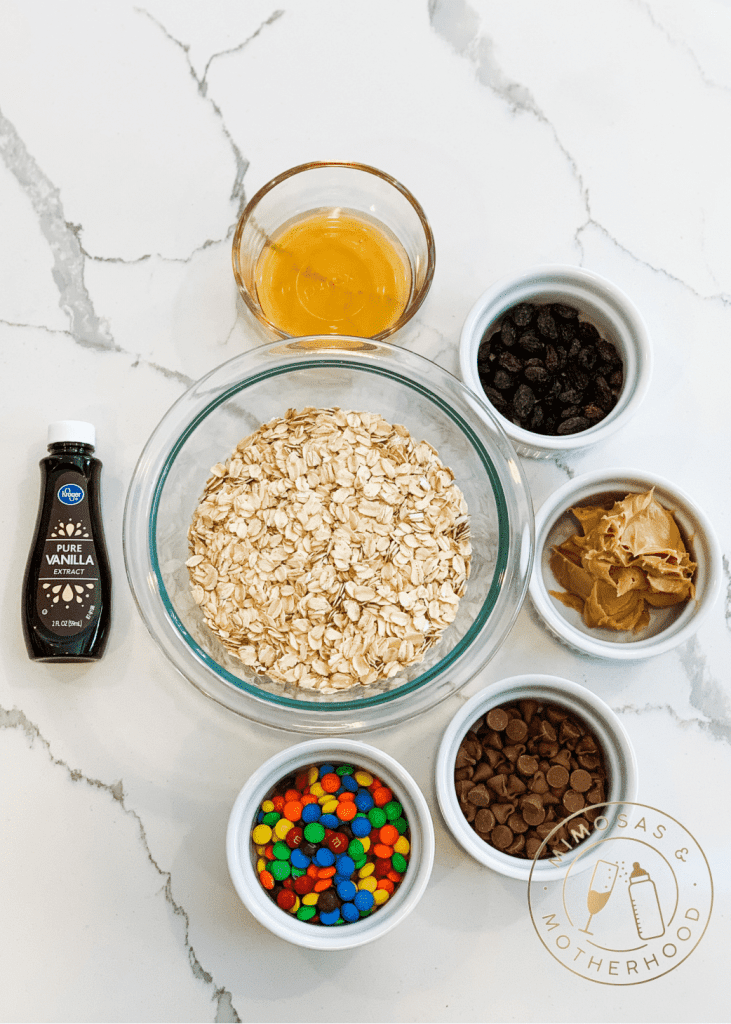 If you have children (or spend time with any) you know how much they want to help with whatever you're doing. The kitchen is no exception! Archer loves to be up at the counter with me, helping me prep for our meals.
Cooking with kids has so many benefits. It helps kids learn how meals are made, encourages them to try new foods, is a great way to spend quality time together, and research has shown it helps to build the foundation for a healthy diet in the future.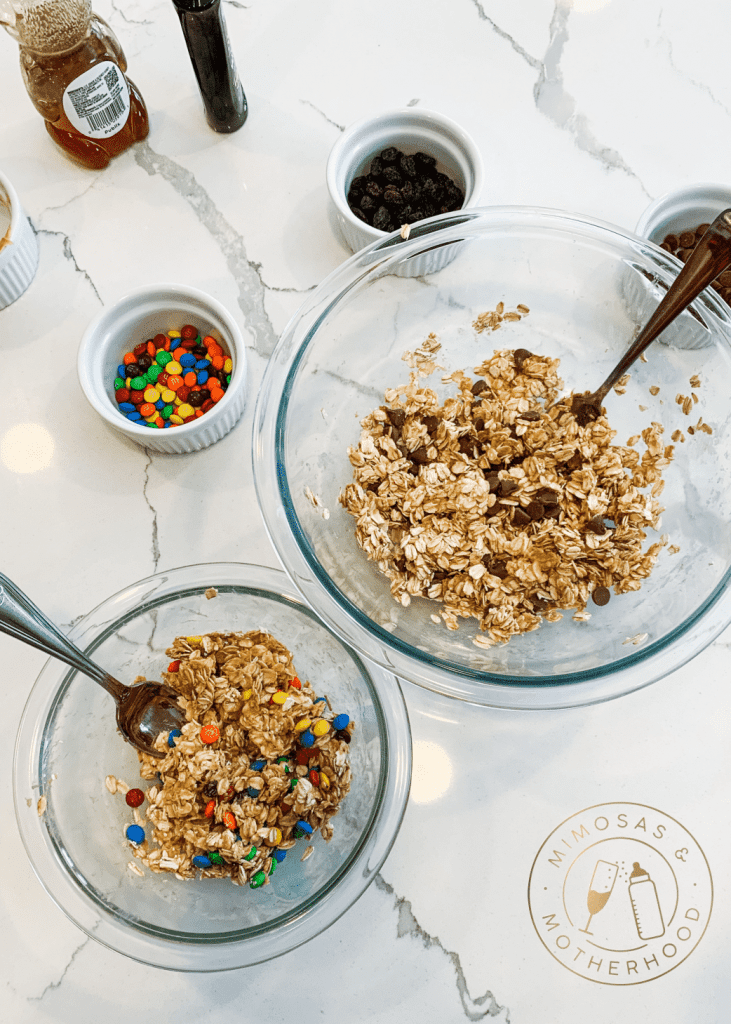 Note: Some links may be affiliate links. That means I may make a commission if you use my links to purchase, at no extra added cost to you! I only recommend products that I personally love and believe in. Full disclaimer here.
Archer started expressing an interest in wanting to "help" in the kitchen around 18 months old. I did a ton of research on kids stools that wouldn't only help him reach the counters, but that would also safely keep him there (without me having to worry about him falling backward). We decided to go with the Guidecraft Kitchen Helper Stool, and we are in LOVE.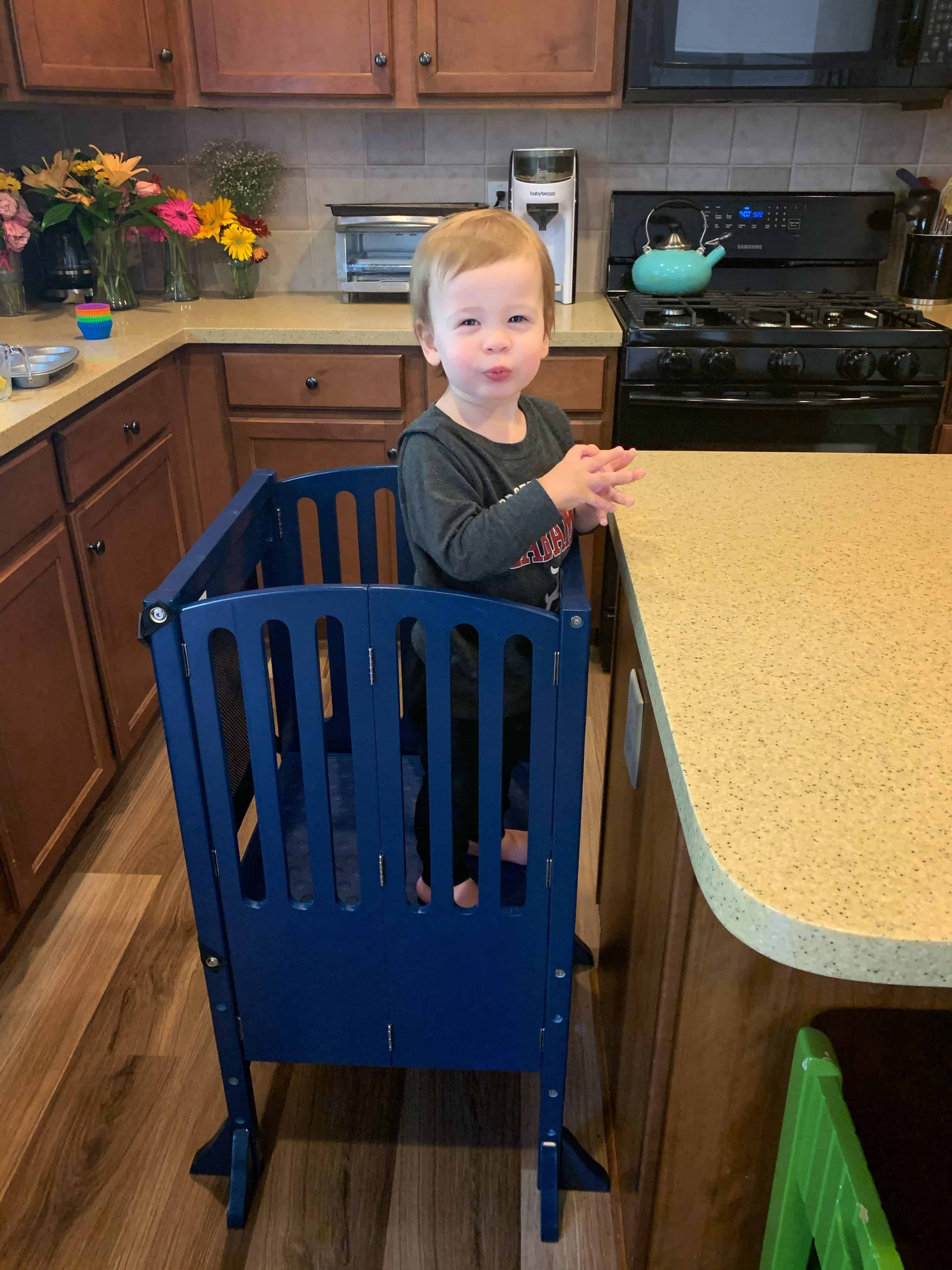 If you have a toddler or young child, I can't say enough good things about the Guidecraft Kitchen Helper Stool! It allows Archer to safely get up to the counters and help, which gives him more independence. The Kitchen Helper Stool is a uniquely foldable, lightweight step stool that helps young children safely reach countertop height.
Meant to grow with your child, it includes an adjustable platform AND an extra safety net on the back so they can't scoop backwards. It also meets or exceeds several safety standards, including EN – 71 for mechanical, physical and flammable properties and the American Society for Testing and Materials (ASTM F963-17).
Check out all of the details here.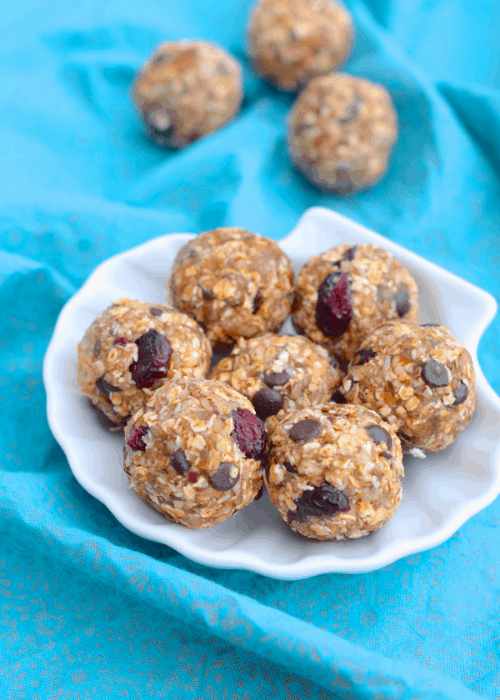 Cooking with a child can be a really special (and also really messy) time. It's so much fun watching their eyes light up as they figure out a new task on their own! I try to choose recipes with him that are quick, easy and as stress free as possible on all of us (so at his age, for example, we aren't cracking eggs haha).
These no bake Peanut Butter Oatmeal Balls are a fantastic option for kids that are a little older and want to be more independent in the kitchen. If your child is between age 2-5, they will need a little assistance measuring the ingredients and rolling the balls out, but you'll be amazed by how much they really can do on their own.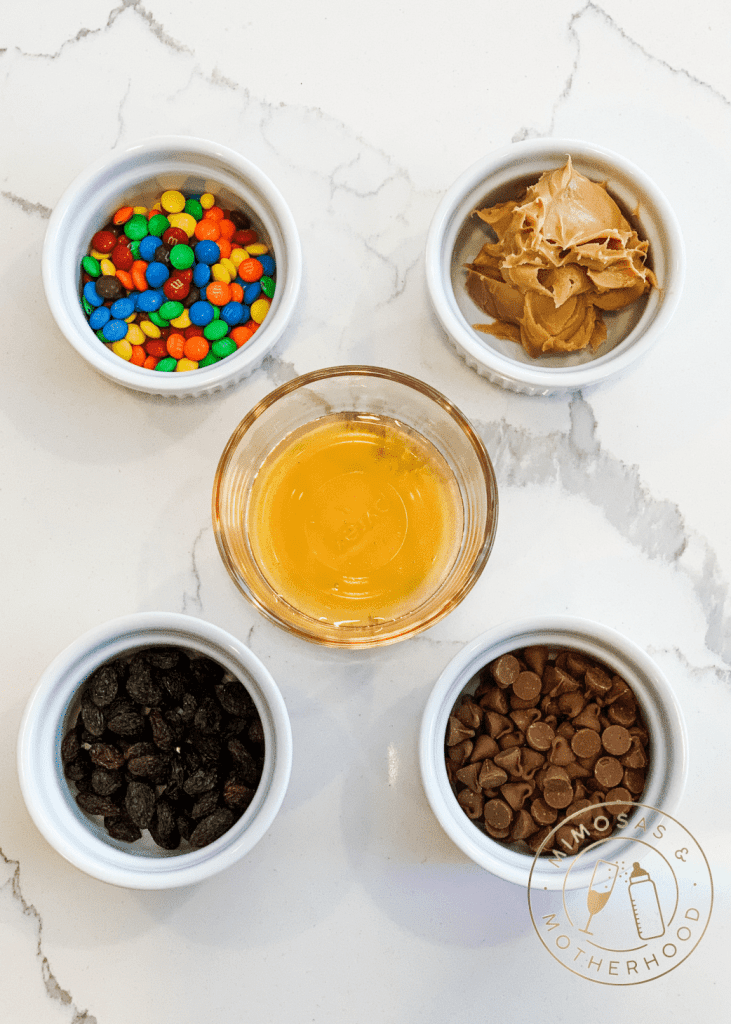 No bake peanut butter chocolate chip oatmeal balls are not only an easy snack to make, but are a healthy choice for your little ones to grab on the go. Plus, kids think they taste like cookies!
Want to try a few different types of no bake peanut butter balls? The base of most no-bake peanut butter oatmeal balls is usually peanut butter, oatmeal and honey. It's easy to mix in other ingredients by following the below recipe and making your own additions.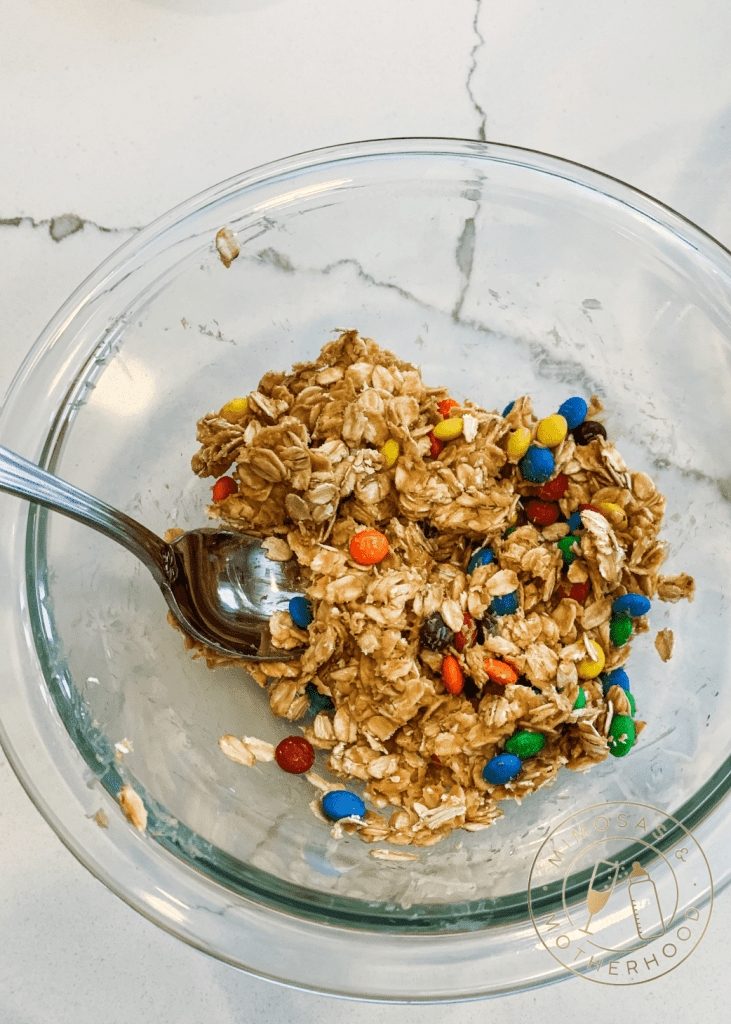 Add M&M's to make a No-Bake Monster Cookie Oatmeal Balls, blueberries to make Blueberry Oatmeal Balls, pretzels and almonds to make a Sweet and Savory Oatmeal Ball, and the options go on and on!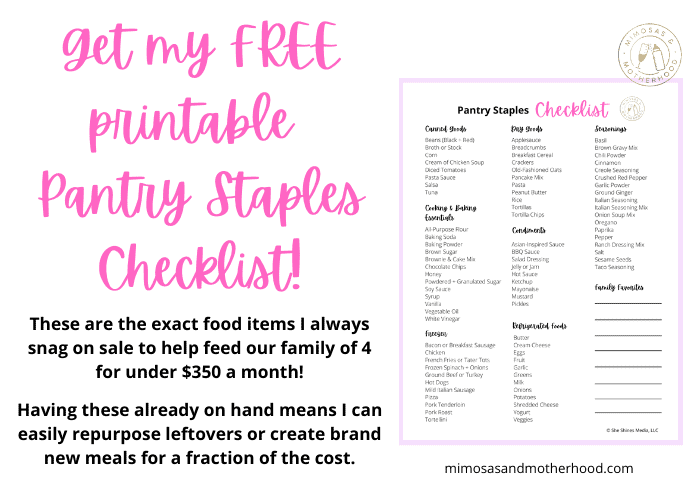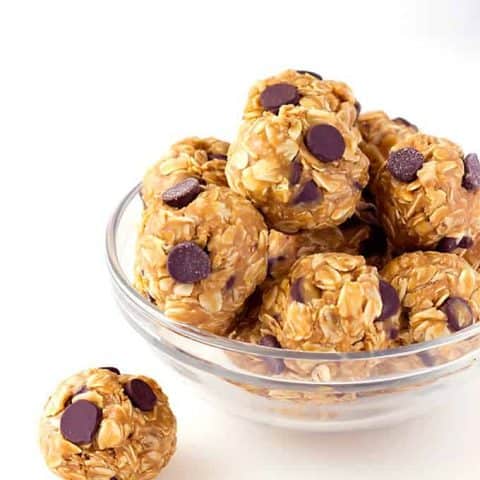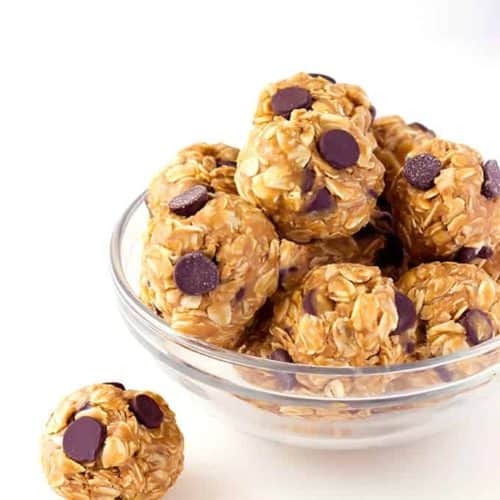 Peanut Butter Chocolate Chip Oatmeal Balls
These 5 ingredient peanut butter oatmeal balls are an easy and healthy recipe for kids to make all on their own (or help with if they're young). Made with peanut
butter, oats and honey!
Ingredients
2 cups quick-cook oats
1/2 cup honey
1/2 cup peanut butter
1/2 cup chocolate chips
1 tsp. vanilla
Instructions
Carefully measure all of the ingredients and add them to a medium-sized bowl. Using a sturdy spoon, stir the ingredients together until well blended.
Using a cookie scoop or tablespoons, measure out about 2 tablespoons worth of dough. Roll the dough in between your hands to form balls. This is a great step to let your toddlers help, too!
Allow the rolled balls to "chill" in the refrigerator for about 30 minutes before eating. This gives them time to become a little firmer.
Store the peanut butter balls in a ziplock bag or a large container with a lid. They keep in the fridge for up to 2 weeks!
Notes
Tip: Spray your measuring cup with non-stick cooking spray before measuring the honey.  The honey will come out much easier!
These Peanut Butter Chocolate Chip Oatmeal Balls are so fun and easy to make! You might also enjoy No Bake Chocolate Peanut Butter Cookies, too.
Tried this recipe? Tag me today! I love seeing what y'all are cooking up.
Mention @simply.siobhan or tag #MimosasAndMotherhood!