5 Must Do's To Prepare For Childbirth for the First Time
Congratulations mama, you're in the home stretch of your pregnancy! For all you seasoned mamas, you're probably ready to get this show on the road. For you new moms, you're probably wondering how the heck you should prepare for childbirth for the first time!
As a mom who's given birth TWICE to two little boys, I've got your back.
In fact, I'm going to share 5 MUST DO labor tips for first-time moms!
Note: Some links may be affiliate links. That means I may make a commission if you use my links to purchase, at no extra added cost to you! I only recommend products that I personally love and believe in. Full disclaimer here.
5 MUST DO's to prepare for childbirth for the first time
First things first — let's talk about birth plans.
Chances are you have a birth plan or are planning to write one up.
As a mama who's first birth went totally opposite of what I had imagined (and I didn't even have a birth plan mind you), please be sure to leave room for flexibility.
What I mean is, maybe you want an all-natural unmedicated birth. That's amazing!
However, in the event, you need to get meds for any reason at all, make sure there's room for it in your plan.
Birth tends to be one of those sporadic events where no matter what you do, sometimes, babies just have a totally different plan in place for how they'd like to enter the world.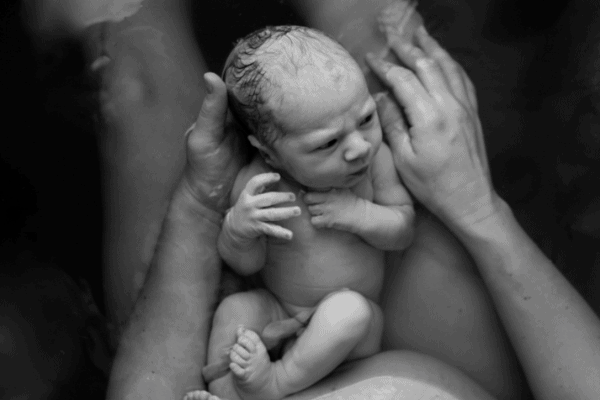 1) Get your mind & body ready with an online childbirth class
These days (pandemic living and all), online childbirth classes are the way to go!
And believe it or not, many of them do just as well or even BETTER jobs at preparing mamas for childbirth!
Plus, who wouldn't want to prepare for labor in their PJ's, sipping on a nice HOT cup of coffee in bed?!
I ended up taking an online birthing class myself and honestly it was great! My husband was able to watch the videos along with me and we eventually made it our thing to do before bedtime.
We'd watch 1 hour of "birthing class" before bed and it was a fun little way for us to connect with one another as we waited to welcome our sweet baby boy.
There is also an excellent and super informative class online called the Mama Natural Birth Course. It's 100% online and on-demand, so you can take it at your own pace. You can repeat modules if needed, and if time is an issue, you could do the whole course in a weekend.
Not only do they take you through everything you need to know about labor and delivery, including fantastic pain management techniques, this incredible course also has practice videos for you and your partner (which is one of the best ways to practice what you're reading before it's go time), natural childbirth videos (so you can see what your birth might look like), special trainings for VBAC birth, a private Facebook group where you can connect with other moms to be (moderated by a certified doula) AND access to a breastfeeding master class!
I highly, highly recommend taking a course like the Mama Natural Birth Course if you want to equip yourself with the tools and education needed to have a smooth natural childbirth.
They also offer a free pregnancy week-by-week email series if you want to get a taste of what to expect. Sign up for the free pregnancy week-by-week email series here.
Another course I took a preview of but never actually completed is called the Online Prenatal Class for Couples. This class is taught by Hilary Erickson — she's also a seasoned L&D nurse who's take on this prenatal class was more geared to prepare parents together.
Whichever course you take, you won't leave empty-handed that's for sure.
Plus, you'll definitely feel like you're ready to bring that bundle of joy into the world whenever he/she decides to make their appearance!
2) Understand the signs of labor
If this is your first baby, I guarantee the thought of "how will I know I'm going into labor?!" has crossed your mind.
Here's the kicker, only 15% of moms experience that full-on water breaking (you know, the kind you see on TV).
That means there's a good chance you won't experience it at all. OR you may experience a small tiny trickle that you may not notice.
So what other signs are there that labor could be happening?
The best indicator will be your contractions.
TRUE labor contractions won't let up. They will continue to happen developing consistency & a pattern and they will get increasingly more painful.
It's also important to be mindful that if you have any sharp abdominal pains, bleeding for unknown reasons, dizziness, or anything out of the norm — you should 100% call your doctor and let them know of your symptoms.
The standard rule of thumb when I was pregnant was the 5-1-1 rule. When you're having contractions 5 minutes apart that last 1 minute for at least 1 hour is when my hospital wanted us to go in.
Make sure you get all this information from your doctor or midwife. Ask them things like:
When should I call you if I have any concerns?
What are the signs I'm going into labor?
When do you want me heading into the hospital or birth center?
If you're looking for more tips to help manage labor pain, be sure to also read How to Reduce Labor Pain During Natural Childbirth.
3) Set your hospital visitation boundaries for visitors ASAP
I know it sounds early, but trust me, get those visitation rules in place girl!
Chances are, you're going to have grandma, grandpa, your brothers/sisters, friends, and much more just dying to meet baby, I mean, who wouldn't?!
However, having tons of visitors can be overwhelming and add a lot of stress for new moms (or any mom that just gave birth for that matter).
What's most important is that you discuss with your partner whether you want visitors after birth and when you get home.
If you need help setting those boundaries, check out 7 Easy Ways to Set Boundaries for Your Newborn.
4) Pack your hospital bag no later than pregnancy week 35
The last thing ANY mom needs to experience is having to go to the hospital during those last few weeks and having NOTHING prepared.
I know by your third trimester you probably just want to take it easy — and you should!
But you also need to make sure you have everything packed & ready for yourself, baby, and dad!
A couple of absolute MUST have items not to forget would be:
Insurance Cards
Phones/Chargers/Camera
Nursing tops & bras for mom
Going home outfit for both mom & baby
Cash for vending machine snacks
Toiletries in the event you stay 1-2 nights (or longer)
Change of clothing for dad
I actually have a full hospital bag packing checklist you can download for free by visiting the link below on my blog as well!
5) Even if you want an epidural, familiarize yourself with natural birth pain relief methods!
I had to be induced for both pregnancies. The first took forever and was not at all what I imagined birth being like.
My 2nd went VERY smooth…almost so smooth that I was progressing so quickly I almost missed my window for the epidural!
Needless to say, I had briefly gone over some natural birth pain relief methods – in particular, the breathing but had I not, I would've been much more stressed out than I already was.
That being said, go the extra mile and learn about breathing techniques and natural pain relief EVEN if you don't plan to have an unmedicated birth.
It never hurts to learn more, right?
After all, knowledge is power and boy is that true when it comes to how to prepare for childbirth!
Speaking of knowledge, I couldn't let you go without sharing ONE more piece of advice which is this:
If you plan on breastfeeding, take a BREASTFEEDING CLASS!
I know it's supposed to come naturally, but girl it doesn't always come naturally.
The first week or so of breastfeeding is actually pretty uncomfortable and can have some challenges, so be prepared and get registered for a breastfeeding class pronto!
 I took and highly recommend The Ultimate Breastfeeding Course from Milkology. This simple step-by-step program covers everything you need to know in 13 easy-to-watch lessons. You can go at your own pace, and you have access to the course for as long as you need it.
The course covers SO MUCH valuable information and important breastfeeding tips, including the most effective breastfeeding position to get a deep latch (which I really struggled with on my own), simple ways to ensure your baby is getting enough milk, and multiple strategies to help you make more milk whenever you need to.
This Ultimate Breastfeeding Course is phenomenal, and I learned so many really valuable tips from it.
I hope you're feeling a lot better about how you can prepare for childbirth for the first time.
If you enjoyed this post, I'd love for you to check out my blog for more posts like this one or hang out with me on my Instagram page where I share tons of informative pregnancy/postpartum content for mamas as well 🙂
About Karissa:
Karissa is a boy mama who resides in sunny San Diego, California with her little boys, husband, and two big doggies! After facing many postpartum struggles with minimal support after her first son was born, Karissa grew passionate about helping new and expecting moms find the support & confidence needed to transition into the scary, yet exciting journey of motherhood! You can visit her blog at https://www.momafterbaby.com and follow her on Instagram at https://www.instagram.com/mom.afterbaby!