REAL Baby Girl Nursery Themes to Help Inspire Your Space
Searching for inspiration for a beautiful space for your new daughter? Check out the real nurseries on this list, and find inspiration with the perfect baby girl nursery themes.
There are so many exciting pieces of finding out you're expecting, and for many parents one of the most fun is setting up the baby's nursery. You'll spend so much time in this space, but with so many stunning options out there, it can feel a little overwhelming.
Finding beautiful and creative baby girl nursery themes to help inspire your vision can help, so we've rounded up some beautiful baby nursery themes for girls! All of the nurseries on this list were created by real parents.
From boho nurseries to rainbow ones, super girly and minimalistic, all of these nurseries are beautiful and creative. Whether you're trying to decorate big rooms, small rooms or anything in between, this list was designed to help inspire you along the way.
Note: Some links may be affiliate links. That means I may make a commission if you use my links to purchase, at no extra added cost to you! I only recommend products that I personally love and believe in. Full disclaimer here.
Stunning Baby Girl Nursery Themes
When it comes to baby nursery themes for girls, the options are truly endless. Just like your baby, your baby girl's nursery can be as unique as you dream it can be.
Read on for a few stunning baby girl nurseries shared by real moms and dads!
Boho Baby Nursery Ideas
Boho baby nurseries are being increasingly trendy, and for good reason. The warm neutral tones are welcoming and calming, and are easy to customize with your own special pieces. Boho nursery themes are a great way to play up natural materials that create a modern look.
This boho nursery includes a beautiful custom wooden accent piece on the wall with rich, earthy neutral tones. This could easily be recreated for your own nursery with a few pieces of natural wood and a jigsaw.
When thinking about baby girl nursery ideas, pay attention to wall treatments! This boho-inspired nursery includes some special touches, like peel and stick flower wall decals on the wall above baby's crib.
Searching for that rattan flower mirror? Click here to see a very similar one.
Wooden Accent Nursery Walls
Wooden accent walls are a really cool way to add a stunning focal point in your baby girl's nursery without it feeling overwhelming. Plus, these accent walls can easily be created with a few pieces of wood, painters tape to lay out the design, a nail gun and some paint!
With the pretty pink color of this wooden accent wall, the parents also chose to add a custom name sign to truly make this room unique for their baby.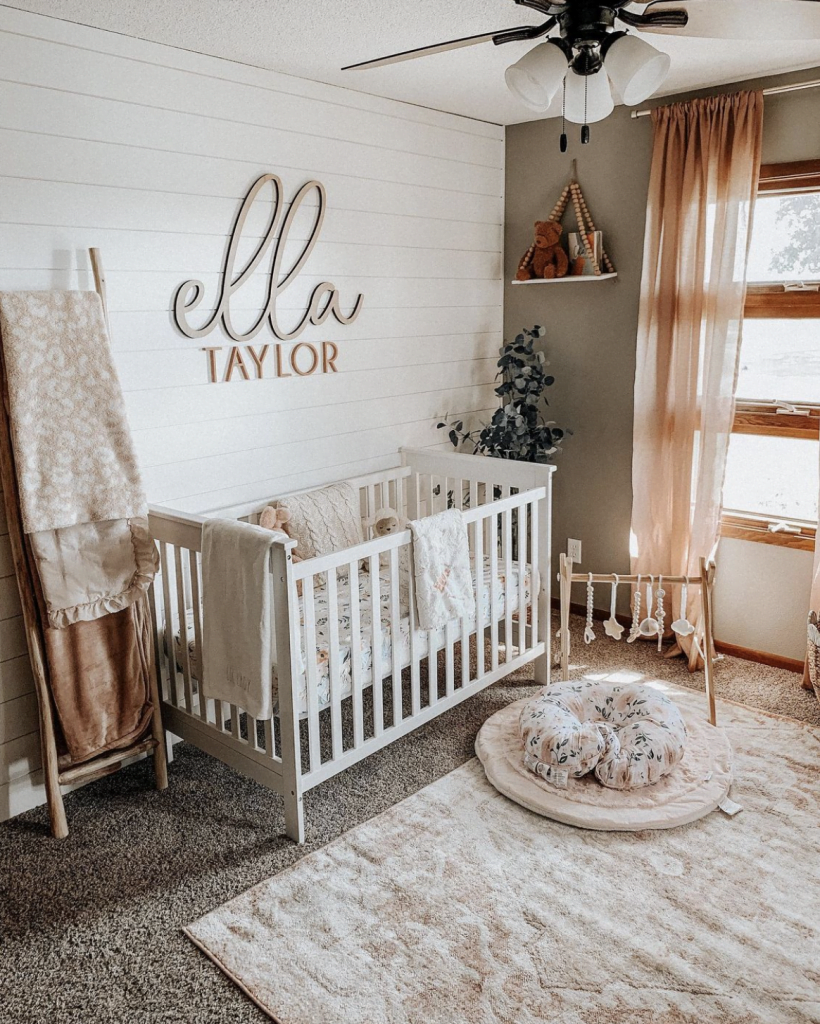 This wooden accent wall was made with shiplap, which can easily be found at your local building supply store (like these options at Home Depot).
Love those wooden name signs? Check out a super similar one you can order for your own baby girl by clicking here, or a bunch of different options by clicking here.
Floral & Feminine Baby Girl Nurseries
Floral themes are classic, and sophisticated nurseries for a little princess have been rising in popularity.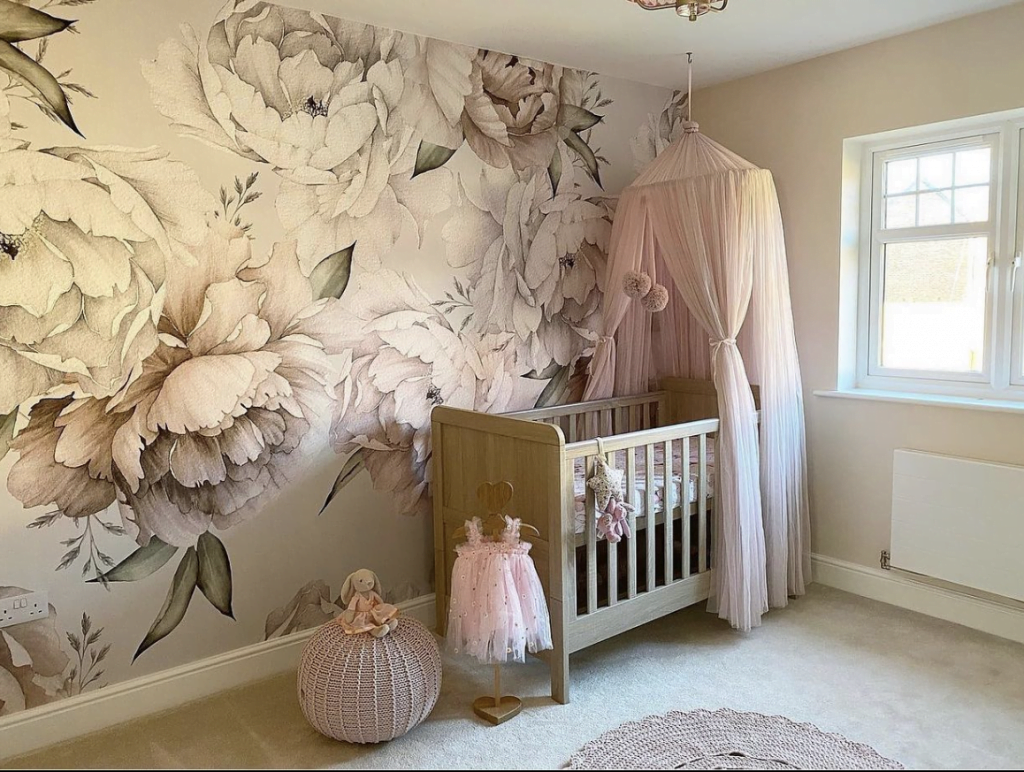 Wallpaper has become a fixture among baby girl nursery decorating ideas as an easy way to create a beautiful space. This large-scale peony wall mural is an eye-catching focal point in this beautiful yet understated space.
Nursery wallpaper is also a fantastic option for creating depth in a small space.
Love that wallpaper? Here is a very similar pattern as easy to apply peel and stick wallpaper!
Baby girl nursery wall decor doesn't have to center around decor pieces! Pick a wallpaper print you love, like this gorgeous purple pastel, and build your baby girl nursery color scheme around that.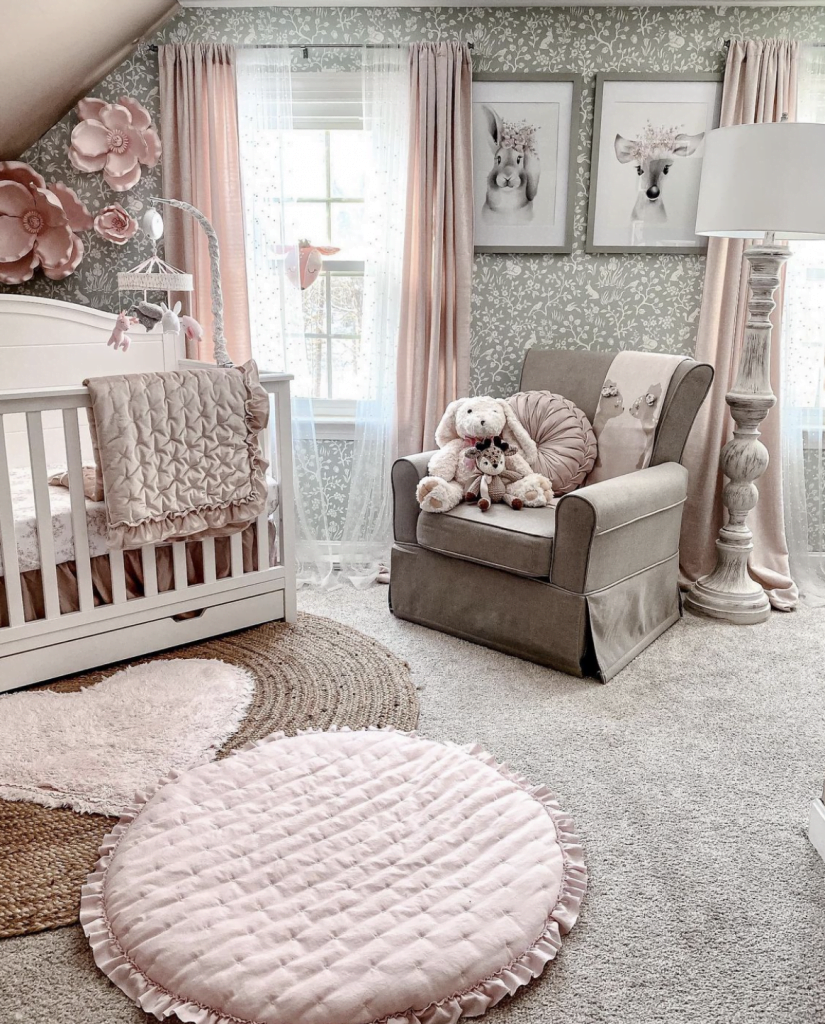 This greenery-themed wallpaper is a fresh twist on the traditional floral wallpaper found in many baby girl nurseries right now. Paired with some special pieces like stuffed animals and wall art, this feminine nature-inspired nursery is unique and inviting.
How cute is this jungle themed nursery?
Grab your own giant giraffe here! My boys actually had the exact same one in their nursery, and loved it so much it's now in their bedroom.
Related posts you might love too:
Baby Receiving Blanket vs Swaddle Blanket — Which Is Best?
200 Unique and Creative Baby Girl Names
Neutral Baby Girl Nursery Themes
Neutral tones never go out of of styles! Whether you are waiting until baby is born to find out the gender, or you just love a clean, calm space, neutral color palettes can still make a big impact in your search for the perfect baby girl nursery themes.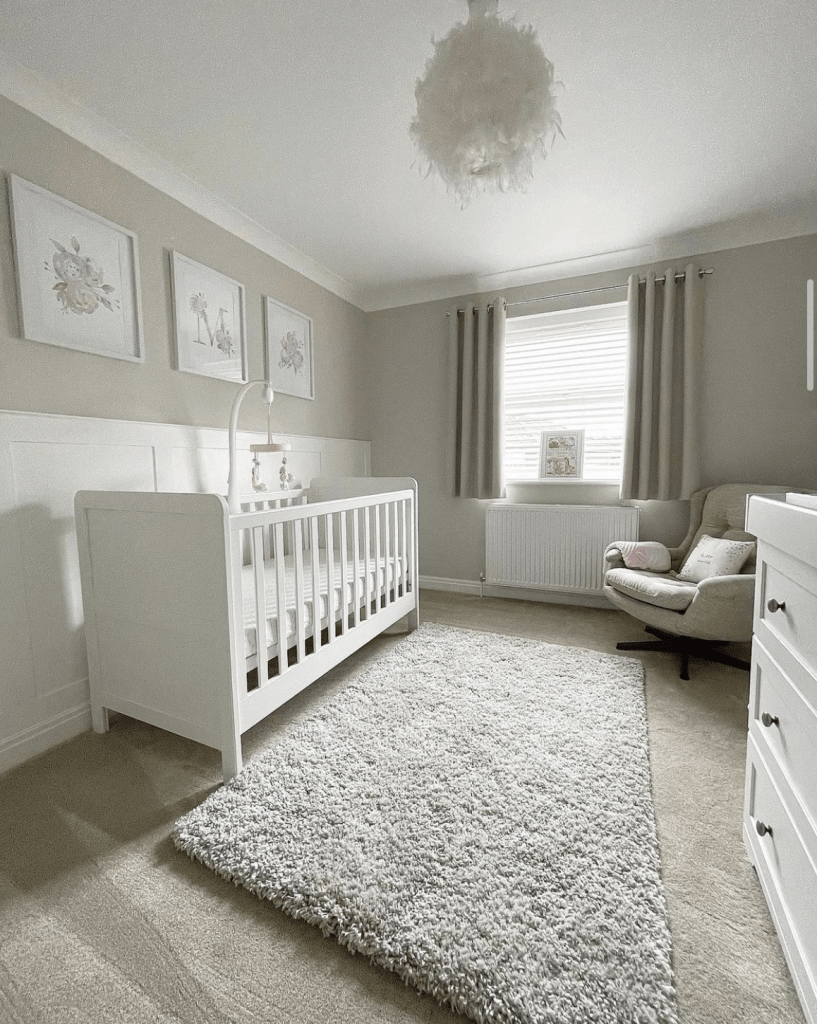 This calm and cool room is the perfect place for early morning snuggles. With shades of gray and white, it also is a room that can continue to grow with baby as she does.
This pink wallpaper and beautiful wall art featured little girls creates a strong focal point in this space full of neutral tones.
Love that wall art? Here is the listing for a that beautiful African American nursery printable wall art digital files, so you can print and frame them yourself at home!
This bright space has a few extra pops of color that truly make an impact against the backdrop of a mainly neutral room and white walls.
Baby Nursery Themes for a Girl Frequently Asked Questions
Have questions about choosing the perfect baby nursery themes for a girl? You're not alone! Read on for a few of the most common questions when planning your nursery space.
How do I choose a theme for my baby nursery?
When it comes to choosing the right baby nursery theme for your own baby girl's room, one of the best places to start is by creating a Pinterest board to pin all of the inspiration you find (like this article!) in one place.
Next, think about your personal tastes and style. While your daughter's nursery will be a special place for her, until she's a little bigger she won't have much of an opinion about style.
Some good questions to consider as you determine your style: Do you prefer a colorful space, or something neutral? Do you want something feminine and sophisticated, or more of a gender-neutral nursery?
As you find nurseries you love, pin them to your nursery Pinterest board. Don't forget to also include accessories and extra touches you love too, like a changing table, nursery furniture like a rocking chair, crib and crib bedding, as well as decorative items that speak to you like wicker baskets, nursery wall art or a plus rug.
Does a nursery have to have a theme?
A nursery or baby room does NOT have to have a theme. However, keep in mind that a theme can be as simple or complicated as you want it to be for planning purposes. Here are a few that really run the spectrum of detail:
Boho
Rainbow
Baby Animals
Nautical
Pink
Sunshine
Minimalistic
Paris glam
Seaside
Sparkle
Baby girl's nursery can be whatever you would like! You can also use a single item as a starting point, such as an heirloom baby item that has been passed down in your family, or a stuffed animal that you are in love with, or a main color.
The most important thing is that you love the space and design you choose.
Baby Nursery Themes for Girls
I hope this article helped you as you create your own dream nursery. Which of these real nurseries is your favorite?? If you need even more ideas, check out this additional collection of baby girls nursery ideas.
If you found this post helpful, please pin it on Pinterest or share on social media to help other mamas to be, too!