The Best Sleeping Suit for Babies- Baby Merlin's Magic Sleepsuit Review
Baby sleep is a big topic for new parents. When your newborn is ready to transition out of the swaddle, a sleeping suit for babies is a great transitional option.
In the early days of parenting, it can feel like getting quality sleep for both you and your little one is impossible. A baby's first year is filled with so many milestones. For many parents, sleeping through the night regularly might be the one we all look forward to the most.
Lack of baby sleep can make things so much harder on new parents. It's so important that your baby gets enough sleep.
However, sleep patterns can change A LOT over the first year: from days full of naps and up to 14-17 hours of sleep in the first three months to dropping to getting most of their sleep just overnight once they hit 12 months.
It can feel like just when you find the perfect swaddle for him, he's too big and ready to transition to something else! Many parents choose to transition from the swaddle to a sleeping suit for babies.
Luckily, there are some pretty great options when it comes to finding the perfect one for your little one. Looking for more information about sleep sacks for older babies? Be sure to also check out The Best Toddler Sleep Sacks for Every Size.
Our family has used the Baby Merlins's Magic Sleepsuit for multiple children, and this article is written for our personal experience.
Note: Some links may be affiliate links. That means I may make a commission if you use my links to purchase, at no extra added cost to you! I only recommend products that I personally love and believe in. Full disclaimer here.
Honest Review of the Baby Merlin's Magic Sleepsuit
I first heard about the Magic Merlin Sleepsuit after the birth of my oldest child, Archer. Although he arrived 10 days after his due date, he joined our world preemie sized!
We struggled so much in those early weeks with sleep because he was so teeny that nearly every swaddle blanket swallowed him whole. It wasn't until we discovered the Ollie Swaddle that he finally started sleeping through the night.
Swaddling is a great tool to help a newborn sleep for longer stretches, as it prevents their own arm movements from waking them up. Also known as the startle reflex, this can pull a baby out of an otherwise great sleep.
However, once babies can roll over on their own it's no longer safe to swaddle your baby for sleep. This is because they need to be able to use their hands to help push their face up off the mattress if they roll to their tummy while sleeping.
The first time Archer rolled over from his back to tummy I remember being so excited… until he started doing it over and over again. All of a sudden, I realized that meant we would need to figure out something else for sleep.
According to the American Academy of Pediatrics and many baby sleep safety professionals, it is recommend to use a transitional item in place of loose blankets to help reduce the risk of sudden infant death syndrome (SIDS) or suffocation.
What is the Merlin Magic Sleepsuit?
Designed by a pediatric physical therapist, the Baby Merlin's Magic Sleepsuit is designed specifically to help your baby continue to get good sleep when it's time to transition out of a swaddle. It's available in four colors (blue, pink, cream or yellow) and two sizes (3-6 months or 6-9 months), as well as in a microfleece option or jersey cotton.
Many parents choose to transition their babies to a sleep sack after they can no longer be swaddled. A sleep sack is a wearable blanket that's also great as an additional option for babies and toddlers. It's like a sleeping bag for babies and toddlers.
However, we found that it gave our babies too much freedom of movement, and they would startle awake. Unlike other transitional products on the market (including a sleep bag), the Merlin Magic Sleepsuit allows your baby to have their arms and legs free, but still be snug and secure because of the padded material.
My first thought when I saw my son in one was that he looked like the Stay Puft Marshmallow Man from Ghostbusters. The sleepsuit is super puffy and made with two layers of microfleece or jersey cotton that are stuffed with polyfill.
The sleeping suit for babies is easier to get on than you might think, as it has full-length zippers on either size of the front panel for easy access. Although it has long sleeves, baby's hands and feet are free, which helps them from getting overheated. Baby's head and baby's face stays uncovered and safe with the scooped neckline.
What about baby sleepwear as an inner layer? According to the manufacturer, it can be worn over baby pajamas, a onesie or even just a diaper, but you don't necessarily need an additional layer. We found that putting it over a lightweight onesie worked best for us, as we live in a warmer climate. We tried using a onesie with socks, but our little guys always kick them off!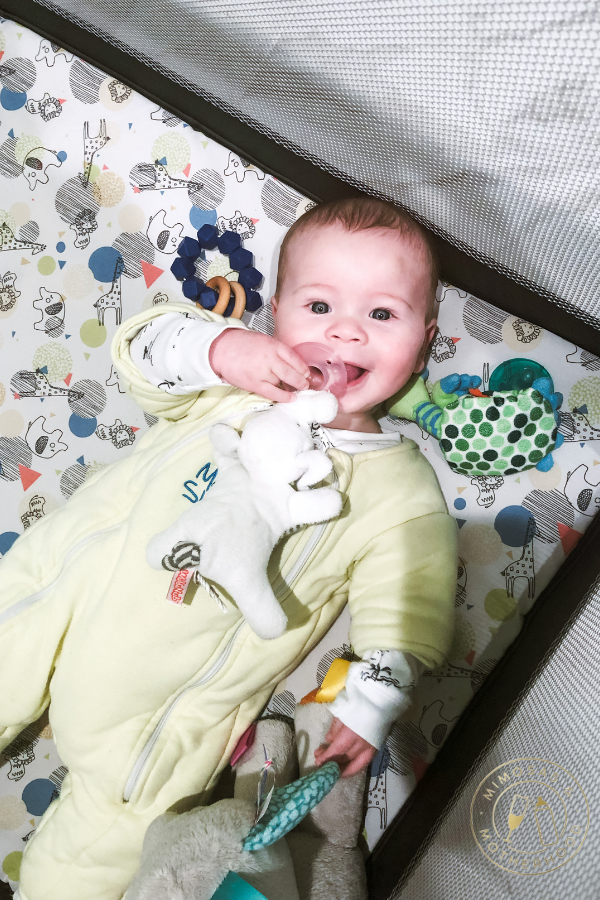 How to Use the Magic Merlin Sleepsuit
We incorporated the Merlin's Magic Sleepsuit into our nightly routine the same way we did with their original swaddle blankets. Keeping their routine the same helped with the transition to a different kind of sleeping accessory.
After a bath, we put on a fresh diaper, some lavender lotion and jammies. I put the boys into the sleeping suit after this, as sometimes they would get sleepy after they finished their bottle.
Next we read a book and let him drank his bottle while he got extra snuggles and cuddles, and put him down on his back to go to bed. Typically, they each fell asleep quickly.
Pros and Cons of the Magic Merlin Sleepsuit
Like any baby gear, there are pros and cons to everything.
Pros: This sleeping suit for babies is super soft, cozy and adorable. It's made with safety in mind, and was specifically designed to be a transitional product. It allows your growing baby to have more movement and freedom of their body without also making them struggle with sleep from the startle reflex.
The double zippers allow the sleepsuit to easily open up to get your baby in and out quickly. With a scooped neckline, it's designed to fit securely and safely. I also like that it's easy to roll up the sleeves a little bit if baby's arms are too short.
Having their hands and feet out also helps baby maintain a comfortable temperature at night.
Cons: This sleeping suit for babies can get very warm. This is great during cold weather, but depending on where you live, this could be a problem.
With our oldest we actually loved how warm and cozy it was, because he primarily wore it during the fall and winter. With our youngest, he began wearing his in the spring, and we live in the South, so we needed to pay extra attention to his room temperature.
If you have a warmer room or are using this during a hot time of year, be sure to pay attention to baby's temperature and the temperature of baby's room. The recommended room temperature for a baby is between 68 to 72 degrees Fahrenheit or 20 to 22 degrees Celsius.
Although the sleep suit is easy to put on, it doesn't allow for easy diaper changes. You'll have to take your baby almost all of the way out of it to change his diaper.
The Magic Merlin sleepsuit also takes longer to dry when you do the laundry. For that reason we invested in two of them, so that we could do laundry more frequently and not worry about dry time.
Frequently Asked Questions about the Magic Merlin Suit
Are sleep suits good for babies?
Many experts (and parents!) agree that a sleep suit is a great transitional product for babies after they can no longer safely use a swaddle. When it comes to options, baby merlin's magic sleepsuit is designed to help keep baby on his back for longer, which is safer for infant sleep.
Keep in mind that for safety reasons a sleeping suit for babies should ONLY be worn to sleep in a safe sleep environment like baby's crib, and not in a rocker or any kind of inclined surface.
What age is Merlin magic suit for?
According to the retailer, The Magic Sleepsuit is designed to be introduced at approximately three months of age when babies are transitioning from the swaddle or smaller sleep space. Proper fit and timing of introduction are critical to the safety and effectiveness of the Magic Sleepsuit."
How long can baby wear the Magic Merlin suit?
The Magic Sleepsuit can be worn as long as your baby is back sleeping and fits in it comfortably (or is comfortable wearing it).
Other Baby Product Articles You Might Enjoy:
Baby Receiving Blanket vs Swaddle Blanket — Which Is Best?
The Best Glider Rockers for Your Nursery
Best Stroller For Twins And Toddler: 3 Passenger Triple Strollers
11 Teething Ideas for Babies That Really Work
Is the Baby Merlin's Magic Sleepsuit Worth It?
Our family has used the Merlin's Magic Sleepsuit for both of our children! It has been a great transitional product for our babies once they began rolling over, as it kept them feeling snug and secure.
With both of our children, we noticed that the Merlin's Magic Sleepsuit's extra weight helped them continue to sleep through the night and sleep well during naptime. We attempted a lightweight sleepsack for my youngest (who had always been a restless sleeper) when he first started rolling over, but realized very quickly that it wasn't cozy enough for him. The first night we put him in the Merlin's Magic Sleepsuit, he slept completely through the night!
We kept our boys in them as long as we could, only transitioning them to a toddler sleepsack when they became too big for the sleepsuit.
For our family, the Baby Merlin's Magic Sleepsuit was well worth it our children transitioned from the swaddle. It helped them continue to sleep well and sleep longer, even on vacation. It also helps with maintaining a parents peace of mind as well as help with that sleep deprivation all new parents are struggling with.
Plus, a marshmallow baby is pretty cute to wake up every morning too. I personally feel it is a great transition product and possibly the best one on the market today, and highly recommend the Baby Merlin's Magic Sleepsuit for other parents looking for peace of mind during the sleep transition too.
SHOP HERE>>> Baby Merlin's Cotton Magic Sleepsuit
SHOP HERE>>> Baby Merlin's Microfleece Magic Sleepsuit