The Best Toddler Sleep Sacks for Every Size
A toddler sleep sack is a wearable blanket for your toddlers that allow them to be cozy without the danger of added blankets. Keep your little ones warm and cozy while still staying safe as they grow with this list of the best toddler sleep sacks (2022 update).
As a mom of two toddlers, I can tell you that they are CONSTANTLY moving. They never seem to settle down totally, which means blankets are constantly getting kicked off and tangled!
So what do you do when your baby is past the swaddle stage but not quite big enough for a blanket? A toddler sleep sack is a great alternative. Similar to sleep sacks and swaddle for babies, toddler sleep sacks are specifically designed for your wiggly little one.
Experts recommend that you don't add a blanket to your baby's crib before his first birthday as it is a big safety risk. Some people even caution against using loose blankets through their second birthday! How do you keep your growing toddler warm while still keeping them safe?
Enter the amazing toddler sleep sack, aka wearable blankets. A fantastic alternative to loose bedding, toddler sleep sacks come in different designs, fabrics and weights, and are meant to be worn safely through toddlerhood.
Some come in sizes that are even small enough for babies, which helps to make the transition even easier. My oldest called his sleep sack his "special sleeping bag" and LOVED wearing them!
Which sleep sack should you get for your own child? Wondering how to know which are the best sleep sacks when there are so many options? Check out my list below of the best toddler sleep sacks! From fleece, cotton, footless options and many in-between, there are a ton of sleep sacks for toddlers to choose from out there.
Note: Some links may be affiliate links. That means I may make a commission if you use my links to purchase, at no extra added cost to you! I only recommend products that I personally love and believe in. Full disclaimer here.
The Best Toddler Sleep Sacks
Toddler sleep sacks are a little bit different than recommendations for a baby sleep sack. Read on for some of the best options out there when it comes to toddler sleep sacks!
The Halo Sleep Sack
The Halo Sleepsack is chosen by many parents, including me! This was the first sleep sack my boys transitioned into. It unzips from the bottom, which makes it great for navigating quick and easy diaper changes. It's also made of a breathable material, which means it's suitable for a variety of climates.
The Halo also has a lot of room, and comes in a wide variety of colors and styles. Fits up to size 24m.
Buy It Here: The Original Halo Sleep Sack
The Halo Micro-Fleece Sleepsack
I love Halo's micro-fleece version of their original sleep sack. Made of 100% polyester micro-fleece, it's the perfect extra cozy addition for the winter months. Fits up to size 24m. The zipper allows for easy access to baby.
Buy It Here: Halo Micro-Fleece Sleep Sack
Halo Big Kids Sleepsack
The Halo Big Kids Sleepsack is a great option for kids who are a little too big for the traditional Halo Sleep Sack. It is designed for sizes 2T to 5T. While it comes with foot openings, your toddler can also tuck their feet into the blanket while they sleep. The sleeveless design also means that your bigger kids can still wear their long sleeve jammies with ease.
Buy It Here: Halo Big Kids Sleep Sack
Burt's Bees Baby Wearable Blanket
The Burt's Bees Baby Wearable Blanket is made with super soft, 100 percent organic cotton and is another wonderful option for your toddler's first sleep sack. As of now it only fits up to size 18m.
With a number of patterns and colors to choose from, the Burt's Bees sack has an easy to access inverted zipper that also includes an interior zipper guard. The organic cotton makes this sack a great choice for young toddlers with sensitive skin.
Buy It Here: Burt's Bees Baby Wearable Blanket
Molis & Co Muslin Sleeping Bag
Designed to be roomier for younger toddlers, these sacks are made with a super soft bamboo and cotton muslin fabric in a variety of cute colors and patterns.
The big claim to fame with the Molis & Co. line is that their fabric is highly breathable and softens after each wash! Their options also have a two-way zipper and can fit up to size 36m.
Buy It Here: Molis & Co Muslin Sleeping Bag
Hudson Baby Unisex Baby Sleeping Bag (Cotton or Plush)
Available in more than 75 patterns and colors (WOW!), this super affordable toddler sleep sack option is an fantastic choice for toddlers up to size 24m.
Available in either a lightweight cotton or a cozy plush for chillier climates, Hudson Baby's wide variety of available patterns are one of the biggest draws!
Buy It Here: Hudson Baby Unisex Baby Plush Sleeping Bag or the Hudson Baby Unisex Cotton Sleeping Bag
Woolino 4 Seasons Sleeping Bag
If you are looking for a toddler sleep sack made of all-natural materials, be sure to check out the Woolino! Crafted from luxuriously soft merino wool, this sleep sack claims to keep your little one at the perfect temperature throughout the year. It also has foot holes for your toddler to easily stand up and walk around before they tuck their feet into it when sleeping.
While pricey, many parents swear by the resale value, which might help cushion the blow of the initial purchase. If you are looking for extra large sleep sacks for toddlers, this might be a good option as it goes up to 4T.
Buy It Here: Woolino 4 Season Sleeping Bag
Michley Baby Sleeping Bag with Feet
Great option for bigger kids as it can fit up to 5T/6T! The Michley Sleeping Bag with Feet comes in 6 different colors with each featuring a different adorable animal. Their options are breathable and comfortable, with a durable zipper from bottom to top.
If you are looking for extra large sleep sacks for toddlers, the Michley can fit up to 5T/6T!
Buy It Here: Michley Toddler Sleep Sack
Tealbee Dreamsuit
The Tealbee Dreamsuit is lightly padded, and is double layered and quilted to keep the padding in place. Made of a soft bamboo and cotton mix, it's a favorite of many parents. Fits up to size 3T.
Buy It Here: Tealbee Dreamsuit
Baby deedee Sleep Vest Kicker Sack
This sleep sack for older toddlers is made from 100% fleece and has foot holes and pockets. It's a cute option for your toddler to wear while lounging around the house too! Fits up to size 4T! Another great extra large sleep sack for toddlers too.
Buy It Here: Baby deedee Sleep Vest Kicker Sack
Related Posts:
Best Stroller For Twins And Toddler: 3 Passenger Triple Strollers
Best Baby Carriers for Toddlers
How to Meal Prep for Families With Toddlers
Frequently Asked Questions about Choosing a Toddler Sleep Sack
Are Sleep Sacks Safe for Toddlers?
Yes! Toddler sleep sacks are considered to be one of the safest options when it comes to safe sleep for your toddler. According to the American Academy of Pediatrics and many baby sleep safety professionals, it is recommend to use a toddler sleep sack in place of a blanket to help reduce the risk of SIDS or suffocation.
What Does TOG Mean on Sleep Sacks?
A TOG is a unit of measurement used to calculate warmth of a sleep sack. You can calculate the warmth of the TOG you need based on the temperature of your child's room.
Once you know the average temperature of your toddler's room, you can match it to a toddler sleep sack with an appropriate TOG.
The below chart is helpful and comes from Aden and Anais, a brand that makes sleep sacks and swaddles (so they know what they are talking about!).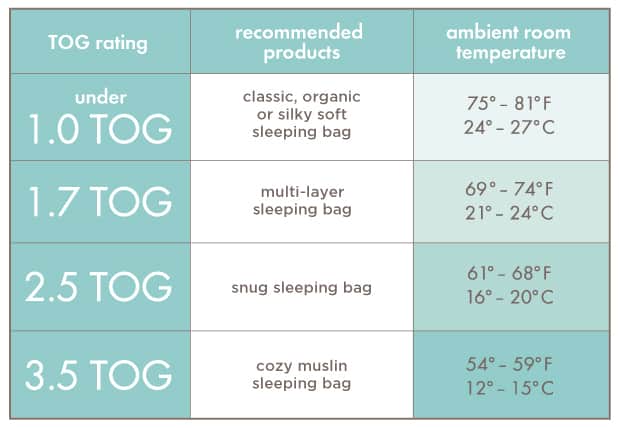 Why is the Sleep Sack Sleeveless?
Toddler sleep sacks (and sleep sacks in general) are sleeveless to allow for a free circulation of airflow. This is crucial for a safe night's sleep, as it helps to prevent dangerous overheating while your child sleeps.
The Best Toddler Sleep Sack – Keeping Sleep Safe Through the Toddler Years
I hope this list of the best toddler sleep sacks was helpful to you! After having two children in toddler sleep sacks, I can't imagine NOT using them. A toddler sleep sack is a safe alternative to blankets, and can help keep your little one cozy during the colder months. I love that unlike blankets, toddler sleep sacks can't be kicked off or tangled up while your child sleeps!
A toddler sleep sack also helps to make a safe and easy transition as your child grows. What are some of your favorite sleep sacks? If you choose a toddler sleeps sack from my list, be sure to tag me on social media @simply.siobhan and using the hashtag #mimosasandmotherhood so I can send you some love too!
Related Posts: The ABC's of Teaching Toddlers the Alphabet