Unique Monthly Baby Photoshoot Ideas at Home
Have a new baby? Taking a photo of your little one as they grow each month is a wonderful way to create a pretty cool visual record of their first year. Get some inspiration with this collection of unique monthly baby photoshoot ideas you can do at home (no professional photographer needed)!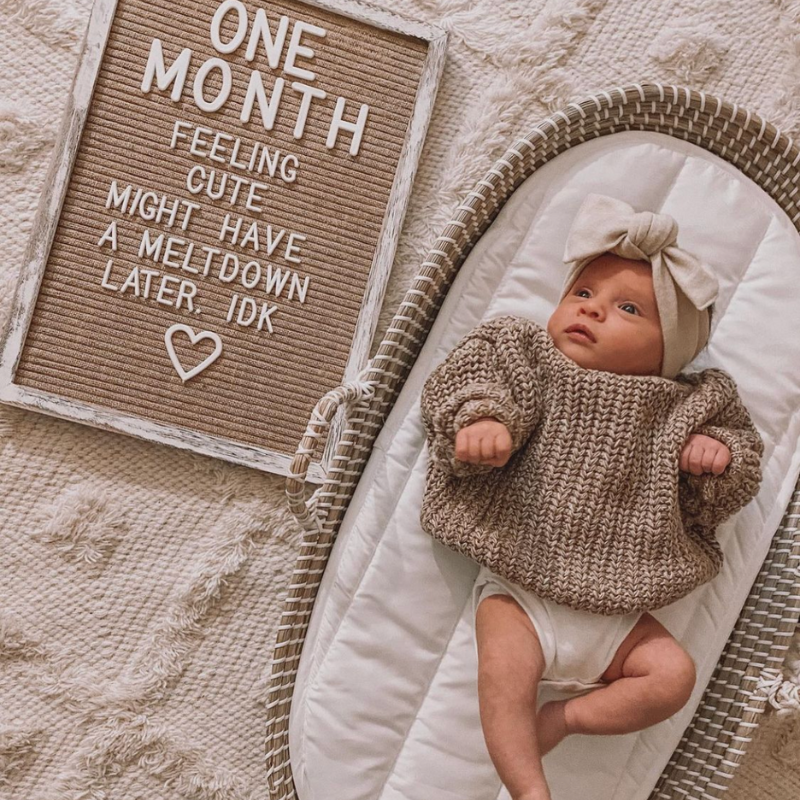 One of the cutest trends to emerge on Pinterest, Instagram and Facebook over the past few years have been unique monthly baby photoshoots. These cute photos are a fun way to mark your baby's first 12 months of life, and the ideas are pretty endless for what you can do!
It's entirely up to you how you want to do your own month by month photos. Many parents choose to use a backdrop, recurring theme or props, while others go with something much easier like a monthly milestone blanket or card.
Whatever you choose to do, taking special monthly photos is a great way to mark baby's growth and have something special to look back on.
Whether you're looking for one month baby photoshoot ideas at home to mark your newborn's first month, or want to find some fun options so you can do something different each month, read on for some creative and unique monthly baby photoshoot ideas!
Note: Some links may be affiliate links. That means I may make a commission if you use my links to purchase, at no extra added cost to you! I only recommend products that I personally love and believe in. Full disclaimer here.
Baby Photoshoot Tips
Here are a few tips to help you get the best photos during your own DIY baby photoshoot.
Snap your photos where the best lighting is in your home. This might be by a window for natural lighting, or you might choose to use some portable lighting like this to make it easier to take photos in other rooms in the house.
For baby's safety, never leave your child unattended.
Don't forget to take into account your baby's age and abilities at each month. A six-month-old baby will be much more mobile than a newborn baby. While you might be able to shoot for a long time with a newborn (because they love to fall asleep during these), an older baby won't be as patient.
If you're using these as newborn photo ideas or as one month baby photoshoot ideas at home, you'll want to be sure that your little bundle of joy is safely propped up using blankets, pillows or even your boppy pillow. One of the best essential newborn photography tips: make sure the room is warm!
When you're capturing monthly baby photos, be ready to take a LOT of pictures to get one that you love. It's a good idea to try different angles. You never know which one might help you land the perfect shot!
As baby grows, ask older siblings for help with positioning to help get them involved too. They might love being in charge of laying out the little details or creative props so you can focus on snapping the precious baby pics.
15 Unique Monthly Baby Photoshoot Ideas
Read on for some of our favorite creative baby photoshoot ideas, and find the perfect way to capture your little one's first month or year. Now the only hard part will be picking which one to use to record your own special moments!
Holidays of the First Year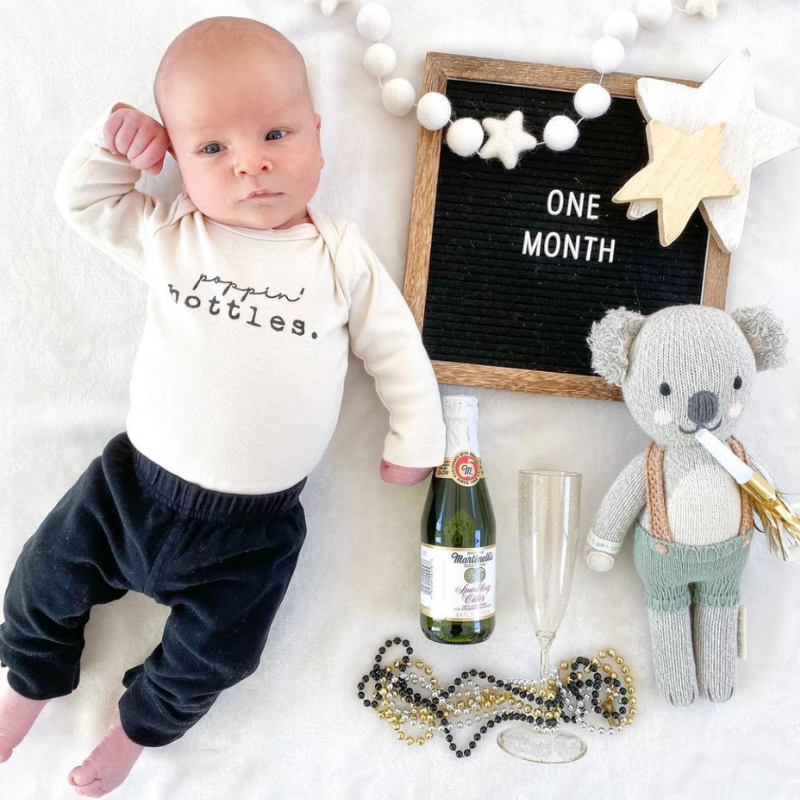 This is one I personally really loved! Make each milestone photo themed with monthly holidays or other special days.
I marked the beginning of seasons with easy props too, or you can use cute jammies or a onesie.
Rocking Chair Picture
Choosing the same backdrop for every milestone picture in baby's first year allows you to easily see just how much your little one has grown!
Have a rocking chair in the nursery or a comfy armchair you love? Sit baby gently in the chair (with plenty of safe support as needed) and document each month. Just add a wooden number sign like this or even a numbered award ribbon to indicate which month.
Bounty of the Season
Mark your baby's first year of life with a little seasonal fun! From pumpkins and pinecones in the fall to watermelons and berries in the summer, nature-inspired monthly baby pictures both illustrate how much your baby is growing and what time of year these photos were taken.
You can make floral numbers in the spring, or mark the holidays with holly!
Milestone Blanket
Want a super easy way to mark baby's first year? Use a milestone blanket, like these on Etsy or these milestone blankets on Amazon!
Starting with a one month baby photoshoot at home, just lay baby on the blanket and snap a few images each month.
Baby in a Bassinet
Have a beautiful bassinet or Moses basket that you would love to utilize? Just lay baby inside with a few props and an easy letter board sign each month.
Simple Candids
You don't have to go over the top or do something fancy to mark your baby's growth. One of the easiest one month baby photoshoot ideas at home that can also easily translate month after month into a unique monthly baby photoshoot are snapping cute candid photos of your little.
Choose a common theme, or don't! Turn them into black and white photos if you want a cohesive look, or just let your little girl or boy's smile speak for itself.
Onesie Photoshoot
This unique monthly baby photoshoot is so easy and fun! Order a onesie in a pattern you love in multiple sizes, and photograph baby as she grows in each onesie. You can also do a different seasonal onesie for each month, like this sweet babe is rocking!
In Your Arms
This monthly baby picture idea is such a beautiful one that will help you always remember just how tiny your baby was.
Remember to wear a consistent, neutral top color for each photo.
Use Blocks
This cute photo idea is also really simple: Grab that set of baby blocks and track each month as it passes! I did this with my oldest to also mark the month that we announced he was becoming a big brother.
This set of wooden blocks are the ones that we used, but here are some other sets. Not only do they make photo props, but your baby will also love to play with them, too.
Pennants as a Monthly Baby Picture Prop
Pretty monthly milestone pennants like these are a trendy and easy way to celebrate each month of growth.
While baby is small you can lay them on a soft blanket next to him. As he gets bigger, let him hold them for some extra fun!
Wood Markers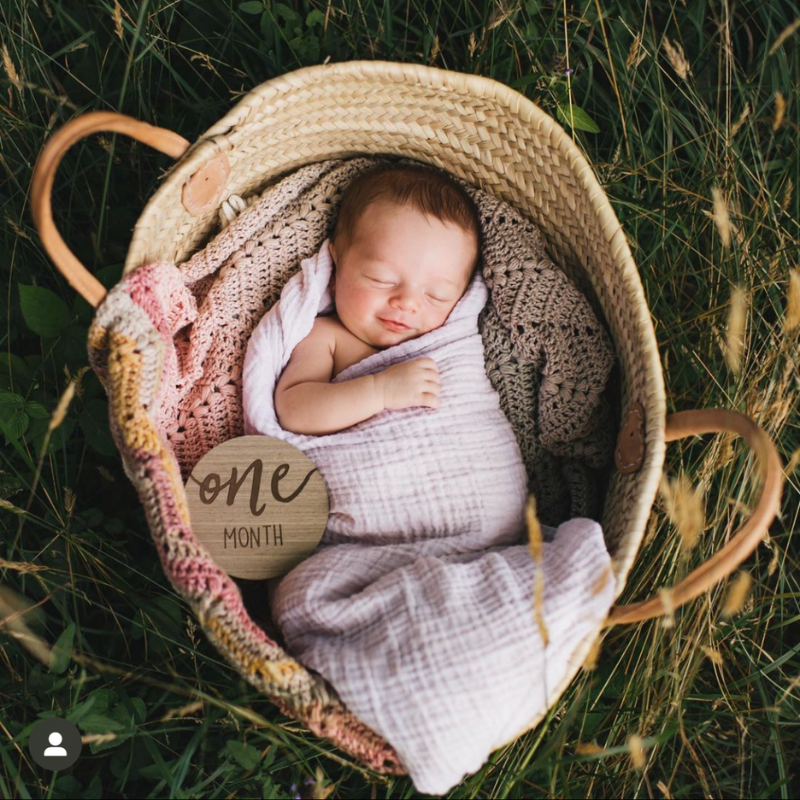 These wooden milestone signs are perfect if you prefer a timeless and neutral feel. You can choose handmade ones here on Etsy, or an inexpensive package of premade ones on Amazon.
These are an easy way to mark each month.
A Picture Frame and a Stuffed Friend
All of our babies have at least one plush friend (like a teddy bear) that would make a wonderful photo companion. All you need is a pretty picture frame (Amazon and Michaels both have cute, cheap options!) and inserts with the month on them.
You can make these yourself on your own computer, or purchase ones that you can change up easily. Gently place baby next to the stuffed animal, and use the corresponding framed number somewhere in the photo too. You can also use a letter board!
Pizza, Pizza!
Turn one yummy monthly baby picture idea into a whole year of fun! Grab a (clean) pizza box and use slices of pizza to track baby's first year.
Doughnut Grow Up!
Similar to the pizza baby milestone photo, build up to a dozen donuts during baby's first year with this unique monthly baby photoshoot.
Chalkboard wall baby picture
Have a chalkboard wall, or large chalkboard? Grab some chalkboard paint and write the corresponding monthly number on it. Set your baby in a chair, or hold him out in your arms, and mark each month with this creative idea. You can even add a little sentimental text!
You might also enjoy these posts:
The Best Time to Take Newborn Photos
Easy DIY Christmas Baby Photoshoot Ideas at Home
15 Thanksgiving Photoshoot Ideas for Babies
15 Cute Halloween Photoshoot Ideas for Babies
Final Thoughts on Creative Monthly Baby Photo Ideas
It truly feels like babies change in the blink of an eye. There are so many creative ways to remember your baby's first year, and themed shoots are so much fun to do in the comfort of your own home. All you need are a few simple props!
Don't have the capacity to take on props and a specific theme? There are tons of cell phone apps these days that can help. I used the Baby Story App to snap photos of my children during their first year and loved it. It's also an easy way to mark baby's big firsts using their stickers and adorable typography.
Baby photography can be so much fun, and monthly milestone photoshoots are a wonderful way to look back on that first year. Which of these month baby photo ideas was your favorite?
If you enjoyed this article, please pin it on Pinterest or share it on social media to help inspire other new moms too!