Easy DIY Christmas Baby Photoshoot Ideas at Home
Baby's first Christmas is so memorable, especially when you incorporate a DIY Christmas baby photoshoot. Get inspiration and learn how to create some beautiful memories with these Christmas baby photoshoot ideas at home.
There are so many milestones in your baby's first year, which ALSO means there are so many opportunities to snap cute photos! I love capturing a zillion images as my children grow. It makes it so fun to look back year after year.
Christmas is the perfect time of year to capture that holiday magic with an easy DIY Christmas baby photoshoot. Between the outfit choices, themes, easy backgrounds (because everywhere you go is already decorated, duh!) and the excitement, there are so many ideas to choose from.
The best part? You don't have to be a professional photographer to take some truly great Christmas card shots, and no fancy camera needed! All you need is your smartphone or the camera you already own.
Note: Some links may be affiliate links. That means I may make a commission if you use my links to purchase, at no extra added cost to you! I only recommend products that I personally love and believe in. Full disclaimer here.
Tips for a DIY Christmas Baby Photoshoot
Before you get started with creating you own Christmas baby photoshoot at home, let's go over a few tips to help you get the best photos possible.
Have an extra set of hands
If you haven't realized by now, it can be really tough to capture cute photos of your baby while also having to keep him in one place, or looking in the right direction (or even getting him to smile!).
Grab an assistant to help you position baby, help with making him laugh or just keep you company.
Think about lighting
Natural light by a window will help you have photos that look clear and clean. Your home's overhead lights will add a yellow tint, and unless you have a lot of photo editing experience this can be hard to get rid of.
Worried you don't have enough light? Consider grabbing a cheap ring light like this to use. I have one and am obsessed with how easy it makes it to grab better photos of our family inside.
If you live in a warm climate, you can also consider setting up your photoshoot outside too!
Have everything you need gathered
The last thing you want to have to do after getting baby in the perfect position is to have to run and find a prop you wanted to use. Make sure you have everything gathered for your photo before you put your little one into position.
Have fun!
Your DIY Christmas baby photoshoot doesn't have to be perfect to turn out fantastic. Don't give up or get stressed out if you can't get the perfect shot. Just try again!
If something isn't working, change it up. At the end of the day, you're not going to look back when your baby is older and be upset that an ornament isn't in the exact ideal spot. So have fun with it.
Christmas Baby Photoshoot Ideas at Home
Capture baby's first Christmas this holiday season with one (or a few!) of these Christmas baby photo ideas.
Cutest gift under the tree
Who can resist a baby in a gift box? Just wrap a cardboard box (like one of the dozens you've gotten from all the gifts you've ordered) and place baby safely inside under the tree.
If you're not feeling crafty, just purchase a gift box photo prop!
Christmas Ornaments Photoshoot
Want a super easy DIY Christmas baby photoshoot? Just grab a few of your favorite Christmas tree ornaments and scatter them on the floor around baby on a white blanket.
If your little one is already on the move, make sure you use ones that are plastic and do NOT have hooks attached. Nervous about using ornaments? You can also incorporate festive Christmas balls instead.
Christmas Lights
Holiday lights make a wonderful backdrop, but also are a great option for a Christmas photoshoot prop! Experiment with what works best for your shot. It can be tough to get the right lighting, so try a few different settings on your phone.
Santa Hat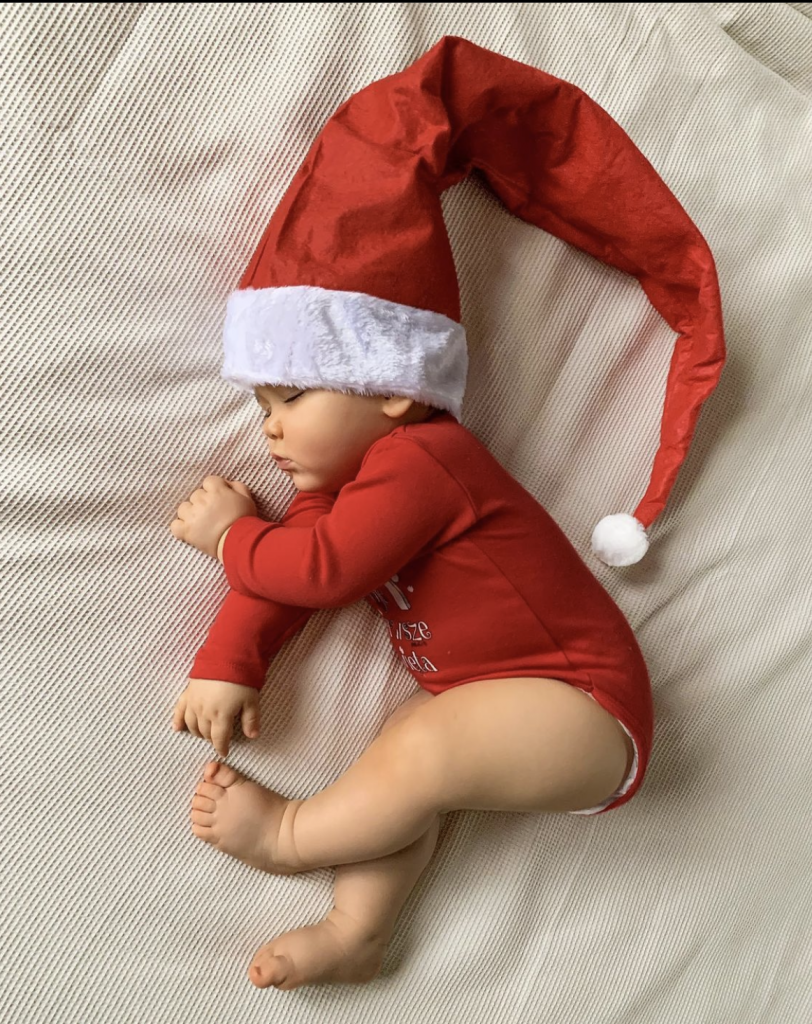 All you need is a Santa hat to make your little one into the cutest Santa baby! Use an adult-sized hat you already have, or a cute baby sized one like this one.
Candy cane prop
Dress your little one in some cute Christmas pajamas with your tree in the background, or laying on a white fluffy blanket on the floor.
Slip a full-sized candy cane into their hand as they sleep.
Letter Board Christmas Photo
Don't have time for a big photoshoot with a bunch of props? Use a chalkboard sign or a letterboard with your little one dressed in your favorite Christmas outfit or jammies! Here's my oldest on his first Christmas.
Stocking Stuffer
Is your baby still small enough to fit inside a Christmas stocking (or mostly inside one)? Use it as a prop to create this easy photoshoot idea!
Hot Cocoa Milkbath
If you're a breastfeeding mama, you might love the idea of incorporating that into your DIY Christmas baby photoshoot. Try a holiday milk bath!
Fill your sink with warm water and add a little bit of milk and brown food coloring. Add a few marshmallows or other Christmas treats for seasonal twist on this fun photo shoot.
Christmas Tree Backdrop
Make your newest addition the best Christmas present under the tree this year. This DIY Christmas photoshoot idea is so easy. Just dress your baby in whatever festive outfit you like and use your already decorated Christmas tree and gifts as a backdrop.
Place your baby right in front of your Christmas tree! This is a great one for baby by himself, or to incorporate an older sibling into as well. Here are my boys on two different years.
Christmas Cookies
Whipping up a few batches of your favorite Christmas cookies this year? Add your little one into the fun with this easy DIY Christmas photo shoot!
Be sure to have an extra set of hands to keep baby safe (and also to keep any solid food from being devoured if they're not quite old enough yet).
Milestone Christmas Photo
If you are looking for a creative way to record how many months old your baby is, use Christmas bows! They're easy to make into any number. Plus, you can dress baby in his first Christmas outfit again to get an extra wear out of it.
Newborn Christmas Photo Shoot at Home
It doesn't get much more simple than snapping a few cute photos in a perfect holiday outfit. You can find this newborn Christmas outfit on Etsy and create your own newborn photos at home.
Add your favorite Christmas book as a great prop, or place baby on a cozy blanket or in a basket or shallow gift box with lots of cushioning. Newborn babies need extra warmth, so don't forget to be sure your indoor space is warm while taking these newborn Christmas photos.
You might also enjoy these Christmas ideas too:
Mistletoes Easy Christmas Footprint Craft (Great Baby's First Christmas Craft)
Air Dry Clay Christmas Ornaments
Easy Christmas Simmer Pot Recipes
100 Inspirational Family Christmas Quotes
DIY Baby Christmas Pictures Props
Want to make your photos even more special? Grab a few of these baby Christmas photo props! The ones on this list are all ones you can easily grab on Amazon, Etsy and Walmart.
Wrapped Christmas gifts: No matter what wrapping paper you choose, Christmas presents make a great prop or background item.
Christmas string lights: Christmas lights makes everything more magical. String lights, twinkle lights and fairy lights are all great options.
Christmas ornaments: You don't have to use ornaments that are just red and white! Use the ones you have, but make sure the Christmas ornament that you choose are baby safe by only using plastic ornaments that do not have hooks attached.
Christmas garland: Christmas garland is another easy Christmas photoshoot prop. It looks beautiful strung behind baby for a family Christmas picture, or in the background on the ground too.
Santa hat: How can you have a Christmas photo without a Santa hat? You can use a regular size Santa hat, or order a Santa had made just for babies too.
Letter board: If you don't already own one, you can grab a great inexpensive letter board here on Amazon. These are great for milestone photos as well as special moments like the holidays. Add baby's name and the year!
Don't forget to grab some Christmas outfits! You can find some truly adorable ones at nearly any retailer this time of the year. Check out these easy baby Christmas outfits available with fast Prime shipping on Amazon in case you need them quickly:
Keep in mind that you don't have to purchase anything need to create a truly magical DIY Christmas baby photoshoot at home, and a simple idea can be just as fun. Use the holiday décor you already are using for Christmas decorations!
A Christmas tree makes a beautiful and easy backdrop. Big candy canes are a great prop to slip into the hand of a sleeping newborn. Wrapped Christmas gifts are also something most families have on hand, and look beautiful behind your little ones in a photo. Add a soft blanket and get the entire family in on the fun with coordinating outfits or Christmas pajamas.
Create Your Own DIY Christmas Baby Photoshoot This Year
All of the ideas on this list were designed to be easily recreated at home and would all make adorable Christmas cards, too. Which of these DIY Christmas baby photoshoot ideas was your favorite? Be sure to also check out inspiration for every month here.
For best results for these baby Christmas picture ideas, be sure to have good lighting and that your baby is warm enough while shooting. These baby Christmas photo ideas are easy enough that you can snap more than one this holiday season! You can even use these as inspiration for Christmas family photos that you take at home.
If you enjoyed this article, please pin it on Pinterest or share it on social media to help inspire other families too. Wishing you a your family a very Merry Christmas!