Cheap Maternity Clothing Items Your Closet Needs
One of the most daunting things for a lot of mamas-to-be is building your maternity wardrobe, because let's face it: cute and comfy maternity clothing can be mad expensive. You don't have to spend a ton to make a big impact! Read on for the Best Cheap Maternity Clothing Items Your Closet Needs.
I completely understand the struggle of trying to justify the price of a whole new wardrobe that you'll only wear for a short period of time! Believe me, I absolutely didn't have the extra cash to drop on clothing for either of my pregnancies.
But here's something I learned as my teeny bump got bigger and bigger during my first pregnancy: just because you're in a transition period doesn't mean you don't deserve to look and feel beautiful! And when it comes to dressing the bump, having a few pieces that you love that also make you feel like a million bucks when you put them on can go a long way in how you see yourself.
So here are the best Cheap Maternity Clothing Items I absolutely recommend adding to your wardrobe if you're on a budget! These are my personal favorite tried and true pieces that you can mix and match with tons of other items so you can build your maternity wardrobe on a budget.
Note: Some links may be affiliate links. That means I may make a commission if you use my links to purchase, at no extra added cost to you! I only recommend products that I personally love and believe in. Full disclaimer here.
The Best Cheap Maternity Clothing Items Your Closet Needs
1. One Amazing Pair of Maternity Jeans
While you can try to make your current jeans last a little bit longer by using the "rubber band" trick, trust me when I tell you that finding a good pair of maternity jeans will change your life.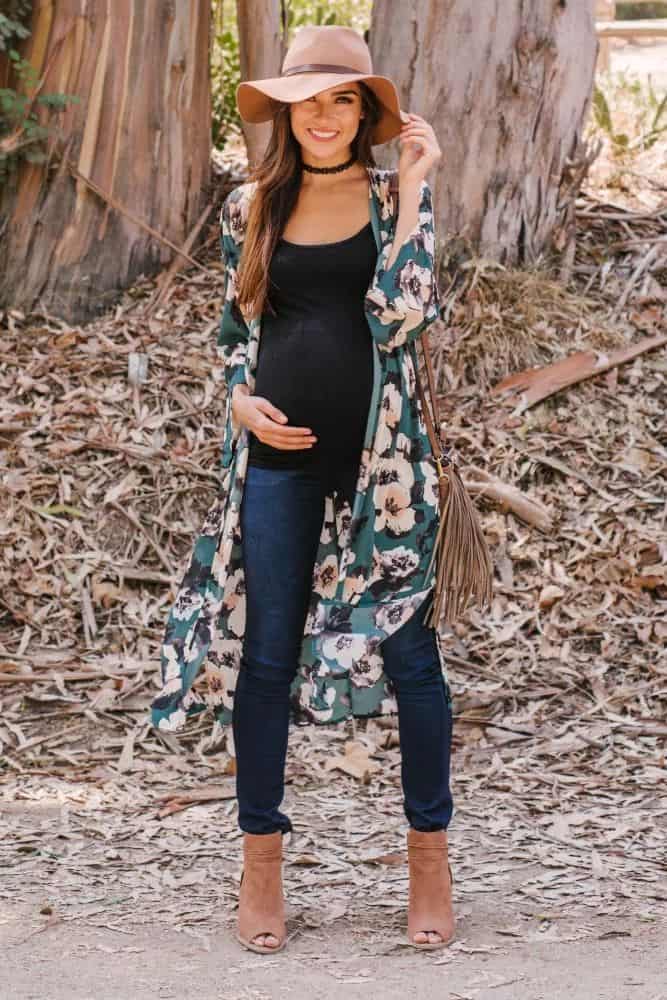 My best piece of advice here is to go try on different styles at a few stores in person. There are a few different options out there for maternity clothing (from over the belly to under), so you'll want to first figure out what kind feels the most comfortable to you! You can absolutely find cheap maternity clothing at a lot of stores.
I learned that I absolutely love the over-the-belly style of jeans that come with an attached full belly band. For my body they stayed in place so much better than the side panel options, and gave me a little bit more support as I grew too!
Check out these great (and affordable!!) options, available on Amazon:
Under the Belly Jeans: Ingrid & Isabel Women's Maternity Bootcut Denim Jeans with Side Inset Panel
Over the Belly Jeans: Motherhood Maternity Women's Maternity Indigo Blue French Terry Secret Fit Belly Denim Jegging
2. Basic Maternity Tees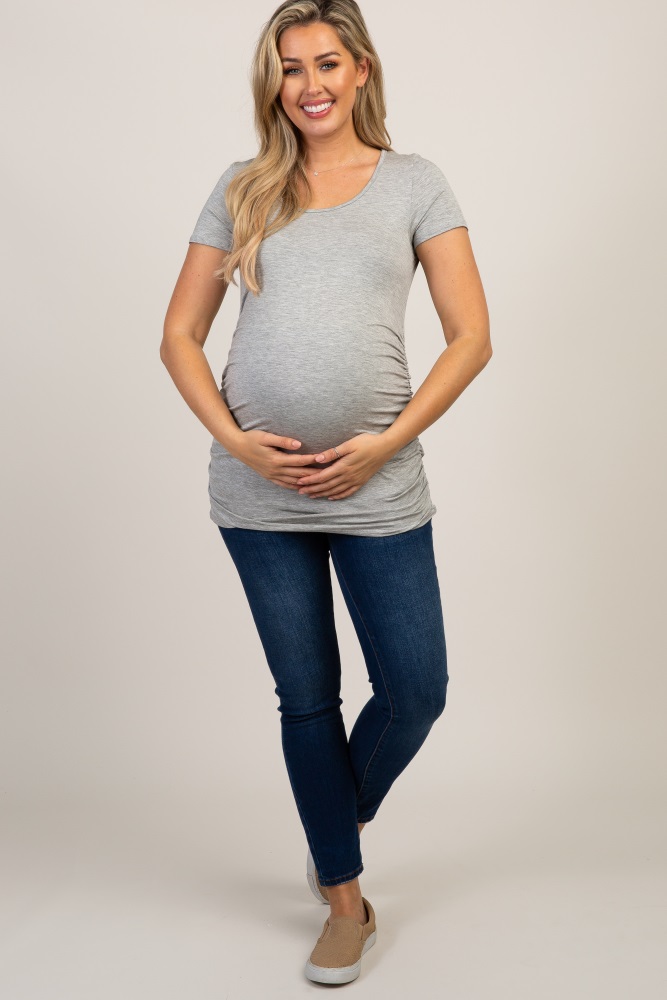 Maternity tees are an absolute must have. Not only are they flattering to your bump when worn on their own, but they are also the perfect design to pair with open front cardigans, kimonos and lightweight jackets to help create the perfect maternity outfit!
I love a good tee and jeans combo, so I snagged a few long and short sleeve options. A quality plain tee can also be worn to work under a blazer easily!
Be sure to look for ones that are slightly longer to pair easily with leggings, jeans or dress pants.
Here are a few great options:
Motherhood Maternity Women's Maternity BumpStart 2 Pack Short Sleeve Tee Shirts
Liu & Qu Womens Maternity Classic Side Ruched T-Shirt Tops Mama Pregnancy Clothes
Are you already thinking about what you'll pack to bring with you to the hospital or birthing center? I created this free printable ultimate hospital bag checklist to help!
I made this list based on my own experiences at a birth center, plus the experiences and recommendations of dozens of friends and readers who birthed in a hospital setting. This Ultimate Hospital Bag Checklist is the perfect addition to your birth preparations, and you can print it for free at home! Just enter your details below to snag yours
3. Two or Three Pairs of Maternity Leggings
A good pair of maternity leggings make such a difference, and if you love to live in comfy clothes you'll want to grab a few.
There are so many options out there! I personally prefer the over the belly style, which gives me the full belly coverage I prefer and a little bit extra support as my bump grows.
If you're pregnant during the summer I also recommend that you get yourself a pair or two of maternity capri leggings, as you'll feel even hotter than normal with that little guy growing inside of you!
Here are a few options:
PattyBoutik Mama Shaping Series Maternity Legging Yoga Pants
Ingrid & Isabel Womens Maternity Activewear – Workout Capri with Crossover Panel
4. One Great Pair of Dress Pants
Regardless of whether you work in a more traditional office environment or not, adding one pair of "dress" pants to your wardrobe is a smart idea.
Important meeting? Pair them with a boyfriend blazer, one of the solid color maternity tees you picked up, and a pair of comfy heels! Date night? They go great with a cute tank or cold shouldered top. Unexpected awards banquet? Well hi there great pair of pants I already have hanging in my closet!
These were the ones I actually bought for myself, and I loved how flattering they were for every occasion! Maternity clothing can be stylish while still being comfy. I love that these are a great cheap maternity clothing option!
You can get the same pair here: Black Secret Belly Twill Dress Pants
5. A Quality Stretchy Dress
Here's the thing no one tells you about bump style: when you realize how much that growing bump is making you happy, you want to show it off! Enter the stretchy, bump hugging dress.
The best part? There are tons of options out there that aren't even maternity dresses! These are perfect as a cheap maternity clothing option.
Here is a list of 20 awesome maternity dresses to check out: Best Maternity Dresses on Amazon
A quality stretchy dress will grow with your bump, and also be there to help you transition postpartum.
Looking for an inexpensive maternity clothing option? I actually have this one from Amazon in three different colors: JJ Perfection Women's Scoop Neck Slim Fit Sleeveless Stretchy Tank Midi Dress
Those 5 items are really all that you need for a killer maternity wardrobe on a budget!