Best Maternity Dresses on Amazon
One of my favorite things about pregnancy is the opportunity to get cute new clothes! If you're like me, you don't want to spend a ton on your maternity wardrobe. I feel you! If you are looking for cheap maternity dresses that also make you feel comfortable while still looking stunning, I swear by this list of best maternity dresses on Amazon.
I am a big fan of showing off the bump. I love curve hugging dresses and tops while pregnant, because after all: our bodies are incredible. We literally are creating a brand new human!
Maternity dresses come in so many different styles, and are such an easy item to throw on and go. I basically live in dresses when I'm pregnant because I find them way more comfortable than trying to make pants work!
There are so many styles of maternity dresses out there that are both stylish and affordable. I worked to find the best cheap maternity dresses on Amazon to help you find a dress you love that is ALSO super comfy.
Whether you're looking for a maternity dress for work or a great dress to wear every day, Amazon has a ton of options for your maternity clothing needs.
Note: Some links may be affiliate links. That means I may make a commission if you use my links to purchase, at no extra added cost to you! I only recommend products that I personally love and believe in. Full disclaimer here.
The Best Maternity Dresses on Amazon
BEST CHEAP MATERNITY DRESS
Truth: I own this dress in 3 different colors. It's so easy to wear as it's made of stretchy, breathable fabric. It also looks super cute layered under a jacket and with tights for colder weather.
SHOP>> Find the Peauty Daily Wear Maternity Dress Here
2. MATERNITY LITTLE BLACK DRESS
A little black dress is a must have no matter what, as it's so versatile. This one is stretchy and flattering. It's perfect for date night, a work event or a surprise special event!
SHOP>> Order the Glampunch Midi Bodycon Maternity Dress Here
3. SHORT SLEEVE MATERNITY DRESS
This adorable dress is highly rated for a good reason: it's so comfy! It's also super easy to dress up or down and comes in a ton of color options.
SHOP>> Get this Liu & Qu Women's Maternity Bodycon Short Sleeve Dress Here
4. SPECIAL EVENT MATERNITY DRESS
When you need to look your best for an event, you want to be sure you feel confident with your growing bump. This beautiful special event maternity dress is such a great choice, and flattering on a variety of bumps!
SHOP>> Grab the Jezero Off Shoulder Maternity Dress Here
Related: Top 5 Maternity Clothing Items Your Closet Needs
5. LONG SLEEVE MATERNITY DRESS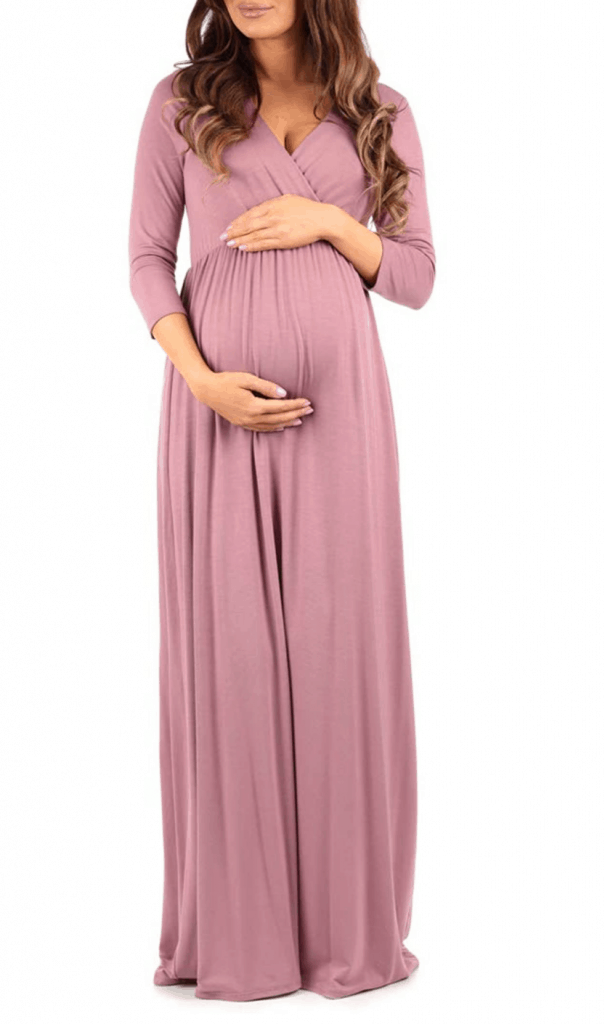 This simple and stylish maternity dress is a great staple for your maternity wardrobe. Available in more than 20 color options, this ruched long sleeve maternity dress is gorgeous.
SHOP>> Order the Mother Bee Maternity Wrapped Ruched Dress Here
6. PINK BABY SHOWER MATERNITY DRESS
If you're team girl and looking for a cute pink maternity dress for your baby shower, check out this adorable option.
SHOP>> Find the LaClef Off Shoulder Ruffle Maternity Dress Here
Free Printable Ultimate Hospital Bag Checklist
Are you already thinking about what you'll pack to bring with you to the hospital or birthing center? I created this free printable ultimate hospital bag checklist to help!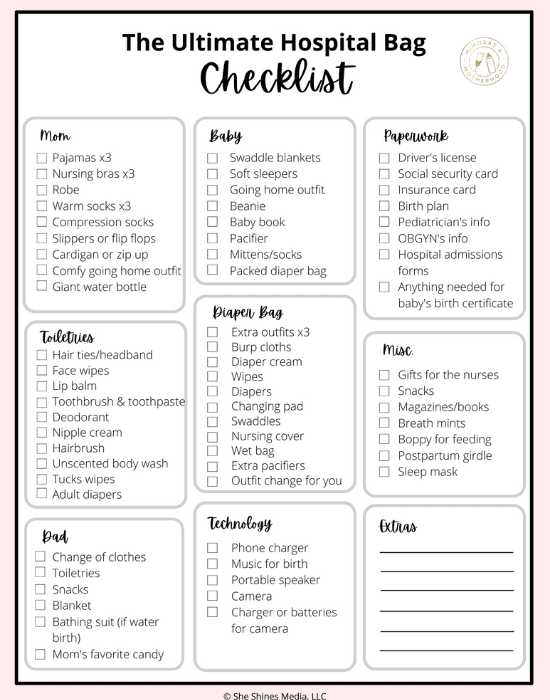 I made this list based on my own experiences at a birth center, plus the experiences and recommendations of dozens of friends and readers who birthed in a hospital setting. This Ultimate Hospital Bag Checklist is the perfect addition to your birth preparations, and you can print it for free at home! Just enter your details below to snag yours!
7. BLUE BABY SHOWER MATERNITY DRESS
This blue maternity maxi dress is perfect for future boy mamas.
SHOP>> Grab the Hello Miz Ruffle Off Shoulder Maternity Dress Here
8. FLORAL MATERNITY DRESS
Florals are such a fun choice when you're pregnant! This cute maternity dress is made of soft and stretchy material, and available in multiple colors and patterns.
SHOP>> Get the My Bump Ruffle Off-Shoulder Maternity Dress Here
9. SLEEVELESS MATERNITY DRESS
Tank style maternity dresses are amazing for summer! This sleeveless maternity dress comes in a wide variety of colors, and is so flattering on your growing bump.
SHOP>> Snag the BBHoping Sleeveless Tank Maternity Dress Here
10. PHOTOSHOOT MATERNITY DRESS
This floor length dress is prefect for your maternity photoshoot!
SHOP>> Order this Ecavus Off Shoulder V-Neck Maternity Gown Here
Related: The Best Maternity Clothes on Amazon
11. CASUAL MATERNITY DRESS
You can wear this maternity dress anytime and anywhere. How cute are those stripes?? This is one of the best cheap Amazon maternity dresses I've found.
SHOP>> Snag the BBHoping Women's Casual Striped Maternity Dress Here
12. HIGH LOW MATERNITY DRESS
This 3/4 sleeve wrap dress is such a fun addition to your closet. The high low style makes it perfect for work or a date night, and this dress comes in more than 20 color options!
SHOP>> Order the Hello Miz High Low Maternity Dress Here
13. MATERNITY DRESS FOR WORK
Stylish and comfortable, this simple maternity dress for work will help you still feel pulled together even on days when you feel like a hot mess.
SHOP>> Grab the Mother Bee Maternity Knee Length Wrap Dress Here
14. MAXI MATERNITY DRESS
Maxi dresses are such a great option for pregnancy… because you don't have to stress about shaving! Maxis are one of the best maternity dresses on Amazon; there are so many options!
SHOP>> Order this Maternity Maxi Dress Here
15. BEACH/SUMMER MATERNITY DRESS
If no one has told you: summer while you're pregnant can be rough, but that doesn't mean you need to stay trapped in the house. This cute summer maternity dress is perfect for beating the heat while still looking cute.
SHOP>> Order the Beachcoco Spaghetti Strap Maternity Dress Here
Related: The 5 Things You Must Have for a Fast Postpartum Recovery
16. FORMAL MATERNITY DRESS
Searching for a beautiful and still comfortable formal maternity dress? You found it!
SHOP>> Order the Hello Miz Formal Maternity Dress Here
18. WEDDING GUEST MATERNITY DRESS
This dress is so incredibly flattering and comes in a wide variety of colors, making it a great option for that wedding you're headed to.
SHOP>> Find the My Bump Maternity Midi Mermaid Dress Here
19. LACE MATERNITY DRESS
This beautiful dress has lightweight lace, comes in a bunch of colors and is perfect for a special occasion.
SHOP>> Order this Hello Miz Lace Maternity Dress Here
20. MATERNITY DRESS FOR FALL/WINTER
This great long sleeve option is perfect for the colder months and comes in a ton of great colors.
SHOP>> Find the Liu & Qu Women's Maternity Long Sleeve Bodycon Dress Here
I gotta know: which of these is your favorite? Be sure to pin this list of Best Maternity Dresses on Amazon for later!