Trying to find the right words this holiday season? This collection of inspirational Christmas family quotes will help inspire you as you get into the Christmas spirit!
It's hard not to love Christmas time. It's such a special time of year filled with special family Christmas traditions. My favorite family Christmas activities always involve spending time with friends, family and other loved ones!
The holiday season has become even more special to me since becoming a mom. It's so incredible to experience the magic of Christmas through my own children's eyes!
If you're looking for a way to help this Christmas feel even more special, check out this collection of inspirational Christmas quotes for family moments. I love using these as toasts, writing them in Christmas cards or on Christmas gift cards, or using them as special holiday greetings for other occasions during this season too.
Many of these quotes about Christmas also make cute Christmas captions for holiday photos you're uploading to social media, or incorporated into handmade Christmas gifts (or just sharing while sipping hot chocolate and eating Chocolate Crinkle Cookies while watching How the Grinch Stole Christmas).
If you use any of these images for social media, please be sure you link back to this page to give us credit (and help your friends find the perfect Christmas quotes for families too).
Note: Some links may be affiliate links. That means I may make a commission if you use my links to purchase, at no extra added cost to you! I only recommend products that I personally love and believe in Full disclaimer here.
You might also enjoy these Christmas articles:
Easy Christmas Simmer Pot Recipes
Mistletoes Easy Christmas Footprint Craft (Great Baby's First Christmas Craft)
Reverse Advent Calendar (Start December 1!)
100+ Inspirational Christmas Quotes for Families
To help you get into the Christmas spirit, check out this list of over 100 Christmas family quotes! I've broken them into a few sections to make it easy for you to find the perfect quotes about Christmas for your own celebration:
Christmas Quotes for Family Gatherings
Inspirational Christmas Card Sayings
Short Christmas Quotes
"I'm not sure who enjoys Christmas more: my children or me!"
"The joy of Christmas is family."
"The basic ingredients to a merry Christmas are the gifts of time and love."
"The best way to see Christmas is through the eyes of a child."
"The true joy of Christmas is family."
'The best thing about Christmas is family!'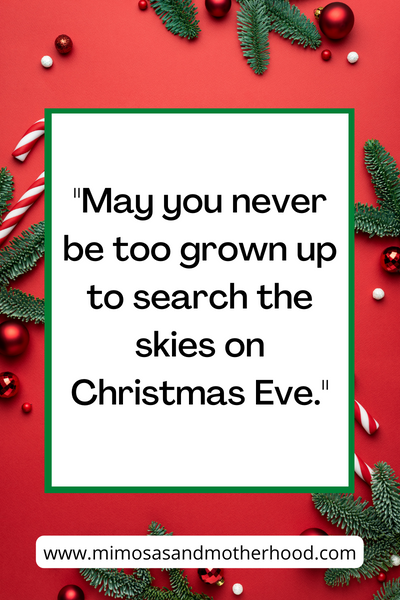 "The true spirit of Christmas lies in your heart."
"The best way to spread Christmas cheer is singing loud for all to hear."
"Christmas is the time to say I love you."
"May you never be too grown up to search the skies on Christmas Eve."
"Christmas isn't just a day, it's a state of mind."
Christmas Quotes for Family Gatherings
Giving a toast this Christmas season during a holiday gathering? Check out this list of inspirational Christmas quotes for family events that are sure to impress your family members.
"Holidays with young kids isn't about the holiday: it's about making memories."
"The only mess in my house I find absolutely glorious is the mess created in the living room on Christmas day. "
"Wherever my family may be, there Christmas will always be."
"It's not what's under the Christmas tree that matters; it's my family and loved ones gathered around it that counts."
"I used to think being a kid on Christmas was the best thing ever. Turns out, being a parent on Christmas is."
"As you grow older your Christmas list gets shorter, because the things you want can't be brought."
"At Christmas, all roads lead home to family, friends and loved ones."
"The best gift that one could wish for underneath the Christmas tree, is the presence of a happy family all wrapped up in each other."
Famous Christmas Quotes
This collection of famous Christmas quotes are sure to inspire you this holiday season. Some of these will be very familiar to you, while others might be brand new! Either way, let these inspirational Christmas quotes help you find the right words.
"Christmas is like candy; it slowly melts in your mouth sweetening every taste bud, making you wish it could last forever." – Richelle E. Goodrich
"And that, of course, is the message of Christmas. We are never alone. Not when the night is darkest, the wind coldest, the world seemingly most indifferent." – Taylor Caldwell
"The best of all gifts around any Christmas tree: the presence of a happy family all wrapped up in each other." – Burton Hills
"Christmas is a piece of one's home that one carries in one's heart." – Freya Stark
"Christmas doesn't come from a store. Maybe Christmas perhaps means a little bit more." – Dr. Seuss
"Christmas is not as much about opening our presents as opening our hearts." –Janice Maeditere
"My idea of Christmas, whether old-fashioned or modern, is very simple: loving others." – Bob Hope
"Christmas will always be as long as we stand heart to heart and hand in hand." – Dr. Seuss
"Blessed is the season which engages the whole world in a conspiracy of love!" – Hamilton Wright Mabie
"Nothing ever seems too bad, too hard, or too sad when you've got a Christmas tree in the living room." – Nora Roberts
"Good news from heaven the angels bring, glad tidings to the earth they sing: To us this day a child is given, to crown us with the joy of heaven." —Martin Luther
"Some Christmas tree ornaments do more than glitter and glow, they represent a gift of love given a long time ago." – Tom Baker
"Christmas is not just a time for festivity and merry making. It is more than that. It is a time for the contemplation of eternal things. The Christmas spirit is a spirit of giving and forgiving." – J.C. Penney
"As for me, I like to take my Christmas a little at a time, all through the year." – David Grayson
"Christmas gives us an opportunity to pause and reflect on the important things around us." – David Cameron
"I will honor Christmas in my heart, and try to keep it all the year." – Charles Dickens
"Christmas is the happiness that lights our children's eyes. Christmas is a song of bells ringing through the skies. Christmas is a time of peace, of contentment deep within, a time of love and silent hope that years will never dim." — Sherrill Thompson
"Christmas is a necessity. There has to be at least one day of the year to remind us that we're here for something else besides ourselves." – Eric Severeid
"Christmas is not about the lights, not about the presents, not about the food, but about being there for others, being a friend, loving someone whether they are family or not." – S.E. Smith
"Christmas is a season for kindling the fire for hospitality in the hall, the genial flame of charity in the heart." – Washington Irving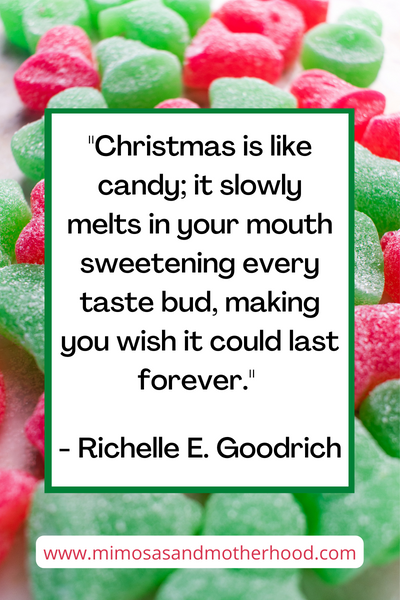 Inspirational Christmas Card Sayings
Not sure what to write in a Christmas card? This list of Christmas card messages and greetings is a great place to start as you find the right words.
"Christmas brings family and friends together. It helps us to appreciate the love in our lives that we often take for granted. May the true meaning of the holiday season fill your heart and home with many blessings."
"Not even Santa Claus could bring a better friend. Merry Christmas!"
"Christmas reminds us to pause and reflect on the important things around us like family and friends. I'm grateful that you remain one of the most important things my life. Merry Christmas."
"While we might be apart this holiday, next Christmas I hope that we can again hug each other tight and celebrate this season together. Merry Christmas!"
"When I count my Christmas blessings, you're at the top of the list! Happy Christmas to someone I hold so dear."
"I hope yule have a very merry holiday. Seasons greetings!"
"Wishing you and your family peace, health and happiness. Happy holidays!"
"May your Christmas be blessed with lots of love, happiness and fun."
"Wishing you a Christmas filled with good memories, delicious food and wonderful moments."
"May you and your family have a wonderful holiday season full of beautiful memories and lots of fun."
"May the spirit of Christmas bring you and your family blessing this year. Merry Christmas and Happy New Year."
"Warmest wishes for you this holiday season, and hope for a wonderful New Year too."
Sweet Family Christmas Quotes
I hope this collection of inspirational family Christmas quotes helped to inspire you as you searched for the perfect way to wish your family holidays wishes this year. Which was your favorite?
These Christmas messages are perfect for remembering the true meaning of Christmas while celebrating your holiday gathering, to share while singing a Christmas carol, or even just reminiscing Christmas memories of past Christmas holidays.
If you're searching for a few more ways to make Christmas extra special this year for your family, don't miss 35 Easy Christmas Cookie Exchange Recipes, The Best Christmas Books for Babies and Toddlers and How to Make a Paper Chain Advent Calendar.
If you enjoyed this article, please share it on social media or pin it on Pinterest. Best wishes for a wonderful Christmas for you and your family!