Easy St. Patrick's Day Crafts for Toddlers and Preschoolers
There are so many cute crafts for kids these days when it comes to holidays! With two toddlers in our house, I'm always looking for easy crafts I can do with them. I couldn't resist rounding up some of my favorite easy St. Patrick's Day crafts for toddlers and preschoolers to share with all of you!
St. Patrick's Day is such a fun holiday to celebrate with the kids! My boys love all of the green, the fun hats, and of course the silly leprechauns.
Our family loves making seasonal crafts this time of year (like this list for Valentine's Day and this collection of cute ones for spring), and can you blame us? Crafts are such a fun way to spend time together for kids of all ages.
I've listed some of the best easy St. Patrick's Day crafts for toddlers and preschoolers that I found on my search this year. Just click the link to get the instructions on how to make each of them.
I hope you enjoy this list, and please share these easy St. Paddy's crafts with your friends too!
Note: Some links may be affiliate links. That means I may make a commission if you use my links to purchase, at no extra added cost to you! I only recommend products that I personally love and believe in. Full disclaimer here.
Easy St. Patrick's Day Crafts for Toddlers and Preschoolers
Read on for some fun st. patrick's day crafts to do with your little leprechauns this year! Creating these crafts with the whole family also gives you a great opportunity to talk about how you celebrated St. Paddy's growing up, as well as any Irish heritage you might have.
Craft Stick Leprechaun Hat
This craft stick leprechaun hat is an easy craft for kids to make while you teach them about Irish culture and why we celebrate St. Patrick's Day! All you need are some craft sticks, a little green paint, glue and construction paper.
St. Patrick's Day Sensory Bottle
Get out your green and gold craft supplies! Create this fun St. Patrick's Day sensory bottle for toddlers!
Stained Glass Rainbow Suncatcher
Rainbow crafts are so much fun! A stained glass rainbow suncatcher is a simple and fun craft for toddlers and preschoolers to celebrate St. Patrick's Day and the beginning of spring! All you need is some tissue paper and construction paper for a crafty morning with this one.
From MomBrite
St. Patrick's Day Coloring Pages
Download and print these free Printable St Patricks Day coloring pages for kids. This set of 20 printable St. Patricks Day coloring pages features shamrocks, rainbows, pots of gold, leprechauns, 4-leaf clovers and more!
From Mimosas & Motherhood
St. Patrick's Day Printable Hats
It doesn't get much more easy than a printable when it comes to easy St. Patrick's day crafts for toddlers!
Four printable headbands are perfect for a celebration of St. Patrick's Day! Patterns include a leprechaun hat, a rainbow, four leaf clover, and more. Print in black and white, color, and wear!
Edible St. Patrick's Day Jello Playdough Recipe
This edible St. Patrick's Day Jello playdough is not only fun to play with, but tasty as well. Your kids will love cutting out shamrocks and eating their tasty creations.
How to Create a Foaming Rainbow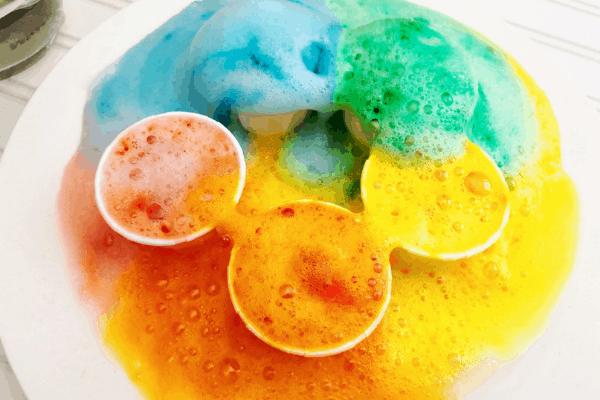 Need a new sensory play in this cold weather? This foaming rainbow is sure to add color to dreary winter days. Here is how to create a foaming rainbow.
St. Patricks Day Color By Number Worksheets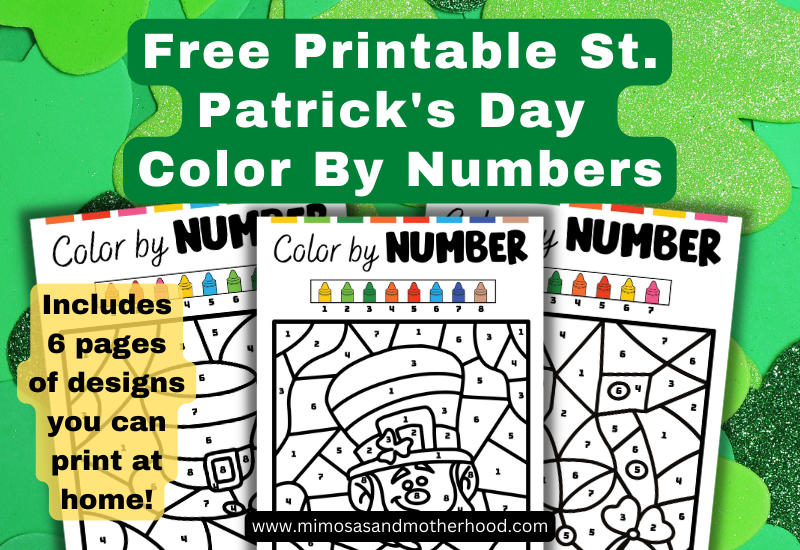 Grab this set of 6 color coded worksheets for all skill levels!
Get the worksheets from Mimosas & Motherhood
St. Patrick's Day Scavenger Hunt for Kids (with Free Printable)
Looking for a simple craft? Use this free printable scavenger hunt for St. Patrick's Day! Hide the clues, then enjoy the show as kids run around to find their secret treasure!
Leprechaun Snow St. Patrick's Sensory Activity
This cute St. Patrick's day craft is perfect for little hands to dive into. Make the best sensory bin your child will see this St. Patrick's Day, Leprechaun Snow! Super easy and fun, plus get the science of how this 'snow' is actually cold! It uses at home ingredients, too!
Related: The 10 Best Montessori Toys on Amazon
How to Make a Leprechaun Hat Headband (Free printable)
Bring on the shamrock hat crafts! Kids can make their own Leprechaun Hat Headband to wear for St. Patrick's Day! Grab the free printable to make this super easy craft.
Easy Green Salt Dough Shamrocks
Looking for an easy shamrock craft to do with the kids? Then these salt dough shamrocks are ideal. Whether you choose to use them for decorating a seasonal tree or even as a coaster for your St Patrick's Day Party they are so easy to make. This is a great craft idea for little kids!
Paper Plate Tambourine for St Patrick's Day
These Paper Plate Tambourines are fabulous DIY Shaker Toys and make a great simple and super cute St Patrick's Day Craft for 2 and 3 year olds. I love how easy it is to customize, with either a shamrock or paper plate rainbow. Plus, how fun is it to incorporate those gold coins?
How to Grow a Rainbow
Did you know that you can grow a rainbow at home? You certainly can! All you need are some paper towels and markers. What will you find at the end of the rainbow?
Pot of Gold Paper Lacing Craft
Our Pot of Gold paper plate lacing craft is a great way to work on honing those fine-motor skills, and who doesn't love a rainbow too!?
Edible Gummy Bear Slime
An exciting edible gummy bear slime recipe that's squishy and stretchy…yes, it's really made with gummy bears!
Puzzle Piece Shamrock Wreath
Add a lucky touch to your St. Patty's Day decor with this super cute DIY Shamrock Wreath! All you need is a dollar store puzzle, a recycled cardboard box, and simple art supplies!
Young children will love helping to paint the pieces with different shades of green paint, and older kids will enjoy the freedom of gluing them on however they would like, too. This fun activity is also perfect for decorating the front doo.
More Easy Craft Ideas
20 Easy Valentine's Day Crafts for Toddlers
Simple & Easy Spring Crafts for Toddlers
How to Dye Rice for a Sensory Bin
Easy St. Patricks' Day Crafts for Your Little Leprechauns
I hope you loved this list of Easy St. Patrick's Day Crafts for Toddlers and Preschoolers! Which one is your favorite? Would love to hear which ones you plan on trying this year too!
Remember if you try any of these easy st. patrick's day crafts to tag me on Instagram @simply.siobhan and using the hashtag #mimosasandmotherhood. I love to see what ya'll create!