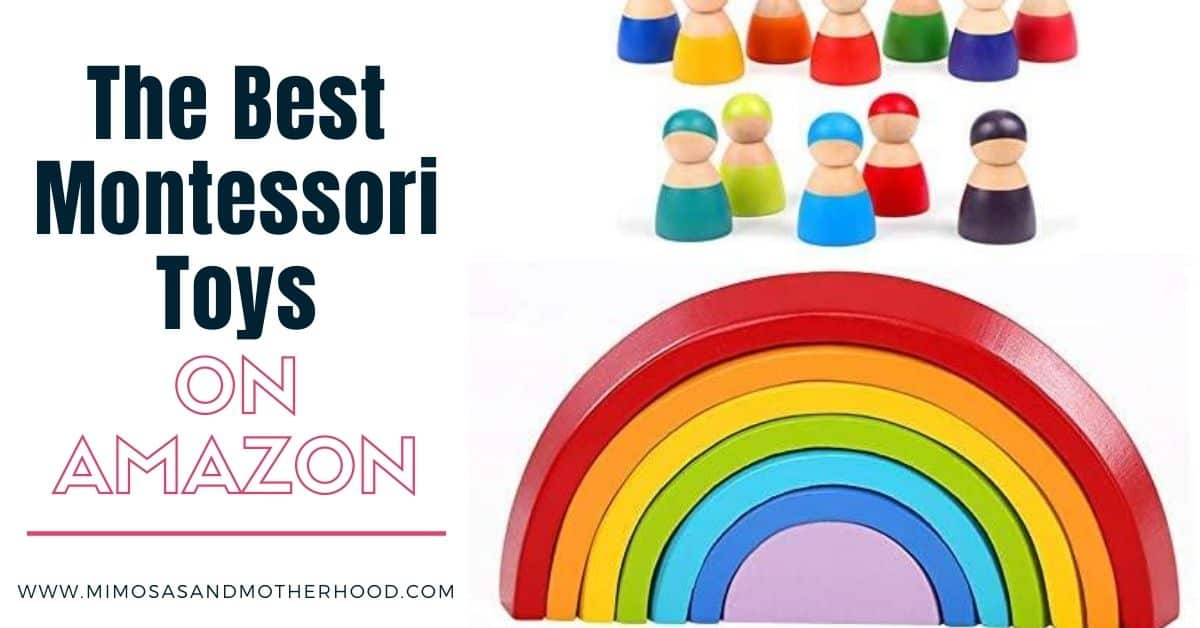 The Montessori approach to education focuses on simplicity. That includes when it comes to toys! If you're searching for beautiful, simple and well-made toys that will stimulate your little learner, you don't have to spend a bundle. You can find all of these Montessori toys on Amazon!
Our kids crave simplicity. Playrooms that are cluttered and full of noisy, blinking toys can be overstimulating. I know if you're like me, you know how easy it is to add more toys and just stuff what you have into the toy box. All of a sudden it feels like the toys are bursting out of every room!
Quality and quantity of toys matter when it comes to the Montessori approach to learning. By being mindful in the types of toys you give your kids, you can help set them up for success!
This list of toys are some of the best Montessori toys on Amazon (and most are available with Amazon Prime). Read on for the perfect additions to bring beauty and simplicity to your child's play area.
Note: Some links may be affiliate links. That means I may make a commission if you use my links to purchase, at no extra added cost to you! I only recommend products that I personally love and believe in. Full disclaimer here.
The 10 Best Montessori Toys on Amazon
1. Montessori Phonetic Reading Blocks
These hands on letter blocks are perfect for early learners. Twist a block and easily create different rhyming words, allowing your child to blend sounds into words.
SHOP>> Get these classic letter blocks here.
2. Sandpaper Letter Card Set
If you're not familiar with these, sandpaper letter cards allow your child to trace each letter with his finger for extra sensory stimulation. Your little one will be so excited to work with these cards and learn his letters, as they "feel cool" each time!
SHOP>> Find these sandpaper letter cards here.
3. Life Skills Fine Motor Boards (aka "Busy Board")
One thing I truly love about the Montessori approach is the focus on promoting life skills and independence from an early age. This colorful fine motor board (or busy board) will help your little one learn multiple fine motor skills involved in dressing himself, encouraging independence and confidence!
SHOP>> Grab this toddler busy board here.
4. Wooden Rainbow Stacking Set
Great for developing early education, color recognition, counting and hand-eye coordination, this colorful set also sparks creativity and imagination.
SHOP>> Order the wooden rainbow stacking set here.
5. Rainbow Counting Bears and Cups
This classic counting set comes with rainbow colored sorted cups and matching bears, and is perfect for teaching colors and numbers!
SHOP>> Grab the Montessori counting bear set here
6. Wooden Geometric Puzzles
Many Montessori toys are meant to grow with your child, and these wooden puzzles are no exception. Your little learner can learn basic shapes now, and practice math with them later!
SHOP>> Check out these beautiful wooden geometric puzzles here!
7. Jumbo Wooden ABC Lacing Beads
These jumbo wooden classic ABC lacing beads allow your child to match by color, make up words, stack the letters and more.
SHOP>> Find these colorful lacing beads here.
8. Melissa & Doug Dust, Sweep, Mop Play Set
True story: my 2 year old is OBSESSED with this play set, and he loves to help clean up using it! This great and simple cleaning set helps teach your little one about cleaning up after himself, building independence and a sense of personal responsibility.
SHOP>> Order your cleaning set here.
9. Wooden Music Set
Kids instinctively love music, and creating their own helps to stimulate learning in new and fun ways. Musical instruments are also fantastic for family time when you have "band practice." By spending time together, your little learner develops collaborative and problem solving skills, making them a confident, valuable team player as they progress in life.
SHOP>> Find this great musical instrument set here.
10. Wooden Sensory Bin Tools
These wooden tools are the perfect size for little hands and are perfect for your sensory bin play and exploration.
SHOP>> Order this set of sensory bin tools here.
These are some of my favorite finds and the best Montessori toys you can find on Amazon! Which one does your little learner love the most?