9 of the Best Montessori Toys for a 6 Month Old Baby
Did you know that a baby's brain doubles in size in the first year?? Children naturally learn so much through play. Montessori toys are some of the best options for helping even the littlest learner develop a curious mind. Check out this list for some the best Montessori toys for a 6 month old!
What Is the Montessori Method?
The Montessori Method encourages children to learn by exploring the world around them. Play is an incredibly important part of that exploration! It lets them develop their imagination, learn more about their surroundings and make sense of the world around them.
This comes directly from the American Montessori Society:
"The Montessori Method of education, developed by Dr. Maria Montessori, is a child-centered educational approach based on scientific observations of children from birth to adulthood.
It is an approach that values the human spirit and the development of the whole child—physical, social, emotional, cognitive…The child, through individual choice, makes use of what the environment offers to develop himself, interacting with the teacher when support and/or guidance is needed."
Note: Some links may be affiliate links. That means I may make a commission if you use my links to purchase, at no extra added cost to you! I only recommend products that I personally love and believe in. Full disclaimer here.
What is a Montessori Toy?
A toy is considered Montessori-friendly if it supports the same educational philosophies as the Montessori approach. At their most basic, a Montessori toy is simple.
When children are surrounded by toys with too many noises, colors and parts, they might feel overwhelmed.
Montessori toys should be ones that stimulates learning by encouraging children to experiment. The toy should give them the opportunity to use their creativity and play independently at their own pace.
It should also be a toy they can hold and touch, to assist in developing fine motor skills.
Montessori toys are also encouraged to be made from natural materials whenever possible. Natural materials like wood and metal provide a variety of textures and sensations when being held. They also have an interesting "taste" for baby when he sticks them in his mouth (which you know he will!).
To help you discover toys that will help your 6 month old baby learn and blossom, I've put together a list of the 9 best Montessori toys for 6 month olds!
Best Montessori Toys for 6-Month-Olds
When choosing toys for our babies, I've always prefered the less-is-more Montessori approach. As a family we gravitate towards giving our boys fewer, more high-quality toys. Clutter can be overwhelming, not only for us as parents trying to keep up with the mess, but also for our children!
I like to look for toys that have a purpose and that can grow along with them (versus needing to buy new toys every few months).
These are some of the best Montessori toys for 6 month old babies that will encourage play and exploration as they grow. I've included some of my own children's favorites, as well as a few amazing options we didn't get to try!
Sensory Balls
These textured multi-sensory balls are by far my youngest child's favorite toy! When he first got them he was fascinated by the bright colors and different textures. Each of these balls has a fun, textured surface that your baby will love to touch, taste and explore.
As he grew, he loved that these sensory balls were easy to grasp and throw!
Here are a few other similar options too.
Stacking Cups
We have a few different sets of stacking cups in different shapes and colors. This set is a beautiful neutral option, while the plastic one pictured above is a great purchase to use in the bath or in an outdoor sensory table! That's actually the exact set we have in our home too, and it's held up super well through two little guys.
Stacking cups are truly one of the best Montessori toys for 6 month old babies and beyond. Your growing little one will love using these for different types of pretend play as they grow!
Here are a few other great stacking cup options to check out.
Sensory Rattle and Teether Toys
I love this multisensory, geometric wooden teether and rattle! It's lightweight and easy for little ones to clutch, and the beads make a fun noise when shaken.
Babies can also flatten it, and it will pop back to its original shape (which they will love).
The multi-award-winning, signature design was also named one of the Best 25 Toys of the last 25 Years by Parents Choice.
Here are some other sensory rattles and teethers to also check out.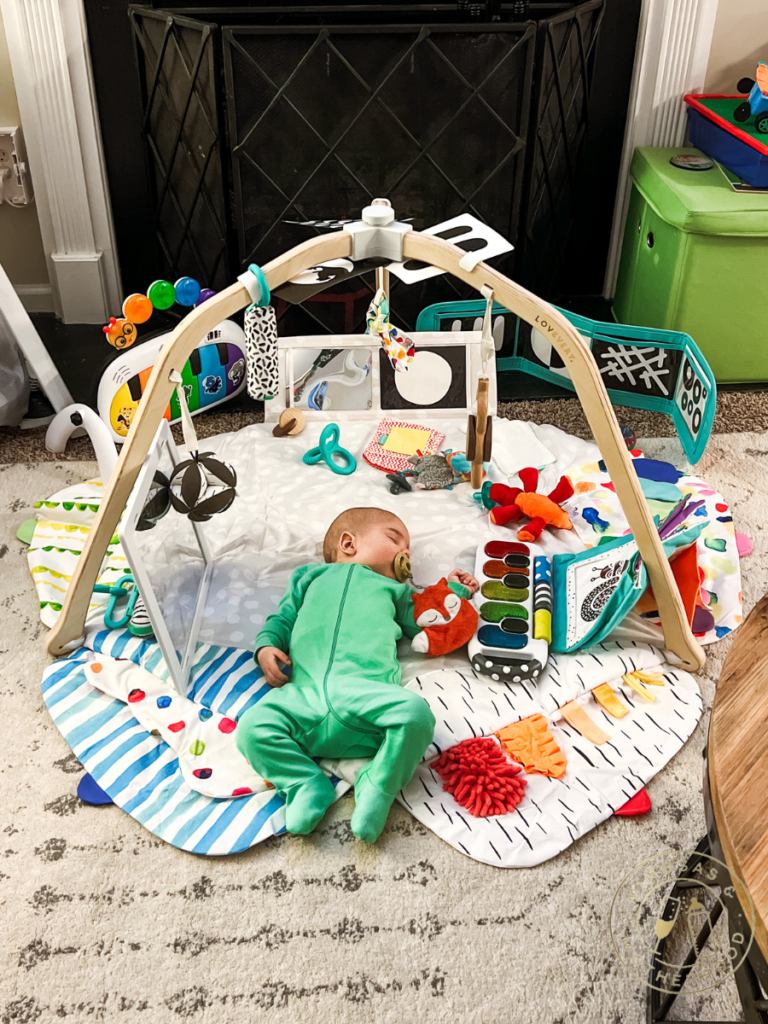 Lovevery Play Gym
Designed to grow with your child from newborn to toddler, the award-winning Lovevery Play Gym is a play mat that provides stage-based activities that engage your baby throughout their first year, from 0-12 months. It has 5 Developmental Zones (or play areas) with activities that foster exploration and growth through fun textures, contrasting bright colors and sounds.
It's a beautiful, colorful and clean design. The Play Gym is OEKO-TEX® STANDARD 100 certified and tested to be baby safe. The Lovevery Play Gym is available here directly from Lovevery, and is also available at Amazon and Target.
Bead Mover
Look familiar? This is one of those oldie but a goodie toys that so many of us remember from our own childhoods!
This bead mover is a great toy to help your baby develop fine motor skills as he moves the beads, and remains one of the best Montessori toys for a 6 month old.
These are such a great addition to your baby's toy box. Here's another one to look at.
Basic Blocks
Babies and toddlers can never seem to have enough blocks! My boys are both over 1 now, and we have multiple different sets of blocks in our house.
This set is a great option for babies, and one that will grow with them. My boys loved the texture, colors and pictures on them when they were very small. Now, they love to use them along with other block sets to build castles and towers!
Take a look at this geometric option! If you're looking for other options, this one is soft and great for chewing, while this set is more creative and will be good for building as they grow!
Rainbow Stacker
There's a reason this rainbow stacker is the favorite of so many parents: it offers so many opportunities for imaginative play, and is a toy that can grow with your child for years to come.
At 6 months old your baby will be fascinated with the colors and the way the layers fit together. As he grows, this rainbow stacker is a fantastic toy for color identification, building and pretend play.
Here are a few other rainbow stacker options!
Wooden Stacking Toys
While baby might be a little too young to stack these right now, this is the perfect age to add a stacking toy to the mix. They introduce your child to concepts like size, shape and sorting, and are a wonderful toy that will continue to grow with them.
This bright, colorful wooden rainbow stacker works for babies and right through to the toddler years.
Here is another wonderful stacking tower option too.
Musical Instrument Toys
Musical toys are super fun for babies, even though they are too young to really "play." They can, however, shake and bang to their heart's content, and musical toys also teach about cause and effect.
I love this set that includes easy to grasp instruments for baby, like the maracas! Here are some other sets of musical instrument toys that will make a wonderful addition to your home too:
Books
Your children can never, ever EVER have enough books! Your baby gets so many benefits from being read to, and books will always be a wonderful way for them to learn.
I prefer to give my children both board books, which are easier for their fingers to turn, and "real" books with paper pages. The Montessori method recommends choosing children's books for babies and toddlers that are based in reality, include interesting details and are appropriate for their age.
At this age you might find that your child just wants to grab the pages of the book as you read. Gently guide their hands back to their lap when this happens.
Try to engage their attention instead with your voice and by pointing out fun things on the pages. If they keep trying to tear the book, just put it away for another time.
I recommend choosing books that you yourself will enjoy reading to your little one, because let's be honest: you'll be the one who's most engaged at this stage! Here are some great ones to start with.
Related: The 10 Best Montessori Toys on Amazon
Montessori toys are great for babies 6 months old and up!
Play is a vital part of your child learning, growing and developing, and Montessori toys are a wonderful way for even babies to begin learning through play! Nurture your child's visual skills, motor development, concentration, physical coordination, body awareness, and strength right from birth. These toys can help to better prepare your baby for a lifetime of learning.
I hope you enjoyed this round up of some of the best Montessori toys for 6 month old babies. What is your favorite toy on this list? Which Montessori toys do your own children enjoy the most? I'd love to hear from you!