Update for 2021: Searching for the best baby registry out there? There are so many baby registry options out there, so how do you know which is the best baby registry for you? The best baby registry for one person might not be the best for another, so it can be tricky to figure out which one (or two!) to choose. Read on for my breakdown of the best baby registries out there so you can choose the right one for you!
I remember feeling slightly overwhelmed by baby registry options when I was trying to choose a registry for my first baby. What are the pros and cons of each baby registry? What about the benefits or completion discounts, or ease of registering? And of course: who has the best welcome box?? (DUH!)
If you're feeling a little overwhelmed and lost too, don't stress! There are some easy things to focus on that will help you as you choose the baby registry that's best for you.
How to Choose the Best Baby Registry for You
When it comes to making a decision about a baby registry, take a look at some of the popular perks that the major registries out there offer:
Welcome Gift/Free Samples: Who doesn't love free things?? Many retailers will send you a welcome gift box filled with free samples, coupons and products when you sign up for their registry.
Completion Discount: Many registries offer a limited-time discount that can be used after a certain date to purchase any items you still want that you didn't receive as a gift. While some registries only offer a single-use coupon code, others will let you use a discount for a certain period of time.
Extended Return Periods: One of the perks for having a baby registry on some sites is the ability to return items much later than their normal return window. This means that you have the ability to find out what works best for your baby and return what doesn't for store credit, even if you were gifted them before your baby was born!
Group Gifting: The ability to have multiple friends and family members contribute any amount they wish towards pricier baby registry items is a perk more and more baby registries are offering.
When it comes to deciding where to register for your new baby, I also recommend thinking about the types of baby gear, clothing, and more that you'll need. If you have your heart set on a certain stroller system that's only sold at certain retailers, keep that in mind!
Read on for a comparison of all of the major baby registries out there for 2021 and find out what the best baby registry is for you!
What's the Best Baby Registry?
Note: Some links may be affiliate links. That means I may make a commission if you use my links to purchase, at no extra added cost to you! I only recommend products that I personally love and believe in. Full disclaimer here.
Amazon Baby Registry
As a mom of two, Amazon has been my favorite baby registry with both of my pregnancies for a few different reasons.
Amazon is incredibly easy when it comes to gifting for friends and family, because the majority of them are already familiar with the platform. They likely already have their own Amazon accounts and can easily buy gifts off your list. Making shopping easy for them also means it makes it easy for them to purchase the dream items on your list!
Amazon makes returns incredibly simple and offers an extended return window, and also has a universal registry option that allows you to add items from any website to your registry!
Amazon also offers group gifting, which allows your friends and family to contribute any amount they would like to specific registry items. Plus, there are always tons of reviews for the products you're thinking of adding to your registry, which really helped me make choices.
Amazon Baby Registry Features:
Welcome Box: Once you create your registry and someone makes a qualified purchase off of it (which can also be you making a purchase!), Amazon sends one to Prime members. The Amazon welcome box is fantastic and was the best one we received. It includes full size baby items, which in the past has included organic swaddle blankets, onesies, bandana bibs and more, along with trial size baby care products and coupons.
Completion Discount: 10% off everything left on your registry or 15% if you're an Amazon Prime member (which you can try for free here). The discount starts 60 days before your due date and ends 60 after it. You can apply the discount towards a one-time purchase of up to $2,000!
Shipping: Free shipping on orders over $49, and of course free two-day shipping for Amazon Prime members (try a free Prime membership here).
Return Policy: You can return any item purchased through your baby registry up to 90 days after your due date. The gift giver will never find out about the return, and you'll receive an Amazon credit for a future purchase!
Group Gifting: Yes
Universal Registry Option: Yes, through a toolbar extension that allows you to add items from any website to your baby registry.
Register for an Amazon Baby Registry Here
---
Target Baby Registry
Am I the only one who gets total retail therapy through Target?? Target has everything a baby registry needs, with the convenience of being, well, Target. Additionally, Target is now offering the ability for group gifting for big ticket items.
It's easy to complete your registry in store, online or utilizing a combination of both. Target also has a super simple return process for registry items, even if you lose your receipt, by simply looking up your registry account. You can also add items to your registry through the Target app.
Another perk when it comes to gifting is the incredibly number of Target locations, which means the odds are not only that there's one near you, but one near your friends and family.
Target Baby Registry Features:
Welcome Box: Target also has a fantastic welcome box that you can either pick up in store at Guest Services or have shipped to you. It includes $80 worth of full size baby items, sample sizes of baby products, and great Target coupons.
Completion Discount: Target offers two separate 15% off competition discounts, good for everything left on your registry. One is good for an in-store Target purchase, and the other is a promotion code for Target.com.
Shipping: Free shipping with a Target REDcard or if you spend over $35. You can also choose free ship to store for many items!
Return Policy: Target has one of the best baby registry return policies: you can return items purchased from your registry for up to a year after your due date (as long as they are new and unused in unopen, original packaging).
Group Gifting: Yes
Universal Registry Option: Yes
Register for a Target Baby Registry Here
Free Printable Ultimate Hospital Bag Checklist
Are you already thinking about what you'll pack to bring with you to the hospital or birthing center? I created this free printable ultimate hospital bag checklist to help!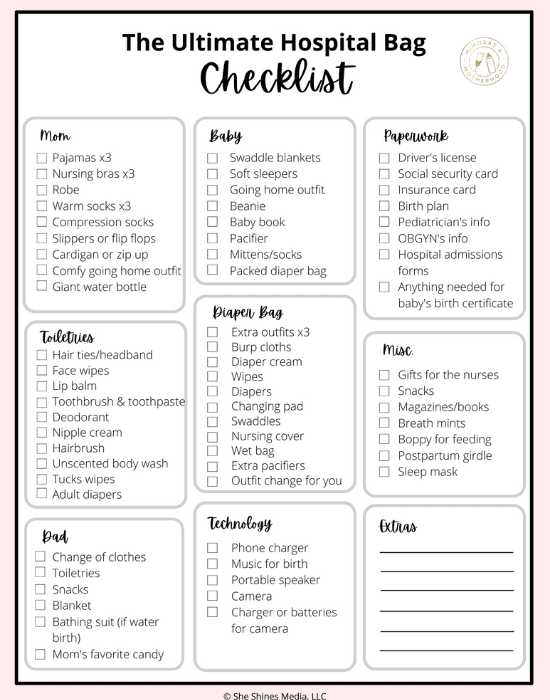 I made this list based on my own experiences at a birth center, plus the experiences and recommendations of dozens of friends and readers who birthed in a hospital setting. This Ultimate Hospital Bag Checklist is the perfect addition to your birth preparations, and you can print it for free at home! Just enter your details below to snag yours!
---
buybuyBaby Baby Registry
BuybuyBABY has a very comprehensive registry, including exclusive items available only through them. So much more than a baby gear super store, buybuyBABY also is a go to spot for pumping supplies, cute baby clothing, and more high-end baby gear. They are also owned by Bed Bath & Beyond, which means yes, you can totally use those 20% off coupons there too!
Use them to start saving on some of the more expensive items on your list (like that dreamy stroller you've had your eye on).
Another bonus: If your friends and family purchase at least $1,500 worth of baby registry items by your due date, you also qualify for unlimited free shipping for your baby's first year!
Buy Buy Baby Registry Features
Welcome Box: Their "goody bag" includes samples and coupons and you can pick it up from a local store after you create your registry.
Completion Discount: 15% off remaining items that will be sent to you several weeks before your due date. While you can't combine them with their regular coupons, they're still great to have for extra purchases!
Shipping: Free shipping for orders over $49.
Return Policy: Up to 1 year of the purchase date.
Group Gifting: No
Universal Registry Option: No
Register for a buybuyBaby Registry Here
Babylist Baby Registry
Babylist offers an easy way to register for items from any store on one website, and also easily includes options for group cash funds, like a date night fund or a college fund. Babylist also allows you to ask for help on your registry, which is really unique. Your friends and family can sign up to bring you meals, babysit or even grab your groceries!
What sets Babylist apart is the easy to create meaningful gift funds (like for a night nurse, or a lactation consultant), along with their very functional app.
Babylist also offers sample registries if you need some extra inspiration, including ones for multiples, adoption and single parents.
Babylist Baby Registry Features
Welcome Box: Babylist offers a cute box of goodies for you and baby that includes mostly sample size items.
Completion Discount: One 15% off registry discount, to be used within 60 days before your baby arrives.
Return Policy: You can return items within 9 months of purchase, though some options may vary from retailer to retailer.
Universal Gifting Option: Babylist allows you to add products from any store to your registry, or link registries from other retailers in one easy to find place!
Group Gifting: Yes
Register for a BabyList Registry Here
Walmart Baby Registry
Walmart offers great budget baby items, which is great if you want to save your friends and family money! While their registry might be short on perks it's super convenient if you're a regular Walmart shopper.
Walmart also offers easy and free returns for registry items and a price match guarantee. Just bring in proof of a lower price on the exact same in-stock product!
Walmart Baby Registry Features
Welcome Box: Free welcome box with samples that you can use once baby arrives, plus coupons to save money on baby gear later.
Completion Discount: Walmart doesn't offer a registry completion discount.
Return Policy: You can return gifts you don't need or want within 90 days of the gift's purchase. You must have the gift receipt or packing slip, and will receive a Walmart gift card. (Certain registry items are eligible for a longer return policy)
Group Gifting: No
Universal Registry Option: No
Register for a Walmart Baby Registry Here
Which Baby Registry Should I Choose?
While there are so many options out there, I recommend choosing the baby registry that has the majority of the most important items on your list. There's no reason you can't have more than 1 baby registry! We registered at 2 places for both of our pregnancy to give our friends and family more options.
Related Pregnancy Posts:
The Best Maternity Clothes on Amazon
What is a Doula? The Benefits To Hiring a Doula for Childbirth