Busy Toddler Playing Preschool Review
Curious about the best online homeschool preschool program? Here is our Busy Toddler Playing Preschool Review, after using it for the past 2 years!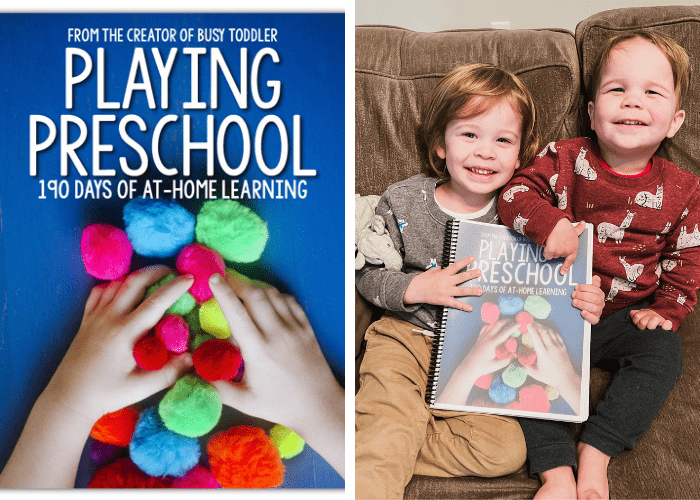 Like many families these days, it can be challenging to navigate the best school options for our little ones. When it comes to parents of preschoolers and toddlers, figuring out how to teach them at home can feel overwhelming if that's not your strong suit.
When the pandemic hit, our then 18 month old's preschool shut down overnight. The early years are so crucial to development, and we knew that we needed help when it came to how to teach him and what to teach him. To be honest: I started to panic. That's how we found the Busy Toddler's Playing Preschool at-home learning program.
This review and program sneak peek is based on a full school year of our family's experience using this program for both of our toddlers for the past 500+ days! We began using this program in spring 2020 with our 2 and a half year old son until he recently went back to a traditional school program. We transitioned our now 26 month old to also learning from this homeschool preschool program at the beginning of 2022.
This review is based on my own personal experience using this program with my own children. We used the Busy Toddler program for over a year! All opinions are my own, and this post reflects my honest views about the Playing Preschool Program.
Note: Some links may be affiliate links. That means I may make a commission if you use my links to purchase, at no extra added cost to you! I only recommend products that I personally love and believe in. Full disclaimer here.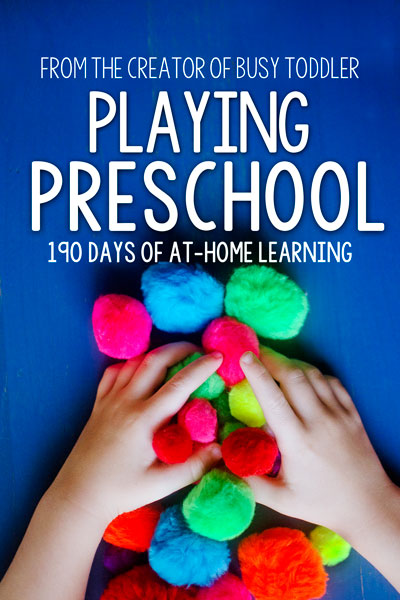 Honest Playing Preschool Review
On the hunt for an easy to follow homeschool preschool curriculum? Our family has been using the Busy Toddler's Playing Preschool homeschool preschool lesson plans for nearly 2 full years. This review is based on our real experience!
What is Playing Preschool?
Playing Preschool is an easy to follow homeschool preschool curriculum that was created by Susie Allison of the mega popular website, Busy Toddler. A former elementary school teacher and mom of 3, Susie knows what she's talking about when it comes to child development, and created this preschool program with real parents in mind. Playing Preschool is a homeschool preschool curriculum built on simple, engaging and active play-based learning that is fast, easy and affordable.
Playing Preschool is made up of 19 units or 190 days of homeschool preschool daily lesson plans, monthly themes, activities and more, put into one easy to follow ebook that you can print at home. She makes it incredibly easy to follow and be successful, which was exactly what my husband and I were looking for.
Here's a snapshot of what the program is, in the creator's own words from her website:
"Playing Preschool is a 19 unit curriculum designed to introduce children to a variety of learning concepts in a fun and exciting way. This program is play-based, hands-on, and designed for at home use. Playing Preschool is "evergreen" so you can start this program at any point in the year!"
It's a totally hands-on, completely play-based approach to at-home early childhood education. This program puts you, the parent or caregiver, in the driver's seat of your child's education.
This is NOT a sit and listen type program: your child is moving, active, engaged, and exploring the whole time. These activities are all about moving and playing.
This is NOT a time consuming program: most days will take you 45 minutes to 1 hour.
This is NOT an expensive program that is going to cost you an arm and a leg to set up : buying the program in this bundle costs less than $1 a week and the supply list is things you probably already have around your house."
Here's a look at the skills your child will work with each week:
Sorting
Measurement
Number Sense
Predicting
Shapes
Alphabet Knowledge
Recall and Retell
But that's not all! This program is full of science activities, fine motor skills, gross motor activities, art and sensory based activities.
This program is so much more than just straight academic learning. It's about building background knowledge of key skills and information that will help your child in as they grow."
Playing Preschool comes in 3 options: Playing Preschool Year 1, Playing Preschool Year 2, or a combo purchase of both. We personally chose to go ahead and get both years as a bundle! Busy Toddler's creator recommends that all families begin with Year One, as Year Two follows in the sequence and each lesson kind of builds on the previous.
Related Toddler School Posts:
First Day of School Interview (Free Printable)
A Parent's Honest Review of Homer Learn & Grow App
The ABC's of Teaching Toddlers the Alphabet
Playing Preschool Review
When we originally purchased the Busy Toddler Playing Preschool curriculum, I honestly wasn't sure if it would be what our family needed. My husband and I are NOT teachers, and I remember feeling very nervous about whether we would be good as homeschool teachers!
Susie's program made it so simple and easy with the themed units. She lays out everything you need for each day, and incorporates easy to gather supplies (most of which you probably already have). I was ready to start teaching in just a few minutes! Take a peek at the layout of Unit 1: Apples.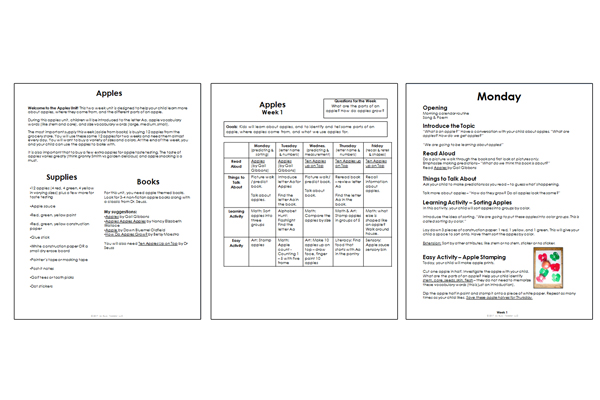 Unit One was a great way to get started, as it was all about apples. We sorted apples into groups by different attributes (like size, color, stickers etc) as well as used them to practice counting.
This activity seems simple, but by learning to use objects to count, classify objects into given categories, and sort objects in different ways you are helping your preschooler get ready for kindergarten in accordance with Common Core Standards, while also working on fine motor skills, letter sounds and more.
Next, we explored apple stamping: discussing the size, shape and how the apples felt; comparing size and weight; describing them using different attributes etc.
Again, this is a skill that helps get your child ready for kindergarten, when they will be expected to know how to do these kinds of things!
This is just a small snapshot of ONE day of this program in just the first unit. Each day is different, easy to put together for non-teacher parents, and so much fun for preschoolers to do.
How is each day of Playing Preschool structured?
Each week is broken down into 5 days of learning activities. Here's what each day looks like:
Start the day: calendar, song/poem, and an introduction to the topic
A read aloud activity hand-picked to fit the theme
"Things to Talk About": a conversation to have with your child about the book/theme
A learning activity: an activity usually designed to be done by the parent AND child to develop a targeted skill and fits with the unit theme
An easy activity: a quick & easy themed activity that the child can usually do independently
The homeschool curriculum also comes with a great "start up guide" to help parents as you teach!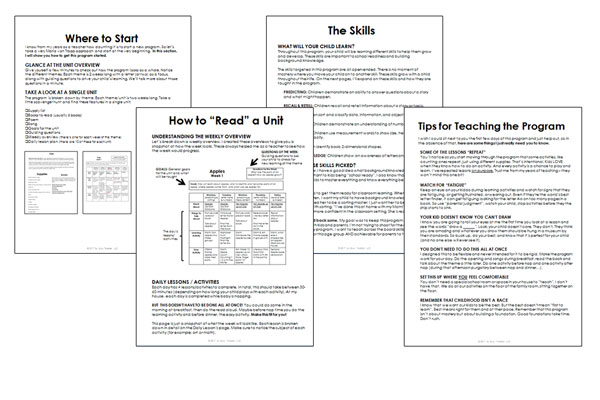 What age group is Playing Preschool designed for?
Playing Preschool Year 1 is a new kind of homeschool preschool curriculum designed to begin when your child is between the ages of 2.5 – 5 years old. The programs are both incredibly open-ended and designed to meet the wide needs and developmental differences of children.
Year 2 is designed specifically for children who have completed the full Year 1 program, and isn't so much focused on a specific age. Once your child has done that, they are ready for Year 2. Year 1 is the foundation for Year 2, and Year 2 needs the meat from Year 1 to make sense. They go together.
You also don't have to start this at the beginning of the year; you can jump into this program at any time as the thematic units aren't tied to certain times of the year.
What We Love About Busy Toddler's Playing Preschool
The book features 190 days of easy to follow and teach at-home learning lesson plans, which were exactly what we were searching for. I loved that it was created by a former teacher, and it gave us a framework to follow that was heavily focused on learning through play and the benefits of play. It also provided us with a very easy to follow instruction manual, laying out every supply, book and extra material we might want to use in advance.
By the end of that first week my husband and I both went from anxious and uncertain about navigating homeschool preschool to feeling empowered and excited!
Young children learn best through repetition when it comes to new skills, and the Playing Preschool curriculum gives SO many opportunities for that. The weeks are laid out in a consistent way with a simple daily lesson plan, and are all themed with fun learning activities, poems and songs. I have loved watching my boys blossom and get excited about "school" each day!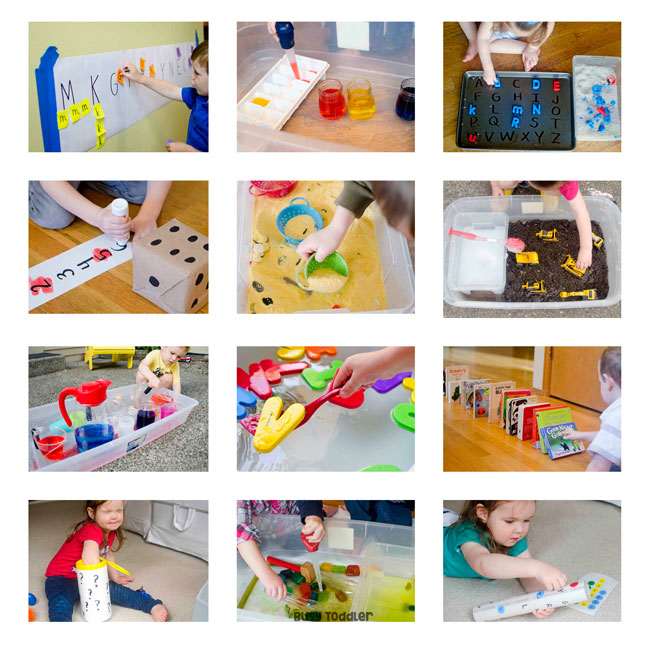 My favorite part is that it's an easy to modify homeschool preschool program. You don't have to sit and do all of the work at once like some programs out there. Instead, we are able to space it out in small sections throughout the day, and tweak things depending on their moods and interest. Personally we chose to do about 20 minutes of school time, 4-5 times a day. That worked great for our kids, but yours might prefer more or less time at once.
The home activities are easy for any parent to do, and I also really liked how Susie makes it clear that you don't have to do each day exactly the way she lays it out. For example, there are a lot of recommended books, and not all are available at our local library. So instead, we made substitutions based on what we could easily find, and they worked perfectly!
If there was a single book that was crucial for the day's suggested activities, and we didn't already own it or could find it at the library/borrow from friends, many times I was able to find a "read aloud" version on YouTube.
Additionally, the creator of Busy Toddler shares a ton of extra information, activities, games and resources both here on her website, and here on her Instagram.
Important Additional Details about Playing Preschool
When you purchase the Playing Preschool curriculum, you will NOT receive a physical item. It comes as a PDF ebook, which I personally loved.
You'll receive an email with a link to download the PDF file that contains the ebook and all of the resources. You can either save it to your computer and print out the pages you need at home each week, or easily send it to your local Kinkos or print shop to have the entire thing printed and bound.
We personally chose to do that, as I knew having everything printed out in one easy to use book was what I needed! I kept the alphabet activities separate so that we could pull each letter easily as needed.
The Playing Preschool eBooks are available for purchase anywhere in the world, and is sold directly by Susie at shop.busytoddler.com.
More Kids Activities
How to Dye Rice for Sensory Bins
Create a Plastic Playhouse Makeover!
Final Thoughts about Playing Preschool At Home Preschool Program
Busy Toddler's Playing Preschool was a fantastic fit for our family, and we have thoroughly enjoyed using it for the past 2 years. Flexibility and ease of use are the biggest reasons why we think this is the best homeschool preschool program out there! We love that it is full of quality educational activities and stimulates learning, without the pressure or length of typical school.
This relaxed homeschool preschool program is rooted in intentional play, and helps your kids to learn that learning is fun. Just click here to see everything for yourself!
I hope this honest review of the Busy Toddler Playing Preschool has helped you as you make your decision. What questions do you still have after reading this Playing Preschool Busy Toddler review? Let me know in the comments! If you choose to start the program, I would love to see! Tag me on Instagram @simply.siobhan =)