First Day of School Interview (Free Printable)
Do this fun first day of school interview with your kids each year with this free printable back to school survey! This fun back to school idea will create wonderful memories for years to come. This free printable first day of school interview includes preschool through grade 5 for you!
This coming school year will be the first time both of my boys go to school. With how crazy things have been, we took my toddler out of school for this fall and have been doing homeschool preschool!
I'm already daydreaming about starting new traditions next year when they go back to a traditional school setting, and this first day of school interview is one of those things. The start of a new school year is the perfect time to record all of your child's favorite things, and this creative interview is a fun way to preserve those memories.
I'm usually an emotional mess about almost everything when it comes to my children, but the part that always gets me the most is how quickly they grow. I feel like I blink, and they've changed so much! There are so many wonderful things about my kids that I don't want to ever forget, which is why I am really excited to do a first day of school interview with them.
Note: Some links may be affiliate links. That means I may make a commission if you use my links to purchase, at no extra added cost to you! I only recommend products that I personally love and believe in. Full disclaimer here.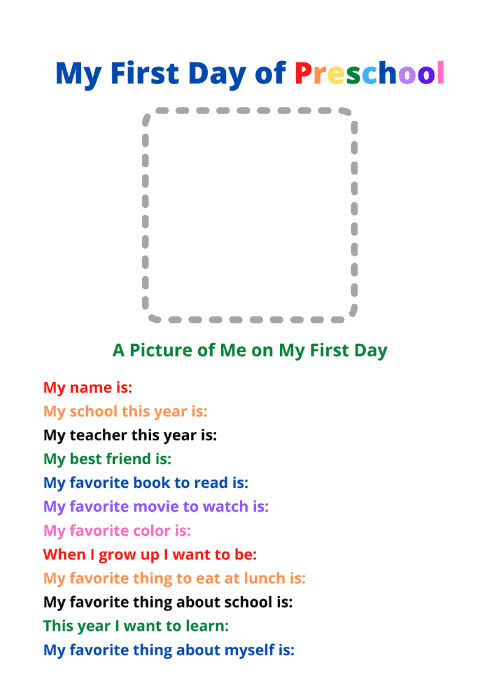 The concept of these fun school ideas is that you give your child a survey right before their first day of school to help document their lives and who they are at this point in time. You can start this as young as preschool, and continue these interviews through the first day of 12th grade! The first day of school questionnaire that I created below is laid out for preschool through grade 5.
Topics in this easy interview include favorite foods, who their best friend is, what their teacher's name is and what some of their favorite things are. I plan on keeping these first day surveys in a binder with a photo of them from that year, and having them in a special book to show them when they're older. I also know it will be a fun keepsake for me to look back on in the future, too.
This free printable back to school survey is easy to print at home and use as you ask your children different questions. Don't stress out if you don't have color ink! This back-to-school survey works great in black and white too. You can print this on any paper you want, but cardstock is my favorite for making sure it lasts a long time.
When your kids are young you will need to ask them these questions and write down the answers yourself (even the silly ones) at the beginning of the school year! It's so much fun. As they grow, they can begin filling these out themselves, making it a fun way to also look back at how their handwriting has changed years ago, or even just the last year!
If you're looking for more back to school fun, be sure to also read 7 Fun & Easy Back to School Traditions. You might also enjoy 50 Teacher Appreciation Thankful Quotes for Teachers.
Free Printable First Day of School Interview
Print this First Day of School Interview and ask your children each question at the start of each new school year. Save each interview page in a special binder to look back on! Scroll down to get the free printable PDF, or create your own with the below interview questions.
All About Me- First Day of School Questionnaire
My name is
My school this year is
My grade this year is
My family consists of
My best friend is
My favorite book to read is
My favorite movie to watch is
My favorite color is
When I grow up I want to be
My favorite thing to eat at lunch is
My favorite thing about school is
The best thing that happened today
My favorite thing about myself is
I am most excited about
Put them in sheet protectors to keep these pages safe for years to come. These completed interview pages are a great way to create a tangible memory to hold onto, and a school keepsake for years to come. Pair them with one of these cute first day of school signs!
Download Your Free Printable First Day of School Interview
I created this free printable first day of school interview to include preschool, pre-k and elementary school (kindergarten through 5th grade) at the start of the school year. Whether you start these questions on the first day of preschool, first day of kindergarten or at the beginning of another school year, this is sure to become a favorite back-to-school tradition.
These free printables are yours to print and use however you would like to for personal use!
To download the free first day of school questionnaire, just enter your details below to download and subscribe to my newsletter. I promise I won't fill your inbox with junk!
Just download the PDF files, print, interview your child, save their answers to these fun questions and that's it! I also included a spot for first day of school photos, too.
I hope this first day of school questionnaire is a fun, easy way to create memories to look back on. You can even ask the same questions at the end of the school year, too!