Free Printable Elf Goodbye Letters from your Elf on the Shelf
Use one of these free printable elf goodbye letters to say goodbye to your Elf on the Shelf this Christmas Eve! (3 different cute elf designs to choose from)
It's the time of year for a little Christmas magic, and for some elf fun! As a mom of three little ones, I was sure I wasn't going to be an "Elf on the Shelf mom," but boy was I wrong.
There's something so magical about watching my children light up with excitement each holiday season when their elves come back again, and the Elf on the Shelf ideas are so cute.
Most families see their scout elf come back between Thanksgiving and December 1st (or any time during the Christmas season- you can even use one of these cute Free Printable Elf on the Shelf Arrival and Welcome Letters!).
The concept is that the elves arrive to keep an eye on things and fly back to Santa Claus to report on your child's good behavior leading up to Christmas for Santa's list. Most families say goodbye to their elves on Christmas Eve (our family puts ours with the Santa Sack).
Last year was the first year my kids really got into the elves (they were 4.5 and 3), and saying goodbye was really tough for them. A friend suggested that this year we incorporate a goodbye letter, and I loved the idea.
Note: Some links may be affiliate links. That means I may make a commission if you use my links to purchase, at no extra added cost to you! I only recommend products that I personally love and believe in. Full disclaimer here.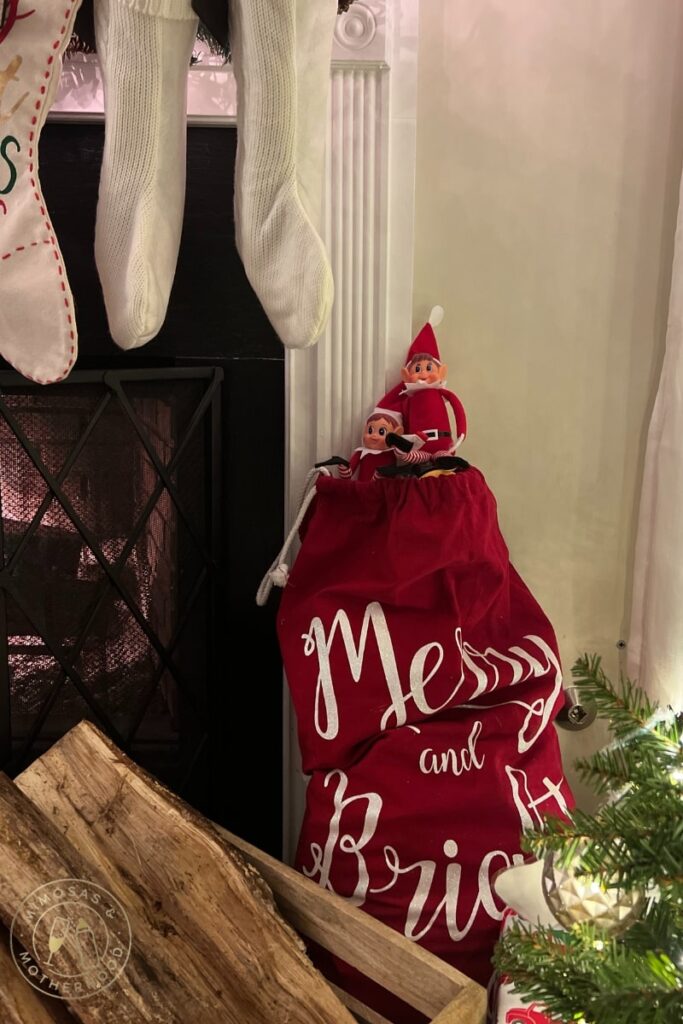 What is an Elf Goodbye Letter?
There are lots of creative ways to say goodbye to your sweet elf, and Elf on the Shelf goodbye letters are an easy tradition to start.
An Elf Goodbye letter is such a perfect way to say goodbye to your Elf on the Shelf before he or she heads back to the North Pole. My boys have been desperate to hug their elves, since according to the story, you aren't supposed to touch the elves or they lose their magic.
With that in mind, I created this free printable Elf goodbye letter for children to say goodbye to their scout elves BEFORE they leave with Santa to give their final report. In the letter, they get permission to pick up their elf and give him a big hug! They can spend the whole day getting ready to say goodbye before they head to bed.
Before your children wake up on Christmas Eve morning, place this letter wherever their elves will be. Usually this will be by the Christmas tree or on the mantle as they are getting ready for Santa's arrival. Your littles will wake up on Christmas Day with their elves gone, having hitched a ride home on Santa's sleigh.
Below you can grab 3 different Elf goodbye letters. These letters can be printed easily at home and have a space for you to sign you own elf's name at the bottom. Each of the letters are identical except for the elf friend design (with a boy elf, girl elf and 2 different skin tones). This way you can choose the perfect elf that is best for your own family for your goodbye letter.
Just scroll to the bottom of the page to get your own goodbye letter.
Elf Goodbye Letter Wording
Want to take a look at what's on the free printable Elf goodbye letters? Here is the wording that is on each departure letter so you can take a better look. This wording is copyrighted to please do not reproduce it without written permission from me.
Goodbye my friend!
It's hard to believe, but our time together for this year has come to an end. Thank you for making my job so fun. I've had such a blast with you!
I know you might feel sad that I'm leaving, but I'll be thinking of you and sharing with Santa my official report about how hard you worked on being good while I was here.
For today only, you can pick me up and give me a big hug goodbye!
Remember to keep Christmas in your heart all year in the way that you treat others, and do your best to be good while I'm gone.
I'll see you next year!
Love your elf,
(space to sign your elf's name)
Free Elf on the Shelf Goodbye Letter
Yay for free printables! Bring the holiday magic to life with a printable Elf on the Shelf goodbye letter PDF you can personalize with this ready to print file! This is a digital design- no physical product is sent to you. You will receive READY-TO-PRINT DIGITAL file in a PDF format that you can print at home or in any local or online print shop.
I recommend printing these elf goodbye letters on plain white paper, but you can also use construction paper, white card stock or another type of thick paper. You can print this file out again and again for different letters too!
This Elf on the Shelf goodbye letter template is free for you to use, but ONLY for personal use. Enter your information below to gain access to the free download, and the printable PDF file with the Elf on the Shelf Christmas Eve letter printable will be sent to your email address immediately.
More Christmas Printables for Kids
Your children might also love these Christmas crafts and printables:
27 G-Rated Christmas Movies for Kids
Free Printable Christmas Gift Card Holder
Free Santa Letter Printable Template
Enjoy These Free Printable Elf on the Shelf Goodbye Letter Templates
I hope this goodbye letter help your little ones give their favorite elf one final fond farewell. This sweet Christmas tradition is one the whole family can take part in. I hope your family loves these Elf on the Shelf Christmas Eve letter printable options too!
If you use one of these free printable letters I would love to see! Tag me on Instagram or TikTok @simply.siobhan.
Merry Christmas, from my family to yours!
The holidays will be over in the blink of an eye, so use the image below to PIN this post to easily find it when you need it!