Free Printable Christmas Gift Card Holder
Our free printable Christmas gift card holder is the cutest way to give a gift card this year. This Gingerbread Man printable gift card holder is sure to make your friends and family smile!
Christmas time is such a wonderful time of year to find fun ways to show appreciation and love. While I'm big on picking out or making special Christmas gifts (like this DIY Christmas simmer pot), there are sometimes when a gift card is the best way to go.
Whether you've waited until the last minute, or just need an easy gift to give to a teacher, neighbor or coworker, this free printable Christmas gift card holder is perfect. Plus how cute is this little gingerbread man?
Gift card sleeves don't have to be boring! I used these last year to gift Starbucks gift cards and Target gift cards and they were such a hit. They help to make gift-giving a little more festive and dress up my Starbucks gift cards this year with this cute printable!
Scroll down to snag the file and print as many as you would like! They're easy to print at home and add to a holiday gift basket with an elf craft printable if they have littles at home too.
Note: Some links may be affiliate links. That means I may make a commission if you use my links to purchase, at no extra added cost to you! I only recommend products that I personally love and believe in. Full disclaimer here.
How to Assemble the Gingerbread Man Gift Card Holder
Putting together this free printable Christmas gift card holder is so easy!
Download the PDF file to your computer. Print at home on a home color printer or save and take the printable template file to your local copy shop. I recommend using a plain sheet of paper or lightweight card stock for best results.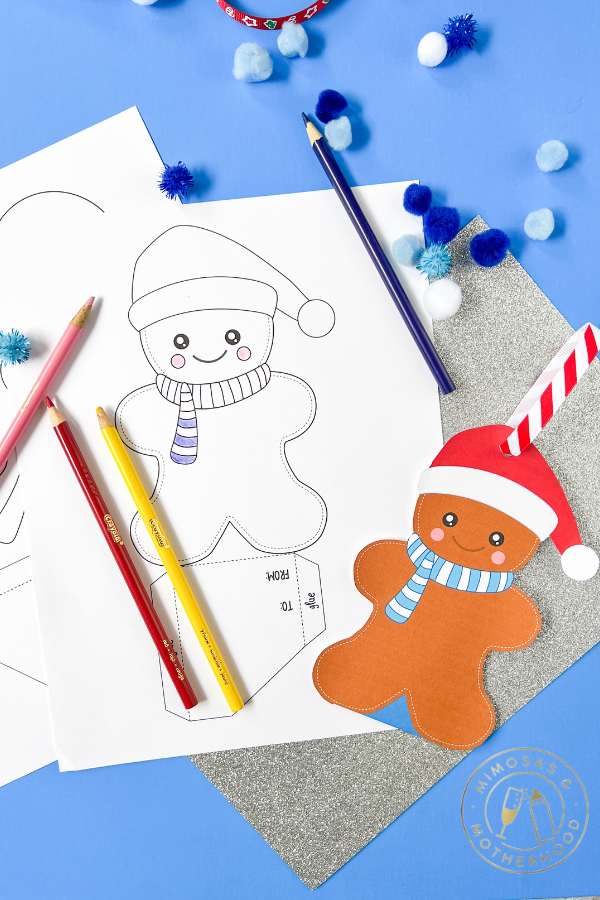 If desired, color the blank template before cutting it out. You can also use the full-color file! Just cut out along the straight lines.
Fold the back of the gift card holder along the dotted fold lines to make the pocket. Adhere with a piece of tape, or use a glue stick or glue dot.
Place your favorite gift card inside for a cute personal touch with the gift cards you give this year. Pop them into a gift basket, nest inside Christmas cards, or put a piece of string through the top to hang on the Christmas tree.
Don't forget to write your own name on the blank side and who the gift card is to!
Get your Free Printable Gingerbread Man Christmas Gift Card Holder
These free printable gift card holders are free for you to use for personal use. Enter your information below to get yours, and it will be emailed to you immediately for an instant download!
For best results, download the PDF file to your computer before printing. The file includes a blank template you (or the kids!) can color, or a full-color file that you just need to print out to use.
These DIY gift card holders are the perfect size for a Target gift card, Amazon gift card, coffee gift cards from your favorite national chain or local coffee shops or any store-bought gift card from the grocery store.
You can print every page, single pages, and multiples of any one you would like once you open the document!
This free printable gift card holder template is free for you to use for personal use only.
If you use this free template, I would love to see! Tag me on Instagram @simply.siobhan or using the hashtag #mimosasandmotherhood.
More Christmas Posts You Might Enjoy:
Mistletoes Easy Christmas Footprint Craft (Great Baby's First Christmas Craft)
Air Dry Clay Christmas Ornaments
100 Inspirational Family Christmas Quotes
Happy holiday gifting!
We hope you love these free printable Christmas gift card holders, and that your gift recipients do too. They help to make a great last minute gift feel extra special. If you enjoyed this DIY Christmas gift card holder post please share on social media or pin on Pinterest to help inspire more families this holiday season!
Wishing you a very merry Christmas and a wonderful holiday season, however you may celebrate!