How To Plant A Vertical Garden With a Greenstalk Garden Vertical Planter
Want to grow your own fruits, veggies and herbs at home, but struggle with keeping even the easiest plants alive or have only a small space? A Greenstalk Garden Vertical Planter is a game changer! This Greenstalk Garden Review is based on our family's personal experience using one to grow our own food in our backyard (plus a discount code!).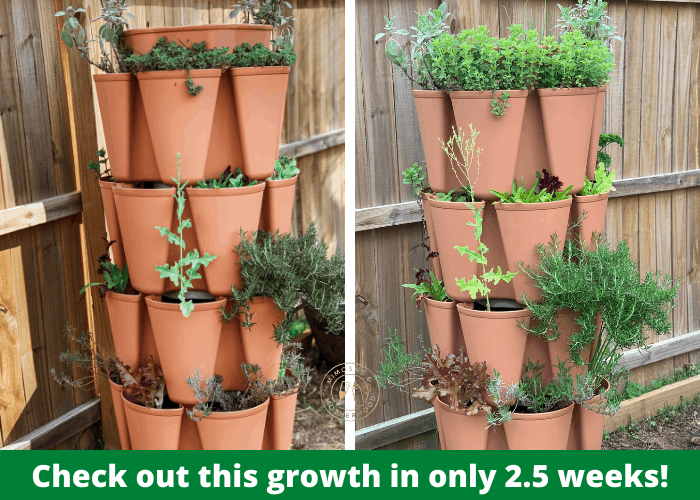 Interested in growing your own fruits, vegetables and herbs in a small space? A vertical garden might be a great fit!
I have been using the Greenstalk Garden Vertical Planter as part of our family garden for 4 years. We now own three of them, but before we got our first one I knew very little about vertical planters or tower gardens.
With that in mind, this Greenstalk Garden review is written to help other families. This post was originally written in 2021, and updated in 2023, and is based on my personal experience using the Greenstalk Garden Vertical Planters over the past 4 years.
Note: Some links may be affiliate links. That means I may make a commission if you use my links to purchase, at no extra added cost to you! I only recommend products that I personally love and believe in. Full disclaimer here.
What Is A Vertical Garden?
Vertical gardening is a unique way to grow fruits, vegetables, herbs and more in a very small space. It's absolutely possible to start your own garden even if you have only a small backyard, or even just a back porch!
Our family first became interested in a vertical garden when we were living in our condo. We were very limited on space, so we did a lot of research on different options for starting our own garden on our small patio.
We loved that vertical gardens and stackable planters take up less space and are also easier to harvest and maintain than a traditional garden, and loved that both the 3 tier and 5 tier Greenstalk original vertical planter allowed you to plant so many options!
We ended up deciding on a Greenstalk Garden 5-Tier Vertical Planter and have absolutely fallen in love with the entire system and how easy it's been to grow everything we could want in this tiny space! We've been using our vertical planter for almost a full year, and are continuously amazed at how easy Greenstalk Garden makes gardening at home.
The Greenstalk Garden Vertical Planter allows you to plant upwards instead of outwards, giving you enough space to plant vegetables, fruits, fresh herbs and tons of different types of flowers.
What Can You Grow in a Greenstalk Garden Vertical Planter?
This was one of my biggest questions when we first received ours. I really wanted an easy garden that wouldn't limit us on what we could grow in the future. I love that you can truly grow a wide variety of plants in a Greenstalk Vertical Garden.
We've successfully grown kale, spinach, lettuce, strawberries, carrots, squash, tomatoes, broccoli, basil, rosemary, green onions, lavender and oregano. Friends have successfully grown potatoes, corn, watermelons, beets, cabbage and flowers, and the list goes on!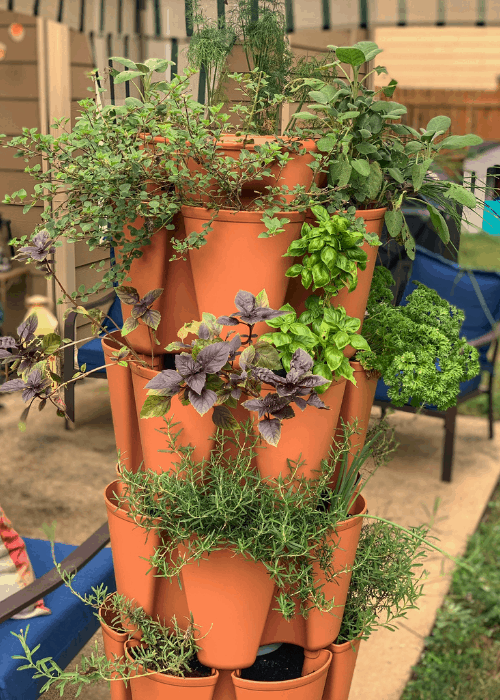 What Are The Best Vegetables & Plants For A Vertical Garden?
When you are thinking about planting your vertical garden, one of the most important choices you need to make first is the type of plants you want to grow in it. You want to choose a type of plant that can grow successfully in your area (especially if you have a compact space). I also recommend choosing fruits, vegetables and herbs that you actually LIKE to eat.
If you are sure where to get started, check out this great interactive website that shows you the types of plants that grow best in your region, as well as when to plant them for the best results.
When you think about your garden, what do you want to harvest? How will it change from season to season? How will you get your kids involved? Gardening can be incredibly creative and personal!
When we first received our Greenstalk Garden Vertical Planter, it was already late summer, so we had missed the planting window for a lot of the vegetables and fruit we typically eat. Instead, we chose to plant mostly herbs for our first planting season! We went with a mix of things we love to cook with: rosemary, oregano, basil, green onions, lavender, chives and parsley.
This past spring we planted lettuce, strawberries, tomatoes, peppers, sweet potatoes and more herbs, and our toddlers have loved being in charge of their "own" strawberry plants. We love how easy this high quality planter makes it.
Can you grow tomatoes in a Greenstalk Garden Vertical Planter?
Greenstalk is a great vertical planter to use to grow tomatoes if you are limited on space or are looking for something easy to maintain. Consider growing a container variety tomato (like this one). To keep your tomatoes healthy be sure you stake and water them well.
Another tip is to plant the large tomato plants in the bottom tier so they are easier to stake as they grow "up" the garden tower as they grow. Greenstalk now offers this great option of a package of plant supports, too for a small extra cost.
For more tips on growing tomatoes in a vertical planter, check out this helpful post.
Edible Plants and Herbs
Edible plants such as herbs like rosemary, basil and oregano are a great option for vertical gardens in the top level. Herbs can be grown rather quickly and don't require a ton of upkeep overall. Plus, herbs and leafy greens are easy to grow, so if you're a beginner gardener they're a great place to start!
If you're looking for recommendations to get you started, here are some of the easiest herbs to grow:
Sage
Basil
Parsley
Oregano
Mint
Coriander
Chives
Dill
Fennel
Thyme
Cilantro
Lemongrass
It's worth to note that Rosemary and Lavender are known as difficult herbs to grow, but ours have absolutely flourished in our Greenstalk Garden planter!
How To Start A Vertical Garden Using Greenstalk Vertical Planters
One of my favorite parts about using a Greenstalk Vertical Planter is that you can use either seeds or starter plants to get your garden started. Our family chose to use a mix of both. Starter plants are a great option if you are new to gardening!
You can find seeds and started plants at a variety of places (including online!), but if you're a beginner I recommend going in person to your local garden center to select your plants there. It's much more fun, especially if you have little ones with you who can choose their own options to grow!
If you are using a Greenstalk Garden Vertical Planter, here are the number of plants you'll want to aim for:
3-tier: at least 18 plants
4-tier: at least 24 plants
5-tier: at least 30 plants
This is just a recommendation, but as you can see, they can all fit a lot of plants! When we first planted our five tier vertical garden planter, we opted to only plant 15 plants to start.
Related: Nature Color Wheel Activity
How Do I Organize My Vertical Garden?
First, you'll want to decide where your vertical garden is going to go. Think about the types of plants you want to grow, as some might need more sun exposure than others. As long you have an enough area for sun exposure, your Greenstalk Garden Vertical Planter should be fine both indoors or outdoors.
Where you choose to plant your plants matters! I recommend that you plant larger plants towards the bottom of your vertical garden, and plant smaller ones towards the top. This helps to keep your smaller plants from getting shaded out as they grow.
Be sure to also tuck the plant tags in each pocket so you don't forget what you're growing later in the season! You can also order these cute plant labels too.
If you enjoy gardening, you might also enjoy learning how to make a DIY propagation station.
How To Make & Build A Vertical Garden With Greenstalk Vertical Planters
Personally, our family chose to plant a few plants in each tier of our Greenstalk Garden Vertical Planter first, and then stack the system together on a level surface. You can also add potting soil, stack your planter and THEN plant all of your plants in the planting pockets too. It's up to you!
Whichever option you choose, you don't want to fill the planters with potting soil as you stack, as potting soil can fall into the center funnel and into the grey disk below. This ends up blocking the watering system in the top water reservoir that makes watering your planter so easy!
Fill your planter with potting soil about 1-2 inches from the top, then create a small hole for your plant in the pocket area. Gently tip your starter plant upside down and lightly squeeze the container to help it pop right out. Be sure not to pull your plant out, as you could accidentally damage the roots or stem in the process.
Make sure the hole you've made in your planter pocket is deep enough so that when you place your plant inside it, the base of the plant sits at the soil level. Fill the soil back around the plant. If you haven't already, stack your planter per the instructions included from Greenstalk, starting with the bottom of the planter.
Once you're all done planting, give all of your new plants a good soak! Fill the top of your Greenstalk Garden reservoir several times until the soil is thoroughly saturated.
The watering disk is amazing. You just fill the top water reservoir and the water filters down throughout the center of the planter, giving each tier the amount of water it needs and letting the excess water escape at the bottom!
Are Greenstalk Vertical Gardens The Best Vertical Garden System?
Based on our experience, the Greenstalk Garden Vertical Planter is the easiest vertical garden system to use! I'm a notorious black thumb, and really struggle to keep even the easiest houseplants alive because I either over water or underwater them. Greenstalk's patented watering system means I've been able to not only grow an amazing garden, but keep one alive that is thriving!
Greenstalk Garden Vertical Planters are versatile, easy to customize and can be used indoors or outdoors. The Greenstalk Mover or Spinner also makes it easy to move your planter around, which means you can make sure all sides are getting enough light. The planters are also made of UV-resistant plastic and come with a 5-year warranty.
An added bonus for our family is that even the littlest gardeners can get involved. Greenstalk Garden planters are truly something that the entire family can enjoy together!
Final Thoughts with this Greenstalk Garden Review
Planting a vertical garden is a unique option for gardening. Greenstalk vertical planters can help you build your dream vertical garden system!
We have been using our Greenstalk Garden Vertical Planter for four years now, and love how easy it makes it for us to grow fruits, veggies, herbs and flowers in our backyard. I'm so excited about planting seasons to come, and it's such a great addition to our collection of houseplants as well. This vertical gardening system has become one of our favorite things.
Greenstalk Garden's vertical planters and accessories make it SO easy for our family to garden together, and I love how our kids are able to get involved too. Plus, they're a great small, family business headquartered in East Tennessee. They also stand behind their products with a 5 year warranty if your planter cracks or fades, and the planters are all made out of PVC-free plastic that comes in beautiful different colors.
Greenstalk Garden has multiple tower garden options to choose from. Click here to check out all of the options Greenstalk Garden has, and use code MIMOSAS10 to save an extra $10 on your order, too!