Wondering what to do with your old pumpkin after Halloween? If you're like me, I shy away from buying real pumpkins each fall because I don't want to waste them. It turns out there are some really great uses for leftover Halloween pumpkins!
If in the past you've just tossed those pumpkins in the trash, you're not alone. According to the U.S. Department of Energy, about 1.3 billion pounds of pumpkins in the United States end up in landfills.
Want to make a change this year? Try this list of ideas for repurposing, reusing and recycling your pumpkin after Halloween.
10 Uses for Leftover Halloween Pumpkins
1. Repurpose Your Pumpkin Into Treats
Have uncarved pumpkins you want to recycle? Toasted pumpkin seeds are a healthy snack that are simple to make, and you can also use the fresh pumpkin puree in any recipe that calls for canned pumpkin. One 2 ½ pound pumpkin is equal to about 15 ounces of canned pumpkin.
Pumpkin puree is surprisingly easy to make, too. Start by cutting the pumpkin down the middle. Scoop out the extra seeds and set them aside. Place the pumpkin cut-side down on a baking dish along with a cup of water and bake for about 90 minutes at 350 degrees. The flesh will become very tender. Just scoop out the roasted flesh and blend it in a food processor!
Note: Be sure to give those uncarved pumpkins a quick wash before you recycle them into food!
2. Feed the Wildlife with your Leftover Pumpkins
Your old Halloween pumpkin can also be a tasty snack for your neighborhood critters, especially squirrels, deer and rabbits. Simply cut your pumpkin into fourths and place the pieces around your yard.
Old pumpkins can also be turned into a bird feeder! Cut a pumpkin in half horizontally, scoop out the inside and fill it with birdseed. You can either leave it as it is, or hang it from a tree.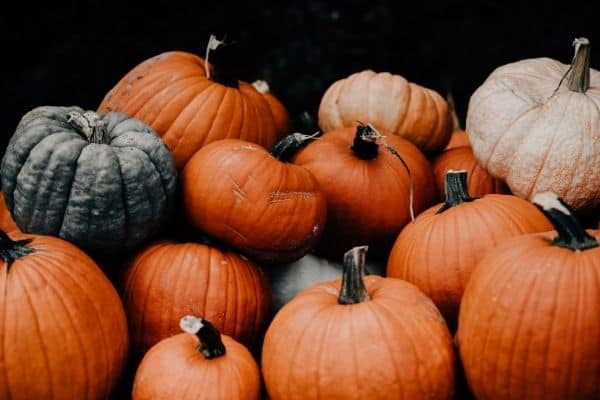 3. Donate Your Pumpkins
There are plenty of places that would love to take those old pumpkins off your hands. Reach out to your local animal shelters, zoos, community gardens and farms. Pumpkins make great snacks for animals, and are also perfect additions to compost bins.
Some towns do pumpkin collection drives after Halloween, so be sure to check your local paper too. Another option is reaching out to organizations like Pumpkins for the People, which may have drop-off sites in your area. These organizations compost them to keep them out of landfills.
4. Use Them for Compost
Speaking of compost, pumpkins are a fantastic addition to your compost pile, and a fantastic way to recycle your Halloween jack-o-lantern's. Pumpkins are mostly water, so they decompose quickly. If you want to speed the process up, get the family involved with smashing them first!
If you've never composted before, the process is actually really easy! I recommend ordering a compost bin. Our family owns this countertop compost bin and we love it! Having a countertop compost bin makes it much easier to collect our everyday scraps. You'll also want to create an area outdoors for the actual composting. There are a bunch of different options, but this outdoor compost bin is inexpensive and easy to set up.
While pumpkin composting is pretty simple, be sure you remove the seeds first so the pumpkins don't rot in your compost bin. You can either roast the seeds, or save them for next year and try to grow your own pumpkins! Just rinse the pulp off the seeds and allow them to dry fully. Store them in a container or envelope in a cool, dry place until you're ready to plant them.
5. Turn Your Pumpkins into Art Projects
Have a contest with your family or neighbors to see who can create the most intricate or creative designs with their pumpkins using only paint and household materials.
My boys love to create silly faces with puff paint and glitter!
6. Create Fun (and Festive) Floating Candles
Did you know that pumpkins can float? Small pumpkins are perfect for tea light candles. Just remove the stem, use a tea candle to trace the outline, and scoop out the depth you need for the candle to sit snugly inside. Place them in your Thanksgiving punch bowl for a little extra fun.
7. Warm Up with Pumpkin Soup
Turn that uncarved pumpkin into the perfect fall soup. This recipe from All Recipes is our favorite (and is a great way to use that fresh pumpkin puree you just made).
8. Bake Some Pumpkin Bread
Use the above recipe for pumpkin puree and whip up a batch of pumpkin bread as a gift for friends or neighbors.
9. Create an All-Natural Air Freshener
Pumpkin spice is pretty much the "official scent" of the fall, so why not DIY your own all-natural pumpkin spice air freshener! Just rub a little bit of spice inside your carved out pumpkin (like cinnamon) and light it with a small candle inside.
10. Use Your Old Pumpkins as Thanksgiving Décor
Duh! Uncarved pumpkins can last a shockingly long time, so they should still be good for your Thanksgiving décor! Pile them on an end table or arrange them in the middle of your dining room table. Create your own Thanksgiving themed centerpiece using them.
You can also recycle your Halloween pumpkin by turning it into a pumpkin vase! Cut a hole in the pumpkin that is the width of a mason jar (or a small vase). Scoop out the innards of the pumpkin. Place the mason jar inside of the pumpkin, fill it will water and whatever flowers you like. Voila!
I hope this list gives you some ideas of uses for leftover Halloween pumpkins. There are so many ways to recycle them!
Related: 20 Fall Bucket List Ideas for Toddlers
Related: Funny Fall Front Doormats
How are you using your old pumpkin? Comment below and share your ideas!