Fun Matching Family Halloween Costumes
Halloween is coming up quicker than you realize, so it's time to start planning your matching family Halloween costumes!
When I was younger I always figured out my Halloween costume at the last minute. It was so easy, because it was just me! Since we've had kids it's become a ton tougher to make a decision about what our family Halloween costume will be. It's pretty impossible to wait until the last minute these days!
Inspiration photos always help me a ton when it comes to brainstorming matching family Halloween costumes, and this list is full of fun ones. Some even include full DIY tutorials if you click on the link!
I hope this list helps you find some inspiration or ideas for your family this year.
Need more ideas? Check out my post on 20 Halloween Costumes for Brothers and Easy Baby Costumes for Halloween, or if you're rocking a bump this Halloween you won't want to miss 50+ Halloween Costumes for Pregnancy.
In search of fun Halloween activities for your family too? Be sure to also read Easy DIY Halloween Crafts for Toddlers, 20 Incredible Pumpkin Carving Templates! and Quick and Easy Halloween Games for the Classroom. And if you're in need of some fun and affordable Halloween decorations, be sure to also check out The Best Amazon Halloween Decorations, too.
Fun & Unique Matching Family Halloween Costumes
Fred Flintstone & The Gang
via Chelsea Mitch
Zookeeper and Animals
via Ashley Saulsbury
Finding Neverland Peter Pan Family
via Aspen Jay
Queen of Hearts
Hocus Pocus
via Costume Works
Harry Potter
via Jasmine Ridley
Honey Bee
via The Zinke Family
Sesame Street DIY Halloween Costume
via Girl Loves Glam
Goldilocks and the Three Bears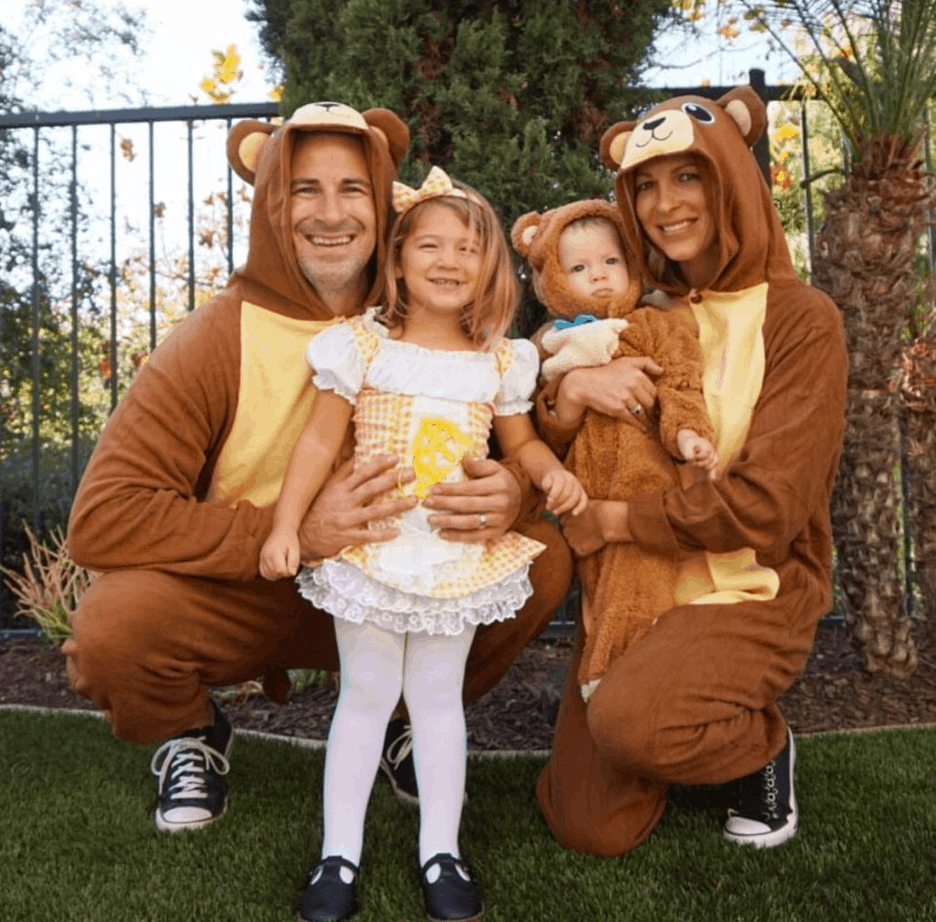 The Wizard of Oz
via Carli Best
Trolls Dolls
via Sarah McLeod
101 Dalmatians Cruella DeVille
via Our Family Art
Batman Family
Circus Family
via Idahome Living
The Little Mermaid
via Craftiness is Not Optional
Jurassic Park
via Sarah McLeod
DIY Family of Robots
Greek Gods
Inside Out
via Costumeworks
Napoleon Dynamite
Space Family
Pirates of the Caribbean
Ghostbusters
via Emily Wilson
Dunkin Donuts
DIY Monster Family Halloween Costume
Hippies
via Lauren J Parry
Where's Waldo?
via Lovely Indeed
Monsters U DIY Family Costume
Via Momendeavors
The 4 Seasons
via Katie Gall
Farmer and his Pumpkin Patch
via Stacey Moser
Ice Ice Baby
via Thinking Closet
Emojis
via Krista Horton
Cavemen DIY Family Halloween Costume
Shark Attack
via Sosimo Avila Jr
Family of Minions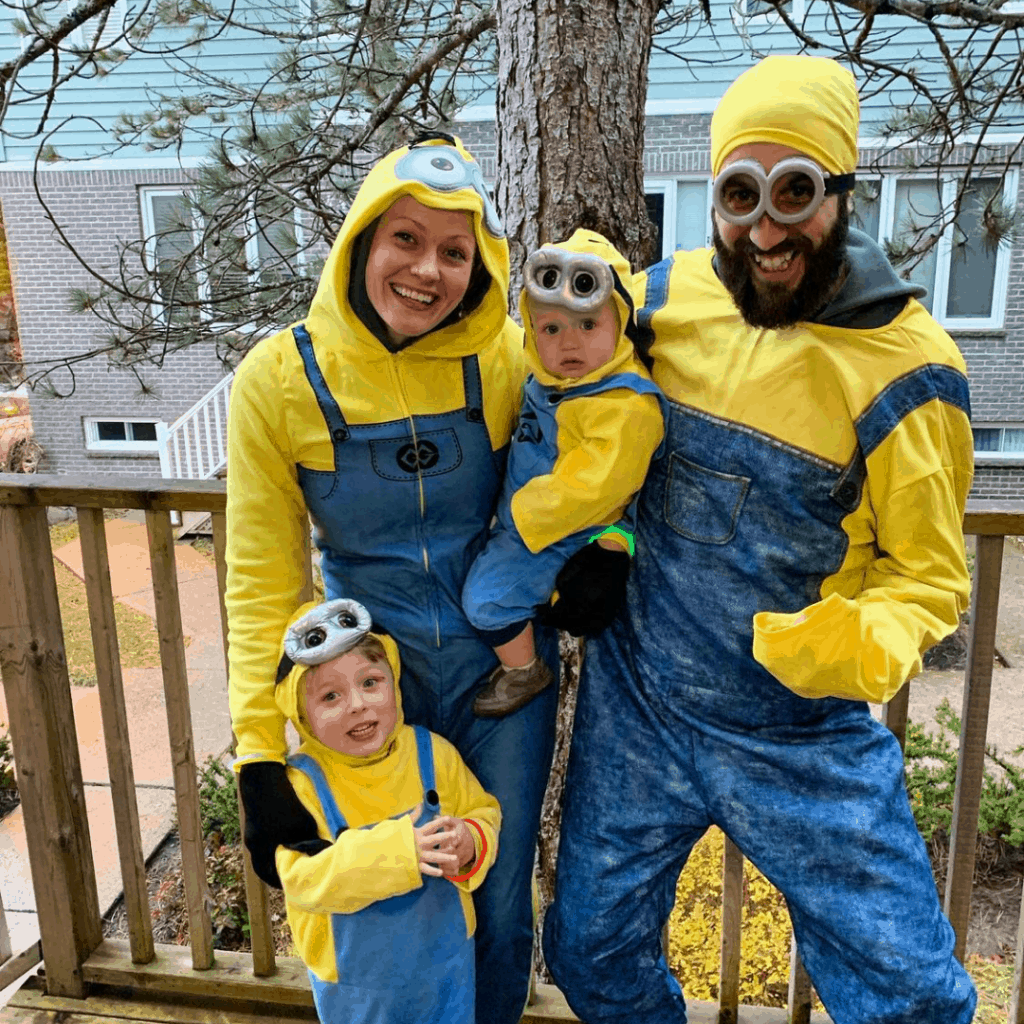 The Great Pumpkin
Cavemen Family
Alice in Wonderland
Family of Trophies
Princess Family
Mario Kart Family Costume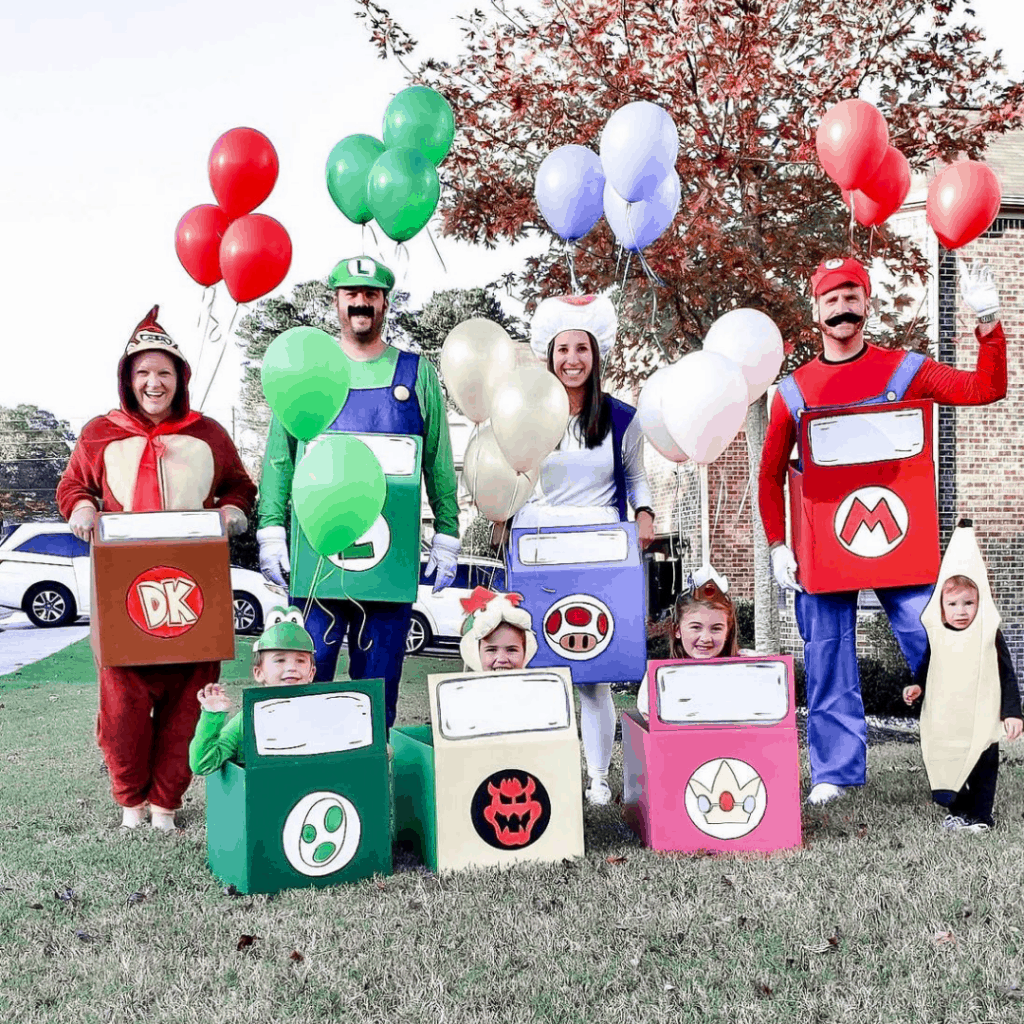 Wizard of Oz
Junkfood Family
Alice in Wonderland-Tweedle Dum and Tweedle Dee
Aladdin Family Costume
Ariel and the Gang from The Little Mermaid
Star Wars Family
Jessie, Woody, Buzz and Bo Peep from Toy Story
Suzie & Angelica from The Rugrats
Jurassic Park Family Halloween Costume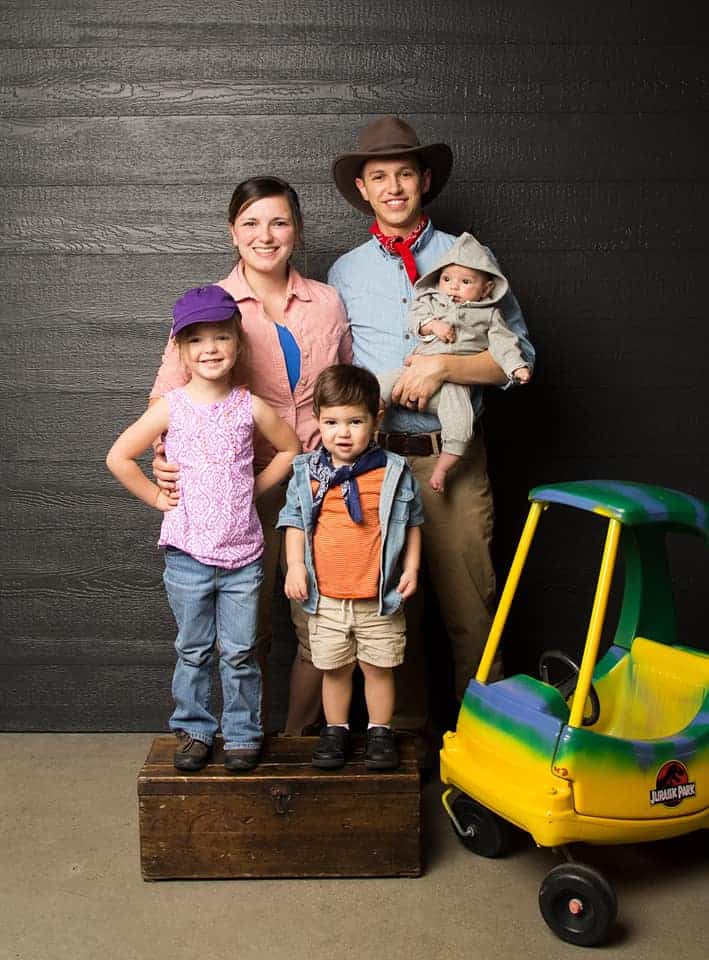 Space Family Costume
Created by Lisa Trama
Mickey Mouse, Snacks & Monsters Inc
All of these were created by Corinne Sperry
Circus Family Costume
Created by Katie Lampert
Need even more inspiration? Check out these trio female Halloween costumes, these maternity halloween costumes or these ideas for brothers!
You might also enjoy:
What to Wear for a Family Photoshoot
15 Cute Halloween Photoshoot Ideas for Babies
Matching family Halloween costumes are such a blast to create! I hope you and your family have a great time showing off your costumes this year.
Don't forget to pin this to easily find later. Let me know in the comments what you and your family are going to be for Halloween!