Easy Baby Costumes for Halloween
Spooky season is here, and there's only one baby's first Halloween. Find inspiration for the perfect baby Halloween costume with this collection of easy baby costumes for Halloween!
As a mom of three and a HUGE Halloween nut, Halloween costumes are one of my very favorite things. There's something so fun about dressing up our little ones, and there are so many adorable Halloween costumes ideas out there.
This collection of baby Halloween costumes include DIY baby Halloween costumes you can make yourself, as well as ones you can find at your local costume shop. I've also included a few family costumes, too (though you can find a huge list here if you want more inspiration). I hope it helps you and your family as you brainstorm the perfect costume!
Note: Some links may be affiliate links. That means I may make a commission if you use my links to purchase, at no extra added cost to you! I only recommend products that I personally love and believe in. Full disclaimer here.
Easy Baby Costumes for Halloween
These cute baby halloween costumes are sure to be a hit!
DIY Black Cat
For my oldest child's first Halloween, he was a black cat and I donned a witch hat for the perfect low-stress Halloween costume. I already had the cat ears and tail, but here is a very similar set. Then all he needed was a black onesie and pants!
Baby Tigers
These were my boys for my 2nd child's first Halloween. I found these precious tiger costumes on Amazon. They were perfect to keep him warm and toasty while trick or treating.
Under the Sea
Looking for newborn halloween costumes? This creative baby's first halloween costume works by incorporating a dressed up baby carrier and matching hat. We love this extra touch!
Says mom Sarah, ""under the sea" theme. My August baby was in a carrier so she was a seashell with a pearl on her head. My November girl was in a Etsy mermaid costume and a homemade mermaid princess crown."
Shared with permission by mom Sarah Owen
Pubert Addams, Uncle Fester, and Cousin It
Says mom Danielle Lousie, "I wanted our son (1 yr) to be warm and comfortable for his first Halloween and I wanted to whole family to be apart of the costume without being the main Addams family characters. All he needed was a grey long sleeve onesie, a little hair gel and a black hypoallergenic eye liner for the mustache and eyebrows! Face make up for dad, matched with black shirt and pants, and a pair of shades and long hair for mom! Viola!"
Shared with permission by mom Danielle Louise
Mary Poppins, Chimney Sweep and Dancing Penguin
How cute is this family costume for those who love the classic movie??
Shared with permission by mom Anna Garcia
The Very Hungry Caterpillar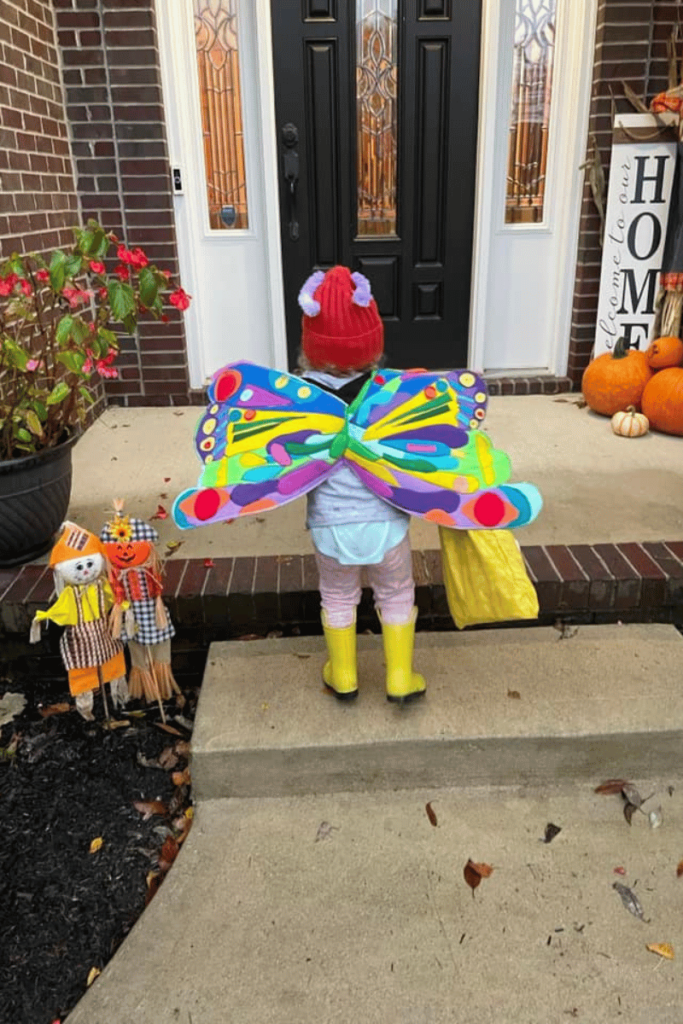 Searching for a simple homemade costume? Take a peek at this adorable baby costume that incorporates the always popular children's classic.
Says mom Allison, "I grabbed a lot of felt from the craft store and a book felt set from Amazon for my shirt. Traced the butterfly wings using a picture online with my projector, cut out the big pieces and used fabric glue to glue them together. Used the book as a reference to piece it all together and add colors. Added eyes and antennae to the hat and handmade the bag."
Shared with permission by Allison Ayers
Red Riding Hood, Lumberjack and baby Wolf
This easy costume can be created by easily DIY'ing mom and dads looks and snagging a wolf costume online.
Shared with permission by mom Lauren Kurtulik
Beekeeper, Bee and Baby Bee
We love this adorable (and easy) baby costume. Just snag a baby bee costume!
Shared with permission by mom Kayla Berry
Hocus Pocus Family
You can't go wrong with the Sanderson sisters, Thackery Binx and Billy Butcherson!
This is one of our favorite Halloween costume ideas. Anything Hocus Pocus also easily allows you to incorporate an older sibling, too. Find the black cat costume online for baby!
Shared with permission by mom Kalisa Johnson
Harry Potter, Hedwig, a Death Eater and a Patronus
This cute costume is a great one for the whole family, with no sewing machine needed. You can also switch it up by making baby Hedwig with an owl costume (here's an adorable zip up one, and this one is a fancier version).
Shared with permission by mom Christina Kharbertyan Herman
Minions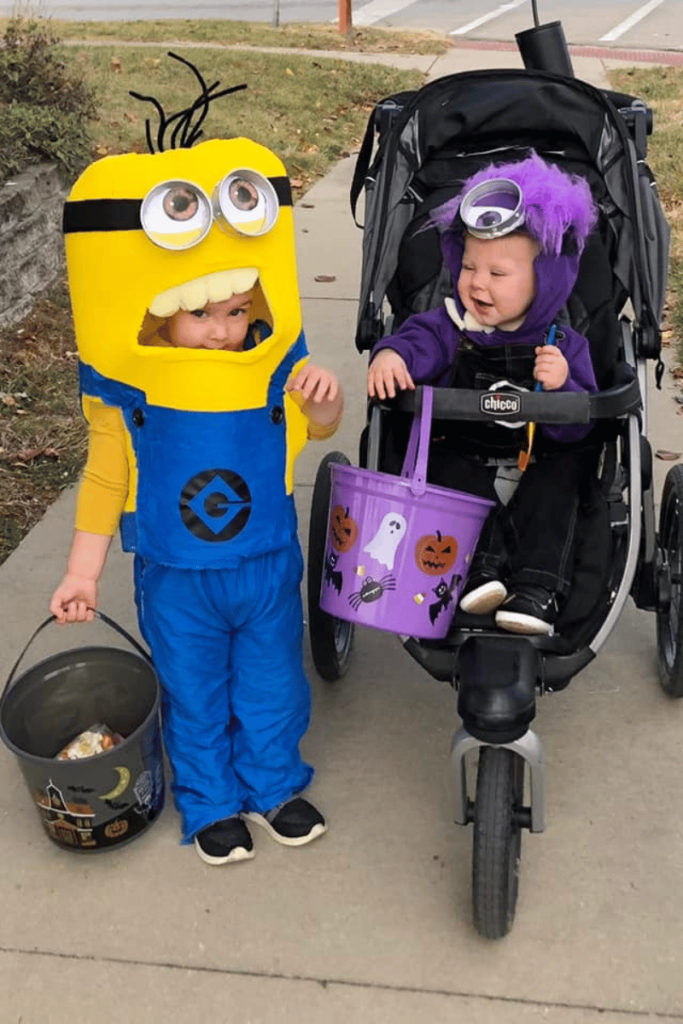 Says mom Jordan, "I DIY'ed these out of an old mattress topper!" What a great idea. We love the use of everyday objects!
Shared with permission by mom Jordan Leigh Nordyke
Chuckie
This DIY baby costume is great for the family who loves horror movies!
Shared with permission by mom Christian Jagels
Space Family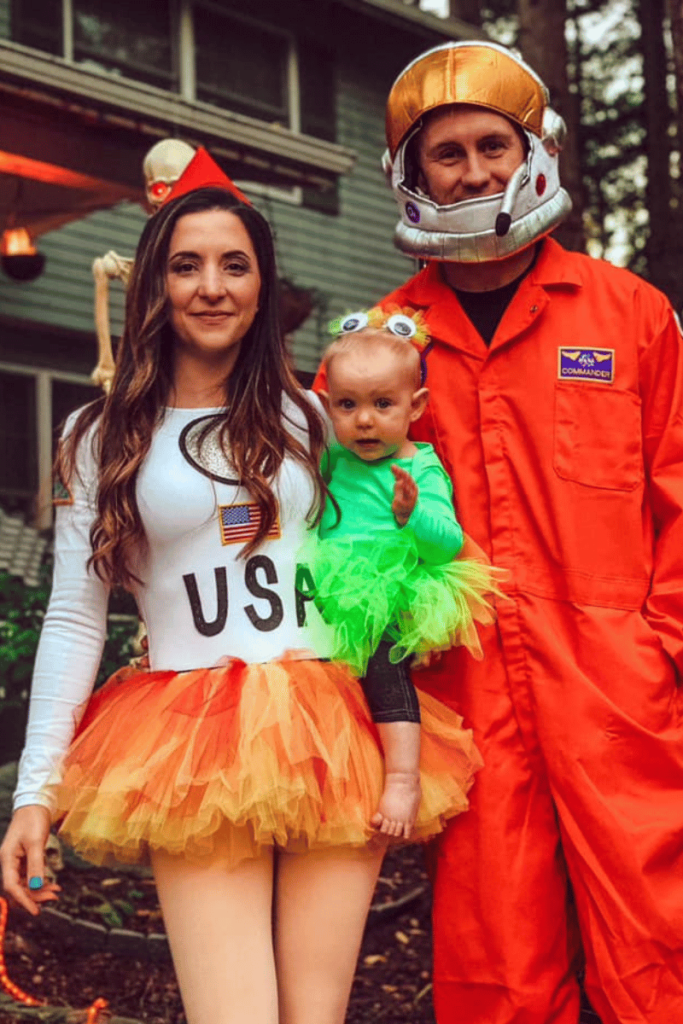 Says mom Sarah, "a space theme and she was a little alien which was a simple onesie, tutu and homemade hair clips."
Shared with permission by mom Sarah Owen
Flounder
Says mom Laurie, "Flounder 🐠!! I bought a yellow hoodie, bought some dark blue and light blue felt pieces, and cut and glued everything together."
You could also use a yellow onesie as the base for this easy Halloween costume if baby is still tiny.
Shared with permission by mom Laurie Ann
Dorothy and the Cowardly Lion
Here is a similar lion costume you can purchase!
Shared with permission by mom Jamie Lyn
Dalmatian and Cruella DeVille
How cute is that little pup? Find a similar Dalmatian costume here.
Shared with permission by mom Jessica Gregory
DIY Baby Costume Tutorials
The following DIY Halloween costumes are from some of our blogger friends, who have created some pretty adorable costume tutorials you can make at home. Check out these homemade costumes for your little bundle of joy.
Cactus Costume for Babies
This adorable cactus costume is made from felt and yarn with the help of a hot glue gun!
Get the Cactus Costume Tutorial from Happiest Camper
Kids Bug Costumes
Learn how to make simple bug costumes for you little ones with this this easy to follow tutorial that uses clothing items you probably already have at home.
Get the Kids Bug Costume tutorial from The Gifted Gabber
Baby Astronaut Costume
This DIY costume idea is simple and easy. Perfect for a space or alien theme!
Get the Baby Astronaut Costume tutorial from Lovely Indeed
Duct Tape Skeleton Costume
Duct tape is a versatile craft supply, too! Follow this easy DIY costume tutorial to learn how to make a duct tape Halloween costume for your baby's first Halloween. We love simple materials like this.
Get the Duct Tape Skeleton Costume tutorial from Crafts by Amanda
No Sew Owl Costume
Animal costumes are always a hit. You can make this pretty owl costume for your child even if you have zero sewing skills. This tutorial will show you how, and can easily be tweaked for a baby costume.
Get the No Sew Owl Costume Tutorial from Little Ladoo
DIY Bluey Halloween Costumes
Made with felt, these adorable costumes might be just what you're searching for. You can add a coordinating sleep n play to keep baby warm.
Get the DIY Bluey Costume Tutorial from Mama of Minis
You might also enjoy these Halloween costume posts:
Fun Matching Family Halloween Costumes
Creative Halloween Costumes for Brothers
What was your favorite on this list of costumes?
If you enjoyed this collection of cute baby costumes, please use the image below to pin it on Pinterest to help other families this Halloween, too!