The Best Amazon Halloween Decorations
Halloween will be here before you know it! If you're getting started on your Halloween décor, Amazon is such a great option for finding fun, affordable Halloween decorations that will also be sure to be delivered with plenty of time. You can find some of the best Amazon Halloween Decorations below!
Anyone else love Halloween? Between the decorations, the costumes and of course, all of the opportunities for fun, I truly love this time of year. Halloween is one of my favorite holidays to decorate for! I start early trying to find amazing new pieces to add to our decoration lineup.
I can always get on board with some new spooky additions when it comes to Halloween. Growing up Halloween was one of my favorite holidays for one reason: it's so fun to decorate for!
Amazon is one of my favorite places to shop. I love updating our home for the holidays, and adding just a few, affordable pieces can make a big difference! You can find some fantastic Halloween decorations on Amazon at a great price. To help you get started, here are some great indoor and outdoor Halloween decorations you can order on Amazon!
The Best Amazon Halloween Decorations
Everyone has their own Halloween decorating style. Whether you like to go all out by creating your own over the top haunted house for the neighborhood, or prefer something a little more minimalistic, Amazon is a great place to shop for indoor and outdoor Halloween decor!
Here are some of my favorite Halloween decorations that you can easily snag on Amazon. I'm linking everything at the end of each section, too! Browse through each section to check out some frightfully fun (and affordable) ways to make this Halloween even more fun!
Note: Some links may be affiliate links. That means I may make a commission if you use my links to purchase, at no extra added cost to you! I only recommend products that I personally love and believe in. Full disclaimer here.
Outdoor Amazon Halloween Décor For Your Front Porch
For outside of our home I focus a lot on layering. I love layering two door mats, which is for sure a very trendy look right now! The double door mat looks adds depth and warmth to this space.
Adding a buffalo plaid rug like this one underneath a fun, seasonal front door mat is an easy way to update your front porch.
You can find a ton of great Halloween front door mats by clicking here, too!
Related: Funny Fall Front Doormats
If you're looking for easy, it doesn't get much easier than these Halloween banners. Simply hang on either side of your front door, and you're done.
SHOP>> Get the Halloween Banners here
I also love piling faux pumpkins with spooky additions, like fake spiders and spider web. Bonus: the white pumpkins are items I use all season in our outdoor decorating!
Next is the sitting area – how cute are these assorted fall theme pillows? They're perfect for layering on our front chairs.
Don't forget to have some cozy fall throw blankets on hand for the kids to stay warm under! It's the perfect way to cuddle up on those chilly nights.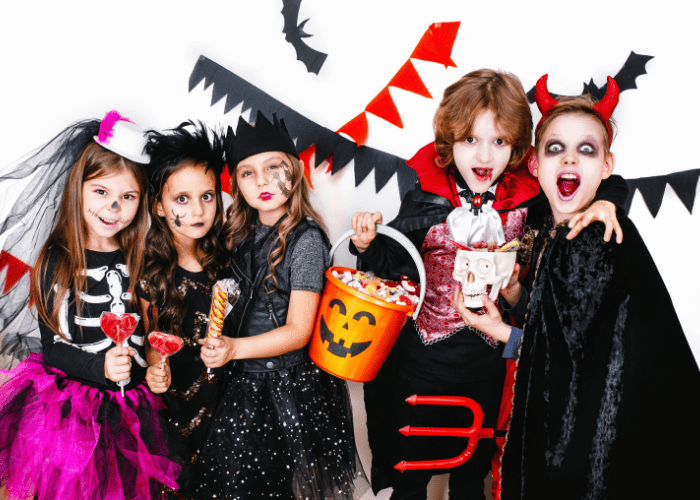 Outdoor Amazon Halloween Decorations for Your Yard
With two little ones, decorating for Halloween can be so fun! We love that our front yard provides another space for really getting into the holiday spirit.
These inflatables are so easy, and are just the right balance of spooky and cute for little ones. (BTW, Amazon has a bunch of more scary inflatables too, but as a mom of toddlers our Halloween decorations are still pretty PG haha!)
Want to add a few more creepy elements? You can't go wrong with giant spiders. grave stones and a spooky face on your garage! Plus check out those cats: their skeletons glow at night!
Our family loves adding a giant spider web to our front porch each year. If you have toddlers, I recommend letting them "help" you set it up as much as they can, so that they're not scared of the one at your house.
Looking for even more outdoor Amazon Halloween decorations? Check out this page on Amazon which has a ton of options!
Indoor Amazon Halloween Décor
When it comes to decorating inside of our home, I also turn to Amazon for indoor Halloween décor options. A few small spooky touches make a big difference!
SHOP>> Get these fun reusable bats here
Neutral colors (like black and white) allow me to make simple, easy changes to our living space without changing the whole feel of the room. I especially love this because I'm able to build on the pieces I put out in September without having to do a whole overhaul.
Here are some more cute indoor Halloween decorations you can find on Amazon:
If you are looking at doing something similar, I created a free printable Boo Y'all Halloween banner that you can download and print at your own home! This is the exact banner we have used on our fireplace the past few years, and I always get so many compliments.
I also love the layered look inside: adding different textures, heights and styles of Halloween décor!
Even More Frightfully Fun Amazon Halloween Decorations
Need some more inspiration in general? I couldn't resist adding a few more fun Amazon Halloween decorations to this list! Just click on each of the photos below to check out the full details on each of these fun decorations.
Amazon Halloween Decorations Are So Easy!
This list is only the tip of the iceberg when it comes to great Halloween decorations on Amazon. What do you love decorating with for Halloween? Let me know in the comments!
Related: Start A New Family Halloween Tradition
Related: Fun Matching Family Halloween Costumes