Crockpot Sausage and Tortellini Soup is the easiest and most delicious soup to whip up! Colder weather is just around the corner, which can only mean one thing: it's time for soup! If you're a big fan of easy, family-friendly meals, you've got to try this creamy and delicious crockpot sausage and tortellini soup. With just 6 simple (and cheap!) ingredients, this is sure to become one of your favorites.
I've always been a big fan of hearty soups, especially ones that are super simple to make. This easy crockpot sausage and tortellini soup is the perfect addition to your soup rotation this year.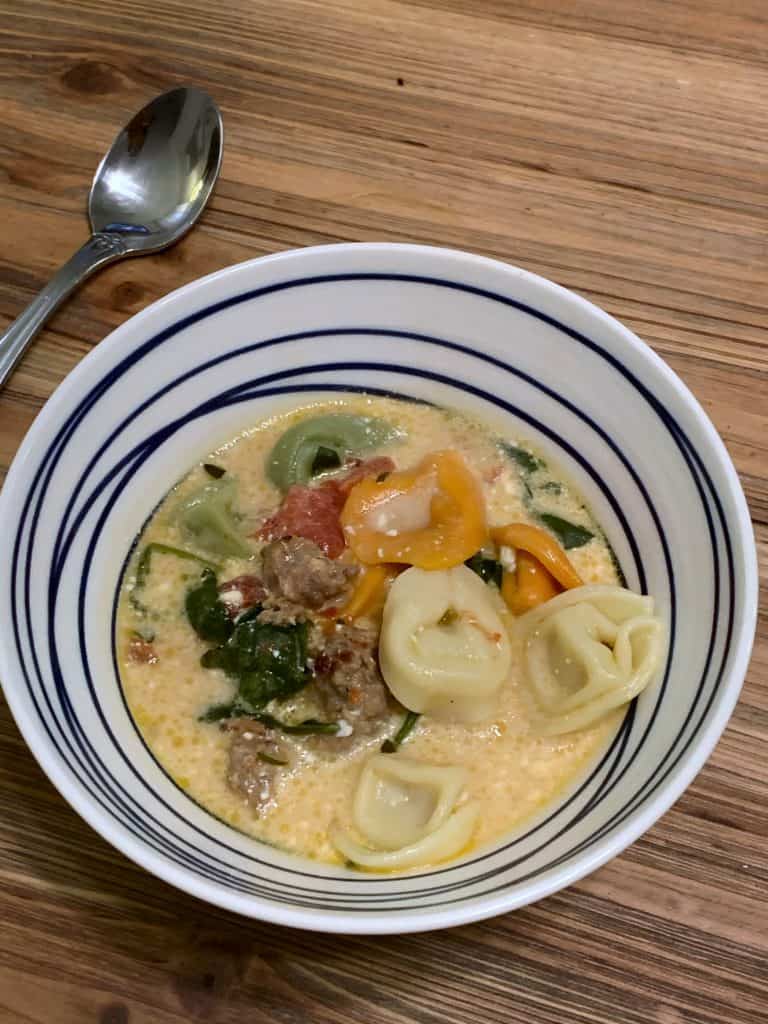 This is one of my very favorite slow cooker recipes, and I think will become one of yours, too. I like to serve it with Texas toast, and it tastes even better as leftovers!
If you're looking for even more easy crockpot recipes, be sure to also check out The Best Slow Cooker Pot Roast Ever Made, Super Simple Slow Cooker Shrimp & Grits and Mexican Crockpot Shredded Chicken!
A few notes before you get started on your Crockpot Sausage & Tortellini Soup:
Once the soup is cooked, be sure to turn off the crockpot instead of leaving it set to warm. The tortellini will continue to cook if you leave it on, which could mean your soup gets overcooked.
You don't have to use frozen tortellini, but if you choose to use a refrigerated option know that the soup will cook a little bit faster.
If you like your soup a little spicy, I recommend adding 2 tablespoons of red pepper flakes with the other seasonings at the beginning!
This recipe is SO easy and simple to make. I love that you basically just throw the majority of things in the crockpot, and then add the last 2 ingredients 30 minutes before serving.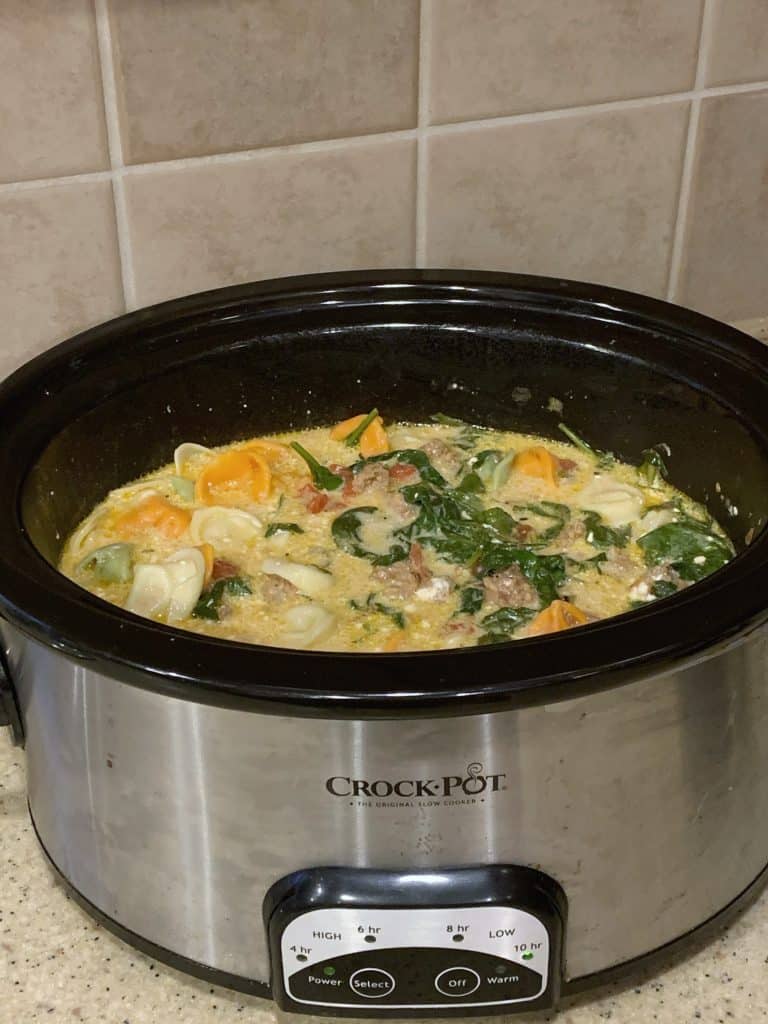 Easy Crockpot Sausage & Tortellini Soup
Prep Time: 10 Minutes
Cook Time: 4-5 Hours
Ingredients
1 lb Italian sausage (browned, drained and chopped)
1 or 2 (15oz) cans Italian diced tomatoes
4 cups vegetable or chicken broth (32oz container)
8 ounces cream cheese (cubed)
1 (20oz) bag of frozen cheese tortellini
3-4 cups fresh spinach
1 tbsp garlic salt
1 tbsp onion powder
1 tbsp Italian seasoning
½ tbsp black pepper
Directions
Add the sausage, broth, diced tomatoes (1 or 2 cans, depending on how much you like tomatoes!), cubed cream cheese and seasonings to your slow cooker. Stir well, and cook on low for 4 hours (or until the cream cheese has completely dissolved).
Stir in the spinach and frozen tortellini. Cook for an additional 30 minutes or until the pasta is done to your liking.
Serve immediately! Store any leftovers in the refrigerator for up to 3 days.
Let me know in the comments any questions you have about this easy crockpot sausage and tortellini soup! And remember to pin this recipe for later so you can find it easily =)